What to Know in Washington: Biden Economic Agenda on Hold
American families are feeling the financial squeeze of soaring inflation and a persistent pandemic as fractious Democrats return to Washington this week no closer to a deal on a tax and spending bill party leaders hoped would by now provide relief.
Despite gangbusters growth at a 6.9% annual rate during the final quarter of 2021, other economic measures tell a very different story. Average wages are falling behind inflation and consumer sentiment plummeted in January to the lowest in more than a decade.
More Americans are having trouble paying their bills than at any time since last March, shortly before the Biden administration began distributing stimulus checks and other relief measures. Hunger is rising again.
It's an ominous start to a midterm election year for Democrats struggling to hold on to razor-thin majorities in Congress. President Joe Biden began his term with ambitions to address long-festering economic inequalities and lift prospects for the poor and middle class, but an intra-party rift has halted progress on his centerpiece tax and social spending plan.
"We're learning once again the pandemic is hitting families hard financially," said Claudia Sahm, director of macroeconomic research at the Jain Family Institute and a former Federal Reserve Economist.
Senators expect informal conversations to resume this week on Biden's Build Back Better package, which was stymied in December after Sen. Joe Manchin (D-W.Va.) said he opposed it, according to a person familiar with the situation. With Republicans uniformly opposed and the Senate divided 50-50, Democrats need Manchin's vote. Read more from Mike Dorning and Erik Wasson.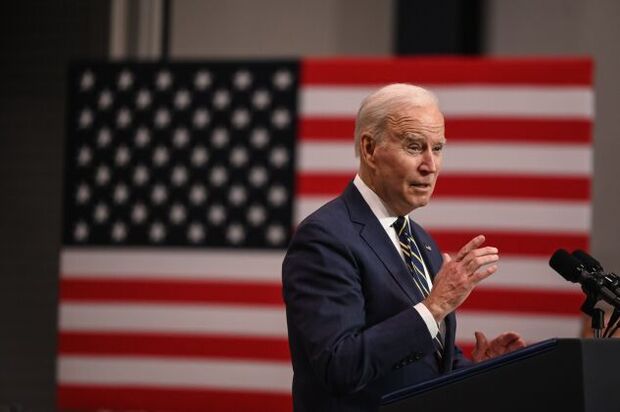 Speaker Nancy Pelosi cast doubt on a drive by progressive Democrats to get some version of Biden's agenda through Congress by March 1. "We don't have a timetable," Pelosi (D-Calif.) said during an appearance Friday in her hometown of San Francisco. "We will pass the bill when we have the votes to pass the bill." Read more from Billy House.
A coalition of environmental groups and other Democratic-aligned organizations are launching a lobbying campaign to pressure Biden to get the Senate to move on his stalled spending plan and the hundreds of billions of dollars in climate funding it contains. Plans call for digital ads and opinion essays released in battleground states as well as organized phone calls, meetings with key Senate officials and events such as caravans of bicycles and electric cars. Read more from Ari Natter.
Senators Close to Agreement on Russia Sanctions Bill
Senators are close to agreeing on a Russia sanctions bill that could include penalties even if President Vladimir Putin doesn't send troops into Ukraine, Foreign Relations Committee Chair Bob Menendez (D-N.J.) said.
Lawmakers will be briefed this week by Biden administration officials, including military leaders, on the standoff over Ukraine, according to people familiar with the matter. Separate classified briefings are planned on Thursday for the full Senate, followed by the full House.
The officials will include Defense Secretary Lloyd Austin, Chairman of the Joint Chiefs of Staff Mark Milley, Director of National Intelligence Avril Haines and Secretary of State Antony Blinken, one of the people said. Pelosi and Senate Majority Leader Chuck Schumer (D-N.Y.) had asked for the briefings this month.
Menendez said earlier Sunday that the draft legislation envisages some sanctions "up front" to punish Russia's cyberattacks on Ukraine, "false-flag operations" and efforts to undermine Ukraine's government.
A Russian invasion "later on" would trigger "devastating sanctions that ultimately would crush Russia's economy," he said on CNN's "State of the Union." Russia has denied it plans to further invade Ukraine.
The comments suggest the Senate is closing in on a deal that includes the threat of hard-hitting measures against Russia's financial industry and personal sanctions on top officials. Read more from Daniel Flatley and Ian Fisher.
Russia further boosted troop levels on the Ukrainian border this weekend, adding to Putin's options should he decide on a military incursion, Pentagon spokesman John Kirby said yesterday. Read more from Tony Czuczka.
Russia wants an explanation of European security obligations from western nations before making its next proposals on the Ukraine crisis, Foreign Minister Sergei Lavrov said. Read more from Alex Nicholson.
Russian Foreign Minister Sergei Lavrov and U.S. Secretary of State Antony Blinken will speak by phone tomorrow, as diplomatic efforts to reduce tensions over Ukraine continue. Read the latest updates from Bloomberg News.
ALSO HAPPENING ON THE HILL:
Today's Agenda: The Senate meets at 3 p.m. to vote on a district judge nominee. The House returns tomorrow. Click here for a complete list of the week's hearings and markups.
Biomedical innovation and pandemic preparedness bills are getting a close look for overlap by lawmakers who are weighing how to package them before a key senator's retirement this year. The good news is all proposals have wide bipartisan support. The bad news is that Congress is already overloaded with other agenda items, such as Democrats' social spending bill. Jeannie Baumann and Alex Ruoff have more.
Republican Senator Susan Collins criticized Biden for his "clumsy" handling of the retirement of Supreme Court Justice Stephen Breyer, saying the president's pledge to pick a Black woman is overly political. The comments by a moderate Republican signal that Democrats may fall short in their hopes to have bipartisan support for whomever Biden picks, given

Collins

(Maine) is one of the most likely to vote in favor of the nominee. Meanwhile, Sen.

Lindsey Graham

(R-S.C.) signaled support for J. Michelle Childs, a U.S. District Court judge from his state who is Black. Read more from Erik Wasson and Ian Fisher.
Elections, Politics & Influence
Arkansas' Republican governor said officials shouldn't focus on untrue claims about the 2020 election but rather look ahead. At the National Governors Association winter meeting over the weekend, Gov. Asa Hutchinson repudiated unsubstantiated claims about widespread fraud in the 2020 election that have been made by former President Donald Trump. "To me, it's all about the future," Hutchinson said. "Anybody who wants to talk about the last election is going to lose the next election." Read more from Ryan Teague Beckwith.
Sen. Graham disagreed with Trump for saying he might pardon people convicted in the U.S. Capitol riot if re-elected, saying they should be jailed "and get the book thrown at them." Sen. Collins and New Hampshire Governor Chris Sununu also rejected Trump's suggestion in interviews on U.S. news shows yesterday. Yesterday Graham said, "No, I don't want to send any signal that it was OK to defile the Capitol." Read more from Victoria Cavaliere.
Pennsylvania's no-excuse vote-by-mail law is unconstitutional, a state appeals court ruled. The law was enacted with bipartisan support in 2019 to make voting more convenient. The judges ruled that before passing that measure, the state Constitution should have been amended to end a requirement to vote in person. Such an amendment likely would be approved by voters, President Judge Emerita Mary Hannah Leavitt (R) said. Republican lawmakers sued to overturn the law after attacking it in the run-up to the 2020 election. Jennifer Kay has more.
A federal trial starting today will examine whether elderly, disabled, and other voters are improperly burdened by a new voting law in Florida, a crucial battleground state where casting ballots by mail has broad support. The law limiting access to absentee ballot drop boxes, as well as restrictions on approaching voters lined up to cast their ballots in person, was enacted in response to unsubstantiated claims about widespread fraud in the 2020 general election. Read more from Jennifer Kay.
New York state Democrats yesterday unveiled their plans for changing congressional and state legislative districts, releasing legislation on track to be considered this week. The legislation would provide for 26 districts, reflecting the loss of one seat. The New York State Legislature, which is led by a supermajority of Democrats, faced a great deal of pressure to aggressively gerrymander the district lines to try to shore up the party's chances in this November's elections. Read more from Keshia Clukey.
The Hawaii Reapportionment Commission adopted a congressional map on Friday that makes minuscule changes to the state's two districts, and Both will remain Democratic strongholds. Read more from Greg Giroux.
Around the Administration
Biden's Agenda:
Biden and Vice President Kamala Harris will host the National Governor's Association at the White House at 11 a.m.
At 2 p.m. the president will meet with Qatar Amir Sheikh Tamim bin Hamad Al Thani. They'll discuss shoring up energy supplies to Europe and diplomacy with the Taliban. Read more from Jennifer Jacobs.
Press secretary Jen Psaki holds a press briefing at 1 p.m.
Biden said in Pittsburgh that a bridge collapse in the city earlier Friday showed the urgency of his plans to invest hundreds of billions of dollars to rebuild U.S. infrastructure. "We've got to get on with it. We've got to move," Biden said in remarks after touring the site of the Fern Hollow Bridge. "We don't need headlines saying that someone was killed when the next bridge collapses." The collapse, in which 10 people were injured, served as a vivid illustration for Biden's effort to promote the $550 billion infrastructure law. Nancy Cook and Justin Sink have more.
The White House has named a point person in the Biden administration's efforts to reverse the alarming rise of homelessness across the U.S. Jeff Olivet will serve as the executive director of the U.S. Interagency Council on Homelessness, an office that coordinates the work of 19 federal agencies to address the housing crisis. Read more from Kriston Capps.
The top political official in the White House regulatory review office is departing her post, leaving the office without a leader appointed by Biden. Sharon Block, an Obama-era labor official, will depart from her role leading the Office of Information and Regulatory Affairs. Read more from Courtney Rozena and Rebcca Rainey.
Companies doing business with the U.S. government have faced greater legal and regulatory changes than the average employer outside of health care under Biden, with more developments potentially ahead. Biden ordered the Labor Department to mandate that workers on federal contracts are paid a minimum of $15 an hour, a boost that took effect Jan. 30. Read more from Paige Smith.
Judge Andrew Hurwitz said he plans to retire from his role as an active judge on the largest federal appeals court this summer, giving Biden a sixth seat to fill on the court. Hurwitz will take senior status, a form of semi-retirement afforded to judges, upon the appointment of his successor after he becomes eligible on June 27, said Molly Dwyer, clerk of court for the U.S. Court of Appeals for the Ninth Circuit. Read more from Madison Alder.
A federal court decision canceling 80 million acres of oil and gas leases in the Gulf of Mexico is poised to force the Department of the Interior to ensure it looks twice at oil drilling's climate change impacts, lawyers say. Judge Rudolph Contreras of the U.S. District Court for the District of Columbia on Thursday vacated a November lease sale in the Gulf because Interior's Bureau of Ocean Energy Management acted arbitrarily in its environmental review of the lease sale required under the National Environmental Policy Act. Read more from Bobby Magill.
A federal judge said Arizona will likely fail to block the White House from halting construction of the border wall, revoking the "return to Mexico" policy, and other immigration actions. The state argues that the federal government under Biden failed to weigh the environmental effects of its immigration programs, which rolled back the Trump-era actions, in violation of the National Environmental Policy Act. Read more from Maya Earls.
The Biden administration reiterated that it's ready to hold talks with North Korea without preconditions, a day after Kim Jong Un's regime fired an intermediate-range ballistic missile for the first time since 2017. Read more from Jennifer Jacobs.
To contact the reporters on this story: Zachary Sherwood in Washington at zsherwood@bgov.com; Brandon Lee in Washington at blee@bgov.com
To contact the editors responsible for this story: Giuseppe Macri at gmacri@bgov.com; Loren Duggan at lduggan@bgov.com; Michaela Ross at mross@bgov.com