What to Know in Washington: Biden Drives to Clinch Economic Bill
President Joe Biden and fellow Democrats are racing to reach agreement on a scaled-back version of his economic agenda, with a self-imposed deadline and his departure later this week for summits in Europe intensifying pressure on negotiations.
Biden met yesterday with Senate Majority Leader Chuck Schumer (D-N.Y.) and Sen. Joe Manchin (D-W.Va.), who has used his pivotal vote in the 50-50 Senate to force his party to shrink what had been a $3.5 trillion plan for social spending and measures to address climate change.
The meeting provided no–46–breakthrough, but the rare in-person Sunday breakfast discussion at Biden's Delaware home was evidence of the sense of urgency among Democratic leaders to find an agreement on specifics of the package after months of discussion and negotiations.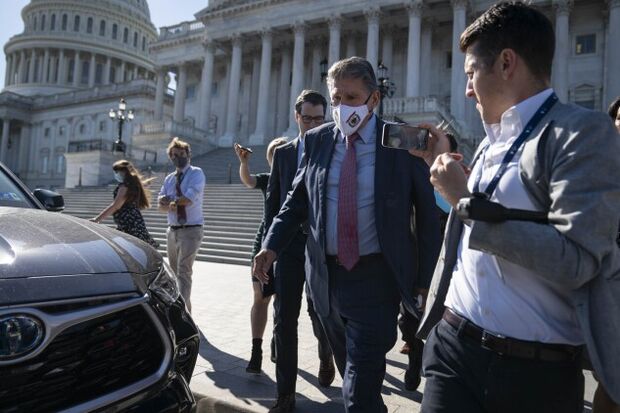 The upcoming Glasgow global climate conference is providing the latest in a series of deadlines to wrap up work on at least the framework for the tax and spending plan. Democrats are aiming to include strong climate change provisions to meet Biden's goal of a 50% cut in U.S. greenhouse gases by 2030, thereby giving the U.S. leader leverage to negotiate similar climate commitments from other countries at the meeting.
Biden will meet the Pope on Friday and attend the G-20 leaders meeting in Rome before going to Glasgow on Nov. 1. Getting a deal also will help Democrats meet another deadline: the Oct. 31 expiration of temporary funding for highways.
"We will have something that will meet the president's goals, I'm confident of that," Speaker Nancy Pelosi (D-Calif.) said yesterday on CNN's State of the Union program.
Pelosi reiterated that about 90 percent of the tax and spending bill is worked out but decisions on some key provision still need to be made. Among them is whether and how the plan will expand Medicare benefits. Read more from Erik Wasson, Laura Litvan and Ari Natter.
Democrats Draw Up Billionaire-Tax Plan: Democratic lawmakers, with the president's support, are drawing up details of a plan to tax billionaires and other ultra-high U.S. earners after Sen. Kyrsten Sinema's (D-Ariz.) opposition to raising the rate on corporations sank a key funding component for a multitrillion-dollar social-spending package. Senate Finance Chairman Ron Wyden (D-Ore.) plans this week to unveil a new tax on the unrealized capital gains of the ultra-rich, according to his office.
The proposal, which has support from other Democrats, would set the so-called billionaires' income tax at $1 billion in annual income, or three consecutive years of $100 million or more in income—which would hit some 700 taxpayers. Read more from Colin Wilhelm.
Democrats Set to Scale Back Drug-Price Ambitions: Democrats working on Biden's big social-spending bill are discussing a proposal to limit the main tool for lowering drug prices to medicines that already face competition, people familiar with the talks said. The White House proposal, viewed as an effort to win over holdout lawmakers including Sinema, would exempt new drugs and many with the biggest price tags.
The change would be a major shift away from earlier proposals that focused mostly on drugs that face no competition. Drugs with government-granted exclusivity would be exempt from proposed drug-price negotiation provision, according to the people, who asked not to be identified because the talks are private. The provision is set to be included in the domestic policy package. Read more from Alex Ruoff.
Happening on the Hill
Today's Agenda:
The House will consider four measures under expedited procedure.
The Senate plans to vote on Biden's nominee to be assistant secretary at the Labor Department and a judicial nominee.
Click here for a complete list of the week's hearings and markups.
Pelosi Open to Raising Debt Ceiling Without GOP: Pelosi opened the door to Democrats using a special budget tool to raise the U.S. debt ceiling without the support of Senate Republicans, whose votes would otherwise be needed to end a filibuster on the hike. Democrats this month resisted using the budget reconciliation process, which requires just 51 votes to pass fiscal legislation, to extend the debt ceiling when the country faced the brink of missing payment obligations.
The majority party argued that using that process, which can eat up weeks of Senate floor time, sets a bad precedent given that both parties approved past spending that has led to federal debt. Pelosi indicated a shift when asked about using reconciliation on CNN's "State of the Union" yesterday. "That's one path, but we're still hoping to get bipartisanship," she said. Read more from Erik Wasson.
King Joins Manchin Against Ending Filibuster: Sen. Angus King (I-Vt.), who caucuses with Democrats, said he won't support ending the Senate filibuster that has enabled the GOP minority to block key portions of Biden's agenda, further complicating Schumer's drive to pass voting rights and other measures. "I'm not really ready to say: 'Let's get rid of it altogether,'" he told NBC on Sunday. "I think there are circumstances where it makes sense." Read more from Laura Litvan.
Minor-League Baseball Makes Grab for Covid-19 Cash: Several minor league baseball teams are latching onto Covid-relief money in a "walk-on-the-legal-wild-side" effort to preserve their patch of America's pastime. As big league playoffs take the spotlight, struggling minor league affiliates are convincing local officials to use pandemic aid funds to pay for new turf, brighter lights, and even stadium party decks. But with Congress failing to act on a minor league-specific aid bill, it's unclear what strings are attached to the broader $350 billion in federal stimulus available to states and localities for pandemic recovery. Sam McQuillan has more.
HHS Urged to Soften Medicare Payment Cuts: Proposed Medicare payment cuts and a new payment model could hurt access to cancer treatment and adversely affect the radiation oncology community, a bipartisan group of lawmakers told the Biden administration last week. Lawmakers called on top Biden officials to avert an estimated $300 million in cuts contained in the proposed 2022 Medicare physician fee schedule and the proposed radiation oncology payment model. Read more from Tony Pugh.
Around the Administration
Today's Agenda: Biden is scheduled to travel to East End Elementary School in North Plainfield, New Jersey as well as the Newark Liberty International Airport and a transit center to deliver remarks on his Build Back Better plan and the bipartisan infrastructure deal. At 5:30 p.m., Biden is scheduled to meet Ecumenical Patriarch Bartholomew and the delegation of the Orthodox Christian Church at the White House.
Border Crossings Kindle GOP Rebuke of Biden: U.S. officials encountered more than 1.7 million migrants crossing the border with Mexico over the past year—a record number likely to escalate Republican attacks on the Biden administration's handling of immigration. Customs and Border Protection reported 1.73 million southwest border encounters overall, but many were making repeat attempts, the agency said. CBP's Border Patrol conducted 1.66 million of the apprehensions, the highest number agents have ever recorded at the U.S.-Mexico border.
The fiscal 2021 numbers reflect the final few months of President Donald Trump's term and Biden's tenure so far. They show a dramatic rise in border crossings since Biden took office in January, following a 2020 dip when the Covid-19 pandemic hit North America.
Monthly updates this year have fueled criticism and public outrage from Republicans, who are seeking to make border security a key campaign issue against Democrats in next year's midterm elections, with control of both chambers of Congress at stake. "This is a problem based simply on the policy changes that happened on January 20th of this year," Sen. James Lankford (R-Okla.), who's up for re-election next year, said at a conference with fellow Republicans. Read more from Ellen M. Gilmer and Andrew Rosati.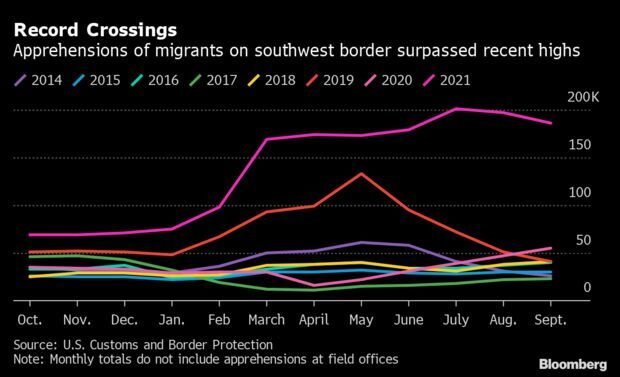 Yellen Defends Powell's Under-Fire Regulatory Record: U.S. Treasury Secretary Janet Yellen defended Fed Chair Jerome Powell's record on regulating the financial system, which has been a target of criticism from progressive Democrats arguing he shouldn't get a new term. While declining to say how she's advised Biden on his decision over whether to reappoint Powell, Yellen told CNN's "State of the Union" that financial rules had "markedly strengthened" under Powell's term, as they did during her time at the Fed and under her predecessor, Ben Bernanke. Read more from Simon Kennedy.
Yellen Expects High Inflation Through Mid-2022: Yellen said she expects price increases to remain high through the first half of 2022, but rejected criticism that the U.S. risks losing control of inflation. Inflation is expected to ease in the second half as issues ranging from supply bottlenecks, a tight U.S. labor market and other factors arising from the pandemic improve, Yellen told CNN yesterday. The current situation reflects "temporary" pain, she said. Read more from Linus Chua.
Benefits of Pfizer Child Shot Likely Outweigh Risks: The staff of the Food and Drug Administration said the benefits of Pfizer and BioNTech's Covid-19 vaccine for young children likely outweigh its risks. Outside experts on the FDA's Vaccines and Related Biological Products Advisory Committee will meet this week to evaluate Pfizer and BioNTech's application for federal emergency authorization of their coronavirus vaccine in young children. Read more from Robert Langreth and Fiona Rutherford.
Biotechs Urge Guardrails as Biden Mulls Life-Saving Device Rule: Biotech startups and trade groups are rallying behind the Biden administration's bid to repeal a rule to speed up Medicare coverage of certain innovative medical devices. The Medicare agency finalized the rule in the last days of the Trump administration to give beneficiaries faster access to devices designated as "breakthrough" by the FDA. Read more from Celine Castronuovo.
U.S. to Release More Records Tied to JFK Killing: The Biden administration said it will release more records related to the assassination of President John F. Kennedy in December. Some of the information regarding Kennedy's death on Nov. 22, 1963, remained off limits to "protect against an identifiable harm to the military defense, intelligence operations, law enforcement," or "conduct of foreign relations," the White House said Friday in a memorandum signed by Biden. Read more from John Harney.
Iran's Khamenei Blames Democrats for Bombings: Iran's Supreme Leader Ayatollah Ali Khamenei said America's Democratic Party was ultimately responsible for a spate of bombings targeting Shiite Muslims in Afghanistan, the state-run Islamic Republic News Agency reported. His comments come while indirect talks between the U.S. and Iran over how to revive the 2015 nuclear deal remain stalled and after the European Union urged Tehran to resume the negotiations as soon as possible, Arsalan Shahla reports.
Meanwhile, Russia's lead negotiator at stalled multi-power talks to revive the 2015 nuclear deal said Iran's demand for a guarantee from the U.S. government that it won't quit the landmark accord again is "logical and justifiable." Mikhail Ulyanov, Russia's ambassador at the International Atomic Energy Agency, was responding to a report that Biden had refused to provide Iran any assurance that the U.S. won't abrogate the deal for a second time during his tenure. Golnar Motevalli has more.
Russian Hackers Target Tech Supply Chain in Defiance of Biden: Microsoft said the hackers behind the SolarWinds cyberattack are engaged in a fresh campaign to compromise global networks by targeting the tech supply chain, including resellers and providers of cloud technology.
Microsoft attributes the coordinated attack to a group called Nobelium, the same state-sponsored Russian hackers who infected as many as 18,000 customers of Texas-based software company SolarWinds. More than 140 technology service providers and resellers have been notified as recent targets of the hackers and 14 of them are believed to have been compromised, Microsoft said in a blog today. Biden over the summer warned Russian President Vladimir Putin about cyberattacks and critical sectors, but the attacks have continued. Read more from Jamie Tarabay.
Politics & Influence
Obama Attacks Virginia GOP Candidate: Former President Barack Obama waded into Virgina's gubernatorial race, criticizing Republican candidate Glenn Youngkin for supporting "phony, trumped-up culture wars" in his bid to flip the state. Speaking at a rally in Richmond for Democrat Terry McAuliffe, Obama said Youngkin was seeking to win by signaling support for baseless claims about election fraud that led to the Jan. 6 attack.
"Either he actually believes in the same conspiracy theories that resulted in a mob, or he doesn't believe them but he's willing to go along with them, to say or do anything to get elected," Obama said of the former Carlyle Group co-CEO on Saturday. "And maybe that's worse, because that says something about character." Read more from Ryan Teague Beckwith.
Facebook Faulted by Staff Over Jan. 6: As rioters breached barricades and bludgeoned police with flagpoles before storming the U.S. Capitol on Jan. 6, some employees at Facebook took to an internal discussion board to express shock and outrage. Many of the posts were imbued with a dawning sense that they and their employer—whose platforms for weeks had spread content questioning the legitimacy of the election—bore part of the blame. Read more from Michael Riley.
Also in Facebook's woes, privacy lawyers say summoning Facebook CEO

Mark Zuckerberg

to the D.C. Superior Court will force him to answer questions he allegedly evaded in prior congressional hearings. D.C. Attorney General Karl Racine (D) on Wednesday announced he will add Zuckerberg to a consumer protection lawsuit against Facebook. D.C. is suing Facebook for allegedly mishandling personal data transferred to Cambridge Analytica. Read more from Maria Curi.
To contact the reporters on this story: Michaela Ross in Washington at mross@bgov.com; Brandon Lee in Washington at blee@bgov.com
To contact the editors responsible for this story: Giuseppe Macri at gmacri@bgov.com; Michaela Ross at zsherwood@bgov.com; Loren Duggan at lduggan@bgov.com