What to Know in Washington: Biden Doesn't See Tax Increase Votes
President Joe Biden said he doesn't think there are enough Democratic votes to raise tax rates in a deal on his economic agenda, but that he believes he'll reach an agreement on the overall legislative package.
"I don't think we're going to be able to get the vote," he said in response to a question about individual and corporate rates at a CNN town hall yesterday. "Look, when you're in the United States Senate and you're president of the United States and you have 50 Democrats, everyone is the president."
A White House official said Biden was referring only to corporate tax rate increases, not other potential provisions to raise federal revenue, including other tax proposals.
Biden also acknowledged that two provisions of the large social-spending bill he calls "Build Back Better" had been curtailed. An initiative to provide paid family leave would be slashed to just four weeks from 12, he said, and a proposal to make community college free would be eliminated.
He said he would push for increasing Pell grants for lower-income college students instead. Read more from Jenny Leonard and Josh Wingrove.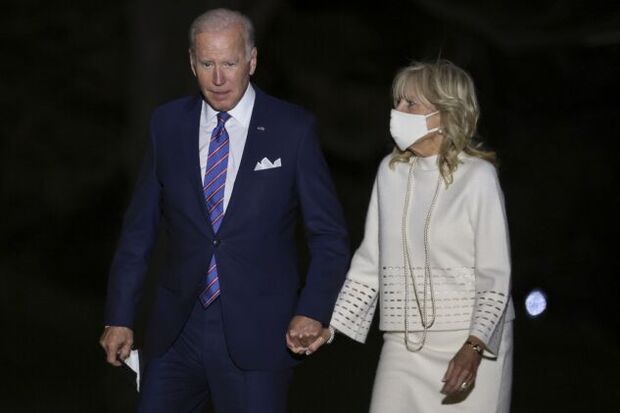 Biden also said getting all dental, vision and hearing provisions he wants in the deal on his economic agenda is "a reach," Laura Curtis and Josh Wingrove report.
Biden said at the town hall they might get an $800 voucher on dental from medicare, but there's no deal yet. Biden said he thinks something on hearing will be in the deal, which Sen. Kyrsten Sinema (D-Ariz.) supports, and pointed out hearing is tied to dementia. Biden said vision is harder and there's no consensus.
Democratic negotiators have been working to address opposition from Sinema, a moderate, to boosting rates. She has agreed to raise tax revenue from companies and the wealthy to fully fund Biden's economic agenda, according to a person familiar with the matter.
Sinema — who has opposed raising rates on corporations and individuals — will back ways of increasing revenue from domestic corporations, global companies, high net-worth individuals and through tax enforcement, according to the person who requested anonymity because the talks are private. Read more from Laura Litvan, Erik Wasson, and Laura Davison.
Inflation Risk: In negotiating a slimmed-down, front-loaded version of his agenda, Biden could end up worse off on two fronts: The 10-year program will likely be less economically transformative than he once hoped, while still running the risk of stoking inflation in the shorter term. "Longer-term growth could be materially impacted by scaling back the legislation," said Mark Zandi, chief economist at Moody's Analytics, who briefed House Democratic lawmakers on Wednesday. Unless Congress extends programs, "the impact they'll have in transforming the economy in the long run" will depend on "what is scaled back, which at this time is highly uncertain," he said. Read more from Rich Miller and Mike Dorning.
More Highlights From Biden's Town Hall
Biden Open to Ending Filibuster for Debt Limit, Voting Rights: Biden indicated he'd support ending the filibuster rule in the Senate to address the debt ceiling and voting-rights legislation — and possibly other items — after Republican members of the chamber used that mechanism to block bills on the two issues this month. The debt-ceiling 60-vote requirement is absurd, Biden said when asked about the filibuster — which requires 60 votes to cut off debate — at the town hall yesterday in Baltimore. Read more from Josh Wingrove and Jenny Leonard.
Port Czar Urges Congress to Act on Infrastructure Bills: The White House's point person on ports is urging Congress to wrap negotiations on a $550 billion bipartisan infrastructure bill and roughly $2 trillion tax and spending measure to help address a supply-chain crunch that has delayed goods for millions of consumers. John Porcari, port envoy to the White House's Supply Chain Disruptions Task Force, said the $550 billion infrastructure bill that is being considered by Congress would help ease backlogs. Read more from Keith Laing and Josh Wingrove.
Gasoline Prices to Remain High Into 2022: Biden said last night that Americans should expect high gasoline prices to continue into next year because of policies by OPEC and other foreign oil producers. "My guess is you'll start to see gas prices come down as we get by and going into the winter — excuse me, into next year, in 2022," the president said during the town hall, responding to a question about rising inflation. "I don't see anything that's going to happen in the meantime that's going to significantly reduce gas prices." Read more.
Biden Says the U.S. Would Defend Taiwan From Attack by China: Biden says the U.S. has a commitment to protect Taiwan and would come to its defense if attacked by China, Laura Curtis and Max Zimmerman report. "China knows the U.S. has the most powerful military in the world," Biden said at the CNN town hall, adding what he worries about is China engaging in activities where they may make a serious mistake.
Happening on the Hill
Today's Agenda:
Transit, Rail Backers Fight for Funds: Transit and rail advocates are making their case that transportation funding should be included in Democrats' sweeping domestic policy package even though it's advancing in tandem with an infrastructure bill that funds similar priorities. As Democrats look for ways to trim their once-$3.5 trillion social spending and tax bill, advocates say transportation proposals in the House bill should be retained as ways to improve equity and the environment. The measure included about $10 billion for transit near affordable housing, $10 billion for high-speed rail, and $4 billion to reduce transportation emissions. Read more from Lillianna Byington.
Highway Fund Cash Infusion Buys Time: The agency that oversees federal highway aid has enough money on hand to fund road programs through the rest of 2021, it told lawmakers after previously warning of a shortfall. The announcement means lawmakers won't have to immediately transfer money into the Highway Trust Fund from the general fund of the Treasury as a long-term highway bill, which would provide an infusion into the fund, remains caught up in larger negotiations over Biden's domestic policy agenda. Read more from Lillianna Byington.
Bannon Cited for Criminal Contempt by House: Steve Bannon, a some-time adviser to former President Donald Trump, was held in criminal contempt of Congress for defying a subpoenas from a panel investigating the Jan. 6 attack at the U.S. Capitol, a move that puts the Justice Department in the middle of a politically charged legal fight. The vote was 229-202, with nine Republicans breaking ranks with their party leaders and joining all Democrats in voting "yes." Read more from Billy House.
Huawei and SMIC Scored Billions in U.S. Licenses, Lawmakers Say: Two Chinese companies applied for and received billions of dollars in licenses in recent months to export U.S. technology despite being subject to trade restrictions, according to documents released yesterday by a congressional committee. The documents show that the U.S. Department of Commerce approved 301 licenses with a combined value of almost $103 billion for Chinese telecommunications company Huawei and chip manufacturer Semiconductor Manufacturing International Corp. Read more from Daniel Flatley.
NFL's Washington Probe Scrutinized by Democrats: Two senior House Democrats launched an investigation on the National Football League's handling of allegations of sexual harassment, verbal abuse and other workplace misconduct against the Washington Football Team. Read more from Se Young Lee.
Politics & Influence
Biden to Campaign With McAuliffe in Virginia as Race Tightens: Biden will appear in Virginia next week with the Democratic gubernatorial candidate Terry McAuliffe as polls show him and his Republican opponent, Glenn Youngkin, in a dead heat, the McAuliffe campaign said yesterday. Biden is scheduled to appear alongside McAuliffe, a former governor of Virginia and also a former chair of the Democratic National Committee, on Tuesday in Arlington. That will be the second time the president will have campaigned with McAuliffe, who has seen his lead in polls against Youngkin, a former co-chief executive officer of Carlyle Group, dwindle. Read more from Emma Kinery.
Surfing Divides Orange County at Polls: "Gavin Don't Surf" became a rallying cry of last month's failed effort to recall California Gov. Gavin Newsom from office, as frustrated surfers attempted to punish him for closing beaches during the pandemic. Now surfing may play an outsize role in the state's 10-year redistricting process. The pastime has long defined the carefree culture and tourist economy of Orange County in Southern California, and tinged the area's politics. California's mapmakers will soon decide whether to keep the district as a coastal enclave or to redraw the map so coastal towns are joined with areas further inland. Read more from Gregory Korte.
Ethics Panel Extends Lawmaker Probe Regarding Campaign Expenses: The House Ethics Committee voted yesterday to extend its review of alleged campaign expense violations by Rep. Alex Mooney and released a report detailing the allegations—actions that could reverberate in his primary race next year against fellow West Virginia Republican Rep. David McKinley. Read more from Kenneth P. Doyle.
Giuliani Associate in 'Over His Head' in Business, Lawyer Says: Lev Parnas got in "over his head" with business ventures but didn't knowingly break the law, his lawyer said in closing arguments in the Rudy Giuliani associate's trial on campaign-finance violations. Defense lawyer Joseph Bondy, pushed back on the government's claim that Parnas and his co-defendant, Andrey Kukushkin, funneled $1 million from a Russian businessman into U.S. political campaigns to get political support for a planned cannabis business. Read more from Christian Berthelsen.
Clarence Thomas Marks 30 Years on Court: Clarence Thomas' quest to cement conservative principles into U.S. Supreme Court precedent could soon pay off, as he marks his 30th anniversary as a justice. Thomas, 73, who isn't shy about dissenting alone when he thinks the court got it wrong, may see some of those dissents transformed into majorities on a court where ascendant conservatives now hold a 6-3 majority. Even those who don't agree with Thomas' approach to the law acknowledge that his influence is rising as the court prepares to consider cases ranging from abortion to guns. Read more from Kimberly Strawbridge Robinson.
Around the Administration
Today's Agenda: Biden has no public events scheduled, and will depart Washington at 8 p.m. to arrive in Delaware shortly before 9 p.m.
CDC Advisers Endorse Moderna, J&J Boosters: U.S. public-health advisers voted unanimously to recommended Covid-19 booster shots from Moderna and Johnson & Johnson, clearing the way for a widespread campaign that hopes to stave off a resurgence of the virus. In two votes, the 15-member Centers for Disease Control and Prevention's vaccine advisory committee yesterday voted to support the shots in certain groups, following the outlines of the FDA. Fiona Rutherford, Robert Langreth, and Riley Griffin have more.
Ex-Obama Official Selected for Consumer Watchdog Enforcement: The Consumer Financial Protection Bureau tapped a former Obama-era Justice Department fair lending official to serve as its new enforcement director, according to multiple sources familiar with the matter. CFPB Director Rohit Chopra will name longtime civil rights attorney Eric Halperin to lead the bureau's enforcement division, according to former CFPB staffers and industry sources. Evan Weinberger and Lydia Beyoud have more.
Vilsack Seeks 3,000-Plus Workers, Key Officials: The Agriculture Department is faced with agency staffing challenges as several of Biden's undersecretary nominees wait for Senate confirmation. Secretary Tom Vilsack, who previously served in the same role for nearly eight years under President Barack Obama, said his department is operating with 3,000 to 4,000 fewer employees than when he last filled the post. Read more from Megan U. Boyanton.
Powell's Swift Trading Action Seen Aiding Renomination: Jerome Powell's swift action to enact new stiff trading rules for senior Federal Reserve officials has the potential to improve his chances for renomination as chair by showing leadership while under fire, according to some Fed watchers. "Powell showed leadership and the ability to do the right thing quickly," Roberto Perli, a former Fed economist, said. "So, if anything, I think this strengthens his candidacy." Read more from Steve Matthews.
Yellen's FSOC Deems Climate Change Threat to Financial Stability: Treasury Secretary Janet Yellen yesterday led a panel of top federal regulators in judging climate change to be an "emerging threat" to the nation's financial stability, releasing tentative recommendations for how agencies should begin preparing to contain the risk. Read more from Christopher Condon and Jennifer A. Dlouhy.
FTC Says Internet Providers Limit Protections for Consumer Data: Internet service providers that also control content creation and offer other products such as home security are able to gather and share large pools of granular data about consumers while granting them limited privacy protections, according to a report from the Federal Trade Commission. Read more from Andrea Vittorio.
To contact the reporters on this story: Zachary Sherwood in Washington at zsherwood@bgov.com; Brandon Lee in Washington at blee@bgov.com
To contact the editors responsible for this story: Giuseppe Macri at gmacri@bgov.com; Loren Duggan at lduggan@bgov.com; Michaela Ross at mross@bgov.com