What to Know in Washington: Biden Demonizes GOP in Midterm Pivot
Biden to focus on Trump-backed Republicans, pivot from economy
Democrats flip lone Alaska House seat as midterms approach
Joe Biden's White House wants voters headed into midterm elections to think more about the threat he believes Republicans pose to democracy — and less about the complicated state of the economy.
In recent speeches, the president has portrayed the GOP as still under the spell of his predecessor, Donald Trump, and his false claims that the 2020 election was fraudulent. Last week Biden even described his opponents as "semi-fascist'' and bent on curtailing Americans' freeedoms.
The shift in tone will be amplified on Thursday when Biden delivers a primetime address from Independence Hall in Philadelphia. The setting represents both symbolism, as the birthplace of the Constitution, and a political calculation, as the biggest city in a key battleground state.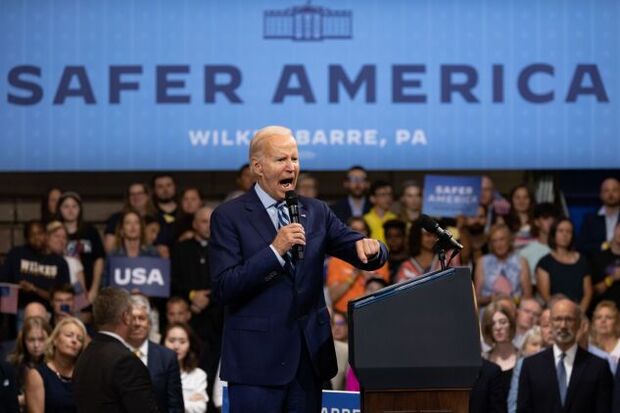 Similar to his election in 2020, Biden seeks to position himself as a calm, centrist alternative to the mercurial Trump, who's back in the spotlight after the FBI search of his Mar-a-Lago resort in Florida last month that recovered highly classified documents. To defend slim majorities in the House and Senate, the White House is painting Trump-endorsed congressional candidates and supporters, as well as anti-abortion Republicans, as extremists.
"You need to vote to literally save democracy again," Biden said at an Aug. 25 rally in Rockville, Maryland. "Trump and the extreme MAGA Republicans have made their choice to go backwards, full of anger, violence, hate and division, but we've chosen a different path — forward." Nancy Cook previews Biden's strategy.
Also on Lawmakers' Radars
Several House and Senate committee leaders have announced their retirements or lost their party's primaries ahead of the midterms, ramping up jockeying for leadership roles in the 118th Congress. In the Senate, Appropriations Chair Patrick Leahy (D-Vt.) and Vice Chairman Richard Shelby (R-Ala.) are both retiring. Based on seniority, there's potential for Sens. Patty Murray (D-Wash.) and Susan Collins (R-Maine) to lead the committee.
Murray's selection in particular would set off a shuffle to the Democratic leadership of a number of other panels, as she currently helms the Health, Education, Labor and Pensions Committee. For Senate Republicans, in addition to Shelby, five other Republican committee leaders plan to retire. BGOV breaks down the landscape of committee leadership shuffles in a new OnPoint.
Thousands of asteroids as large as the Washington Monument zip around our solar system at 40,000 miles an hour, hunks of metal or rock that could strike with 10 times the force of the most powerful nuclear weapon and kill millions of people. The space agency estimates there are about 25,000 asteroids of at least 140 meters in diameter near Earth's orbit. Congress wants NASA to find them. The Biden administration says it can wait. Read more from Jack Fitzpatrick.
Controversy over adding language to overhaul permitting of federal energy projects to must-pass spending legislation likely will take a back seat to keeping the government up and running after Sept. 30, people on and off Capitol Hill said. No one wins in a government shutdown, said Bill Hoagland, senior vice president of the Bipartisan Policy Center and a former long-time Senate budget and appropriations aide to Republicans. Read more from Kellie Lunney and Daniel Moore.
Meta Platforms is under pressure from Democratic lawmakers in the House over state law enforcement's access to private user data that may reveal efforts to seek an abortion. House Energy and Commerce Chair Frank Pallone (D-N.J.) and others on the panel called on the Facebook owner for a briefing on the social platform's handling of personal information and sharing of it with law enforcement. Read more from Andrea Vittorio.
Elections, Politics & Probes
Democrat Mary Peltola flipped Alaska's lone House seat in this month's special election, growing Democrats' majority in the narrowly divided chamber and setting up a rematch against former Republican Gov. Sarah Palin for the seat in November. Peltola won the special election to replace the late Rep. Don Young (R-Alaska) at least for the rest of the year, beating Palin — the party's nominee for vice president in 2008 — and Nick Begich (R), the grandson of Young's Democratic predecessor in the House. Read more from Zach C. Cohen.
House Democrats, buoyed by renewed hopes that they can maintain or grow their narrow majority, are targeting three more races in November's midterm elections. The Democratic Congressional Campaign Committee plans to add three open seats — two in New York and a third in Arizona — to their "Red to Blue" program, according to an announcement obtained by Bloomberg Government. Read more from Zach C. Cohen.
If 2020 taught national campaign committees for the House and Senate a lesson about Latino voters, it was this—There is no "Latino" vote. Democrats in particular learned that the hard way, losing swaths of voters in Florida and Texas to Republicans. With millions invested in voter outreach efforts this year, both parties say they understand differences exist among Central Americans, Cuban-Americans, Dominican-Americans, Mexican-Americans, Puerto Ricans, and South Americans.
The stakes are high. Democrats are desperate to retain or expand slim majorities in both the House and the Senate. Republicans want to win back power, blunt the Biden administration's agenda, and prove they have enough momentum to win back the White House in 2024. And Latinos—who comprise about one in eight of all US voters—want candidates to support, said Ali Valenzuela, a professor at American University who teaches courses on Latino politics. Read more from David Hood.
Both Democrats and Republicans are taking credit for the bipartisan burn pits aid (Public Law 117-168) as lawmakers look to score political points from getting something done, especially in states veterans call home. Incumbents in tight re-election races, as well as safer races, are campaigning on the law. Zach C. Cohen and Roxana Tiron have more.
Trump should be prosecuted over his handling of classified documents after his departure from the White House, according to half of Americans, a Quinnipiac University poll shows. As details are released about the FBI's recovery of material from Trump's Mar-a-Lago estate in Florida, the poll found that 50% of those surveyed say Trump should face criminal charges, while 41% do not. Read more from Billy House.
Trump accused the DOJ of "criminalizing" his possession of personal documents by investigating the presence of the hundreds of highly classified records. Trump made the allegation in a Wednesday night court filing seeking to bolster his case for a neutral third party to review the documents seized, Erik Larson reports.
Trump has settled a long-running fight with House Democrats over a subpoena for years of his financial records, his lawyers disclosed in a court filing late Wednesday. The notice from Trump's attorneys didn't include any details about the terms of the agreement, stating only that they'd reached a deal with the House Oversight Committee one day earlier. The notice doesn't affect a separate court fight between Trump and the House Ways and Means Committee, which has been seeking years of his tax returns from the IRS. Zoe Tillman has more.
Around the Administration
PRESIDENT'S SCHEDULE:
Biden will deliver a speech on "the continued battle for the Soul of the Nation," from the Independence National Historical Park in Philadelphia at 8 p.m.
Biden installed legal scholar K. Sabeel Rahman as the political head of the White House's regulations agency, nearly two years after he first entered office. Rahman will serve as associate administrator of the Office of Information and Regulatory Affairs. The office is little-known outside Washington, but wields tremendous power on how federal agencies execute the president's agenda. It hasn't had a permanent leader since Biden took office. Courtney Rozen has more.
Passengers suffering a lengthy delay or canceled flight have a new way to check what they can get from airlines, ahead of an expected travel rush for Labor Day weekend. The Biden administration is launching a dashboard Thursday in which passengers can check if airlines will provide meals, rebooking, or hotel rooms when flights are delayed or canceled because of issues in the airlines' control. Read more from Lillianna Byington.
Meanwhile, with holiday travel planning in high gear, the Homeland Security Department is urging those who mostly fly domestically to apply for TSA PreCheck rather than Global Entry, despite shared benefits. Applications for Global Entry have been experiencing processing times of up to 18 months, according to an alert. Read more from Martine Paris.
FDA drug center staff will be the first to get layoff alerts this month if the agency doesn't quickly hear that congressional leaders are nearing a deal to reauthorize the fees that help fund the agency, current and ex-officials warn. FDA Commissioner Robert Califf has said the agency would need to start notifying "employees who are paid by user fees of impending personnel action" by the first week of September. Celine Castronuovo has more.
WHAT ELSE:
Group of Seven finance ministers will hold talks this week on allowing global purchases of Russian oil at a capped price—a gambit that the US hopes will ease energy market pressures and slash overall Russian revenues from crude. Treasury's Janet Yellen and her counterparts will discuss the measure in a session on Friday, Josh Wingrove reports.
China committed "serious human rights abuses" against ethnic Muslims in Xinjiang and may be guilty of crimes against humanity, the chief UN rights official said in a report that China tried to block. Read more.
The handful of state workplace anti-discrimination agencies that have received consistent cash infusions are better able to tackle workloads and branch out into new areas, but others—such as the Equal Employment Opportunity Commission—have been hamstrung by stagnant funding. Read more from Paige Smith and J. Edward Moreno.
To contact the reporters on this story: Brandon Lee in Washington at blee@bgov.com; Michaela Ross in Washington at mross@bgov.com
To contact the editors responsible for this story: Giuseppe Macri at gmacri@bgov.com; Loren Duggan at lduggan@bgov.com