What to Know in Washington: Biden, Democrats Work to Trim Agenda
President Joe Biden and Democrats are jockeying to trim their once-$3.5 trillion signature domestic policy package to as little as $1.9 trillion while staying united on passing the legislation. Some big ticket items may fall by the wayside while others may expire after a few years or be restricted to only the poorest Americans, lawmakers say.
These changes are necessary, Biden has told lawmakers, to win support from two centrist Democrats—Sens. Joe Manchin (W.Va.) and Kyrsten Sinema (Ariz.)—whose votes will be pivotal to passage.
Democrats say the message is clear: find common ground and be willing to give up some goals to clear the legislation. "We need to do what Biden keeps saying—get ourselves out of this hole and compromise," Rep. Raul Ruiz (D-Calif.) said.
The shrinking size of the package means lawmakers will need to find offsets for the spending, to come through a combination of tax increases and other revenue-raising measures such as letting Medicare negotiate directly with drugmakers on the prices of some medication. Bloomberg Government reporters sort through the sticking points Democrats will be negotiating in the weeks to come.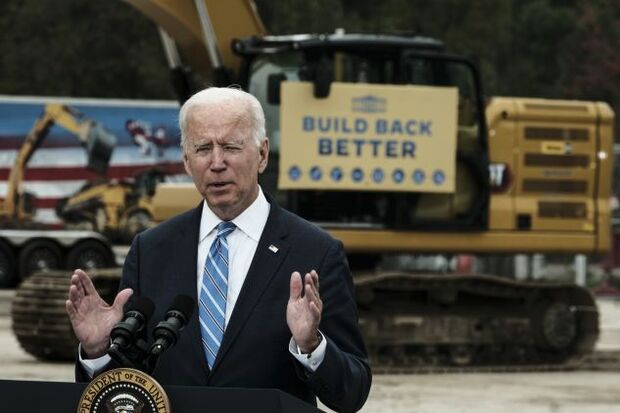 Biden Team Seeks to Pare Back Economic Agenda: The president, meanwhile, is seeking to drum up public support for the plan—and pressure its opponents—in trips to political battlegrounds. Biden's strategy to enact two packages—a roads-and-bridges focused infrastructure plan and a trimmed-back social-spending bill—is evolving after a tense week of negotiations that yielded ill will between liberal and centrist factions of the Democratic Party.
After congressional leaders had to indefinitely postpone votes on the measures, one Democratic operative said he hadn't seen such vitriol between members of his own party since Biden took office.
In meetings this week, the president has warned progressives—who've sought expansive new spending on education and social programs combined with tax hikes on the wealthy—that they will have to temper expectations for the final legislation. But he has also dialed up pressure on Congress to pass both packages, casting them in a speech yesterday in a Republican-leaning corner of Michigan as essential to keep the U.S. competitive with fast-growing foes and calling opponents "complicit in America's decline." Read more from nancy Cook and Billy House.
Paid Leave Allies Mull Fallback Options: Supporters of House Democrats' plan to create a nationwide paid family and medical leave program are girding for a battle over possible cuts to the proposal as pressure builds to trim the price tag.
Longtime proponents of paid leave say the Covid-19 pandemic laid bare the need for a robust, permanent program that's available to as many workers as possible. But with a reset in negotiations this week, paid-leave advocates are calling for Democrats to maintain a comprehensive leave program, even though it could cost as much as $550 billion. At the same time, they're privately strategizing around what would be the most effective—or least undesirable—way to narrow the House Ways and Means Committee's proposal. Read more from Paige Smith, Ian Kullgren, and Ben Penn.
Happening on the Hill
Today's Agenda:
The Senate today will consider one of Biden's judicial nominees and hold a procedural vote on a measure to suspend the debt limit.
Click here for a complete list of today's hearings and markups.
Brinkmanship Edges U.S. Closer to Default: Democrats and Republicans must decide in the next day or two how far to take their deadlock over the U.S. debt limit, which is pushing the country perilously close to a catastrophic default. Senate Majority Leader Chuck Schumer (D-N.Y.) will force a vote today—his third try in nine days—on whether to take up a measure suspending the nation's debt ceiling until December 2022. Republicans, as they did the last two times, promise to block him. "We're not voting in any way to help raise the debt ceiling," said Sen. Mitt Romney (R-Utah), who sometimes works with Democrats. "As a group we are all together."
Schumer yesterday again rejected using a time-consuming legislative approach, called reconciliation, that would allow Democrats to raise the debt ceiling without Republican votes. Republicans, Schumer argued, should at least "get out of the damn way" and not filibuster Democrats' efforts. But Republicans have not been swayed and Democrats might soon lose altogether the option of reconciliation, if they haven't already. Read more from Laura Litvan and Mike Dorning.
Biden has invited the leaders of some of the nation's biggest banks to the White House for a meeting today, The Washington Post reports, citing three people familiar with the plans. The meeting aims to discuss what administration officials say would be the negative impact of failing to lift the debt ceiling. Bank of America CEO Brian Moynihan and JPMorgan Chase CEO Jamie Dimon are among those expected to attend, according to the Post. Read more.
Senate Panel to Consider Cyber Reporting Bill: Legislation to require critical infrastructure operators like hospitals and pipeline companies to report cyberattacks and ransom payments is slated for consideration by a Senate panel today. Policymakers are working to combat the growing number of hacks on private companies. A pair of measures being weighed by the Senate Homeland Security and Governmental Affairs Committee would revamp federal cybersecurity practices and the U.S. response to cyber and ransomware attacks, such as those that recently targeted private companies JBS, Colonial Pipeline, SolarWinds, and Microsoft. Read more from Rebecca Kern.
Powell Backed by Banking Panel's GOP Senators: Federal Reserve Chairman Jay Powell has the backing of more than half the Republicans who sit on the Senate Banking Committee, support that could help him earn a second term to lead the central bank, despite sharp criticism from Sen. Elizabeth Warren (D-Mass.). Panel member Mike Crapo (R-Idaho) said he would vote to confirm Powell—making him the seventh of 12 Republicans on the Banking panel to endorse the sitting Fed chair—if Biden were to nominate him for another term, which he hasn't done yet.
Powell, whose term expires in February, also enjoys support from some Democrats, who have praised his actions during the pandemic. However, Warren opposes his reappointment, calling him "dangerous" for his stance on banking regulations and saying he "failed as a leader" in managing a scandal involving stock trading by top Fed officials. Biden yesterday said that he has confidence in Powell. "Well, thus far yes, but I'm just catching up to some of these assertions," he said in Michigan. Read more from Laura Davison and Erik Wasson.
Warren Says Facebook Funds 'Dark Money': Sen. Warren also accused Facebook, along with other social media giants, of using their wealth to exert influence on Washington in a way that undermines the democratic system. "The loudest voice in this hall is Facebook and the other giant corporations, they hire the lobbyists, they make the big campaign contributions. And even more importantly, they fund dark money — the part that, you never even see their fingerprints on it," Warren told Bloomberg TV. Read more from Christopher Anstey and David Westin.
Around the Administration
Today's Agenda:
Biden will meet at the White House at 1 p.m. with business leaders and executives about the debt limit and possible economic consequences of the fiscal standoff.
Biden Faces Leadership Vacancies at NIH, FDA: The retirement of longtime National Institutes of Health chief Francis S. Collins leaves the Biden administration with another health agency position to fill as the White House faces a looming deadline to find a permanent head of the FDA. Collins, who has led the NIH since 2009, said yesterday he plans to retire by the end of the year after nearly three decades at the agency. Biden is expected to pick an NIH chief before Collins steps down, White House spokeswoman Karine Jean-Pierre said during a press briefing.
But that leaves the White House on the hunt for two top health picks: Collins's replacement and the president's first nominee to run the Food and Drug Administration. Under the Vacancies Act, acting FDA Commissioner Janet Woodcock can't serve past Nov. 15 unless Biden nominates someone to fill the job permanently. If there's a nominee in place, Woodcock can continue to serve as the nominee moves through the confirmation process. Read more from Jeannie Baumann and Alex Ruoff.
DHS Urged to Make Immigration Fixes: Overhauling responsibilities at the Department of Homeland Security is essential to improving the U.S. immigration system in the face of congressional deadlock, researchers say. The sprawling department could help balance its enforcement and humanitarian roles by coordinating the budgets and missions of U.S. Customs and Border Protection, U.S. Immigration and Customs Enforcement, and U.S. Citizenship and Immigration Services, according to a new report from the Migration Policy Institute, a nonpartisan research group.
The analysis is the latest effort by outside groups to champion DHS structural changes that can be implemented by the executive branch after Congress has repeatedly failed to enact major revisions to federal immigration law over many years. Democrats' latest attempt is stuck in limbo. Read more from Ellen M. Gilmer.
Biden Says He, Xi Will Stick to 'Taiwan Agreement': Biden said he and China's Xi Jinping have reaffirmed their agreement on Taiwan, as top envoys for the two countries were expected to discuss simmering tensions over the democratically ruled island during talks in Zurich. Biden told reporters he and the Chinese president spoke and agreed to stick to the existing consensus on managing disputes over the island. While Biden didn't immediately specify whether he was referring to his widely publicized call with Xi last month, the White House later clarified that the conversation wasn't new. Read more from Jennifer Jacobs and Jennifer Epstein.
Gensler Signals Crypto Ban Like China's Unlikely: Securities and Exchange Commission Chair Gary Gensler has had multiple dust-ups with crypto firms but even he says the U.S. won't follow China's lead in banning digital tokens. Gensler said yesterday that the government's focus is on ensuring that the industry adheres to investor and consumer protection rules, anti-money laundering regulations and tax laws. He made the remark at a House hearing after a lawmaker asked if a China-like prohibition was on the table in the U.S. "Our approach is really quite different," Gensler said. Ben Bain has more.
U.S. to Overhaul Public Service Loan Program: The Department of Education announced sweeping changes to its public service loan forgiveness program. The program, established to entice workers to take jobs like teachers, nurses and firefighters with the promise of student debt forgiveness, for years has been plagued with problems and complaints from borrowers and government watchdogs. Read more from Nic Querolo.
Politics & Influence
Haley Foots for Would-Be White House Bid: Former U.N. Ambassador Nikki Haley urged Republicans to return to their Reagan-era roots, setting the tone for a possible presidential bid that would seek to forge an alliance between supporters of Donald Trump and the GOP's traditional governing wing. "It has become fashionable in some circles—even in some conservative ones—to dismiss the relevance of Ronald Reagan," Haley said in California. "But dismissing the lessons of Reagan makes no more sense than dismissing the lessons of Lincoln or Washington." Gregory Korte has more.
North Carolina Group Looks to Deploy Abrams' Strategy: North Carolina organizers are trying to replicate Stacey Abrams's Georgia voter-turnout strategy in a bet that they can also deliver key Democratic wins in a similarly changing Southern U.S. state. The effort, called the New North Carolina Project, is modeled after Abrams's New Georgia Project. It aims to register minority voters. The two organizations aren't affiliated, but the North Carolina initiative has received strategic insight, the group's founder, Aimy Steele, said in an interview. Read more from Emma Kinery.
To contact the reporters on this story: Brandon Lee in Washington at blee@bgov.com; Zachary Sherwood in Washington at zsherwood@bgov.com; Zachary Sherwood in Washington at zsherwood@bgov.com
To contact the editors responsible for this story: Giuseppe Macri at gmacri@bgov.com; Loren Duggan at lduggan@bgov.com