What to Know in Washington: Biden, Democrats Target Dark Money
President Joe Biden and congressional Democrats are making a pre-election push for legislation targeting so-called dark money groups — which could see a vote as soon as today — despite the party's own heavy reliance on these anonymous donors.
The legislation, which would require disclosures of large political donations, is almost certain to fail amid strong GOP opposition. But it gives Democrats a chance to make a political point less than two months before the midterm elections that will determine control of Congress.
Conservative and liberal groups alike are increasingly leveraging these anonymous donations to influence congressional elections. Democrats say the two parties should work together to expose the funders of these influence campaigns, but Republicans have cited concerns about donors being harassed or otherwise influenced.
"I believe sunlight is the best disinfectant, and I acknowledge it's an issue for both parties," Biden said Tuesday. He said foreign entities also use dark money to buy ads and said he hopes Republicans will come around. "Dark money erodes trust. We need to protect the public trust," he added.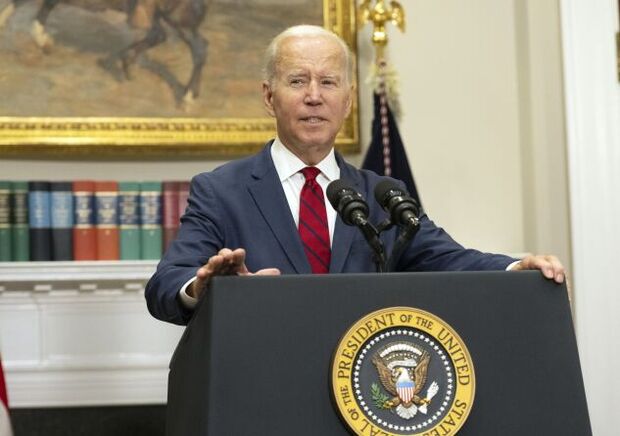 The Disclose Act authored by Sen. Sheldon Whitehouse (D-R.I.) would require disclosure of donations of $10,000 for campaigning purposes, as well as advocacy for and against judicial appointments. Democrats say groups that don't have to disclose their donors helped install the new conservative Supreme Court that in June overturned the landmark 1973 Roe v. Wade decision establishing a constitutional right to abortion.
Senate Majority Leader Chuck Schumer (D-N.Y.) said he'll force a vote this week to advance the bill. Senate Minority Leader Mitch McConnell (R-Ky.) previously pushed his party to block such bills, and several Republicans said Tuesday they would continue to oppose it. Read more from Steven T. Dennis.
Meanwhile, Biden headlined a fundraiser in New York on Tuesday that raised about $2 million for Democratic Party organizations, and featured celebrity guests including Robert DeNiro and the city's mayor, Eric Adams. Read more.
Also Happening on the Hill
CONGRESS' SCHEDULE
The head of the FDA says he's optimistic Congress will reauthorize the agency's user fees as time dwindles for lawmakers to find an agreement. "I'm getting a lot of reassurance that it will get through," FDA Commissioner Robert Califf said.
Republicans are pushing the Biden administration to give up the emergency powers it's relied upon for almost two years to battle Covid. But federal officials signaled they're not ready to give them up.
A long fight over the Equal Rights Amendment's ratification may be a key topic of questioning as a Senate committee considers a nomination to an ordinarily noncontroversial position—that of the nation's chief archivist.
The Biden administration's top antitrust enforcers called on Congress for more money to continue their ambitious enforcement strategy, telling a Senate panel they're "outgunned" by the legal power of giant corporations.
FTC Chair Lina Khan said her agency is taking a stronger approach to consent decrees compared to a 2011 deal with Twitter that was criticized in a whistleblower's complaint. Read more.
The leaders of the biggest US consumer banks are set to warn lawmakers that Americans are struggling amid surging inflation, as they brace for tough questions about how they're helping customers being pummeled by rising costs.
Legislation to regulate stablecoins that's being drafted in the House would place a two-year ban on coins similar to TerraUSD, the alogrithmic stablecoin that collapsed earlier this year.
Apple CEO Tim Cook discussed Chips Act implementation among other issues with members of the Problem Solvers Caucus today, according to a tweet from the bipartisan group of House lawmakers.
Elections, Politics & Probes
A House committee investigating the US Capitol attack is seeking to reclaim some of the spotlight lost to other blockbuster legal developments around Donald Trump with what could be its final hearing next week.
The special master requested by Donald Trump to review thousands of documents the FBI seized from his Mar-a-Lago home expressed skepticism about some of the former president's arguments.
The House Freedom Caucus is pressuring GOP leadership to give rank-and-file members more power as the conservative faction seeks to flex its muscle ahead of next year when its party is well-positioned to control the chamber.
Florida Governor Ron DeSantis was sued for sending plane loads of immigrants to Martha's Vineyard, with the migrants claiming they were duped into making the trip with vouchers for free fast food and promises of employment and housing.
New York advice columnist E. Jean Carroll, who in 2019 sued Donald Trump for defamation after he denied raping her two decades ago, intends to renew a previously abandoned bid to depose the former president.
Around the Administration
PRESIDENT'S SCHEDULE
Biden at 10:35 a.m. will give a speech at the United Nations General Assembly in New York City. At 11:45 a.m. the president meets with UN Secretary-General António Guterres, and at 1:15 p.m., Biden is scheduled to meet with United Kingdom Prime Minister Liz Truss.
At 4 p.m., Biden will give a speech at the Global Fund's Seventh Replenishment Conference, and at 7 p.m. he hosts a leader's reception at the American Museum of Natural History. Both events are located in New York City.
Biden is planning to meet with his Philippine counterpart Ferdinand Marcos Jr., who's in New York for the UN General Assembly, on Thursday, according to a person with knowledge of the plans, as both nations look to rebuild a longstanding alliance undermined in recent years.
Recent legislation will cool consumer prices over the short term and attract investment over the long term, according to Biden's White House economic adviser Brian Deese.
The FTC's newest Democrat plans to call on the agency to bring back enforcement of a rarely used price discrimination law that would let it probe large buyers like Walmart and Amazon who force sellers to give them better terms than competitors.
FTC Commissioner Alvaro Bedoya called for new protections focused on children and teens online, favoring legislative action first before updating agency rules. Read more.
The EPA is poised to scrutinize companies' pledges to reduce greenhouse gas emissions, while Wall Street's regulator braces for a court battle over its sweeping plans to police corporate disclosures about climate change.
There's still room for progress on climate talks with China despite its suspension of global warming discussions with the US, John Kerry said on Tuesday. Kerry, the US special presidential envoy for climate, stressed that Beijing could resume those negotiations.
WHAT ELSE TO KNOW TODAY
To contact the reporters on this story: Brandon Lee in Washington at blee@bgov.com; Michaela Ross in Washington at mross@bgov.com
To contact the editors responsible for this story: Giuseppe Macri at gmacri@bgov.com; Loren Duggan at lduggan@bgov.com