What to Know in Washington: Biden Decries Texas School Shooting
President demands action after more than 19 killed
Democrats put gun bills on Senate calendar
President Joe Biden mourned the killing of at least 19 children and two teachers in a mass shooting at a Texas elementary school on Tuesday, decrying their deaths as senseless and demanding action to try to curb the violence.
"I hoped, when I became president, I would not have to do this again," Biden said at the White House, in sometimes halting, emotional remarks. "Another massacre in Uvalde, Texas. An elementary school. Beautiful, innocent second, third and fourth graders."
"As a nation," he said, "we have to ask: When are we going to stand up to the gun lobby? When are we going to do what we know in our gut needs to be done?"
Active shooting incidents in the US have doubled in the past five years.
Earlier: Active Shooter Incidents Soared 50% in US Last Year, FBI Says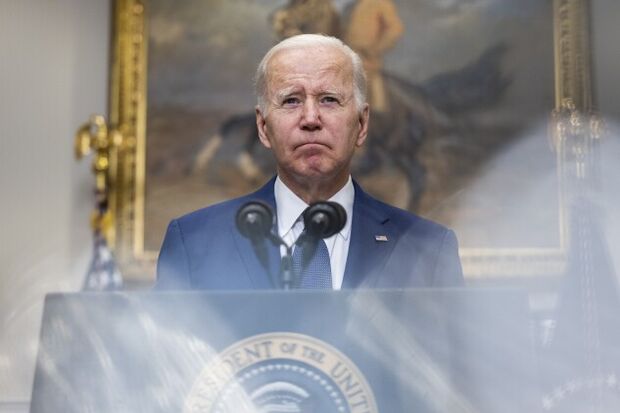 Majority Leader Chuck Schumer (D-N.Y.) began the process to put a House-passed gun-show background check bill and a gun-background check time limit bill on the Senate calendar, according to a senior Democratic aide, Max Zimmerman reports.
BGOV Bill Summaries:
With gun control legislation stalled on Capitol Hill, the president has little to offer but yet another call to action and grief for the victims' families. Biden didn't call for specific measures but said that when the US had an assault-weapons ban in place, mass shootings declined, and then "tripled" after the law expired.
Democrats have repeatedly tried and failed to enact new gun-control measures — including universal background checks and an assault weapons ban — in the decade since Sandy Hook.
Sen. Chris Murphy (D-Conn.), who was elected to the Senate a month before the Sandy Hook shooting, delivered an angry, impassioned speech on the Senate floor imploring Congress to pass gun-control legislation.
"Our kids are living in fear every time they set foot in a classroom because they fear they will be next. What are we doing? Why do you spend all this time running for the United States Senate?" he said.
Republican Sen. Jim Inhofe (R-Okla.) said he could conceive of no legislation that would prevent attacks like Uvalde. Jenny Leonard, Laura Litvan and Alexis Shanes have more.
The school shooting comes days before Texas Governor Greg Abbott, Sen.

Ted Cruz

(R-Texas) and former President Donald Trump are slated to speak at a National Rifle Association conference in Houston. Texas is fiercely pro-gun rights, and Abbott last year signed legislation allowing Texans to carry handguns without any sort of license. Stacie Sherman and Brendan Walsh have more.
Golden State Warriors coach Steve Kerr blasted senators for not doing enough to pass gun control legislation, following the deadliest school shooting in the US for nearly a decade. Read more from Low De Wei.
Trump Suffers Several Losses With Georgia Candidates in Primary
Georgia headlined a spate of primaries across the US South on Tuesday, where several of former President Donald Trump's hand-picked challengers lost races to incumbents who had refused to overturn his 2020 electoral loss.
Republican Governor Brian Kemp beat former US Senator David Perdue, dealing a blow to Trump's efforts to exact revenge on the incumbent for refusing to overturn his 2020 loss to Biden.
Kemp will face Democrat Stacey Abrams in a rematch of their 2018 campaign. Perdue had a modest schedule of campaign events heading into Tuesday's primary, while Kemp traveled the state with prominent Republicans unpopular with Trump, including former Vice President Mike Pence, who also refused to overturn the 2020 results.
Trump's pick for the Republican Senate nomination, football star Herschel Walker, easily won his race to face incumbent Democrat Raphael Warnock, who also won his contest Tuesday, in a race that will help decide control of the upper chamber in November's election. Warnock is defending the seat he won in a special election in 2021.
Related: Kemp Defeats Trump Pick Perdue in Georgia GOP Governor Race
Trump set out to defeat Georgia's Republican leadership over its refusal to overturn Biden's 2020 electoral win, recruiting or endorsing challengers to three of the top four Republican officeholders: Perdue against Kemp, Rep. Jody Hice against Brad Raffensperger and John Gordon against Attorney General Chris Carr. The fourth, Lieutenant Governor Geoff Duncan, who publicly blasted Trump's conspiracy theories, isn't running. Read more from Margaret Newkirk and Mark Niquette.
MORE PRIMARY RESULTS:
More Headlines:
Happening on the Hill
CONGRESSIONAL SCHEDULE:
The Senate convenes at 10 a.m. to vote on nominations.
The Senate confirmed Stephanie Dawkins Davis to the US Court of Appeals for the Sixth Circuit in the first such vote on a circuit pick since Ketanji Brown Jackson's Supreme Court confirmation in April. The Senate Judiciary Committee is scheduled to consider more Biden judicial nominees Wednesday, Madison Alder reports.
Pharmacy benefit managers would have to report how much money they make through fees to the Federal Trade Commission under a bill introduced Tuesday. The bipartisan measure from Sens. Maria Cantwell (D-Wash.) and Chuck Grassley (R-Iowa) also seeks to crack down on unfair pricing schemes and clawbacks of payments to pharmacies. Read more from Alicia Diaz.
Coal miners sickened by black-lung disease need renewal of an income stream to help fund their disability benefits. Sen. Joe Manchin (D-W.Va.) predicted his stand-alone legislation, extending the 2021 tax rate companies pay into the Black Lung Disability Fund through 2031, will end up in a larger legislative package that's yet to be determined. Read more from Kellie Lunney.
Democrats, heading into elections that will determine whether they retain control of Congress, are warning that Obamacare premiums are set to go up and compound the rising cost of living. Insurance costs for millions of Americans will increase next year if Congress doesn't extend temporary public subsidy boosts for people on Obamacare plans, Democrats say. Read more from Alex Ruoff.
Sweeping legislation behind a bipartisan agreement that would allow millions of veterans exposed to toxic substances during military deployments to access more medical care and disability benefits was unveiled by Sens. Jon Tester (D-Mont.) and Jerry Moran (R-Kan.), the heads of the Veterans Affairs Committee, Roxana Tiron reports. Schumer said he'll bring the burn pit legislation to the floor in early June. Read the bill here.
The former accounting firm for the Trump Organization, Mazars USA, must answer questions by June 7 about the accuracy of federal tax returns it prepared for the Trumps and filed to the IRS, Sen. Ron Wyden (D-Ore.) said, as the Senate Finance Committee continues to investigate the former president's tax records, Jeffery Leon reports.
Around the Administration
BIDEN'S AGENDA:
Biden will sign an executive order at 4 p.m. on policing and public safety, commemorating the second anniversary of George Floyd's death.
The Biden administration issued an emergency order to help transport baby formula ingredients and packaging, effective immediately. Under the order, motor carriers and drivers are granted emergency relief from maximum driving time limits, Lauren Dezenski reports.
The Federal Trade Commission opened an inquiry Tuesday into the infant formula shortage, asking for information about how industry mergers, federal regulations and contracts to help feed low-income women and children may have contributed to the problem, Leah Nylen and Maeve Sheehey report.
Millions more cans of baby formula will be available in the US in the coming months, the nation's Food and Drug Administration said. About 2 million cans of infant formula made by UK-based company Kendal Nutricare are expected to arrive on US store shelves starting next month after receiving special clearance from the FDA, Fiona Rutherford reports.
Danone said it's helping US authorities prepare for shipments of its specialized baby formula amid a national shortage that's left parents across the country struggling to find supplies, Corinne Gretler reports.
Secretary of State Antony Blinken will deliver a long-promised speech Thursday setting out US policy toward China. Although Blinken's speech will be watched closely for insights into how US policy toward China may be evolving, it's not expected to offer much that's new to help guide policy makers, analysts and markets, according to people familiar with his planned remarks, Iain Marlow reports.
The Biden administration is "appalled" by new images from internment camps in China's Xinjiang region and considers it a mistake that a top United Nations official visited the region without being assured of unfettered access to investigate abuses, according to the State Department, Iain Marlow reports.
North Korea appears to have fired an intercontinental ballistic missile Wednesday in a defiant show of force just hours after Biden wrapped up a visit to the region, testing his efforts to strengthen defense ties with South Korea and Japan. Read more from Jeong-Ho Lee.
An independent commission released an initial list of new names for US Army bases that commemorate Confederate officers, Roxana Tiron reports.
The collapse of the popular stablecoin TerraUSD highlighted "deep vulnerabilities" in the broader cryptocurrency market, acting Comptroller of the Currency Michael Hsu also said Tuesday. "The recent events in crypto should serve as a wake-up call and an opportunity to reset and to recalibrate the problems the industry is trying to solve," Hsu said. Read more from Allyson Versprille.
With assistance from Roxana Tiron
To contact the reporters on this story: Brandon Lee in Washington at blee@bgov.com; Michaela Ross in Washington at mross@bgov.com
To contact the editors responsible for this story: Giuseppe Macri at gmacri@bgov.com; Andrew Small at asmall@bgov.com