What to Know in Washington: Biden Declares Pandemic Beaten
A triumphant President Joe Biden all but announced an end to the pandemic in the U.S. on Sunday, celebrating what he called a "heroic" vaccination campaign on the country's Independence Day holiday.
Speaking at a party on the White House's South Lawn with more than 1,000 people in attendance, Biden declared that the U.S. had achieved "independence" from the coronavirus, though he cautioned against complacency with more transmissible variants circulating in the country.
"Today, all across this nation, we can say with confidence: America is coming back together," Biden said to a cheer from the invited guests. "Today, while the virus hasn't been vanquished, we know this: It no longer controls our lives, it no longer paralyzes our nation and it's within our power to make sure it never does so again."
He appealed for Americans who have not yet been vaccinated to get their shots, noting that the country's battle against the virus had been costly, with more than 603,000 Americans dead. "It's the most patriotic thing you can do," Biden said.
Biden's optimistic mood reflects the plunge in coronavirus infections, hospitalizations and deaths since he took office and a rebound that has made the U.S. economy one of the strongest in the world. The Bureau of Labor Statistics said Friday that more than 850,000 jobs were created in June. And Biden's White House party followed a trip to Michigan on Saturday where he sought to give a political shot in the arm to Democratic allies ahead of 2022 midterm elections.
Biden plans to speak today on Covid-19 and the vaccination response at the White House at 3:`15 p.m., according to his schedule. Read more from Jennifer Jacobs and Sophia Cai.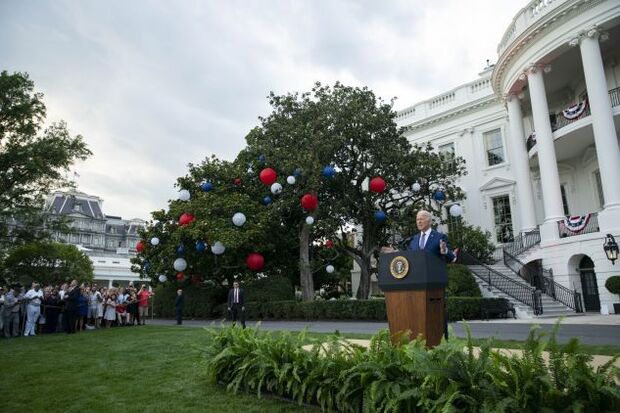 U.S. Ready to Deploy Booster Shots, Zients Says: The U.S. government is ready to deploy booster shots if scientists and health officials determine they're needed in the fight against Covid-19, White House pandemic response coordinator Jeff Zients said. With increases in cases in parts of the U.S. linked to low vaccination rates and the delta variant, Zients said the U.S. will push ahead with encouraging young people and others to get shots. Read more from Yueqi Yang.
Around the Administration
Biden, Putin Face Early Post-Summit Test Over Syria Cooperation: Biden's effort to reverse a free fall in U.S.-Russia relations encounters an early test in Syria as an agreement over international aid corridors into the country is set to expire this week. Keeping aid flowing into Syria was a key request Biden made of President Vladimir Putin at their summit in Geneva last month, but that will require the two nations and other members of the United Nations Security Council to reach an accord this week. Read more from David Wainer.
Mass Ransomware Hack Used Software Flaws: The hackers behind a mass ransomware attack exploited multiple previously unknown vulnerabilities in IT management software made by Kaseya Ltd., the latest sign of the skill and aggressiveness of the Russia-linked group believed responsible for the incidents, cybersecurity researchers said Sunday. Marcus Murray, founder of Stockholm-based TrueSec Inc., said his firm's investigations involving multiple victims in Sweden found that the hackers targeted them opportunistically. In those cases, the hackers used a previously unknown flaw in Miami-based Kaseya's code to push ransomware to servers that used the software and were connected to the internet, he said. Read more from Jordan Robertson and William Turton.
Biden said "we're not sure" that Russia is behind the massive ransomware attack. "I directed the full resources of the government to assist in the response if needed," Biden told reporters during a trip to Michigan on Saturday. "We're not sure it's the Russians," Biden said. "I got a brief on the plane. The initial thinking was, it was not Russian government, but we're not sure yet." Read more from Jennifer Jacobs.
Execution Pause Is Incomplete Step Toward Biden Vow: Attorney General Merrick Garland's execution moratorium last week marks a Trump-era reversal, but it doesn't eliminate the death penalty as Biden vowed during the 2020 race. Capital punishment opponents welcomed the news after the unprecedented string of 13 federal executions carried out late in the Trump era, while emphasizing how far the federal government has to go to deliver on Biden's abolition pledge. Read more from Jordan S. Rubin.
DOT to Require Airline Refunds for Bag Delays: The Transportation Department is moving to require airlines to refund fees to passengers for checked bags if the luggage is significantly delayed to the destination, a person familiar with the measure said. The proposal will also require airlines to promptly make refunds for other services air passengers pay for and don't receive, such as seat selection and Wi-Fi, the person said. Read more from Keith Laing.
Biden Expresses Doubt Over Olympic Rules: Biden hinted at discontent with anti-doping rules after U.S. sprinter Sha'Carri Richardson was suspended for a positive marijuana test, keeping her out of the 100-meter race at the Tokyo Olympics. "The rules are the rules and everybody knows of the rules going in," Biden told reporters Saturday during a trip to Michigan. "Whether they should remain the rules is a different issue, but the rules are the rules." Read more from Jennifer Jacobs.
What Else to Know Today
Supreme Court Term Produces Odd Bedfellows: So much for a rock-solid 6-3 conservative Supreme Court majority. The justices lined up along strict ideological lines in seven of 56 cases this term, including three of the biggest toward the end involving union organizing, voting rights, and non-profit disclosures. They voted unanimously nearly 50% of the time and scrambled 21 different ways in the remaining 30 cases. Maybe the court is still sorting itself after the arrival of Justice Amy Coney Barrett. Or perhaps the justices are "doing law," not politics, an assertion that makes progressives bristle. Regardless, the term was notable for some unusual lineups, legal experts say. Read more from Kimberly Strawbridge Robinson.
McCaul Cites Risk of Afghanistan Deteriorating: A senior Republican lawmaker expressed concern that Afghanistan might become a haven for terrorists again, requiring U.S. forces to reverse their withdrawal from the country. "We are going to give them a safe haven as the Taliban takes over that nation," said Rep. Michael McCaul (R-Texas), the GOP leader on the House Foreign Affairs Committee. "That vacuum can be filled by terrorists." Read more from Ana Monteiro.
Tens of thousands of Afghan families are fleeing to escape the Taliban's rapid advance into the country's northern region and an even larger refugee crisis is brewing. People from small towns and villages have "fled the Taliban onslaught to head to major cities," Amrullah Saleh, Afghanistan's First-Vice President, said on Twitter yesterday. Many are in "makeshift tents or on street corners awaiting help." Read more from Ana Monteiro.
The Taliban plan to present the Afghan government a written peace plan as soon as next month, according to Reuters, citing Zabihullah Mujahid, a spokesman for the group, Max Zimmerman reports. Mujahid told Reuters that talks will be accelerated in the coming days and will enter an important stage about peace plans. He said it will take a month to reach the stage where both sides share their written peace plans and that the Taliban is very serious about talks even though they have upper hand on the battlefield. A U.S. State Department spokesperson told Reuters a negotiated settlement is the only way to end 40 years of war in the country.
Republicans, Democrats Face Uneven Hit From Gas Prices: A gallon of gasoline is the most expensive it has been in seven years, but the once-potent economic indicator doesn't seem to be putting pressure on Biden's energy policies—in part because gas prices hit Democrats and Republicans differently. Gregory Korte has more.
The Biden administration is urging OPEC and its allies to find a compromise solution to increase production after the cartel abandoned a meeting yesterday, according to White House officials familiar with the discussions. Even though the U.S. isn't a party to the talks, it's "closely monitoring the OPEC+ negotiations and their impact on the global economic recovery from the Covid-19 pandemic," a White House spokesperson said yesterday. Read more from Jennifer Jacobs.
To contact the reporters on this story: Zachary Sherwood in Washington at zsherwood@bgov.com; Brandon Lee in Washington at blee@bgov.com
To contact the editors responsible for this story: Giuseppe Macri at gmacri@bgov.com; Loren Duggan at lduggan@bgov.com; Michaela Ross at mross@bgov.com