What to Know in Washington: Biden Dares Democrats to Tax Wealthy
Joe Biden took the riskiest step of his presidency with a call for higher taxes on the wealthy to fund a massive investment in the nation's social safety net, betting he could sell the American public on sweeping change following a pandemic that exacerbated economic and social divides.
Biden devoted his first address to a joint session of Congress to a call for a "a once-in-a-generation investment in our families," prescribing trillions of dollars in new spending for infrastructure, child care, paid leave, community college tuition, and a bevy of subsidies for working class families.
And in a full-throated confrontation of Wall Street, Biden said the nation's wealthiest taxpayers and companies should foot the bill. He declared investors "didn't build this country" and said the wealthy had lined their pockets during the pandemic without paying their fair share.
"I stand here tonight before you in a new and vital hour of life and democracy of our nation," Biden said.
The speech was delivered to a House chamber where heightened security and social distancing measures underscored the disease and division still confronting the nation. It amounted to an audacious gamble that Biden can harness public support not only for trillions of dollars in new federal programs for lower- and middle-income Americans, but the biggest tax hikes in decades.
But his ambitions rest on a narrow Democratic majority in the Senate, where the defections of only a single moderate or two would mean failure.
Biden painted the deadly course of the virus as embodying and exaggerating the inequalities that have broadened in recent decades, with working class Americans shouldering economic and health insecurity while the wealthiest flourished. At risk is not only his vision for rebuilding the economy, but the razor-thin advantage his party holds in Congress ahead of the 2022 midterm elections, when Republicans are well positioned to retake the majority at least in the House. Read more from Justin Sink.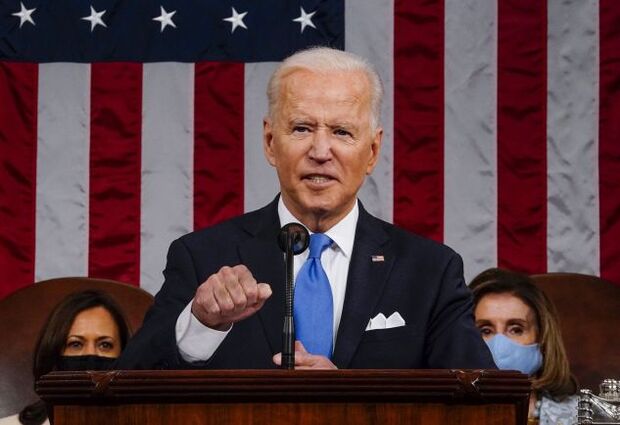 GOP's Scott Accuses Biden of Dividing, Not Uniting: Sen. Tim Scott (R-S.C.) said Biden's promise to work with Republicans hasn't been matched by actions as he pushes through a liberal agenda and ignores the GOP. Delivering his party's response to the president's address to Congress, Scott sought to undercut Biden's conciliatory image as Congress is set to debate more than $4 trillion in plans for infrastructure, jobs, and social spending.
"He promised to unite a nation. To lower the temperature. To govern for all Americans, no matter how we voted," Scott said of Biden. "But three months in, the actions of the president and his party are pulling us further apart." Read more from Laura Litvan and Steven T. Dennis.
More from Biden's Speech:
Biden Plans First Meeting With Hill Leaders in May: Biden intends to host his first meeting since taking office with House and Senate leaders from both parties on May 12, according to a White House official. House Speaker Nancy Pelosi (D-Calif.) and Senate Majority Leader Chuck Schumer (D-N.Y.) have already visited the White House, but it would be the first trip for House Minority Leader Kevin McCarthy (R-Calif.) and Senate Minority Leader Mitch McConnell (R-Ky.). The official said Biden plans to discuss policy areas where he and the lawmakers can find common ground. Read more from Jennifer Epstein.
Biden travels to Georgia today, where he will meet with former President Jimmy Carter and former First Lady Rosalynn Carter. He will then attend at drive-in car rally at the Infinite Energy Center in Duluth, Ga.
Happening on the Hill
Today's Agenda:
Senators plan to vote this afternoon on a bipartisan water infrastructure bill that would authorize $35 billion for drinking water and wastewater infrastructure projects.
Click here for a list of today's hearings and markups.
Senate Votes to Restore Methane Emissions Limits: Senate Democrats used the Congressional Review Act to undo parts of Donald Trump's regulatory agenda yesterday, rescinding a measure that made it harder for the EPA to limit leaks of the powerful greenhouse gas methane from oil and gas wells. The 52-42 vote on the methane rule is the first of several that Democrats plan to use under the 1996 law that allows lawmakers to rescind federal regulations passed in the waning days of a presidential administration as long as they act within a few months of a new Congress. Read more from Ari Natter.
GOP Stalls House Democratic Bid to Limit Drilling: Republican opposition yesterday to a package of Democratic bills that would curtail energy and mining activity on federal lands prevented a House committee from advancing most of the proposals until it meets again next week. Republicans offered dozens of amendments during the House Natural Resources Committee markup, accusing Democrats of harming the environment by trying to shut down U.S. oil and gas development, which they said would increase human trafficking in Africa. Debate on three of the nine scheduled oil, gas, mining and other bills continued for more than six hours before Democrats postponed consideration of the rest of the package until May 5. Read more from Bobby Magill.
NIH to Issue Long-Term Covid-19 Research Grants: More than $1 billion worth of research grants will go out in the next three weeks to study the long-term effects of Covid-19, in what NIH Director Francis Collins called an "unprecedented" effort to figure out why symptoms of the illness can linger for months and how to help patients. "Long Covid and the people living with them can no longer be a hidden toll of the pandemic," Collins said yesterday at a House Energy and Commerce subcommittee hearing. Read more from Jeannie Baumann.
Senate Democrats Target 2022 Rivals With Ads on Popular Agenda: The Democratic Senatorial Campaign Committee is targeting Republican Sens. Marco Rubio (Fla.) and Ron Johnson (Wis.) and open seats in North Carolina and Pennsylvania in ads criticizing Republicans for not backing Biden's efforts to boost the economy and vaccinate Americans against the coronavirus. The ads were posted today to mark Biden's 100th day in office and highlight some of the more popular items on his agenda. Read more from Ryan Teague Beckwith.
Bipartisan Group to Meet on Police Reform: A bipartisan group of senators and House members are meeting for the first time today to hold talks on police reform legislation, Politico's Playbook reports, citing an unidentified Democratic Senate aide familiar with the matter. Sens. Cory Booker (D-N.J.), Tim Scott, Dick Durbin (D-Ill.), and Lindsey Graham (R-S.C.) will attend. Rep. Karen Bass (D-Calif.) will also attend and has been deputized by Pelosi to handle talks on behalf of House Democrats
Around the Administration
Biden-Powell Duo Seeks to Define an Era: Forty years ago, President Ronald Reagan and Federal Reserve Chairman Paul Volcker oversaw a root-and-branch restructuring of the U.S. economy. Today, Biden and Jerome Powell are trying to do the same thing — only in reverse. In the Reagan-Volcker regime change, power in the economy shifted from the government to the market and from labor to the owners of capital. The emphasis was on efficiency, not equality, and on promoting supply, not demand. Monetary policy was put in charge of managing the economy and reining in inflation, while fiscal spending took a back seat. And the new priorities became entrenched –- at least until now. Read more from Rich Miller.
Amazon Lawsuit Citing Trump Kept Alive: A federal claims court judge declined to toss out Amazon's claims that political interference cost the company a lucrative Pentagon cloud contract, throwing the entire project into doubt. Judge Patricia Campbell-Smith in Washington rejected requests by the government and Microsoft, which was awarded the cloud computing deal in October of 2019, to dismiss Amazon's bias claims because the company failed to raise them early enough. Read more from Naomi Nix.
U.S., EU Race to Avoid Escalation in Metal Spat: The Biden administration is in talks with the European Union to avoid an escalation in a dispute over tariffs on European metals exports as the transatlantic alliance relations to repair an economic counterweight against China, people familiar with the matter said. Commerce Secretary Gina Raimondo, on a call with EU trade chief Valdis Dombrovskis last week, asked what could be done to avert a looming escalation of European tariffs, the people said. Jenny Leonard and Viktoria Dendrinou have more.
Also yesterday, Raimondo said the Biden administration needs to help U.S. businesses export to China and do business in the second-largest economy, even as it protects its own workers from unfair practices and competition. Much of her focus in the first 1 ½ years on the job will be domestic, Raimondo said. Read more from Eric Martin.
Labor Considers Redo of Obama-Era Union Rule: The Labor Department is mulling a return to an Obama administration rule that would give the public unprecedented transparency into employers' reliance on outside consultants to help them oppose union organizing drives. "We are definitely looking at the 'persuader' rule, no question about it," Jeffrey Freund, director of the DOL's Office of Labor-Management Standards, said. Read more from Ben Penn.
U.S. Clears Rule Setting Framework for 2022 ACA: A final rule setting the pay structure and other policies for Obamacare plans in 2022 has cleared a White House review and could soon be published. This annual rule from the Centers for Medicare and Medicaid Services finalizes payment parameters related to its risk adjustment and data validation programs. It also sets parameters for patient cost-sharing, like copayments and deductibles, Sara Hansard reports.
Restaurant-Supported Tip Rule Delayed Again: The start date for a Trump-era rule giving eateries more leeway to pay a $2.13 per hour minimum wage to tipped workers, even when they're not doing tipped work, has been delayed for the second time by the Department of Labor. A finalized rule published today extends by eight additional months—to Dec. 31—the effective date of more controversial elements of the regulation. Austin Ramsey has more.
Movers & Shakeups
SEC Enforcement Chief Alex Oh Resigns: The Securities and Exchange Commission's new enforcement chief abruptly resigned yesterday, citing a complication in a case from her prior legal career, an early and significant setback in Chairman Gary Gensler's tenure running the Wall Street regulator. Alex Oh's surprise move, announced just a week after she got the job, means Gensler won't have his preferred pick leading what's arguably the agency's most important division. Melissa Hodgman, who was previously serving as acting director of the enforcement division, will return to that role, the SEC said in a statement. Read more from Ben Bain and Matt Robinson.
Senators Demand FHFA Watchdog Resign: Republicans Sens. Chuck Grassley (Iowa), the ranking member on the Senate Judiciary Committee, and Ron Johnson said Federal Housing Finance Agency Inspector General Laura Wertheimer must resign after a report that she abused staff at the regulatory agency. The lawmakers wrote in a letter to Biden dated yesterday that Wertheimer should step down based on the findings in a report by a panel of the Council of Inspectors General on Integrity and Efficiency that substantiated allegations of misconduct by Wertheimer and several of her employees. Read more from Jeff Kearns.
Biden Announces Legal Officials for EPA, Energy: Biden has selected Jeff Prieto, a veteran of the Obama administration, as general counsel for the EPA. If confirmed as the Environmental Protection Agency's chief legal official, Prieto will guide the administration's legal strategy for unwinding Trump-era rules and crafting regulations on climate, chemicals and environmental justice. The White House also tapped Jane Nishida as assistant administrator for International and Tribal Affairs at the EPA and Sam Walsh as general counsel for the Department of Energy. Read more from Ellen M. Gilmer.
The White House selected Sylvia Johnson, Jennifer Sass, and Steve Owens to serve on the Chemical Safety and Hazard Investigation Board. The five-member board currently operates as what Katherine Lemos, the holdover chair and a Trump-era appointee, has characterized as a quorum of one. Read more from Fatima Hussein.
Biden Eyeing Uber Critic as DOL Wage Chief: David Weil, the Obama administration's senior wage regulator who has supported government crackdowns on the workforce models of Uber Technologies and other gig-economy companies, is in line to become the White House's pick for his former job at the Department of Labor, multiple sources familiar with the process said. Read more from Ben Penn.
Postal Board Nears Democratic Majority: The Senate advanced three Biden nominees for the U.S. Postal Service board who would form a Democratic majority, but it's no longer clear they would push to fire Postmaster General Louis DeJoy. Both incumbent Democratic board members, including Chair Ron Bloom, have signaled support for DeJoy, whose restructuring of the service has drawn widespread criticism. Read more from Todd Shields.
To contact the reporters on this story: Zachary Sherwood in Washington at zsherwood@bgov.com; Brandon Lee in Washington at blee@bgov.com
To contact the editors responsible for this story: Giuseppe Macri at gmacri@bgov.com; Michaela Ross at mross@bgov.com