What to Know in Washington: Biden Covid Plan Borrows From Trump
President Joe Biden and his top advisers have derided the Trump administration's playbook for distributing coronavirus vaccines, but so far have made only modest changes to the plan that's meeting their target pace of more than one million shots a day.
Biden has said vaccine distribution was in "worse shape than we anticipated." White House Chief of Staff Ron Klain said a Trump administration plan "did not really exist." Adviser Cedric Richmond said they "didn't leave a plan." Xavier Becerra, Biden's choice for health secretary, said it was like taking over a plane in a nosedive.
But while Biden's approach to the virus — frank warnings about the pandemic, mask mandates on federal property — is a reversal from Trump's policies, his administration's distribution of vaccines so far looks little different from that of its predecessor. Before Biden was sworn in, vaccines already were being delivered at a pace to meet his goal of 100 million doses in his first 100 days as president.
The new administration has said they'll order new doses, but will do so by exercising options in contracts negotiated by the previous administration, which thought it premature to do so. They say they'll use the Defense Production Act, which Trump used repeatedly. Rather than a total overhaul, they have otherwise made course corrections and modest shifts.
Biden's ability to sharply change direction is inherently limited. The sheer magnitude of the distribution efforts would make any major changes costly and risk backsliding, even if temporarily. Some aspects of the program don't offer much wiggle room to begin with, while the trickiest parts are yet to come — and entirely on Biden's shoulders. Read more from Josh Wingrove and Riley Griffin.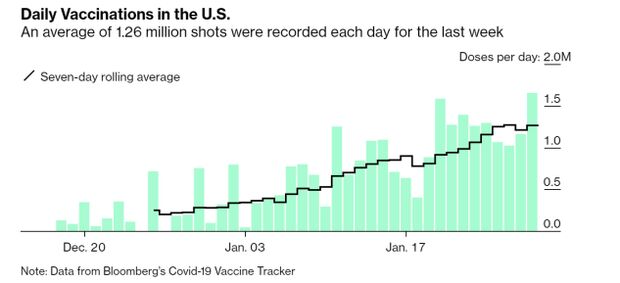 Resource: Bloomberg's Global Vaccination Tracker
Health Equity Task Force to Spotlight Disparities: Health equity will be in the spotlight as the Biden administration ramps up its Covid-19 response, with multiple public White House briefings a week, including one scheduled today, to give updates on its progress. Advocates say the solutions to societal inequities in health care are a tough challenge. Communities of color, people with disabilities, and other marginalized groups have been disproportionately affected by the coronavirus. Read more from Shira Stein.
CDC Vaccine System Gets Few Users Among States: A $44 million software system supplied for free to states by the U.S. government to help track coronavirus vaccinations is being used by only nine states, with Virginia phasing out and Connecticut exploring alternatives. The U.S. Centers for Disease Control and Prevention contracted with Deloitte & Touche for the system last spring. Called the Vaccine Administration Management System, it was touted by the CDC as an "easy-to-use, secure, online tool." Read more from Angelica LaVito.
Also on Biden's Agenda
Happening Today: Biden and Vice President Kamala Harris will receive an economic briefing from Treasury Secretary Janet Yellen today at 11 a.m., according to the president's daily guidance.
FERC is Biden's Secret Weapon for Cleaning Up Energy: The five-member Federal Energy Regulatory Commission is poised to play a pivotal role fulfilling Biden's clean-energy ambitions, including his vow to strip greenhouse gas emissions from the power sector over the next 14 years. FERC could help Biden deliver on those promises by fostering carbon prices on electricity, propelling a massive build-out of high-voltage power lines and making it harder to build natural gas pipelines. Biden can't count on help from Congress. With Democrats having only a narrow hold on the House and Senate, it's unlikely both chambers will pass broad clean energy legislation, including a nationwide renewable power mandate. Enter FERC, which can accomplish many of the same goals. Read more from Jennifer A. Dlouhy, Ari Natter and Naureen S. Malik.
Lack of Electric Vehicles a Problem for Biden's Plan: Biden has ordered the federal government to buy electric vehicles made in America with union labor. There's just one problem: No such vehicles exist. Tesla, the leading U.S. electric vehicle manufacturer, has several American-made models, but it isn't unionized. And while General Motors employs union labor to make the electric Chevrolet Bolt, roughly three-quarters of its components come from outside the U.S. — missing the 50% threshold to be considered American-made under federal procurement law. To be sure, Biden's executive order, issued Wednesday, is designed to spur investment in the nascent plug-in car market and didn't come with a deadline. So there's time and incentive for automakers to adjust. Read more from Keith Laing, Jennifer A. Dlouhy and Ari Natter.
Around the Administration
Trump DOL Hire Aims to 'Burrow In': The Biden administration is installing new leaders at a federal workforce agency critical to pandemic economic recovery, while a Trump appointee who held a senior political role in the same office is attempting to stay on board. Suzi LeVine, the Washington state Employment Security Department commissioner and former Obama-era ambassador to Switzerland, is slated to join the Labor Department on Monday as interim political head of the Employment and Training Administration, according to five sources briefed on the process. She'll be joined by a new chief of staff, Ana Hageage, who shares LeVine's Obama administration pedigree, three sources familiar with the appointment said. Ben Penn has more.
CFPB Vows Action on CARES Act Compliance: The CFPB's new chief has ordered the agency to expedite all Covid-19-related investigations and to more closely examine compliance with consumer relief provisions Congress put in place last year. Acting Consumer Financial Protection Bureau Director David Uejio said in a blog post yesterday that the agency will increase its focus on compliance with CARES Act provisions that apply to mortgage and student loan servicers, consumer credit reporting bureaus, and other financial companies. The move reverses a policy under former CFPB Director Kathy Kraninger. Read more from Evan Weinberger.
Majority of U.S. Land Agency's D.C. Staffers Quit Over Move: Most of the Bureau of Land Management employees who faced relocation from Washington, D.C., to Grand Junction, Colo., have left the agency, according to new data from the U.S. Department of Interior. Only 41 people out of 328 employees moved to Grand Junction following the BLM's 2019 decision to relocate its headquarters out of Washington, Interior spokeswoman Melissa Schwartz said in an email. Meanwhile, 287 employees either retired or found new employment between July 2019 and December 2020, she said. Read more from Louis LaBrecque.
Wall Street Wins Oil, Gun Loan Reprieve: Wall Street lenders, benefiting from an early gift from Biden, won at least a temporary reprieve from a controversial rule barring them from refusing to serve businesses they think may harm their reputations. The Office of the Comptroller of the Currency said in a statement yesterday that its "fair access" rule, which received final approval just two weeks ago, will be paused in response to the "Regulatory Freeze Pending Review" memo that was released shortly after Biden took office on Jan. 20, Jesse Hamilton reports.
Blinken Says U.S. Ready to Prosecute Pearl's Murder: The U.S. is "deeply concerned" by the ruling of the Pakistani Supreme Court "to acquit those involved" in the kidnapping and killing of American journalist Daniel Pearl in 2002, Secretary of State Antony Blinken said yesterday in a statement. "We expect the Pakistani government to expeditiously review its legal options to ensure justice is served," he said, adding that the U.S. is prepared to prosecute Pearl's murder suspect Ahmad Omar Saeed Sheikh on its own soil, Peyton Forte reports.
What Else to Know Today
Trump, McCarthy Agree on GOP Goal to Take House: Trump, in a meeting with House Republican Leader Kevin McCarthy (R-Calif.) yesterday, agreed to help the GOP retake the House in 2022.
McCarthy went to Trump's Mar-a-Lago resort in South Florida where the two men discussed many topics, starting with how Republicans can win the seven seats needed in next year's midterm elections to retake the House, according to an account of the meeting provided by the Save America PAC. "President Trump's popularity has never been stronger than it is today, and his endorsement means more than perhaps any endorsement at any time," Save America said in a statement, calling the meeting "a very good and cordial one."
McCarthy also said in a statement that Trump committed to helping elect Republicans in the House and Senate in 2022. He said a Republican majority "will listen to our fellow Americans and solve the challenges facing our nation" while Democrats have a divisive agenda "such as impeaching a president who is now a private citizen." Read more from Mark Niquette.
Democrats Push New Money for Job Training: Congressional Democrats introduced legislation yesterday that would authorize $15 billion for purposes like on-the-job training and registered apprenticeships. The Relaunching America's Workforce Act would also send money to adult education providers and community college grant programs. Congress funded those items in the wake of the Great Recession and supporters say it's even more important to fund job training now in response to the pandemic.
Lawmakers released a flurry of bills this week on priorities like wages, education, and job training in anticipation of party leaders assembling a reconciliation stimulus package, Andrew Kreighbaum reports.
State, City Finances Stifle a Broader Rebound: State and local governments are exerting the biggest drag on the U.S. economy in over a decade as they eliminate jobs and cut spending in the wake of the pandemic, underscoring Biden's push to extend relief to make up for lost tax revenue. Those cutbacks have contributed to a slowdown for three straight quarters, marking the longest taper since the fiscal crisis that persisted from 2009 to 2012, preliminary data from the U.S. Bureau of Economic Analysis says. Read more from Fola Akinnibi.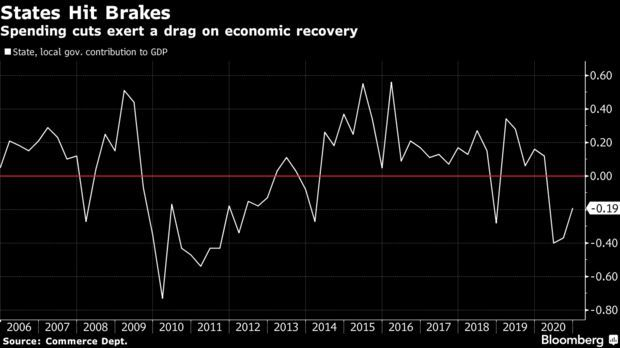 To contact the reporters on this story: Zachary Sherwood in Washington at zsherwood@bgov.com; Brandon Lee in Washington at blee@bgov.com
To contact the editors responsible for this story: Giuseppe Macri at gmacri@bgov.com; Loren Duggan at lduggan@bgov.com; Michaela Ross at mross@bgov.com