What to Know in Washington: Biden Closes In on Health Leaders
President-elect Joe Biden's front-runner for secretary of Health and Human Services is New Mexico Governor Michelle Lujan Grisham, and he may announce several of his administration's health leaders as soon as next week, according to people familiar with the matter.
The position of HHS secretary is down to two possibilities, the people said, between Lujan Grisham and former Surgeon General Vivek Murthy, a co-chair of the coronavirus advisory board Biden appointed shortly after he was elected.
Biden's health team will assume office with the U.S. still suffering from the pandemic, as virus cases and hospitalizations soared over the past month. His health secretary is expected to have input on filling other top health posts, such as FDA commissioner and the administrator of the Centers for Medicare and Medicaid Services, the people said, so those appointments may not be announced until later.
The Health and Human Services secretary will have the tough task of rebuilding Obamacare, which Biden has promised to expand. That will be a difficult undertaking with a Republican-led Senate.
Murthy or Jeff Zients, who led the Obama administration effort to repair healthcare.gov, the faulty Obamacare website, may be named to a leadership role on the pandemic, according to the people familiar with the matter — a "Covid-19 czar."
Mandy Cohen, the North Carolina state health secretary, is a favorite for CMS, the people said. Biden's choices to lead the Food and Drug Administration appear narrowed down to David Kessler, a former commissioner of the agency who is another co-chair of his coronavirus advisory board, and Joshua Sharfstein, a former FDA official who is a vice dean at Johns Hopkins University's Bloomberg School of Public Health.
Biden announced his economic team yesterday. An announcement on some of his health team could come as soon as Monday, the people said. It's not clear how many people will be announced at once, or which positions would later be filled by the health secretary once the Biden administration is in place. Read more from Josh Wingrove, Shira Stein and Alex Ruoff.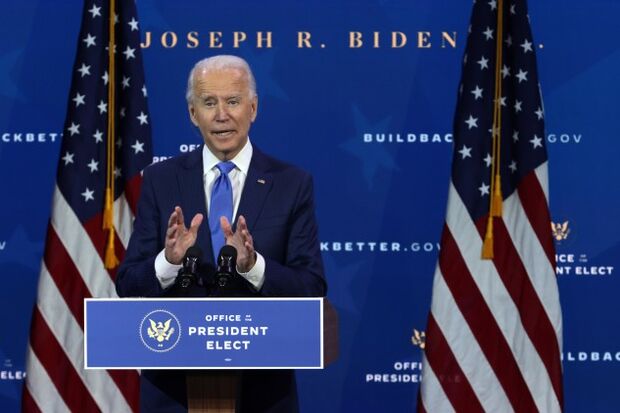 More on the Transition
What's in Store for Biden Economy Team: Biden announced the team that will take on one of the key early challenges of his presidency: keeping the national economy's recovery from the coronavirus on track. Biden's economic officials, who mostly have crisis experience from the Obama administration, will be charged with delivering more fiscal stimulus to support an economy that risks running out of steam after a fast initial rebound from the pandemic drop.
Biden's team will also be in charge of a longer-term economic plan that is a major departure from the Trump agenda, with a focus on boosting clean energy and domestic manufacturing, improving care for children and the elderly, and narrowing racial inequality in income. Those policies, like the short-term stimulus measures, face obstacles in a potentially split Congress. Jenny Leonard offers snapshots of Biden's intended nominees—and the tasks ahead of them.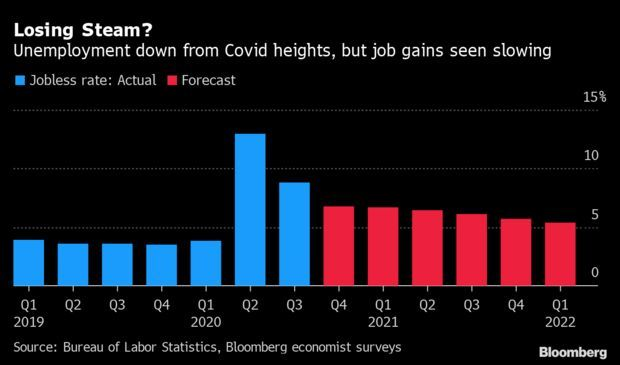 Boushey Criticized by Former Staffer Sahm: Heather Boushey, named by Biden as a member of his Council of Economic Advisers, was criticized yesterday by a former employee who alleged she was pushed out of her job after publishing a blog post that Boushey didn't like. Claudia Sahm, a former Federal Reserve economist, worked at the Washington Center for Equitable Growth that Boushey leads but left the position in October, two months after publishing a viral blog post that claimed racist, sexist and elitist harassment in the economics field. "I no longer see Heather Boushey as committed to diversity and inclusion," Sahm wrote in the post published on her blog.
She says she was subject to performance reviews following her initial post, and that Boushey never replied to a request to meet after the essay went viral. Sahm is a regular contributor for Bloomberg Opinion and writes for the New York Times. Read more from Catarina Saraiva.
Environmental Lawyers Tasked With Bulletproofing Agenda: As Biden begins naming his picks for powerful Cabinet positions, many environmental lawyers are turning their attention to a slate of lower-profile but influential legal roles that will shape the new administration's work on pollution, climate change, and natural resources. Politically appointed lawyers at the Environmental Protection Agency, Interior Department, and Justice Department will play pivotal parts in the Biden administration, guiding policy choices, defending new regulations in court, and cracking down on violators.
"The top legal positions, like EPA general counsel, are often not the focus of Senate confirmation battles, but they carry significant responsibility in how to execute the policy agenda that is set by others in an administration," said Hunton Andrews Kurth's Matthew Z. Leopold, who served as the EPA's top lawyer under Trump. Ellen M. Gilmer and Stephen Lee look at the top environmental law spots for the Biden administration to fill.
EU Chiefs Appeal to Biden to Rebuild Ties: The European Union plans a sweeping proposal for transatlantic cooperation to Biden in a push to repair relations soured by Trump. "The EU looks forward to working together with the U.S.," according to draft conclusions of a meeting of the 27 EU leaders next week seen by Bloomberg News. "We stand ready to discuss shared priorities with the new President of the United States." Read more from Jonathan Stearns.
Solar Manufacturer Wants to Keep Trump's Tariffs: America's biggest solar manufacturer wants Biden to preserve the Trump administration's tariffs on imported panels or add other measures to help compete against China. "If you want continued American innovation, you have to have some mechanism to ensure not only free trade, but fair trade," First Solar CEO Mark Widmar said in an interview. Read more from Brian Eckhouse and Joe Deaux.
The Outgoing White House
Prosecutors Probe Effort to Buy Pardon: U.S. prosecutors are investigating whether several individuals offered political contributions in exchange for a presidential pardon, according to an unsealed court document. The names of the people under investigation were blacked out in the document. The disclosure of an alleged attempt to purchase a pardon comes as Donald Trump's presidential term winds to an end, traditionally a time when pardons are meted out. Trump's prior pardons have stirred controversy, including his decision to grant them to former Sheriff Joe Arpaio in Arizona and former Illinois Governor Rod Blagojevich. Last week, Trump announced that he was pardoning former National Security Adviser Michael Flynn. Read more from David Yaffe-Bellany and Erik Larson.
Barr Recasts Probe of Russia Inquiry: Attorney General William Barr has named U.S. Attorney John Durham of Connecticut to be a special counsel in his ongoing investigation into the FBI's Russia probe, a move that will let the inquiry continue into Biden's administration. Barr said in an interview published by the Associated Press yesterday that he made the appointment of Durham — who is already leading the FBI-Russia probe — to provide him "and his team some assurance that they'd be able to complete their work regardless of the outcome of the election." Read more from Chris Strohm.
Historians Sue to Force Trump to Preserve Records: Historians and watchdog groups sued the Trump administration again over its alleged failure to preserve White House records. "With President Trump's term in office soon coming to an end," the White House's flouting of record-keeping requirements could deprive historians and the public "of records documenting a critical part of our nation's history," the groups said in a complaint filed yesterday in federal court in Washington. The Presidential Records Act, passed in the wake of the Watergate scandal of the 1970s, designates all White House records as public and requires that they be preserved. Read more from Robert Burnson.
Trump's Claims Lead to Cyber Staff Exodus: The recent departure of a spate of high-profile U.S. cybersecurity officials resulted from their insistence that the presidential election was legitimate while Trump's campaign peddled false claims of widespread fraud, according to one of the officials who was forced out. Read more from Alyza Sebenius.
GOP Official Says Trump Inspiring Violence: Georgia's Republican voting system manager denounced Trump and the state's Republican senators for not condemning, and encouraging in some instances, the threats of violence being made against election workers and the state's top elections official. His voice shaking with anger, the normally even-keeled Gabriel Sterling said his boss, Secretary of State Brad Raffensperger (R), received death threats, has had Trump supporters driving caravans around his house and entering his property, and that his wife has been getting threats on her phone. Read more from Margaret Newkirk.
Trump Allies Ask High Court to Nullify Biden's Pa. Win: In a long-shot request, Republican allies of Trump say they've asked the Supreme Court for an emergency order that would nullify Pennsylvania's certification of Biden's election victory in the commonwealth. The filing by lawmakers led by Rep. Mike Kelly argues that Pennsylvania's General Assembly exceeded its power by allowing universal mail-in voting for the election. Greg Stohr has more.
Happening on the Hill
Trump Threatens to Veto Defense Bill: Trump threatened to veto the annual must-pass defense authorization bill unless congressional leaders include changes to the legal shield that protects tech companies from liability for user content. The liability shield, Section 230 of the Communications Decency Act, "is a serious threat to our National Security & Election Integrity," Trump tweeted on Tuesday evening. "Therefore, if the very dangerous & unfair Section 230 is not completely terminated as part of the National Defense Authorization Act (NDAA), I will be forced to unequivocally VETO the Bill when sent to the very beautiful Resolute desk."
The administration has pressed congressional leaders to include language in the fiscal 2021 National Defense Authorization Act that would limit the extent companies can moderate content on their platforms, according to a Senate aide. Read more from Rebecca Kern and Roxana Tiron.
Water Bill Talks Target Army Corps Projects: The final draft of a broad water infrastructure package lawmakers are aiming to pass before year's end will target Army Corps of Engineers projects and omit drinking water provisions, according to a Senate aide involved in the talks. House and Senate negotiators are confident Congress will pass a new two-year authorization of the Water Resources Development Act during the lame-duck session, staffers at the Senate Environment and Public Works and House Transportation and Infrastructure committees say. Read more from Kellie Lunney.
Pelosi, McConnell Fan Stimulus Hopes: Speaker Nancy Pelosi (D-Calif.) and Senate Majority Leader Mitch McConnell (R-Ky.) each took a stab at breaking the deadlock over a new stimulus, but it wasn't clear that either side budged enough to get a deal in the short time Congress has left to act.
Pelosi and Senate Minority Leader Chuck Schumer (D-N.Y.) — who've previously stuck with a $2.4 trillion coronavirus relief package — presented a new proposal to McConnell and Treasury Secretary Steven Mnuchin, but refused to publicly release details. Schumer called it "a private proposal to help move the ball forward." McConnell, in response, began circulating his own plan to fellow Republicans, saying it had the blessing of Trump. While he labeled it a new proposal, an outline distributed to GOP senators showed it was largely a revision of an earlier $500 billion plan that had been rejected by Democrats as inadequate. Read more from Erik Wasson, Steven T. Dennis and Laura Litvan.
Amazon Urged to Address Injuries at Warehouses: Massachusetts lawmakers say they're concerned about Amazon's response to questions about what they argued is a "high rate of serious injuries" among employees at its warehouses. Sens. Elizabeth Warren and Ed Markey, along with Rep. Joe Kennedy, said that the company "seems unwilling to address the root causes of high injury rates at their warehouses or acknowledge a link between productivity demands and injuries." Read more from Max Reyes.
Space Force Advocate to Lead GOP on Armed Services Panel: Rep. Mike Rogers (R-Ala.) was selected to be the ranking member of the House Armed Services Committee. The GOP Steering Committee recommended Rogers, a veteran member of the panel, according to a person familiar with the move. House Republicans are scheduled to ratify their selection on Thursday, the person said. Read more from Roxana Tiron.
The Democratic Steering and Policy Committee voted to recommend Rep.

Gregory Meeks

(D-N.Y.) to serve as House Foreign Affairs chair, according to a press release from Rep.

Brad Sherman

(D-Calif.), who said he would not pursue the role during a full caucus vote tomorrow. Meeks would be the first African American chair of the panel. Rep.

Joaquin Castro

(D-Texas) was also competing for the position.
Hall Wins Runoff to Briefly Fill Georgia Seat: Former Atlanta City Councilman Kwanza Hall defeated former Morehouse College President Robert Franklin in the runoff to fill the Georgia 5th Congressional District seat held by John Lewis (D) for the remainder of the 116th Congress, the Associated Press reports. Hall won't be back in January, as Nikema Williams (D) has been elected to serve in the next Congress. Samantha Handler has more.
What Else to Know Today
Health Workers Get Nod for First Vaccines: Health-care workers and residents at long-term care centers should be first in line for Covid-19 vaccines, key government advisers said, citing the high risk for infection within the two groups and the positive effects on hospital care. The Advisory Committee on Immunization Practices includes public health experts that advise the Centers for Disease Control and Prevention on vaccine usage. The recommendation comes as regulators are set to rule in several weeks on the emergency approvals of a Pfizer-BioNTech vaccine and a Moderna vaccine. Read more from Anna Edney, Angelica LaVito, and John Tozzi.
New Virus Guidelines Would Shorten Quarantine: The U.S. Centers for Disease Control and Prevention told Trump's coronavirus task force yesterday that its new guidance would reduce quarantine time for individuals exposed to the virus by up to half, two people familiar with the matter said. The new recommended self-quarantine timeline would be seven days for people who test negative after exposure, and 10 days for those who don't take a test, they said. Read more from Jennifer Jacobs.
Pentagon Blasted for 'Inexcusable' Response About Loan: A congressional oversight panel accused Department of Defense officials of stalling and giving unsatisfactory answers about a $700 million loan to a struggling shipping company. The Congressional Oversight Commission said the department failed to explain why YRC Worldwide should qualify for a loan from funds meant for companies critical to national security. The delay is "inexcusable," and the loan puts taxpayer money in a "precarious" position, according to a report. Laura Davison has more.
Biden Says He Won't Soon Remove China Tariffs: Biden told the New York Times he'd leave the phase-one trade deal with China in place while he conducts a full review of U.S. policy toward its Asian rival in consultation with key allies. Speaking to columnist Thomas Friedman, Biden said he wouldn't immediately scupper the trade agreement that Trump reached with China earlier this year. "I'm not going to make any immediate moves, and the same applies to the tariffs," Biden said, according to the report. "I'm not going to prejudice my options." Read more.
A senior U.S. official accused China of violating United Nations sanctions against North Korea, moves he said go against a global consensus and undermine efforts to get the isolated regime to give up its nuclear weaponry. "There is no excuse for Beijing's failures," Alex Wong, the State Department's deputy special representative for North Korea, said at a conference. China "has the resources to implement its UN sanctions obligations in its coastal waters. But, again, it chooses not to," he said. Read more from Nick Wadhams.
Hong Kong activist Joshua Wong urged supporters to "hang on" after he was sentenced to more than a year in jail for leading a protest outside police headquarters last year, prompting angry cries outside the court in one of the most high-profile cases in the government's crackdown on the pro-democracy movement. "I know it's so difficult, but I'll hold on," he yelled to supporters after the sentence was read out. Wong today was sentenced to 13 and a half months in West Kowloon Magistrates' Courts on charges of organizing an unauthorized assembly in June 2019 and inciting others to take part. Read more.
Trump H-1B Visa Rules Struck Down: The Covid-19 pandemic's effect on domestic unemployment isn't enough to justify regulatory shortcuts taken by the Departments of Homeland Security and Labor in implementing significant changes to the H-1B visa program, a federal judge ruled, setting aside the Trump administration measures. The "good cause" exception to the Administrative Procedure Act is usually evoked in the event of emergencies, and the agencies' failure to act until six months into the pandemic undercuts their use of "'skyrocketing' and 'widespread' unemployment rates as a basis to find 'immediate' action was necessary," Judge Jeffrey S. White of the U.S. District Court for the Northern District of California said in an order issued yesterday. Read more from Genevieve Douglas.
To contact the reporters on this story: Zachary Sherwood in Washington at zsherwood@bgov.com; Brandon Lee in Washington at blee@bgov.com
To contact the editors responsible for this story: Giuseppe Macri at gmacri@bgov.com; Loren Duggan at lduggan@bgov.com; Michaela Ross at mross@bgov.com