What to Know in Washington: Biden Climate Debut Risks Shortfall
John Kerry has been flying around the world trying to get some of the biggest polluters to step up their fight against climate change in time for a White House summit on April 22. If new goals are the measure of success, the meeting is shaping up to be a disappointment.
President Joe Biden's climate envoy this week touched down in Shanghai, China—the most high profile stop on a tour that's so far included India, the U.K., Bangladesh and the United Arab Emirates. Later he'll travel to Seoul, South Korea.
His mission is to reestablish America as a leader on global climate action after four years of backtracking under Donald Trump. That means setting an ambitious 2030 emissions reduction target and then cajoling others to strengthen their goals.
Before the U.S. can lead, however, it will first have to overcome the world's mistrust. After all, the country's already reneged on its climate promises before.
"They've clearly been looking to try to encourage other countries to also increase their ambition, but I don't think this is the date," said Pete Ogden, who served in the Obama administration and is now vice president for energy, climate and the environment at the United Nations Foundation. "I do not expect that everything will be on a glide path to 1.5 degrees," he said.
The Paris Agreement strives to keep global temperatures from rising more than 1.5 degrees Celsius from pre-industrial levels, the limit scientists say is needed to avoid the worst effects of global warming. To get there the world will have to zero out greenhouse gases emissions by 2050, a timeline that will only be achieved if countries step up their climate action significantly. Read more from Jess Shankleman.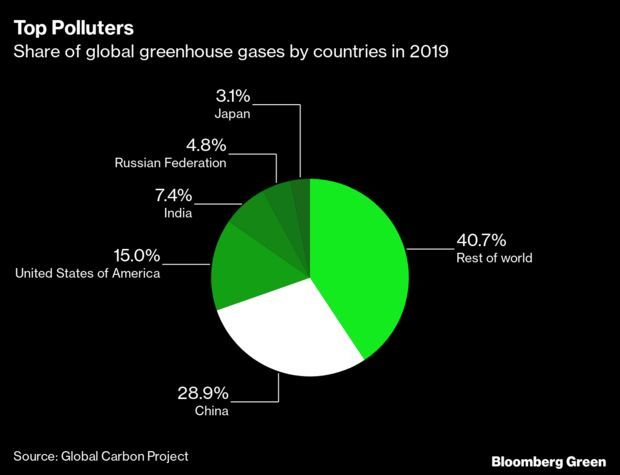 Happening on the Hill
Senate Advances Bill on Anti-Asian Hate Crimes: The Senate will resume consideration today of a bill designed to combat hate crimes against Asian Americans and Pacific Islanders in a bipartisan response to a wave of attacks since the outbreak of the coronavirus pandemic. The Senate voted 92-6 yesterday to move forward on the legislation, which members of both parties say they want to expand and bolster before likely passage as soon as today. The bill would direct the Justice Department to designate an official to speed review of virus-related hate crimes of Asian Americans reported to federal, state or local officials. Read more from Laura Litvan.
Biden yesterday named a former Democratic congressional staff member to serve as a liaison to the Asian-American and Pacific Islander community, a person familiar with the matter said. Erika Moritsugu was tapped to fill the role created after Asian-American lawmakers raised concern about a lack of representation in senior positions in the Biden administration. Moritsugu was general counsel to Sen.

Tammy Duckworth

(D-Ill.). Read more from Jennifer Epstein.
Biden and Vice President Kamala Harris will meet at the White House today with the Congressional Asian Pacific American Caucus Executive Committee.
Also Happening Today: The House will consider legislation that would require employers to face more stringent standards and larger penalties for claims of pay discrimination. The bill would prohibit employers from retaliating against employees for discussing wages. Employers also couldn't make employment or pay decisions based on a prospective employee's wage history. For more, see the BGOV Bill Summary by Naoreen Chowdhury.
The House Administration Committee will hear more details during an oversight hearing today about U.S. Capitol Police preparations ahead of the Jan. 6 attack on the Capitol that law enforcement was unable to thwart. Billy House previews the hearing.
Click here for a complete list of today's hearings and markups.
Slavery Reparations Bill Approved by House Panel: A House panel cleared the way for the full chamber to vote on legislation to create a commission to study reparations for the descendants of slaves, the first time the proposal has advanced that far since it was originally introduced three decades ago. The House Judiciary Committee voted 25-17 along party lines to send the measure to the House floor after hours of debate. The bill from Rep. Sheila Jackson Lee (D-Texas), would establish a 13-member commission to examine slavery and discrimination in the U.S. from 1619 to the present day. The commission would recommend remedies to Congress based on the findings. Read more from Jarrell Dillard.
Politics & Influence
Zoom Political Fundraisers Build Traction: Zoom fundraising, born of necessity during the pandemic, will likely remain a part of the Washington political scene even as increased Covid-19 vaccinations and the gradual lifting of virus restrictions mark a return to in-person events. Online events have been a boon especially for certain members of Congress, who appreciate the convenience, according to 20 advocates and fundraisers in interviews. Megan R. Wilson has more.
Sotomayor, Gorsuch Say Divisions Threaten Democracy: Two U.S. Supreme Court justices of opposing philosophies called for a return to civil discourse, warning that societal divisions and the spread of false information via social media pose a threat to American democracy. In a recorded event released yesterday and sponsored by the Center for Strategic & International Studies, Justices Sonia Sotomayor and Neil Gorsuch lamented the nation's collective inability to listen to one another, calling it a national security threat in a politically fractious era. Read more from Greg Stohr.
Ford Expands Huntsman's Role: Ford tapped Jon Huntsman, the former diplomat and Utah governor who sits on the automaker's board, to join its senior management team and offer advice on changes transforming the auto industry. The company named Huntsman vice chairman of policy yesterday and charged him with providing counsel to new CEO Jim Farley and Executive Chairman Bill Ford, great-grandson of founder Henry Ford. Huntsman will remain a director. Read more from Keith Naughton.
Around the Administration
Senate Confirms Biden's Pick for Environmental Council: Brenda Mallory, Biden's nominee to head his Council on Environmental Quality, won Senate confirmation yesterday. In her new role, Mallory will oversee an office that's already started reviewing changes the Trump White House undertook to relax environmental permitting under the National Environmental Policy Act for large projects, such as highways and bridges. Read more from Stephen Lee.
Biden Confronts Decades of Union Decline in Bid to Boost Wages: Biden's strategy of bolstering labor unions as a way to enhance American workers' pay is running up against a half century of setbacks for organizing workers. Creating "good-paying, union jobs" is a centerpiece of Biden's $2.25 trillion infrastructure-focused economic plan, which also calls for new laws to encourage unions. "Even in the face of automation and globalization, America can and must retain well-paid union jobs and create more of them all across the country," according to a White House summary. Wage growth was relatively subdued for most of the 2010s expansion. With unemployment still elevated in the wake of the pandemic, boosting productivity and generating a tight labor market may provide a more viable path to raising pay than unionizing. Read more from Steve Matthews and Payne Lubbers.
Infrastructure Plan Said to Open Equity Push: Biden's $2 trillion infrastructure plan and $1.5 trillion budget plan are just the first steps in a likely government-wide effort to remove barriers to racial equality and environmental justice, the White House senior adviser for climate policy and finance Jahi Wise said. "The president has been clear that communities that have borne the brunt of pollution over the last decades should be first in line to see the benefits of this clean energy transformation," he said. Read more from Dean Scott.
Biden to Hit Putin With New Russia Sanctions After Summit Offer: The Biden administration is poised to impose a raft of new sanctions on Russia, including long-feared restrictions on buying new sovereign debt, in retaliation for alleged misconduct including the SolarWinds hack and efforts to disrupt the U.S. election, according to people familiar with the matter. The sanctions, the first of which could be announced as early as today, reflect an attempt by the U.S. to balance the desire to punish the Kremlin for past misdeeds but also to limit the further worsening of the relationship, especially as tensions grow over a Russian military buildup near Ukraine. Read more from Alberto Nardelli, Nick Wadhams and Jennifer Jacobs.
Biden Risks Turmoil Ahead in Afghanistan: For Biden, withdrawing the remaining U.S. troops from Afghanistan was a recognition of the inevitable after 20 years of war with no clear victory in sight. The president's critics argue it will obliterate American leverage over the Taliban and doom the country's few but fragile gains. Biden, speaking yesterday from the same room where President George W. Bush announced the start of the war in Afghanistan in 2001, cast his decision as the ultimate buck-stops-here moment, fulfilling a goal that three previous presidents had promised but failed to deliver on. But Biden's critics argue he's being too quick to remove troops that provide a bulwark of support to Afghanistan's government and leverage over Taliban fighters. Read more from Nick Wadhams.
Secretary of State Antony Blinken made a visit to Afghanistan to brief the country's leaders on U.S. plans to withdraw its remaining troops by Sept. 11 and to press for a peace agreement with the Taliban. The trip comes after Blinken visited NATO allies in Brussels to coordinate plans for the withdrawal. Read more from Nick Wadhams.
Iran Nuclear Crisis Grows Ahead of Vienna Talks: An attack targeting Iran's primary nuclear-fuel facility and Tehran's retaliatory vow to begin enriching uranium close to weapons grade will confront diplomats seeking to revive a stricken atomic agreement when they meet today. Envoys from Iran and six world powers will convene in Vienna for a third meeting in 10 days with the Persian Gulf once again convulsed by the crisis. They're trying to coordinate a U.S. return to the 2015 nuclear deal and Iranian compliance with its enrichment commitments. The immediate challenge will be to defuse tensions. Read more from Jonathan Tirone and Golnar Motevalli.
J&J's Covid Vaccine Remains Paused: U.S. public health advisers concluded a meeting on Johnson & Johnson's Covid-19 vaccine without a vote, effectively extending a pause on its use while they seek more data on a rare clotting side effect. Read more from Angelica LaVito.
To contact the reporters on this story: Zachary Sherwood in Washington at zsherwood@bgov.com; Brandon Lee in Washington at blee@bgov.com
To contact the editors responsible for this story: Giuseppe Macri at gmacri@bgov.com; Loren Duggan at lduggan@bgov.com; Michaela Ross at mross@bgov.com