What to Know in Washington: Biden Climate Ambitions All But Dead
Administration's 2030 target to slash emissions unlikely
Democrats see midterm deadline for stock trade ban
President Joe Biden came into office with more aggressive plans to fight what he called the "existential threat" of climate change than any of his predecessors. Three months into his presidency, he vowed to cut the carbon emissions of the world's second-largest emitter in half by 2030, a pledge that helped re-establish American climate leadership on the global stage.
One year on, that signature climate goal is all but dead.
Political allies are now acknowledging what scientists who analyze U.S. policy options have confirmed: There's virtually no viable path to slashing U.S. emissions in line with Biden's 2030 target—at least not without major legislation that appears increasingly remote. "I am certainly grateful for the improvements we've seen under this administration, but it hasn't gotten nearly far enough to be considered on track to address the climate crisis," says Rep. Jared Huffman, a California Democrat who is a leading progressive in the House of Representatives.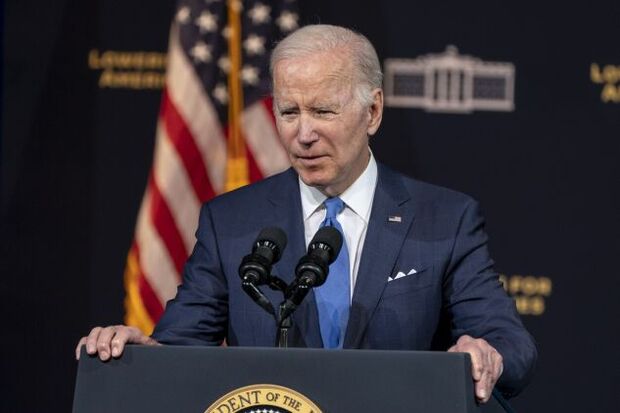 At the center of this setback is an evenly split U.S. Senate that puts West Virginia's Joe Manchin, a Democrat from a coal- and gas-rich state with a personal fortune tied to fossil fuel, in a position to make or break legislation. A proposal championed by the White House to spend around $555 billion on climate and clean-energy measures have stalled, and the approaching midterm elections make passage unlikely.
Without that half-trillion dollars in new spending, the scientists who study pathways for cutting U.S. emissions can't see a way to deliver on Biden's promise. "Congress has to act, and they have to act in a pretty substantial way," says Mike O'Boyle, director of electricity policy at Energy Innovation, an energy and climate think tank in San Francisco. Otherwise, he says, "there is no way." Read more from Leslie Kaufman, Jennifer A Dlouhy and Ari Natter.
Happening on the Hill
CONGRESSIONAL SCHEDULE:
The Senate meets at 2 p.m. to resume debate on a federal court nominee.
The House meets at 10 a.m., with votes later on suspension measures.
Senate Democrats negotiating a bill that would ban stock trading by members of Congress say they are running out of time to pass a measure before November's midterm elections become lawmakers' primary focus. "If we don't succeed in getting a bill that we can get 60 people to support and get it kind of rolling soon, we are just going to miss the window," Sen. Jeff Merkley (D-Ore.), one of the Democrats leading the effort, said in an interview Tuesday. Limiting member stock trading has bipartisan support in Congress, but lawmakers differ on the approach. Read more from Jarrell Dillard and Zach C. Cohen.
The U.S. weapons stockpile could run out in several months if the administration continues to send war-fighting supplies to Ukraine, defense experts told Congress Tuesday. "It's a huge threat to our security," said Ellen Lord, the former under secretary of defense for acquisition and sustainment, at an Armed Services Committee hearing on Tuesday. "This is our Sputnik moment here with Ukraine." The U.S. has sent almost a quarter of its Stinger missile stockpile to Ukraine, she said. At this point, the U.S. is "using what we have that we can give away" with a two-to-five year lag due to a lack of investment in equipment, she said. Read more from Patty Nieberg.
Lael Brainard was confirmed to be vice chair of the Federal Reserve Board of Governors in a 52-43 Senate vote, the first of four central bank nominees set for consideration by the chamber. Brainard, 60, had been considered by Biden for the Fed's top job before he chose to keep Jay Powell in that post. She won over four Republicans on the Banking Committee after a relatively friendly confirmation hearing, though most GOP senators still opposed her due to her views on regulation. Brainard dissented from a number of moves to reduce the regulatory burden on banks in recent years. Read more from Steven T. Dennis.
A top senator is looking to add language requiring dietary supplement reporting to must-pass legislation governing the FDA's user fees. The Dietary Supplement Listing Act of 2022, introduced by Senate Majority Whip Dick Durbin (D-Ill.) Tuesday, would bolster Food and Drug Administration oversight of dietary supplements to better identify potentially harmful ingredients or health claims. Durbin's office said he'd like to see the legislation added onto the FDA user fee legislation, which would give the bill a clear path to coverage. Read more from Celine Castronuovo.
Legislation to the tackle consolidation of the cattle market by a few big companies is facing opposition from Republicans who fear the effort will lead to government overreach. At a Senate Agriculture, Nutrition, and Forestry Committee hearing on Tuesday, some senators expressed concern over whether two bills intended to help cattle producers compete would actually harm them. One would require the agriculture secretary to set a minimum threshold for negotiated trade volumes. The other would establish a special investigator office for competition matters within USDA. Read more from Maeve Sheehey.
Tyson Food chief executive Donnie King plans to rebuff accusations meatpackers are abusing market power and tell a Congressional panel on Wednesday that the surge in consumer beef prices is driven by "straightforward market forces." Biden and congressional Democrats have accused the four meatpacking companies that dominate U.S. beef processing of leveraging their market share to profiteer from the Covid pandemic and supply-chain shortages. Mike Dorning previews the hearing.
An FDA official said the agency won't contract with McKinsey & Co. while lawmakers investigate the consulting firm's work with opioid manufacturers. "We anticipate that further contracts will not be issued pending the outcome of the investigations," Patrizia Cavazzoni, head of the FDA's Center for Drug Evaluation and Research, said during a hearing of the Senate Committee on Health, Education, Labor, and Pensions. The remarks come as the House Oversight Committee gears up to grill McKinsey's Bob Sternfels on how consultants worked with opioid makers like Purdue Pharma. Read more from Ian Lopez.
Medicare's move to limit coverage for Biogen's Alzheimer's drug will not necessarily hinder development of several similar treatments currently in clinical trials, Cavazzoni also told senators Tuesday. Cavazzoni said the current pipeline for Alzheimer's drug research is "very robust" with "a lot of drugs in the pipeline for Alzheimer's disease, including drugs in the same class" as Biogen's Aduhelm. Her comments are the latest efforts by the FDA to ease concerns that Medicare's decision will hurt research investment for unmet medical needs. Celine Castronuovo has more.
Hispanic lawmakers are urging Biden to follow through on a campaign promise to cancel student loan debt that they claim falls especially hard on Hispanic and Latino Americans. In a letter, Rep. Raul Ruiz (D-Calif.), chair of the Congressional Hispanic Caucus, asked the Biden administration to honor a vow to cancel up to $10,000 in student loan debt for each current borrower, as well as to extend the pandemic-era payment moratorium through the end of 2022. The changes, Ruiz said, would "help bring relief to Hispanic communities across the country." Read more from Ella Ceron.
Elections, Politics & Influence
House Minority Leader Kevin McCarthy will be asked to reconsider his refusal to appear before a congressional committee investigating the Jan. 6 insurrection at the Capitol, according to Rep. Bennie Thompson (D-Miss.), the panel's chair. "In all probability, he will be issued another invitation to come, just like some other members," he said, adding that an invitation to McCarthy (R-Calif.) would be renewed "soon." McCarthy was asked in January to answer questions about his communications with then-President Donald Trump on Jan. 6. He has not agreed to do so. Read more from Billy House.
Donald Trump's $10,000 daily fine for being in contempt of court began Tuesday, with a judge saying the former president "willfully disobeyed" his prior order to turn over records to New York's attorney general. The fine will stack until Trump "purges such contempt to the satisfaction of this court," New York state court Judge Arthur Engoron said in an order that followed his ruling from the bench on Monday. The judge found Trump was in contempt of court for failing to turn over records by March 31 in response to subpoenas issued by New York Attorney General Letitia James's office. Read more from Erik Larson.
A heated primary next month between two West Virginia incumbents will provide an early sign of Trump's ability to shape the House Republican Conference as the party pushes to win control of the chamber. Voters May 10 will choose between a pair of conservatives forced together after the state lost a seat after reapportionment: Rep. Alex Mooney, who has made Trump's endorsement a campaign centerpiece, or Rep. David McKinley, who has crossed the state explaining why he was one of the only House Republicans to vote for the bipartisan infrastructure package. Emily Wilkins has more.
Days after Elon Musk's deal to buy Twitter was announced, he sent a tweet critical of Twitter's top lawyer, Vijaya Gadde, for a decision the company made in 2020 to block a New York Post report on Hunter Biden. He said the move was "obviously incredibly inappropriate." The Post story alleged that Hunter Biden had improper connections to an executive at a Ukrainian energy firm. Twitter later reversed the move amid conservative outrage and allegations of censorship. Sebastian Tong has more.
Texas Republicans are intensifying a campaign against Wall Street's embrace of sustainable investing. State Comptroller Glenn Hegar is demanding that over 140 financial firms disclose their climate policies—and whether they restrict or prohibit doing business with energy companies. The firms include private equity giants such Blackstone and Apollo, as well as lesser-known players. Hegar's salvo follows a first slew of inquiries sent last month to 19 companies including JPMorgan Chase. His goal: compile a list of firms that Texas deems are "boycotting" the fossil-fuels sector. Shelly Hagan and Silla Brush have more.
Around the Administration
BIDEN'S SCHEDULE:
At 11 a.m., Biden attends the funeral of former Secretary of State Madeleine Albright.
At 4 p.m., the president hosts a Council of Chief State School Officers event at the White House.
Vice President Kamala Harris will take Pfizer's Paxlovid Covid therapy pill after testing positive for the virus earlier Tuesday, a treatment decision coinciding with the Biden administration's push to expand access to the medication. Harris, 57, decided to start the treatment "after consultation with her physicians," spokeswoman Kirsten Allen tweeted. Harris tested positive for the coronavirus earlier on Tuesday but was not exhibiting symptoms of the disease, her office said. She spent the previous week in her home state of California and had not seen Biden since April 18. Read more from Justin Sink.
Meanwhile, Pfizer asked U.S. regulators for emergency-use authorization of a booster dose of its Covid vaccine for children ages 5-11, setting in motion a push to provide extra protection to kids. Pfizer and partner BioNTech submitted data to the FDA from a late-stage trial showing a third-dose at about 6 months after the second dose provided a strong immune response. The partners also plan to submit data to the European Medicines Agency, according to a statement. Read more from Riley Griffin.
The CFPB's plan to designate certain nonbank fintech firms for regular examinations will significantly influence broader industry practices, even though the agency is constrained in how many firms it can actually target. The Consumer Financial Protection Bureau April 25 announced it plans to dust off previously unused powers to conduct regular exams of individual nonbank firms that it sees as a risk to consumers. Doing so would allow supervisory teams to get a deep, unfiltered look at fintech firms' books and records. Read more from Evan Weinberger.
Boron is in U.S. soldiers' armor, the Predator drone, satellites, permanent magnets, and military helicopters. No electrical vehicle works without it. It's light, second only to diamonds in hardness, heat-resistant, corrosion-resistant, and anti-microbial. Yet boron has yet to crack the list of "critical minerals" from the U.S. Geological Survey, even as shaky geopolitics threaten rare earth supplies. Raising boron's importance to get on that list is a bet-the-company matter for the owner of a mining venture in the Mojave Desert that's believed to have the world's largest known new boron deposit. Roxana Tiron has more.
Despite failing to win any convictions of chicken industry officials in two price-fixing trials, the U.S. Department of Justice notified a federal judge in Denver on Monday that it will push ahead with a third one in June. The decision comes at the urging of the U.S. Justice Department's antitrust chief, Jonathan Kanter, who appears undeterred by recent setbacks in court. Read more from Bob Van Voris.
Biden officials are getting more involved in freight rail service concerns and regulation as supply chain slowdowns plague the administration. Congestion and service issues have become a "real problem" for industries across the country that need rail to move their goods, and the situation is now a priority for the administration, Transportation Secretary Pete Buttigieg told the board that oversees freight rail rate and service issues on Tuesday. Read the latest from Lillianna Byington.
To contact the reporters on this story: Brandon Lee in Washington at blee@bgov.com; Giuseppe Macri in Washington at gmacri@bgov.com
To contact the editors responsible for this story: Loren Duggan at lduggan@bgov.com; Michaela Ross at mross@bgov.com