What to Know in Washington: Biden Cites Health in Case for 2024
President Joe Biden challenged voters to pick another Democrat if they have concerns about his age, while declaring himself healthy enough for a second term.
If a voter concludes "that I'm missing a beat then she should support some other Democrat," the president said in an interview segment with MSNBC's Jonathan Capehart that aired Sunday.
"Right now, knock on wood, I don't want to jinx myself, I'm in good health — all of my, everything physically about me is still functioning well. And mentally, too, so," said Biden, who turns 80 on Nov. 20.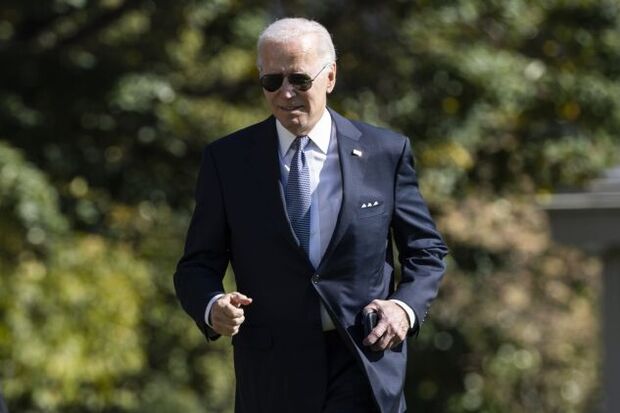 In a portion of the interview that aired Friday, Biden reiterated that he intends to run again and would wait until after the Nov. 8 midterm election to decide.
While polls by CNN and the New York Times over the summer found a majority of Democrats would prefer a presidential candidate other than Biden in 2024, a Marquette University Law School poll in September found 52% of Democrats supporting a re-election campaign. Read more.
Biden also said First Lady Jill Biden supports him running for re-election in 2024, when he'll turn 82. The first lady is viewed as having significant say over whether Biden will seek another four years. Read more.
Happening on the Hill
Sen. Richard Shelby, the top Republican on the powerful Appropriations Committee, has a parting goal as he approaches retirement after six terms in the chamber: help ensure federal dollars keep flowing to his home state of Alabama.
House Democrats want the SEC to shield small farmers from any reporting burdens in the agency's potential plans to require large companies to disclose greenhouse gas emissions from their supply chains.
Biden's administration said it's setting up an advisory panel to suggest how to help produce farmers in the southeastern US, while stopping short of a formal trade investigation into Mexican imports requested by a bipartisan group of Florida lawmakers.
Prospects for congressional action on marijuana legislation remain uncertain following Biden's pardon of those convicted of simple marijuana possession on Oct. 6. House and Senate Democrats have advanced proposals to decriminalize and tax marijuana at the federal level.
Politics, Policy & Probes
Donald Trump wouldn't be permitted to turn any testimony before the House committee investigating last year's attack on the US Capitol into a "food fight" or a "circus," Representative Liz Cheney (R-Wyo.) said Sunday.
House Speaker Nancy Pelosi (D-Calif.) advised Democratic candidates to focus on "kitchen table" issues and reducing inflation as her party heads into the final two weeks before the Nov. 8 midterm elections.
Pelosi said she doesn't regret pandemic aid passed by Democrats to boost the US economy. Read more.
Americans favored the Republican Party over Democrats on the economy in an ABC News/Ipsos poll, maintaining the GOP's advantage on the issue heading into the Nov. 8 midterm elections.
From hardscrabble mining communities to affluent New Jersey suburbs, GOP attacks on the economy are forcing Democratic House candidates in must-win Northeast districts to confront an issue that has bedeviled them.
Most of the NAACP's claims challenging Texas' congressional redistricting maps were defeated by the state, after a federal court ruled the group failed to adequately plead its voter dilution claims in some of the districts.
The Republican National Committee sued Google, claiming it can't communicate with party members to raise money because the internet giant is routing its email messages to spam folders.
Supporters of Medicaid expansion in South Dakota have spent over $1 million on ads and organized voter registration drives hoping to use the November election to become the latest GOP-led state forced by the electorate to expand its public health insurance program under Obamacare.
Trump's Legal Battles
Sen. Lindsey Graham (R-S.C.) asked the US Supreme Court to shield him from having to testify before a Georgia grand jury investigating whether Trump and his supporters violated the law in their efforts to undo the former president's election loss.
Tom Barrack plans to take the stand in his own defense during his trial on charges that he acted as an unregistered agent of the United Arab Emirates.
Steve Bannon, a longtime adviser to Trump, probably will serve his four-month sentence for contempt of Congress at a low-or-minimum-security lockup near Washington, DC, unless his conviction is overturned on appeal.
Trump urged the US Supreme Court to let the government impose anti-discrimination requirements on social media companies, throwing his support behind a Florida law enacted after he was kicked off Twitter and Facebook.
One of Trump's most loyal deputies will testify against the Trump Organization, in a trial that threatens to reveal the inner workings of the real estate empire that set the former president on his path to the White House.
Around the Administration
PRESIDENT'S SCHEDULE
Biden will speak at 1 p.m. at the Democratic National Committee Headquarters in Washington, D.C.
The president and first lady take part in a tree plating ceremony at the White House shortly after 2 p.m.
The Bidens host a reception to celebrate Diwali with Vice President Kamala Harris at 5 p.m.
Press Secretary Karine Jean-Pierre holds a briefing at 3 p.m.
Biden said that nearly 22 million Americans have already signed up for his student debt forgiveness program, promoting enrollment in the initiative on Friday and assailing Republicans who have criticized the relief.
But hours after he spoke, a federal appeals court in St. Louis temporarily blocked the program from moving forward until it rules on an injunction request from six Republican-led states challenging its legality. The Biden administration said the order didn't prevent people from applying to the program or from the application process from continuing. Read more.
The Energy Department is starting programs to funnel billions into transmission lines, distribution grid networks, microgrids, and storage facilities as part of an attempt to spur more clean energy deployment, even as congressional efforts stall to overhaul infrastructure permitting.
Biden's top energy adviser said the oil output cut by Saudi Arabia and its allies was a largely political move that won't deter the US administration from trying to curb domestic energy prices.
Iran may be sending more attack drones to help Russia's equipment-starved forces strike targets in Ukraine, Secretary of State Antony Blinken said, as the US reiterated its condemnation of Tehran for aiding Vladimir Putin's invasion.
To contact the reporter on this story: Brandon Lee in Washington at blee@bgov.com
To contact the editors responsible for this story: Giuseppe Macri at gmacri@bgov.com; Michaela Ross at mross@bgov.com