What to Know in Washington: Biden Christens New Sub Amid Tension
Nuclear submarine commissioned as Russia tension mounts
Biden won't participate in Jan. 6 prosecution decisions
First lady Jill Biden ceremonially commissioned a nuclear-powered submarine on Saturday, presiding over a display of U.S. naval power with tension between Washington and Moscow at the highest levels since the depths of the Cold War.
The U.S.S. Delaware, commissioned two years ago as the nation's 18th Virginia-class attack submarine, made a port call in President Joe Biden's hometown of Wilmington, Delaware, this weekend for a ceremony that was delayed by the pandemic.
The Virginia class is the pillar of the U.S. Navy's undersea strategy into the second half of the 21st century. The boats can strike underwater and surface targets with torpedoes or attack sea and land-based targets with Tomahawk cruise missiles, while remaining on patrol for months. By 2028, the Navy wants to deploy next-generation hypersonic weapons on the subs.
"This latest ship to carry the USS Delaware — the name — is part of a long tradition of serving our nation proudly and strengthening our nation's security, the security of the United States of America — not just us, but our allies and partners around the world as well," the president said during the traditional sendoff ceremony for new naval vessels. "In fact, it's already been doing that for some time."
One of the primary missions of U.S. attack submarines like the Delaware is to hunt down and destroy enemy ballistic missile submarines in the event of war. Russian President Vladimir Putin put his nuclear forces on high alert last month after invading Ukraine, in a show of force toward the U.S. and its allies.
The U.S. didn't reciprocate, choosing not to escalate the hostilities, but the Biden administration and other NATO countries have poured weaponry into Ukraine, including anti-air and anti-tank missiles, to help the Kyiv government fight off the Russian military. Read more from Alex Wayne.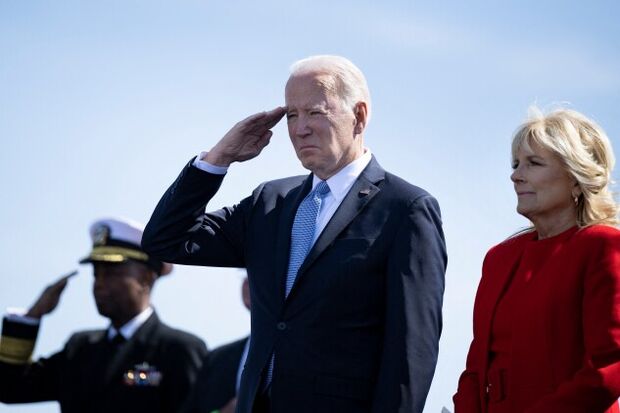 Negotiators from Russia and Ukraine may resume video talks Monday even as Kyiv accuses Moscow's forces of carrying out atrocities in towns in the north. Russia has dismissed images of executed unarmed civilians as fake.
The government in Kyiv asked the International Criminal Court to gather evidence of alleged war crimes, while some European governments are pushing for further sanctions on Russia in light of the allegations, which center on the town of Bucha on the outskirts of the Ukrainian capital.
President Volodymyr Zelenskiy made a surprise taped appearance at the Grammy Awards, where he implored people to speak out about the war on social media and TV. "Our musicians wear body armor instead of tuxedos," Zelenskiy said. "They sing to the wounded. In hospitals." Follow the latest in the Bloomberg News Ukraine Update.
Biden to Stay Out of Jan. 6 Prosecution Decisions
White House Chief of Staff Ron Klain said Attorney General Merrick Garland, not Biden, will make decisions on prosecutions in the January 6th, 2021, insurrection and in other cases.
Klain was responding to a New York Times report this weekend that Biden told his inner circle last year that former President Donald Trump should be prosecuted. The Times cited people familiar with the comments.
Klain said on ABC's "This Week" he has never heard Biden "advocate the prosecution of any person." Only Richard Nixon and Trump believed those decisions should be made in the Oval Office, he said.
"The president has confidence in the attorney general to make those decisions," Klain said on the Sunday show. Read more from Steven T. Dennis.
MORE POLITICS & POLICY:
Trump took the stage in Michigan on Saturday to rally his base and get their support for his slate of GOP candidates aiming to take on Democrats in key races this fall. Trump criticized Biden for gas prices, inflation and the Russian invasion of Ukraine, while repeating his false claims of a rigged election. Read more from David Welch.
Democratic Senate candidates from both ends of Pennsylvania accused frontrunner John Fetterman of flip-flopping on key energy issues in the first televised debate in one of the nation's most-watched campaigns of the year. Fetterman, the lieutenant governor of the commonwealth, didn't participate in the debate. Rep.

Conor Lamb

(D-Pa.), who represents a western district with some of the largest natural gas deposits in the nation, said fracking not only provides jobs, but can help to achieve climate goals by replacing dirtier coal. Read more from Gregory Korte.
Tribal nations saw the culmination of years of work when Biden announced his plan to grow the budget of the Indian Health Service and secure funding over time. But in Congress, especially among key lawmakers, it came as a surprise. These members say they aren't ready to commit to Biden's proposal, largely because the White House hasn't explained its benefits to them. Read more from Alex Ruoff and Kellie Lunney.
CONGRESSIONAL SCHEDULE:
The House meets at 2 p.m. and is scheduled to vote on four bills under expedited procedure.
Senators convene at 3 p.m. and could vote to advance SCOTUS nominee Ketanji Brown Jackson.
Around the Administration
BIDEN'S SCHEDULE:
Biden is scheduled to deliver remarks on the U.S. supply chain at 1:45 p.m.
Biden called on Congress to act on gun-related issues, including banning ghost guns, limiting gun manufacturer liability immunity and requiring background checks for all gun sales after a mass shooting over the weekend in Sacramento, California. "Today, America once again mourns for another community devastated by gun violence," Biden said in a statement, Derek Wallbank reports.
U.S. Central Command asked lawmakers to authorize and appropriate $35 million more than requested in the White House's latest budget proposal to replace 10 of America's most powerful non-nuclear weapons, after supplies were depleted during tests. The 30,000-pound GBU-57 "bunker buster"—officially known as a Massive Ordnance Penetrator—is built by Boeing, and could be used to strike deeply buried or other difficult targets, such as potential underground nuclear facilities in countries such as North Korea or Iran. Tony Capaccio and Roxana Tiron have more.
The Department of Justice's first-ever criminal trials over companies' alleged violations of labor-related antitrust laws are set to kick off. The pair of trials, which start on Monday, will try federal antitrust regulators' previously untested guidance that could prove a watershed moment for their prosecutions of wage-fixing and no-poach agreements. In one trial, the Justice Department will target employers' no-poach deals in USA v. DaVita in the U.S. District Court for the District of Colorado. The DOJ claims DaVita, a dialysis service provider, formed no-poach contracts with competitors. Dan Papscun has more.
The U.S. government must face negligence and emotional distress claims by immigrants who say they were traumatized by Donald Trump's policy of separating families at the southern border. A federal judge in Arizona Friday rejected the government's request to dismiss a lawsuit filed in 2019 by the American Civil Liberties Union. But U.S. District Judge John Hinderaker dismissed 15 senior-ranking Trump-era officials from the case, ruling that they can't be held personally liable for the government's conduct. Peter Blumberg and Malathi Nayak have more.
Iran said it's near an agreement with the U.S. over restoring the 2015 nuclear accord after sending proposals to Washington for resolving an impasse over terrorism sanctions, the state-run Islamic Republic News Agency reported. Iran's Foreign Minister Hossein Amirabdollahian said Tehran was waiting for a response to the ideas, which were sent to U.S. negotiators via European mediators. Talks aimed at bringing the U.S. back into the landmark deal that Trump jettisoned in 2018 and easing sanctions on Iran's oil exports have been on hold for the past month. Golnar Motevalli has more.
The Trump administration failed to adequately justify its decision to expand tariffs on hundreds of billions of dollars worth of Chinese goods, and the Biden administration must present a fuller explanation to keep them, a federal trade court said Friday. The Office of the U.S. Trade Representative in 2018 determined the Chinese government's actions "related to technology transfer, intellectual property, and innovation" were unreasonable or discriminatory and burdened U.S. commerce. Trump cited this ruling to impose duties under the authority of Section 301 of the Trade Act of 1974. Read more from Brian Flood.
Biden intends to nominate civil rights attorney Kalpana Kotagal to the U.S. Equal Employment Opportunity Commission, the White House said on Friday. Currently a partner at Cohen Milstein Sellers & Toll PLLC, Kotagal represents plaintiffs in employment and civil rights litigation involving issues related to Title VII of the 1964 Civil Rights Act, Equal Pay Act, Americans with Disabilities Act, Family and Medical Leave Act, and Fair Labor Standards Act. J. Edward Moreno has more.
The White House wants help defining "sustainable chemistry" in a push that industries, investors, and others say may make the fuzzy concept more actionable and useful as European laws increasingly demand sustainable products. The administration's Office of Science and Technology Policy (OSTP) will officially publish on Monday a request for interested parties to offer views on their preferred definition for sustainable chemistry. Read more from Pat Rizzuto.
To contact the reporters on this story: Giuseppe Macri in Washington at gmacri@bgov.com; Brandon Lee in Washington at blee@bgov.com
To contact the editors responsible for this story: Loren Duggan at lduggan@bgov.com; Michaela Ross at mross@bgov.com