What to Know in Washington: Biden Charts Path Forward With Xi
President Joe Biden talked late into the evening with Chinese President Xi Jinping, walking away with no major agreements other than to keep communications open. At the Capitol, House Democrats are expecting an update by Friday from congressional scorekeepers on the cost of their tax and spending plan, and pivotal moderates are waiting to see the results before drawing any red lines on a potential vote.
Here's what Bloomberg Government is tracking for Tuesday.
Biden's Schedule
Congressional schedule:
Biden, Xi Talk as Taiwan Tension Simmers
With expectations low heading into the first face-to-face summit between Joe Biden and Xi Jinping, they appeared to accomplish as much as politically possible: An agreement to keep on talking, without letting tensions over Taiwan and other disputes derail the U.S.-China relationship.
The virtual meeting lasted longer than expected, running for more than three hours as the leaders covered a range of topics including trade, the pandemic, climate change, Taiwan and other hotspots. Although the two sides didn't issue a joint statement at the end, both leaders separately stressed the need for more talks between their governments.
A senior administration official afterward described the tone as respectful and open, even as a statement afterward said Biden told Xi the U.S. "opposes unilateral efforts to change the status quo" regarding Taiwan. China likewise called the meeting "positive" and said it increased "mutual understanding," while mentioning that Xi warned those playing with fire around Taiwan "would inevitably burn themselves."
All in all, the meeting puts U.S.-China relations on a more stable footing compared with just a few months ago, when Biden called Xi in frustration as his administration ran into a wall while seeking to engage Beijing on climate talks. Read more.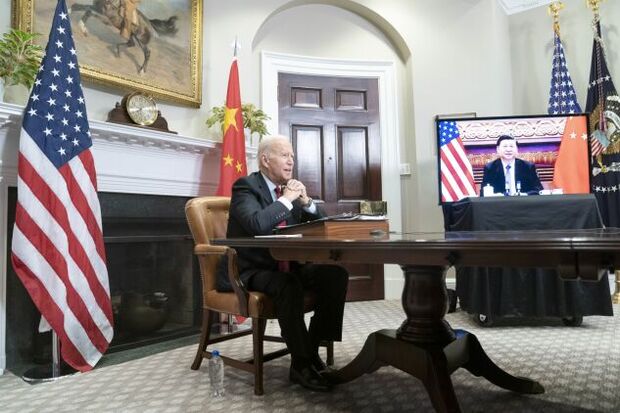 Moderates Expect Cost Estimates to Fall Short
Two key House moderates said they anticipate official estimates by congressional scorekeepers of Biden's tax and spending plan might fall short of White House projections that it pays for itself, but they indicated that might not doom the measure.
Among the crucial differences expected between the Congressional Budget Office projections, which will be released by Friday, and the White House figures is how much money can be raised from increased tax enforcement.
"I think we're all well aware that there's going to be a discrepancy around the IRS piece and let's just reserve judgment until we see the whole package," Rep. Stephanie Murphy (D-Fla.) said. "I think it's really important that we don't draw red lines within the media."
Murphy, along with four other centrist Democrats, issued a statement earlier this month that they needed CBO data on the total cost of the legislation before they could vote on it. Rep. Josh Gottheimer (D-N.J.), who also signed the statement, said he expects that the Internal Revenue Service enforcement revenue will fall short of the $400 billion the White House has estimated, and that has been "baked into" his thinking. "We knew going in that that's something there will be a difference in," he told reporters last night. Read more from Laura Davison and Jarrell Dillard.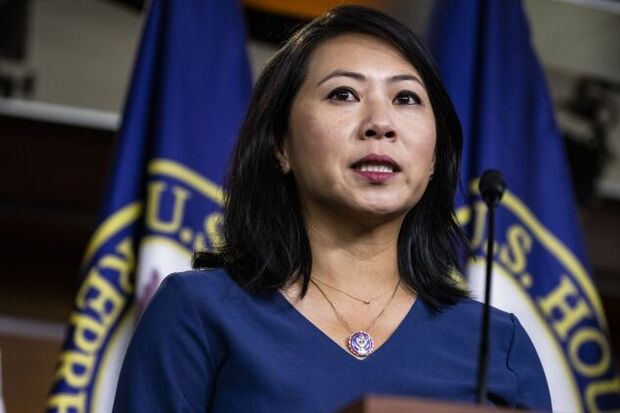 Equity, Climate Goals to be Tested by Infrastructure Law: Proponents of equitable and sustainable transportation policies plan to hold U.S. officials accountable to deliver on Biden's promises of climate-friendly and fairly distributed infrastructure. Delivering on sustainability and equity goals will largely reside with Biden officials and the Transportation Department, a unique opportunity for the administration to put its mark on a surge of money.
Biden signed the long-awaited infrastructure bill into law yesterday. He also signed an executive order to create an Infrastructure Implementation Task Force with Mitch Landrieu, who'll serve as the White House infrastructure implementation coordinator, as a co-chair. Transportation Secretary Pete Buttigieg will also sit on the panel, which will prioritize goals of spending the money equitably and building resilient infrastructure.
Advocates say additional language in the Democrats' social spending legislation would solidify the climate and social justice goals Biden has touted as part of the infrastructure bill. The Transportation Department and states have a lot of leeway in the newly minted law, and they say the social spending measure would offer more incentives for environment- and social justice-friendly policies. Read more from Lillianna Byington.
ALSO HAPPENING ON THE HILL:
Around the Administration
An announcement about Biden's pick to chair the Federal Reserve could be "imminent," Senate Banking Chairman Sherrod Brown (D-Ohio) said. "I hear it's imminent," Brown said yesterday in a brief interview at the Capitol. "I'm not going to speculate who I think it might be now. I assume the decision's been made and they haven't announced it, but I don't even know that," he said. Other senators and Senate Banking Committee staff were alerted an announcement was coming soon, a congressional official said. Read more from Steven T. Dennis, Jennifer Jacobs, Nancy Cook and Saleha Mohsin.
Congress authorized $47 billion in emergency rental assistance to prevent evictions and displacement due to economic disruption from the pandemic. But the funds, which were introduced in December 2020 and then expanded under the American Rescue Plan in March 2021, have been slow to reach tenants. In an effort to push that money out the door, the Biden administration will enforce a deadline set for last night to submit a plan to Treasury demonstrating their commitment to helping tenants receive the funds, a Treasury spokesperson told Bloomberg CityLab. Kriston Capps has more.
The U.S. Court of Appeals for the Tenth Circuit became the latest panel asked to review the Biden administration's standard requiring a Covid-19 vaccine or weekly test. The Denver Newspaper Guild, the AFL-CIO, and the Communications Workers of America Local 37074 had requested the Denver-based court to review the Occupational Safety and Health Administration's Covid-19 emergency standard, which was enacted earlier this month. Bruce Rolfsen has more.
A Russian weapons test that blasted a satellite out of orbit yesterday spewed debris and endangered seven crew members on the International Space Station, according to U.S. and British authorities. The ground-launched, anti-satellite missile destroyed one of Russia's own satellites, generating more than 1,500 pieces of debris and hundreds of thousands of smaller chunks, according to the U.S. State Department. Read more from Todd Shields.
Politics & Influence
Former Trump campaign chairman Stephen Bannon vowed to "go on the offense" against Biden and Democrats as he battles criminal charges over his refusal to cooperate with the congressional probe into U.S. Capitol riot. Bannon made the comment outside the Washington courthouse where he'd been expected to enter a plea yesterday to charges over his defiance of subpoenas by the House's Jan. 6 panel. David Yaffe-Bellany and Greg Farrell have more.
Beto O'Rourke took aim at Texas Governor Greg Abbott's conservative stances on abortion, guns and education yesterday in announcing a bid to unseat him, saying the state needs a leader focused on bread-and-butter issues. But the Democrat faces an uphill battle in the conservative state, where Abbott can point to a track record of overseeing some of the fastest economic growth in the country. Texas's deep-red Republican voting base is on board with the issues he's prioritized and the many businesses flocking to the state aren't being dissuaded by the governor's conservative tilt. Read more from Michael Smith and Emma Kinery.
To contact the reporters on this story: Zachary Sherwood in Washington at zsherwood@bgov.com; Brandon Lee in Washington at blee@bgov.com
To contact the editors responsible for this story: Giuseppe Macri at gmacri@bgov.com; Loren Duggan at lduggan@bgov.com; Michaela Ross at mross@bgov.com