What to Know in Washington: Biden Brushes Off Trump's Fight
President-elect Joe Biden shrugged off Donald Trump's effort to challenge the election results, forging ahead with transition planning even as the president pursues a multi-state legal fight backed by Republican allies and the Justice Department.
Trump's campaign yesterday said it would file a federal lawsuit in Michigan that seeks to stop the state's top election official from certifying Biden's win. The campaign filed a similar suit in Pennsylvania a day earlier, which Secretary of State Kathryn Boockvar moved to dismiss yesterday, arguing Trump's lawyers failed to present a case.
Biden leads Trump in Michigan by more than 148,000 votes and in Pennsylvania by more than 46,000 votes.
Georgia's Secretary of State Brad Raffensperger, meanwhile brushed aside calls from the state's two U.S. senators, both fellow Republicans, for him to resign over unspecified election irregularities. Biden leads in the state by more than 12,000 votes.
Trump's campaign has so far produced no evidence of widespread irregularities or fraud, and it isn't clear his effort to delegitimize the election is finding much traction among the public. A Reuters/Ipsos poll published yesterday found that 79% of Americans believe Biden won the election, including nearly 6 in 10 Republicans.
Just 3% say Trump won, according to the poll, while 13% say the election hasn't been decided.
Two separate groups of international observers have said the election was fair and free of major irregularities. One of them, the Organization for Security and Cooperation in Europe, criticized Trump for "baseless" attacks on the integrity of the vote. The other, the Organization of American States — which was invited by the State Department to observe the election — pointed out that Trump has repeatedly sought to cast "aspersions" on the election process.
Biden called Trump's approach an embarrassment, and his lawyers said the legal challenges would fail and the Democrat will inevitably be sworn in as president on Jan. 20.
"How can I say this tactfully? I think it will not help the president's legacy," Biden said at a news conference in Wilmington, Del. Read more from Josh Wingrove and Tyler Pager.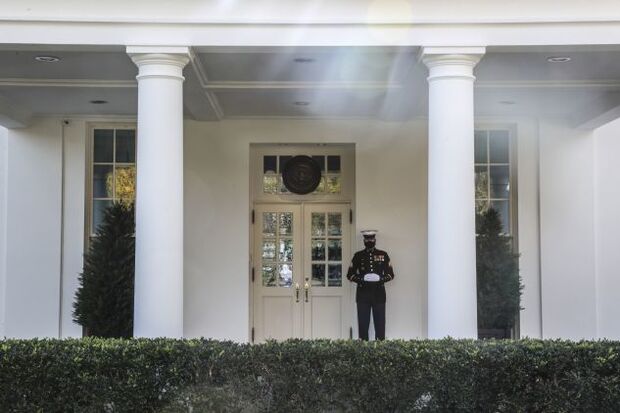 GOP Has Eyes on Georgia as Party Backs Trump: Republican willingness to go along with Trump's extended fight over the election may have as much to do with the Georgia runoffs that will determine control of the Senate as with resolving the president's grievances over the vote count. Republicans have largely given Trump political cover to challenge Biden's win, avoiding any blowback from the president or the millions of GOP voters who are intensely loyal to him. The support of both is particularly important with the balance of power in the Senate at stake in two Georgia runoff contests in January.
"We need his voters," Senate Majority Whip John Thune (R-S.D.) told reporters yesterday. "They're obviously involved in trying to sort of get through the final stages of his election and determine the outcome there. But when that's all said and done, however it comes out, we want him helping in Georgia." Steven T. Dennis and Billy House have more.
Lincoln Project Targets Law Firms Working for GOP: A conservative group that gained prominence on Twitter for its anti-Trump ads is targeting two law firms that are helping Republicans in their legal battle over the election. The Lincoln Project tweeted yesterday to its 2.7 million followers encouraging them to contact employees of Jones Day and Porter Wright Morris & Arthur via LinkedIn and "ask them how they can work for an organization trying to overturn the will of the American people." Bob Van Voris and Christopher Opfer have more.
The two law firms leading Trump-aligned court fights in Pennsylvania are facing public criticism, but the low bar for filing a lawsuit means they likely have some room to roam without crossing ethical boundaries. "We all know anybody can sue anybody for just about anything," Jan Jacobowitz, a legal ethics professor at the University of Miami told Bloomberg Law. "The fact that the courts are dismissing many of these actions doesn't necessarily mean that the lawyers didn't have a reasonable basis for the suits." Read more from Sam Skolnik.
Preparing for the Transition
Biden Taps Government Insiders for Transition: Biden's transition has turned to alumni from key federal agencies to prepare staffs and policies for the new administration, even as the Trump administration denies Biden's team access to federal resources. The agency-review teams focused on the economy and financial regulation, whose names were released yesterday, include former officials and advocates with well-known records of pushing for tougher rules on Wall Street. That includes former U.S. Commodity Futures Trading Commission Chairman Gary Gensler, who will head the team that is reviewing the Federal Reserve and banking and securities regulators.
Biden's transition team has the added complication of preparing a government without being allowed into the agencies, as has traditionally happened within hours of a race being called. The General Services Administration, which under law must ascertain the winner of an election to give a president-elect access to federal resources, has declined to take that step as Trump continues to contest the election results. Read more from Jennifer Epstein.
Biden Faces Economic Task: There's conflicting evidence about the buoyancy of the U.S. economy. On one hand, cases of Covid-19 are spiking as winter approaches, and with a Democratic president poised to take office, Republicans are showing no willingness to spend the kind of money on a relief package that Democrats say is necessary. On the other, the news isn't all bad—employment is recovering from pandemic-induced lows and the manufacturing and housing sectors are thriving. Since all that makes it difficult to know what kind of economy Biden will inherit on Jan. 20, the best you can do is consider scenarios. Peter Coy maps out some possible paths.
Biden's Antitrust Outlook: Since Biden left office almost four years ago, antitrust enforcement has gone from a backwater of Democratic policymaking to a key tool for reshaping the U.S. economy. That trend is expected to continue — and could even accelerate — under his administration, according to antitrust experts and those who advised his campaign on competition policy.
Biden will take office as progressives have come to see antitrust enforcement as a means for tackling the power of dominant companies and improving economic outcomes for workers. There's mounting evidence that many industries have grown more concentrated, contributing to such economic woes as income inequality, declining business investment and stagnant wages. Read more from David McLaughlin.
White-Collar Crime Probes Likely to Intensify: Biden's Justice Department is likely to ramp up white-collar crime enforcement, putting Wall Street firms and corporate executives under greater scrutiny. Fines and prosecutions of white-collar crimes fell during the Trump administration, but lawyers are anticipating a ramp up that would return the government to its past practice of scrutinizing corporate wrongdoing. Robert Anello, a defense lawyer in New York, said his white-collar practice like many others in Manhattan, ground to a halt during the Trump administration. High on the agenda for federal prosecutors are likely to be tax cheats and foreign-bribery cases, Anello and other lawyers said. Read more from Patricia Hurtado and Christopher Yasiejko.
What to Expect from Action on Climate Change: Biden will take office having made unprecedented commitments to address global warming, and with a 15-year plan to create carbon-neutral electricity across the U.S. on the way to achieving net zero emissions by 2050. Biden has promised to spend $2 trillion on a sweeping climate-and-job agenda. Getting that done wouldn't be easy, especially with control of the Senate poised on a knife's edge. And the U.S. will be playing catchup, after falling far behind other leading economies on climate goals. But there are powerful climate levers that can be pulled from inside the White House, and plenty of reason to expect that a president who prioritizes climate action can drive policy. Even without help from the federal government, the Trump years saw American businesses build out renewable power and ditch polluting fuels. What might happen under a president who has said he will rejoin the Paris Climate Agreement as one of his first acts? Bloomberg Green looks at 39 things Biden can do on climate.
Climate Plans Could Pressure Canada: Biden may force Canada to play catch-up on climate change. The incoming U.S. administration appears poised to take a tougher approach than its northern neighbor on powerful pollutants like methane and black carbon, and wants to remove more oil and gas supports such as subsidies and permits. The differences may put pressure on Canada both out of economic necessity and to shore up credibility with green voters, according to observers, environmental groups, and clean industry firms. Read more from James Munson.
Biden Warns Johnson on Northern Ireland Peace: Biden as U.S. president-elect used his first phone call with Boris Johnson to warn the British leader not to compromise peace in Northern Ireland in his pursuit of Brexit. During the course of a 20- to 25-minute conversation yesterday, Biden "reaffirmed his support" for the 1998 deal that put an end to the violence in Northern Ireland, according to a statement from the president-elect's team. Read more from Tim Ross.
Russia Isn't Planning Any Contacts Yet: A senior Russian diplomat said that his country hasn't made contact yet with Biden's team and doesn't plan to, reinforcing the Kremlin's unenthusiastic approach to the new American leader. Deputy Foreign Ministry Sergei Ryabkov said Moscow was put off by the experience in 2016, when the Russian ambassador to the U.S. came under a storm of criticism for his outreach to the incoming Trump administration. Read more from Henry Meyer and Ilya Arkhipov.
Happening on the Hill
Congress Observes Veterans Day: The Senate and House are out of session in honor of Veterans Day. The Senate will meet at 11 a.m. tomorrow and resume debate on the nomination of Aileen Mercedes Cannon to be a judge for the U.S. District Court for the Southern District of Florida. The House will meet at 10 a.m. tomorrow in a pro forma session.
Appropriations Update: Senate Republicans released their versions of the annual spending bills needed to keep the government open past Dec. 11, setting the stage for negotiations with the Democratic-controlled House to avert a government shutdown. The Senate bills reflect some input from Appropriations Committee Democrats, according to Chairman Richard Shelby (R-Ala.), though they weren't marked up by the committee. Here's BGOV's Appropriations Update after the release of the bills.
Airport Security Bill Up for Senate Review: A private airport screening company could access a federal database of personal information about American citizens under a bill a Senate panel is slated to consider next week. After several fits and starts, the Commerce, Science, and Transportation Committee will take up a measure on Nov. 18 that would give CLEAR access to the database the Transportation Security Administration uses to screen passengers. Read more from Shaun Courtney.
Nord Stream 2 Sanctions to be in Defense Bill: House and Senate negotiators reached an agreement to include additional sanctions against a gas pipeline between Russia and Germany in a must-pass defense bill, according to three people familiar with the matter. The sanctions against Gazprom PJSC's Nord Stream 2 pipeline would target insurance and certification companies that work with Russian vessels on completion of the project. They would be included as part of the 2021 National Defense Authorization Act, which must be passed by the end of the year. Sen. Bob Menendez (D-N.J.), the top Democrat on the Senate Foreign Relations Committee said in an interview members of Congress wanted "to make it clear that Germany, as an ally, and public officials within Germany, would not be part of any such sanctions." Read more from Daniel Flatley.
What Else to Know Today
Trump Quickly Remakes Pentagon Leadership: A flurry of changes in the Pentagon's top ranks is underway as Trump elevates long-time allies in moves that critics say sends a signal of turmoil in the leadership of the U.S. military just after a contentious election. A day after Trump fired Pentagon chief Mark Esper by tweet, two senior officials stepped down yesterday as did Esper's former chief of staff. James Anderson, the acting deputy undersecretary of defense for policy, didn't give a reason for his departure in a resignation letter to the president, but praised policies put in place during the Trump administration. He had been in his current post only since June. Tony Capaccio, Roxana Tiron and Travis Tritten have the latest on the moves.
ByteDance Asks Court to Intervene in TikTok Sale: ByteDance, the Chinese owner of TikTok, asked the federal appeals court in Washington to intervene to prevent the U.S. government from requiring it to sell the popular video-sharing app or face a ban in America. The Beijing-based company is seeking to block an order forcing it to sell by Thursday its most important international business, a viral video service with upwards of 100 million users in the U.S. The Trump administration issued an executive order banning TikTok in the U.S. on national security grounds, and demanded the Chinese company cede control of TikTok to American investors. Read more from David Yaffe-Bellany, Edwin Chan and Kurt Wagner.
Moderna's Covid-19 Shot Is Next: Moderna's market value has swelled by almost $24 billion this year on optimism that the biotech's experimental messenger-RNA vaccine will play a part in tamping down the coronavirus pandemic. The company is expected to have an interim early look this month at how effective its shot, mRNA-1273, is at preventing Covid-19. Results on Monday from Pfizer and BioNTech's vaccine offered both boon and bane to Moderna. The shot set a high bar as a first look at their late-stage study showed more than 90% effectiveness is preventing symptomatic infections. At the same time, vaccine similarities bode well for Moderna. Read more from Cristin Flanagan.
Medicare Enrollees Can Get Free Antibody Therapies: Medicare beneficiaries won't have to pay out of pocket for monoclonal antibody therapies to treat Covid-19 during the public health emergency, the Trump administration said yesterday. The Centers for Medicare & Medicaid Services said coverage of those antibody infusions applies to the Eli Lilly drug, which the Food and Drug Administration authorized Monday for emergency use against mild-to-moderate Covid-19 in adults. Read more from Alexis Kramer.
SpaceX Wins NASA Approval for ISS Missions: SpaceX won formal NASA approval to carry astronauts to the International Space Station, reaching a milestone for a commercial space vehicle three months after completing a crewed test mission. The U.S. certification enables SpaceX's Dragon capsule and Falcon 9 rocket to begin regular crew rotations to the orbiting lab, with the next flight planned for Nov. 14 with four astronauts. Justin Bachman has more.
With assistance from Brandon Lee
To contact the reporters on this story: Zachary Sherwood in Washington at zsherwood@bgov.com;
To contact the editors responsible for this story: Giuseppe Macri at gmacri@bgov.com; Loren Duggan at lduggan@bgov.com; Michaela Ross at mross@bgov.com; Zachary Sherwood at zsherwood@bgov.com