What to Know in Washington: Biden Braces for House GOP's Probes
Bloomberg Government subscribers get the stories like this first. Act now and gain unlimited access to everything you need to know. Learn more.
The Republican takeover of the House will give the party control of powerful House committee and subpoena power that will be harnessed to subject President Joe Biden, his cabinet and his family to aggressive scrutiny over the next two years.
Much of their policy agenda on the economy, immigration, crime and social issues mostly will be stifled by the gridlock of divided government with Democrats in charge of the Senate. But GOP lawmakers have been setting the groundwork for wide-ranging investigations and oversight that, at least in part, will serve as payback for probes of former President Donald Trump by Democrats.
House GOP leader Kevin McCarthy (R-Calif.), who is poised to become House speaker in January, has outlined four top targets for investigation: US-Mexico border security, the chaotic US withdrawal from Afghanistan in 2021, the origin of the Covid pandemic and whether the Justice Department overstepped its bounds in dealing with threats against local school officials at a contentious national debate over books and curriculum.
For many of McCarthy's colleagues the list of targets is much longer. At the center of the investigations will be the House Judiciary Committee, expected to be led by Rep. Jim Jordan (Ohio), and the Oversight Committee led by James Comer (Ky.).
Jordan's staff released a 1,000-page compilation of letters demanding that documents be preserved for an investigation into allegations of political decision-making by Attorney General Merrick Garland's Justice Department and the FBI under Director Christopher Wray, specifically whether conservative politicians, activists and parents were targeted for harassment.
"We are focused on how political our Justice Department has become," Jordan said at a news conference Thursday where he and Comer renewed demands for information on business dealings of Biden's family. Read more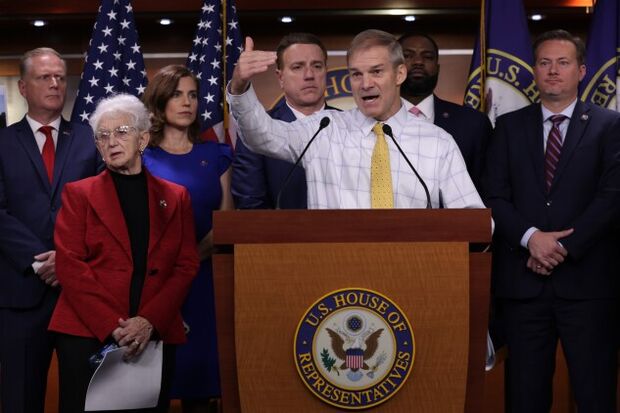 MORE ON THE HOUSE GOP AGENDA
Congress Faces Packed Must-Pass Agenda
Lawmakers departed late yesterday for a 10-day break, leaving until December major decisions advancing must-pass legislation setting defense priorities, funding the federal government, and overhauling a host of other policies before the end of the 117th Congress, Nancy Ognanovich reports.
House and Senate lawmakers return Nov. 28 for a lame duck session expected to run to at least Dec. 16, when the continuing resolution funding the government expires. Senate leaders suggested the session could spill into the following week, setting Dec. 22 as the target for lawmakers to head home.
A House-Senate conference agreement on this year's National Defense Authorization Act could be one of the first items put to a vote when lawmakers come back to town. The final measure is expected to provide a large boost over Biden's own $813 billion request for fiscal 2023. It could land first on the House floor and then move to the Senate.
Both chambers also will work to finalize legislation to protect same-sex marriage early in the new work period. The Senate will vote on advancing a revised Respect for Marriage Act (H.R. 8404) the evening of Nov. 28, but changes made to the House-passed bill could lead Republicans to throw up procedural roadblocks to delay passage. The House will have to take up the legislation again before it goes to Biden for his signature.
Also on the Senate's agenda will be the confirmation of a long list of Biden's nominees, particularly for the federal judiciary. Awaiting votes are more than 80 nominees, including some 20 federal judges.
Likely to be left for last will be a 12-bill omnibus appropriations package providing roughly $1.7 billion to cover spending for federal agencies and programs in fiscal 2023. The package is expected ultimately to carry many other measures, from a new supplemental spending plan for Ukraine and disaster aid to unrelated measures such as retirement legislation and tax extenders. It also is expected to carry extensions for many other government programs.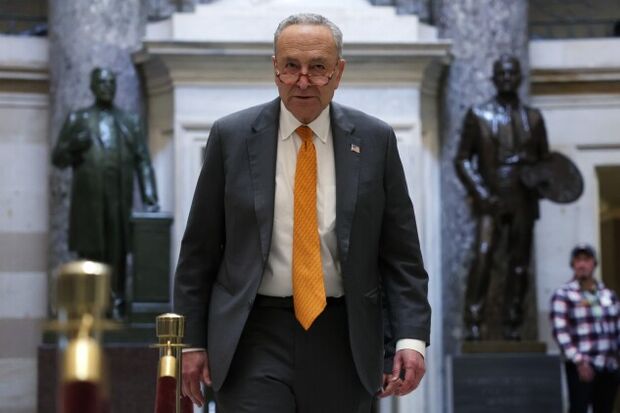 Also on Lawmakers' Radars
CONGRESS' SCHEDULE
The House and Senate have adjourned and will reconvene after the Thanksgiving holiday.
House Democrats quickly coalesced behind Hakeem Jeffries as their next leader to succeed Speaker Pelosi. The Brooklyn native would be the first Black party leader in Congress and long has been viewed as Pelosi's heir apparent.
Jeffries, 52, hasn't formally announced his candidacy for the top spot when Democrats choose their leaders at the end of the month. But Pelosi's decision to step down while remaining in Congress triggered a cascade of changes at the top of the party's House hierarchy that cleared his path.
Majority Leader Steny Hoyer (Md.), 83, and Majority Whip Jim Clyburn (S.C.), 82, both endorsed Jeffries for the top job. "Now is the time for a new generation of leaders, and I am proud to offer my strong endorsement to Hakeem Jeffries for Democratic Leader," Hoyer said in a statement.
Pelosi helped pave the way for a generation of female legislators. When she joined the House in 1987, there were 12 Democratic women. "Now there are 90 and we want more," she said Thursday. Read more
Sen. Bernie Sanders (I-Vt.) is poised to lead the Senate Health, Education, Labor, and Pensions Committee in the 118th Congress. He currently heads the panel's subcommittee on primary health and retirement security.
The House committee investigating the Jan. 6, 2021, attack on the US Capitol attack is pushing to complete its final report for release in early December, with unfinished business that includes whether to recommend criminal charges to prosecutors.
Meanwhile, Donald Trump either abandoned or failed to prove core privilege issues that he originally raised in pushing for a special master to review documents seized from Mar-a-Lago, the Justice Department said. Read more
And, the New York author who claims Trump raped her in the 1990s filed a public copy of a battery lawsuit she plans to bring against him next week, a new threat to Trump after he announced his third presidential run. Read more
Democrats in the US House are using their last days of control of the chamber before the GOP takes a majority to challenge Amazon on its worker safety record at fulfillment centers.
Lawmakers who received millions of dollars campaign donations from Sam Bankman-Fried could soon get something else from the former FTX chief executive officer: testimony under oath.
A group of Democratic senators asked the Federal Trade Commission to look into whether Twitter breached consumer protection laws or its consent decree under Elon Musk's ownership.
Musk's $44 billion takeover of Twitter is also still facing US government scrutiny over national-security concerns that his foreign partners may be able to access user data, people familiar with the matter said. Read more
The Senate cleared legislation ensuring federal law enforcement officers and first responders injured in the line of duty before retirement would get their full benefits, Zach Cohen reports. The bill from Rep. Gerry Connolly (D-Va.) now goes to Biden's desk.
Around the Administration
PRESIDENT'S AGENDA
Biden and Treasury Secretary Janet Yellen meet with business leaders at the White House at 1:30 p.m.
Press Secretary Karine Jean-Pierre holds a briefing at 2:45 p.m.
The legal battle over Biden's plan for student debt relief could be headed to the US Supreme Court as the government seeks to lift a lower court order that blocked the program indefinitely.
Fifteen GOP attorneys general warned the Biden administration Thursday that they're prepared to challenge the president's move to allow Veterans Administration hospitals to perform abortions even in states that have outlawed the procedure.
Vice President Kamala Harris tried to persuade Asian nations that the US is their most valuable economic partner in a speech in Bangkok on Friday, with the Biden administration wary of China's inroads in the region.
Nearly a dozen White House officials met with a small group of Silicon Valley startup executives and venture capitalists, including Yelp CEO Jeremy Stoppelman, to discuss cracking down on the technology giants.
The National Cancer Institute could handle US enrollment of studies testing cancer drugs under a proposal floated by FDA's cancer chief as part of a larger effort to improve clinical trials.
US regulators adopted a requirement for broadband providers to display easily understood labels about the cost, speed, data allowances of their internet services.
North Korea test-fired a suspected intercontinental ballistic missile with an estimated range long enough to carry a warhead to the American mainland, prompting the US to condemn what it said was an unlawful action.
Saudi Crown Prince Mohammed bin Salman can't be sued in the US over the murder of journalist Jamal Khashoggi because as a head of government he's immune, the Biden administration told a judge.
With assistance from Zach C. Cohen
To contact the reporters on this story: Brandon Lee in Washington at blee@bgov.com; Nancy Ognanovich in Washington at nognanov@bgov.com
To contact the editors responsible for this story: Giuseppe Macri at gmacri@bgov.com; Michaela Ross at mross@bgov.com; Loren Duggan at lduggan@bgov.com
Stay informed with more news like this – from the largest team of reporters on Capitol Hill – subscribe to Bloomberg Government today. Learn more.