What to Know in Washington: Biden 'Blue Wave' Won't Materialize
Democrats entered the U.S. election hoping for a repudiation of Donald Trump that would sweep them back to power in Washington. Instead, they were denied their "blue wave" by the president and congressional Republicans who defied polls to make races for the White House and Senate control too close to call.
The results left Democratic presidential nominee Joe Biden struggling for narrow victories in a handful of battleground states and the party's chances of a winning a Senate majority all but out of reach.
Even Speaker Nancy Pelosi (D-Calif.) was bracing for a reduction in her majority, as Republicans defeated one House chairman and a former cabinet secretary-turned-lawmaker.
And while Biden retains multiple paths to taking the White House, the 2020 election will once again prompt soul-searching for a party that is still struggling to grapple with the populist fervor Trump gifted the Republican Party. Read more from Justin Sink.
As results continue to come, follow the outcomes here: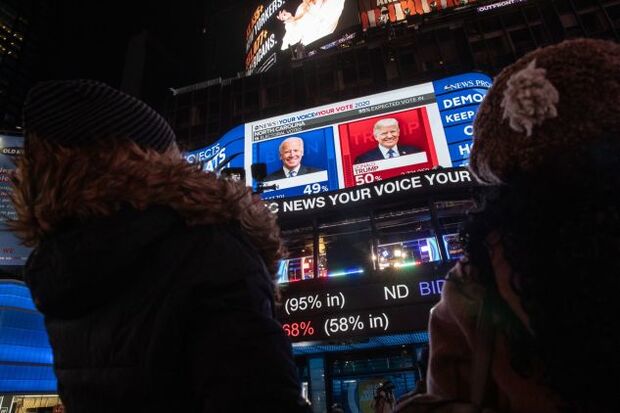 Reconciliation Plans at Risk: Democrats have reason to be disappointed with last night's results, even if they manage to win the Senate and White House. Key lawmakers had discussed passing major legislation on the coronavirus recovery without Republican support, a feat that would be difficult with slim majorities in both chambers and impossible if they lose the Senate, Jack Fitzpatrick reports.
Pelosi told reporters Monday Democrats would use the budget reconciliation process to pass legislation through the Senate with a simple majority, rather than 60 votes, if Democrats win both chambers. "We most certainly will be passing a reconciliation bill," Pelosi said. "Not only for the Affordable Care Act but for what we may want to do further on the pandemic and some other issues that relate to the well-being of the American people."
But control of the Senate is still up for grabs, and Democrats' struggles to increase their House majority could work against them. To adopt a budget resolution in both chambers and then pass a reconciliation bill would be challenging with close margins. A budget resolution would be much easier to pass in the House if Democrats could get 245 or more seats, House Budget Chairman John Yarmuth (D-Ky.) said in an October interview. In spring 2019, progressives blocked House Democrats' proposal to raise spending caps, saying it didn't provide enough for domestic priorities, a sign the caucus has serious disagreements about fiscal issues.
"If we get up to 245 or 248 or something like that, then we have a lot more margin for error and we could set loose some votes," Yarmuth said. "But at 235 we can only lose 17, and that's tough."
Rep. Bill Johnson (R-Ohio), who is vying to serve as the ranking member of the Budget Committee, warned in an Oct. 30 interview that Democrats' plans to use reconciliation could fall apart on Election Day. "It is a tool, but it's got to be a tool used effectively, and they are counting their chickens before they hatch," Johnson said.
Battle Could Be Too Close to Call for Days
Close contests in five key states mean the U.S. presidential election may not be decided for days, or longer, even as Trump falsely claimed victory over Biden with millions of ballots still to be counted.
As of 6 a.m., Biden had 238 electoral votes while Trump had 213, leaving both shy of the 270 needed to secure immediate victories.
In a middle of the night speech from the White House, Trump threatened to ask the Supreme Court to intervene to stop what he called the disenfranchisement of Republican voters, without offering evidence that any wrongdoing had occurred. "Frankly, we did win this election," he said, noting that he held a lead in a number of states whose results were still uncertain. "So we'll be going to the U.S. Supreme Court. We want all voting to stop."
It wasn't immediately clear what Trump meant, as states including Michigan, Pennsylvania, Wisconsin, Georgia and Nevada were counting legally cast votes. It is routine for states to continue counting votes after Election Day, and Pennsylvania said results likely wouldn't be finalized for several days.
The unusually large number of absentee ballots cast due to the coronavirus pandemic meant counting wasn't complete. The unresolved outcome risks stoking tensions further in the U.S., beset by an economic downturn and the raging virus.
Despite the president's claims, Biden ended Election Day with a strong chance of unseating the incumbent. A Biden win in the battleground state of Arizona — which Trump carried in 2016 — opened up a number of pathways to clinch a majority of Electoral College votes, primarily through Rust Belt states where both campaigns fought hard.
Trump tried to create doubt about the legitimacy of the vote count early today after spending weeks warning without evidence of ballot tampering that would favor the former vice president. Trump's comments drew criticism from Biden's campaign and at least one of the president's allies. Jordan Fabian and Josh Wingrove have the latest.
The claim of victory carries no official weight, yet risks touching off turmoil and a protracted legal fight over the election outcome. Millions of votes are yet to be counted, including ballots postmarked by Election Day but not yet received in some states. And states have five weeks, until Dec. 8, to report final results to the Electoral College. The AP issued a statement saying it was not calling the race because neither Trump nor Biden had secured the 270 electoral votes needed to claim the presidency. Read more from Laurence Arnold.
Control of Congress
Democrats' Chances for Senate Majority Diminish: Democratic chances of taking control of the Senate were greatly diminished after several vulnerable Republican incumbents including Joni Ernst in Iowa and Steve Daines in Montana fended off well-financed Democratic challengers. While there were six Senate races still to be settled, Democrats would need an extraordinary surge to win three of them, which would give them the minimum 50 seats they'd need to control the Senate — and only then if Biden prevails over Trump at the top of the ballot.
Democatic Pickups:
Former Gov.

John Hickenlooper

(D) defeated incumbent Sen.

Cory Gardner

(R) in the Colorado Senate race, Fox and NBC projected.
Retired astronaut Mark Kelly (D) won his race against Sen.

Martha McSally

(R) in Arizona.
Republicans took back a Senate seat in Alabama, with former Auburn University football coach Tommy Tuberville (R) defeating incumbent Sen Doug Jones (D), Krista Gmelich reports.
Other Republican Holds:
Sen.

John Cornyn

(R) won re-election to a fourth term, defeating Air Force combat veteran M.J. Hegar (D). Cornyn, who has served as the Senate Majority Whip, sought to distance himself from Trump as the contest became tighter, Yueqi Yang reports.
Sen.

Lindsey Graham's

(R) bet on Trump paid off, as he won a hard-fought and costly campaign against Jaime Harrison (D). Graham, chairman of the Judiciary Committee, started as a Trump foe, then turned into a golf buddy and loyalist, Steven T. Dennis reports.
The GOP will keep a Senate seat in Kansas, with Rep.

Roger Marshall

(R) defeating state Senator Barbara Bollier (D). Marshall will succeed retiring Sen.

Pat Roberts

, extending the GOP's eight-decade monopoly on the state's two Senate seats, Krista Gmelich reports.
In races yet to be called, GOP Senators Susan Collins of Maine and Thom Tillis of North Carolina were holding on to leads in early vote counts.
The final outcome of the battle for the Senate might not be known for days while votes are tallied — or even months if control of the chamber hinges on the Georgia runoff. Georgia Republican Senator Kelly Loeffler, who was appointed by the governor, will face off against Democrat Raphael Warnock, senior pastor of the Ebenezer Baptist Church in Atlanta, in the runoff.
In the other Georgia contest, Republican incumbent David Perdue was leading Democratic challenger Jon Ossoff, who narrowly lost an Atlanta-area House special election in 2017. Read more from Billy House, Laura Litvan and Steven T. Dennis.
Democrats Holding House Majority: Democrats are projected to keep control of the House, but with at least six incumbents losing their seats the party is falling far short of pre-election expectations of an expanded majority.
Among the Democrats defeated were several first elected in the 2018 "blue wave" that swept them into majority, as well as with House Agriculture Chairman Collin Peterson, who has represented his Minnesota district since 1991. While Republicans aren't threatening to take back control of the House, Speaker Nancy Pelosi (D-Calif.) will have less room to maneuver.
With Democrats also on the verge of failing in their quest for a Senate majority and the presidential race too close to call, House Democrats might have to shelve their most ambitious plans for fighting climate change and responding to the coronavirus epidemic. Read more from Billy House.
Elections playing out later this month inside the Capitol will help illuminate the future of House Democrats' leadership team.
Pelosi, Majority Leader Steny Hoyer (Md.) and Majority Whip Jim Clyburn (S.C.) are all expected to remain in House Democrats' top three positions, where they've been for more than a decade. But all three are in their early 80s, and there is pent up ambition in droves in the expanded caucus.
When Democrats elect their leaders on Nov. 18 and 19, there are two contested races for slots further down the ladder — for assistant speaker and Democratic Caucus vice-chair, the fourth- and sixth-ranked positions — that will help identify a couple of potential successors. Another race to represent members who've served for five terms or less is also up for grabs. Read more from Emily Wilkins.
Meet the Freshman: For a look at all the members of the 117th Congress, including the incoming freshman, see BGOV's lawmaker directory.
Republicans took two key seats in the House from South Florida districts. Carlos Gimenez, the current mayor of Miami-Dade County, won his race over Democratic House member Debbie Mucarsel-Powell, according to The Associated Press. Maria Elvira Salazar, a television personality, also won her race against Rep.

Donna Shalala

(D), Jonathan Levin reports.
Marjorie Taylor Greene (R), who has expressed support for the QAnon conspiracy theory, won Georgia's open 14th Congressional District. Greene ran unopposed in the reliably Republican district after Kevin Van Ausdal (D) said in September he was dropping out of the race for family and personal reasons. Greene, who has been criticized for racist comments and violent rhetoric, stunned the GOP establishment with her primary victory in the district. Trump has called her a "future Republican star," Megan Howard reports.
117th Congressional Committees Outlook: Stay tuned to BGOV later today for our coverage of committee's priorities for the 117th Congress.
BGOV's Rapid-Response Webinar: Join Bloomberg Government's Greg Giroux, Kyle Trygstad, and Emily Wilkins on Thursday at 2 p.m. for an examination of the biggest surprises and most momentous outcomes of the 2020 elections. They'll assess how the election results could rewrite the landscape in Washington and will share insights from the latest available election data. Register Now.
On the Ballot in the States
Ballot Measures Overview: High-dollar ballot measure campaigns show how much companies and individuals are willing to spend to sway voters, whose natural inclination is usually to vote "no" on new laws. All told, more than $1 billion was raised for 120 ballot measures across the country.Tiffany Stecker takes a look at the top ballot measures from Tuesday.
Uber, Lyft Win California Bid to Keep Drivers as Contractors: Gig economy giants including Uber, Lyft and DoorDash have won their effort to pass a hotly contested ballot measure that will exempt the companies from a state law requiring them to classify most of their workers as employees. Read more from Ellen Huet.
Cannabis Legal in Much of U.S.: Legal marijuana is becoming the American norm as ballot measures passed in Arizona, Mississippi, Montana, New Jersey, and South Dakota, adding to the 44 states that already allow it for medical or recreational purposes. Adult-use pot will be legal in 15 states. The measures were among a handful of proposals voters across the country considered to legalize pot and decriminalize drugs such as psilocybin, or "magic mushrooms." Read more from Brenna Goth.
Colorado Voters Say No to Banning Most Later-Term Abortions: Colorado voters rejected a measure that would have prohibited abortions after 22 weeks gestational age unless immediately required to save the life of a pregnant woman. Voters shot down the citizens' initiative by a vote of 59.1% to 40.9%, with 85% of the vote reported. Read more from Tripp Baltz and Jennifer Kay.
Montana Congressman Elected Governor: Rep. Greg Gianforte, Montana's at-large congressman, will become the state's 25th governor, winning the only close race out of 11 gubernatorial contests in the country. The election of Gianforte, 59, a high-tech entrepreneur and one of the richest members of Congress, breaks a 16-year lockout from the Montana governor's mansion for Republicans. He'll succeed term-limited Gov. Steve Bullock (D), who he lost to in the 2016 governor's race, after defeating Bullock's lieutenant governor, Mike Cooney (D). Read more from Tripp Baltz.
Puerto Rico Pro-Statehood Governor Candidate Holds Narrow Lead: Puerto Rico's pro-statehood candidate, Pedro Pierluisi, was holding a narrow lead in the gubernatorial race, following a campaign to kick-start the economy of the bankrupt U.S. territory by cutting red tape and speeding up the delivery of billions in federal aid. With 91% of polling stations reporting, Pierluisi had 350,865 votes or 32% of the ballots versus his nearest rival, Carlos Delgado Altieri, with 340,907 votes or 31% around midnight New York Time, according to the Puerto Rico State Commission on Elections. Read more from Jim Wyss.
More Election Coverage
Trump Team Loses Nevada Suit to Halt Mail Count: Nevada's top court denied Trump's request to halt ballot counting in the state's biggest county amid a dispute over the accuracy of its signature-matching technology and public access for election observers who claim they're being kept too far from the action. The Nevada Supreme Court late yesterday said Trump's campaign and the Nevada GOP failed to produce evidence backing their claim of wrongdoing in Clark County, the same decision reached by a lower court judge last week. Read more from Erik Larson.
Pa. Lawmaker Sues to Block Mail-In Ballot Fixes: A Republican congressman from Pennsylvania sued the state's election officials for allegedly allowing voters whose mail-in ballots were invalidly submitted to "cure" their error by using provisional ballots. Rep. Mike Kelly (R) claims in a filing last night that Pennsylvania Secretary of State Kathy Boockvar improperly directed election staff on Nov. 2 to alert mail-in voters about ballots with errors that need to be fixed. Mail-in ballots aren't supposed to be opened until Election Day. Read more from Erik Larson and Jeffrey Taylor.
Awaiting Influx of U.S. Troops' Votes: A tie or close call in the presidential election means that military ballots coming from overseas could swing the vote possibly days after Nov. 3. Over 70% of the available votes in the Electoral College will come from states counting overseas military ballots after Election Day and the states that accept ballots arriving a week after Nov. 3, or later, still account for a majority of the electoral votes, data published by Count Every Hero show. Roxana Tiron and Travis J. Tritten have more.
Interference Threat Looms After U.S. Election: Election Day didn't see the scale of disinformation and meddling efforts that many voting security experts had feared, as voting systems and voters themselves were largely unaffected, top Cybersecurity and Infrastructure Security officials said in briefings yesterday. "We have no indication that a foreign actor has succeeded in compromising or affecting the actual votes cast in this election but we do remain on high alert," acting Homeland Security Secretary Chad Wolf said yesterday. Shaun Courtney has more.
What Else to Know Today
U.S. Exits Paris Climate Pact, Outcome Uncertain: The U.S. has officially become the first nation to quit the Paris climate agreement, even as the outcome of the country's presidential race remains undetermined. Trump moved to withdraw from the landmark environmental accord exactly one year ago, abandoning a global effort to curb carbon emissions and slow global warming. The U.S. exit formally took effect today.
The fate of the global climate now rests, in part, on who ends up in the White House. Biden has said he will rejoin the Paris pact immediately if he wins. His clean-energy agenda is one of the most ambitious in the world, and could help significantly lower global emissions. In contrast, Trump has spent the past four years promoting fossil fuels, rolling back environmental regulations and denigrating climate science. He is likely to spend a second term further hindering efforts to curb carbon emissions. Read more from Will Wade and Jess Shankleman.
Taiwan Picked for Drones Sale Under New Rules: The U.S. will sell Taiwan armed Reaper drones in a $600 million deal that will likely further anger China and help lock in a shift in American military support for Taipei during the next presidential administration. The State Department yesterday approved the proposed sale of the four weapons-ready MQ-9B drones from General Atomics, capable of carrying laser and GPS-guided munitions, along with radar, sensors and ground control stations for flying the aircraft. Read more from Iain Marlow and Samson Ellis.
With assistance from Jack Fitzpatrick
To contact the reporters on this story: Zachary Sherwood in Washington at zsherwood@bgov.com; Brandon Lee in Washington at blee@bgov.com
To contact the editors responsible for this story: Giuseppe Macri at gmacri@bgov.com; Loren Duggan at lduggan@bgov.com; Michaela Ross at mross@bgov.com