What to Know in Washington: Biden Blasts Russian Missile Strikes
Biden calls strikes on civilian targets "utter brutality"
G7 will hold emergency call on Ukraine with Zelenskiy
President Joe Bidencondemned the "utter brutality" of Russia's missile barrage at civilian targets in Ukraine — a significant escalation of a conflict now in its eighth month.
Biden in a statement Monday signaled he could approve new sanctions on Russia and weapons shipments to Ukraine. He said the US and its allies would "continue to impose costs" on the Kremlin and "provide the support necessary for Ukrainian forces to defend their country and their freedom."
"These attacks only further reinforce our commitment to stand with the people of Ukraine for as long as it takes," the president said.
The strikes, which included the first on Kyiv in months, were Russia's most intense since the early days of the invasion and raised pressure on the US and its allies to supply Ukraine with more advanced military equipment.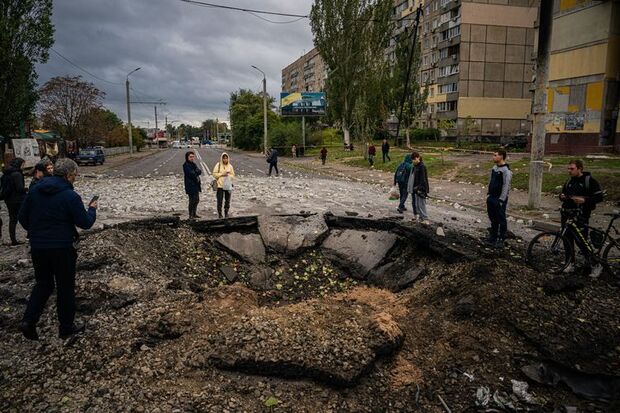 In a call Monday with Ukrainian President Volodymyr Zelenskiy, Biden said the US would continue providing Ukraine the support it needs, "including advanced air defense systems," according to the White House.
Zelenskiy said he stressed to Biden that "air defense is currently the number one priority." The White House statement didn't specify what systems Biden was talking about, but highlighted the pressure the US has come under from Ukraine to supply the country with longer-range anti-air and anti-missile systems that Biden has been reluctant to deliver so far.
Leaders of the Group of Seven nations will hold an emergency call Tuesday with Zelenskiy to discuss their response. Read more from Jordan Fabian.
Happening on the Hill
CONGRESS' SCHEDULE:
The Senate convenes today at 11 a.m. to begin consideration of the annual must-pass defense authorization bill. Once an amendment package is filed, the bill will be pulled from the floor until senators return in November.
The House is in recess.
Social Security and Medicare eligibility changes, spending caps, and safety-net work requirements are among the top priorities for key House Republicans who want to use next year's debt-limit deadline to extract concessions from Democrats.
The four Republicans interested in serving as House Budget Committee chairman in the next Congress said in interviews that next year's deadline to raise or suspend the debt ceiling is a point of leverage if their party can win control of the House in the November midterm elections.
Senate Foreign Relations Chair Robert Menendez (D-N.J.) urged a freeze on all US cooperation with Saudi Arabia, saying the kingdom's backing of oil production cuts is helping Russia finance its war on Ukraine.
Immigrants' rights advocates are making final plays for action on Capitol Hill as a once-promising session of Congress nears its end without any major immigration legislation locked in.
New requirements for federal agencies to assess risks of foreign influence in a small-business contracting program will have a chilling effect on some startups and university researchers. That's a trade-off to ensure China won't steal US technology.
Elections & Politics
The Oath Keepers threatened a "bloody civil war" against a "puppet regime" if Biden took the White House from Donald Trump, according to chat messages shown to jurors in the first Jan. 6 seditious conspiracy trial.
Herschel Walker's Georgia Senate campaign plunged deeper into turmoil Friday, with the firing of his political director and an accusation that he asked a woman to have a second abortion, imperiling Republican efforts to recover a vaunted seat and a majority in the upper chamber.
Georgia US Senator Raphael Warnock toured the state this weekend, working to draw a clear contrast with his opponent Walker, whose campaign is reeling from abortion allegations.
Republican candidates across the US are engaging in a legislative and messaging barrage against transgender people that they hope will win over voters in November's midterm elections.
The Delaware Supreme Court unanimously tossed a vote-by-mail law and a same-day registration statute, holding Friday that the measures were unconstitutional.
Representative Elissa Slotkin, a Michigan Democrat facing a tight race in November, said her party needs "new blood" though she'd back Biden if he seeks a second term in 2024.
The get-out-the-vote infrastructure that turned Georgia blue two years ago is short on the cash from donors that made it possible, according to its leaders.
A Ballot That Doesn't Mention Abortion Is Really About Abortion: Abortion could be the issue that motivates Alaskans to say yes to a constitutional convention for the first time since statehood.
Once a decade, the state is required to ask its voters, "Shall there be a Constitutional convention?" to consider changing the state's foundational document. There hasn't been a convention since before Alaska became a state in 1959.
But after liking their Constitution just fine for a few generations, the dynamics have changed. The end of the Roe v. Wade abortion precedent cast Alaska's ballot question in a new light, elevating interest and attracting campaign dollars. Jennifer Kay has more.
Around the Administration
PRESIDENT'S SCHEDULE
Biden and Group of Seven Leaders, along with Ukrainian President Volodymyr Zelenskiy will hold a virtual meeting at 8 a.m. to discuss Russia's strikes in Ukraine.
At 2:30 p.m. Biden gives a virtual speech at the Summit on Fire Prevention and Control.
At 6:45 p.m. the president will participate in a virtual reception for Rep. Lisa Blunt Rochester (D-Del.).
At 1:15 p.m. White House Press Secretary Karine Jean-Pierre gives a briefing.
A majority of almost 12,000 unionized railroad workers voted to reject a tentative labor agreement brokered in part last month by Biden, the first dismissal by members of a dozen labor groups that must accept the deal or risk a strike.
Federal Reserve Chairman Jerome Powell is likely to resist behind-the-scenes pressure at international meetings this week to let up on steep US interest-rate hikes that are putting pressure on economies around the world.
Biden's decision to pardon marijuana smokers seems tailor-made to fire up young voters and Black Americans, who tend not to show up for midterm elections.
Covid-19 booster vaccinations can save tens of thousands of lives in the weeks and months ahead, Biden administration officials said, citing new data that shows the impact of previous shots on hospitalizations and deaths among older Americans.
One of the internet's favorite contests has fallen victim to a phenomenon plaguing the tech industry: apparent spam bots.
More Defense & Foreign Affairs
A pro-Russian group is claiming credit for a series of disruptions that temporarily knocked the websites of some US airports offline.
Israel said it reached "an historical agreement" with Lebanon after both sides approved the latest draft of a US-brokered deal that settles a maritime border dispute in a gas-rich part of the Mediterranean Sea.
The Biden administration's new restrictions on technology exports to China could undercut the country's ability to develop wide swaths of its economy, from semiconductors and supercomputers to surveillance systems and advanced weapons.
Biden has been explicit in vowing to commit US forces in the event of a Chinese attack on Taiwan. The question occupying US and Taiwanese officials is the fate of the island's flagship semiconductor industry.
Kim Jong Un said he launched a new ballistic missile and simulated "tactical" nuclear strikes during recent military drills, in the latest sign that North Korea is preparing for its first atomic test in five years.
The US remains ready for talks with North Korea on denuclearizing the Korean peninsula, while ensuring "that we have also the capabilities in the region and ready to go in case we need them," National Security Council spokesman John Kirby said.
The US has no indication that Russian President Vladimir Putin has decided to use nuclear weapons despite his threats and battlefield losses, which now include the partial destruction of a bridge from Russia to annexed Crimea, National Security Council spokesman John Kirby said.
To contact the reporters on this story: Andrew Small at asmall@bgov.com; Michaela Ross in Washington at mross@bgov.com
To contact the editor responsible for this story: Michaela Ross at mross@bgov.com