What to Know in Washington: Biden Begins Formal Transition
President-elect Joe Biden and his team will begin to delve into Donald Trump's coronavirus vaccine planning and assess the condition of federal agencies after the president relented and allowed the transition planning to begin.
After weeks of inaction, the chief of the General Services administration acknowledged yesterday that Biden was the "apparent winner" of the Nov. 3 election. The shift came after the key swing state of Michigan certified Biden as the winner, at least nine Republican senators called for the transition to begin and the Trump legal team suffered fresh setbacks.
Trump made clear that he wasn't ready to concede, but the GSA's declaration gives Biden and his team access to current agency officials, briefing books and other resources, including some $6 million in funding.
"In the days ahead, transition officials will begin meeting with federal officials to discuss the pandemic response, have a full accounting of our national security interests, and gain complete understanding of the Trump administration's efforts to hollow out government agencies," Yohannes Abraham, the executive director of the Biden-Harris transition, said in an emailed statement.
Trump suggested that he gave GSA Administrator Emily Murphy permission to authorize the transition.
"I am recommending that Emily and her team do what needs to be done with regard to initial protocols, and have told my team to do the same," Trump said of Murphy. He added, however, that he would continue to contest the election's outcome, a campaign that he has pursued with barrages of lawsuits and demands for recounts in several battleground states.
Murphy sent a letter to Biden authorizing the formal transition as state and federal courts continue to reject legal challenges by Trump campaign lawyers.
White House Chief of Staff Mark Meadows, in a memo to staff seen by Bloomberg, said the administration will "comply with all actions needed to ensure the smooth transfer of power," Jennifer Jacobs reports. "Unless specifically authorized, EOP personnel are not permitted to speak directly with a member of the Biden Transition Team or the Federal Transition Coordinator," he added.
Now, transition aides will be able to flood more than 100 agencies to prepare the way for Biden's administration. They will have access to staff and briefing books assembled earlier this year, as well as information on what administrative issues must be addressed right away. They also will get details about which positions are most critical, as the incoming administration seeks to fill more than 7,000 jobs across the federal government. Read more from Jennifer A. Dlouhy.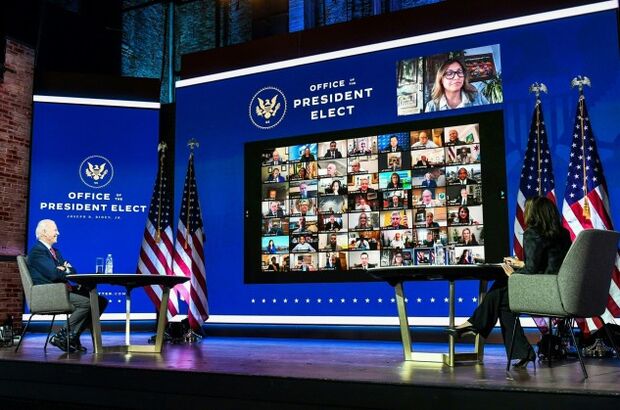 Trump Lawyers Plot Last Stand: With battleground states certifying their election results at a quickening pace, Trump's campaign legal team is increasingly focused on the notion that it can roll back certifications by taking a disastrous Pennsylvania ruling to the U.S. Supreme Court. Michigan certified a victory for Biden yesterday, following Georgia on Friday and with Pennsylvania set to do so soon as well. A federal judge on Saturday issued a scathing dismissal of a Trump campaign lawsuit seeking to block Pennsylvania's certification, leading the campaign yesterday to urgently seek relief from the Third Circuit U.S. Court of Appeals in Philadelphia, from which cases can be appealed to the U.S. Supreme Court and its 6-3 conservative majority.
In its Pennsylvania appeal brief filed yesterday, the campaign suggested the "real deadline" for the state's election results was Dec. 8, the date by which states must choose electors to guarantee they will be accepted by Congress. "It would be unconscionable to allow Pennsylvania to certify electors for Biden and then have it turn out that Trump won the race," the campaign said in a filing last night. Read more from Erik Larson.
The Biden Administration
Yellen Sets Up Biden to Go Big on Stimulus: Biden's selection of Janet Yellen as Treasury Department secretary signals he plans to act aggressively to revive the world's biggest economy, putting a former Federal Reserve chair who's not shied away from stimulus at the helm of his economic policy. With Yellen in charge, Biden's Treasury department will be prepared to join Fed Chairman Jerome Powell's policy of lower-for-longer interest rates with extended, expansionary government spending.
While her reported pick was applauded both on Wall Street and in much of official Washington — even by some of Trump's allies — Yellen is sure to be tested in her Senate confirmation hearings. Conservatives will probe her views on stimulus spending, and her less confrontational position toward China, a nation many Republicans view as an economic adversary. A front-row witness to the increasingly partisan battles over government spending in Washington over the past quarter-century, Yellen now stands to become a combatant for the first time in her career. Read more from Saleha Mohsin and Rich Miller.
Biden Homeland Pick Faces Narrow Senate Path: Alejandro Mayorkas, Biden's nominee to lead the Homeland Security Department, faces a tough confirmation if the Senate remains in Republican control, lobbyists and former DHS officials said. Mayorkas would have to convince several Republicans who voted against his nomination in 2013 to be deputy DHS secretary to change their vote. His nomination had been complicated by a probe into his intervention into a visa program on behalf of high-profile people, including then-Senate Majority Leader Harry Reid (D-Nev.). Read more from Shaun Courtney.
Biden is delivering a not-so-subtle rebuke to Trump with his choices of nominees to lead two key national-security agencies. For his director of national intelligence, Biden has selected Avril Haines, a former top CIA official with years of experience in the espionage community who would fill a job that Trump had largely reserved for people better known for their loyalty to him. And as DHS secretary, Mayorkas, a former head of Citizenship and Immigration Services, would become the first Latino and immigrant to lead an agency that has played a central role in Trump's widely criticized border crackdown. Read more from Bill Faries and Chris Strohm.
Trump's Agency Moves Ripe for Biden Reversal: Agencies uprooted by the Trump administration and moved to the middle of the country are facing deep staff recruitment challenges, with critics of the moves hoping Biden can reverse them. Both the Interior Department's Bureau of Land Management and two agencies within the Agriculture Department saw consequential shifts under Trump's administration. The Interior Department's land bureau headquarters moved to Grand Junction, Colo., and two USDA agencies — the Economic Research Service and the National Institute of Food and Agriculture — moved to Kansas City, Mo.
Trump argued the agencies should be closer to their constituencies — the land bureau to the oil drillers, outdoors enthusiasts, and ranchers who use the land, and USDA agencies to the farmers that depend on federal resources. The moves also supported his campaign's promises to "drain the swamp" in D.C. and decentralize the federal government. But opponents argued at the time that the moves would lead to agencies being too far removed from decision-makers in Washington, while draining the bureaus of expertise. Read more from Bobby Magill and Megan U. Boyanton.
California's Su Rises in Biden Labor Chief Race: Organized labor's divide over at least three White men they're promoting for Biden's selection as labor secretary has vaulted another candidate with a lower national profile, California Labor Secretary Julie Su, into stronger contention for the job. The splintering in union support spread among Boston Mayor Marty Walsh, Rep. Andy Levin (D-Mich.), and Sen. Bernie Sanders (I-Vt.) has created an opening for Su to quietly gain momentum in the race to be the president-elect's Labor Department leader, according national and state labor officials, Obama administration alums, worker advocates, and others in close communication with the Biden transition. Read more from Ben Penn and Josh Eidelson.
Key to Biden OSHA Virus Agenda Is a Deputy: The most important OSHA appointment the Biden administration could make in its first days is filling the agency's No. 2 post, a role that doesn't require Senate review, advocates and former agency officials say. "Naming a deputy assistant secretary on day one is key," said Katie Tracy, a senior policy analyst with the Center for Progressive Reform in Washington. Filling the deputy post would send a strong signal the Biden administration considered worker's health and safety a priority through the pandemic, Tracy said. Read more from Bruce Rolfsen and Fatima Hussein.
College Groups Ask Biden to Drop Curbs on Foreign Students: College groups are asking the incoming Biden administration to reverse recent rules they say threaten to dampen the prospects of international enrollment at U.S. colleges. Biden should withdraw rules proposed by the Trump administration that would limit the length of time international students can stay in the U.S. and that restrict access to H-1B visas, higher education lobby groups say. They also want the incoming administration to maintain Optional Practical Training, a program that allows foreign students to work in the U.S. in their field of study after graduating. Read more from Andrew Kreighbaum.
Happening on the Hill
Uncalled Races Won't Change Majorities—BGOV Podcast: Bloomberg Government's Kyle Trygstad and Greg Giroux discuss where things stand in vote-counting for the congressional races that have yet to be called on the latest episode of Downballot Counts. At the beginning of Thanksgiving week, that describes over a half-dozen House races, including multiple seats in California and New York, plus one in Iowa. What's clear is Democrats may enter the 117th session with as few as 222 seats. Tune into the episode here and subscribe: Apple Podcasts | Overcast | Stitcher | Spotify
Feinstein to Step Down From Judiciary: Sen. Dianne Feinstein (D-Calif.) said she'll step down as the top Democrat on the Senate Judiciary Committee, a role that put her under an intense spotlight during tumultuous confirmation hearings on Trump's judicial nominees. "After serving as the lead Democrat on the Judiciary Committee for four years, I will not seek the chairmanship or ranking member position in the next Congress," Feinstein said in a statement.
Feinstein said she instead will focus attention on issues of importance to her, including the wildfires and droughts in her home state of California. She said she'll continue to serve on the Judiciary panel, as well as three other committees: Intelligence, Appropriations and Rules.
Sen. Dick Durbin (D-Ill.) said he'll seek to replace her as the ranking Democrat on the panel, noting he's the most senior Democrat who doesn't chair another committee. "We have to roll up our sleeves and get to work on undoing the damage of the last four years and protecting fundamental civil and human rights," Durbin said in a statement. "The to-do list for the Senate Judiciary Committee is long." Read more from Laura Litvan.
Union Endorses DeLauro for Appropriations Gavel: The union representing employees of the National Labor Relations Board endorsed Rep. Rosa DeLauro (D-Conn.) in the three-way race to succeed retiring Rep. Nita Lowey (D-N.Y.) as House Appropriations Committee chairwoman, adding to DeLauro's support from labor groups. DeLauro "has tirelessly defended the civil servants of the NLRB from those that would undermine the enforcement of federal labor law, especially in these last few trying years," Burt Pearlstone, NLRB Union president, said in a statement. This is the first time the NLRBU has made an endorsement for any position, said Michael Bilik, an attorney who's on the union's legislative committee.
Reps. Debbie Wasserman Schultz (D-Fla.) and Marcy Kaptur (D-Ohio) are also vying for the gavel on the powerful committee.
DeLauro, chairwoman of the Labor-HHS-Education Subcommittee is close with Lowey and Speaker Nancy Pelosi (D-Calif.), and has garnered endorsements from labor leaders including AFL-CIO President Richard Trumka, Service Employees International Union President Mary Kay Henry, and others. Wasserman Schultz, who leads the Military Construction-VA Subcommittee, has run an ambitious dark-horse bid by detailing proposals to get more rank-and-file members involved in the spending process and to review racial inequities in government funding, Jack Fitzpatrick reports.
Democrats Ask YouTube to Remove Election Misinformation: A group of Senate Democrats including Bob Menendez (N.J.), Amy Klobuchar (Minn.), Mazie Hirono (Hawaii), and Gary Peters (Mich.) is calling on YouTube to take down videos with "false and misleading" information about the election, a sign of political condemnation usually reserved for social networks Facebook and Twitter. In the letter to CEO Susan Wojcicki sent late yesterday, the senators wrote they have "deep concern" over election misinformation on the site, and asked YouTube to specify its approach to political videos about the upcoming runoff elections for two U.S. Senate seats in Georgia. Read more from Mark Bergen.
The Coronavirus Pandemic
Covid Shot Success Hinges on School, Workplace Requirements: Employers and schools will do more to get Americans to roll up their sleeves for a Covid-19 shot than a universal vaccination mandate, legal scholars and public health officials said. The first vaccines could be available as early as Dec. 11 or 12 in the U.S. after Pfizer and BioNTech requested emergency authorization of their vaccine. Moderna is likely not far behind on its submission to the Food and Drug Administration.
With vaccines produced at record speed, the next challenge is to ensure enough people receive it to end the pandemic. About 60% to 70% of the population—or 200 million Americans—would need protection from the virus in order to reach herd immunity. Where a state mandate could cause a political backlash and discourage vaccinations, schools and employers are more likely to drive demand for inoculations. As long as they don't single out any groups based upon a pre-existing condition or other disability, requiring vaccinations for re-entry would be legal, said Lawrence O. Gostin, director of Georgetown University's health law institute. Read more from Jeannie Baumann.
AstraZeneca Shot Hints at Preventing Severe Cases: The leader of the U.S. government's coronavirus vaccine program said AstraZeneca found that 16 participants who received a placebo in its clinical trial contracted severe Covid-19, a sign that the shot could block the worst cases of disease. The British drugmaker and its partner, the University of Oxford, said earlier yesterday that none of the trial participants who received the vaccine had become severely ill, and that none of the patients in that group were hospitalized.
"That's very important," said Moncef Slaoui, chief scientific adviser to Operation Warp Speed, in an interview with Bloomberg News. "It's exciting." Read more from Riley Griffin.
Millions Expecting to Lose Their Homes: Millions of Americans expect to face eviction by the end of this year, adding to the suffering inflicted by the disease raging across the U.S. Around 5.8 million adults say they're somewhat to very likely to face eviction or foreclosure in the next two months, according to a survey completed Nov. 9 by the U.S. Census Bureau. That number would account to one-third of the 17.8 million adults in households that are behind on rent or mortgage payments. Read more from Alex Tanzi.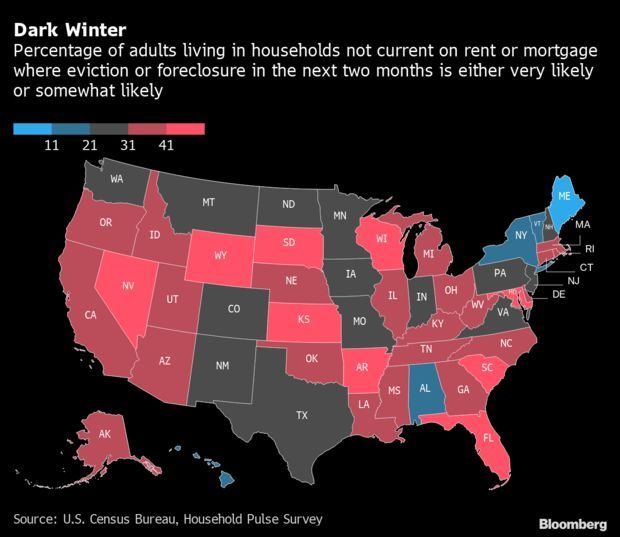 What Else to Know Today
Latino Voters Are Sending Democrats a Message: From the Tejanos of Southeast Texas to the Venezuelan-American enclave west of Miami and the Dominican-Americans a few miles to the east, Latinos turned out in big numbers for Trump on Nov. 3. Of all the election-night surprises, this may have been the greatest. Even in Maricopa, the key county that Biden captured en route to flipping Arizona into the Democrats' column for the first time in two decades, the Latino vote inched ever so slightly toward Trump.
Collectively, these voters sent a clear message to Democrats that night: The long-held assumption that the growing Hispanic population would inexorably turn large swaths of the Sun Belt into solidly-blue strongholds—and hand the party control of the electoral map in the process—is badly misguided. Yes, a majority of Latinos still voted for Biden and, yes, his victory in Arizona helped pave his way to the presidency, but he was trounced in Florida and Texas by margins that almost no pollster predicted. And the shifting Latino vote in those states was a big reason why. Read more from Andre Tartar, Jeremy C.F. Lin, Katia Dmitrieva, Maria Eloisa Capurro, Catarina Saraiva and Demetrios Pogkas.
Pharmacy Group Seeks to Block U.S. Drug Imports: A pharmaceutical research group sued the Trump administration to block a policy aimed at lowering drug prices by allowing some prescription medications to be imported — and re-imported — into the U.S. from Canada, Robert Burnson reports. The policy announced in July poses "significant safety risks" because it would allow the imports without manufacturers' "authorization or oversight," according to the complaint by Pharmaceutical Research and Manufacturers of America filed Monday in Washington federal court.
Big Oil Gets Trump Backing in SCOTUS Climate Case: The Trump administration threw its weight behind oil companies yesterday in a Supreme Court dispute that could affect climate litigation across the country. In a new amicus brief, Justice Department lawyers urged the high court to side with BP, Exxon Mobil, and others in the latest example of the administration backing the oil and gas industry as it fends off more than a dozen state and local government lawsuits that seek to make companies cover the costs of local-level harms linked to climate change. The incoming Biden administration has signaled it plans to take a different approach focused on polluter accountability. Read more from Ellen Gilmer.
David Dinkins, New York City's Only Black Mayor, Dies: David Dinkins, New York's only Black mayor, whose struggles with civil unrest and racial strife in the early 1990s overshadowed his success in beginning the city's two-decade trend of reduced crime, has died. He was 93. Dinkins died last night at his home on the Upper East Side of Manhattan, the New York Times reported, citing Mayor Bill de Blasio. Dinkins coined the phrase "gorgeous mosaic" to describe New Yorkers' tolerance and respect for ethnic diversity. His contributions included his role in creating the privately financed National Tennis Center in Queens, where the U.S. Open is played. Read more from Henry Goldman.
With assistance from Jack Fitzpatrick
To contact the reporters on this story: Zachary Sherwood in Washington at zsherwood@bgov.com; Brandon Lee in Washington at blee@bgov.com
To contact the editors responsible for this story: Giuseppe Macri at gmacri@bgov.com; Loren Duggan at lduggan@bgov.com; Michaela Ross at mross@bgov.com