What to Know in Washington: Biden Begins Amid Division, Security
President-elect Joe Biden is set to arrive in Washington today, the eve of his inauguration, with the usual backdrop of celebrations and political comity replaced by a military lockdown.
Biden will spend the night at Blair House, the guest residence across the street from the White House — one of just a few traditions being honored during the most extraordinary transfer of power in most Americans' lifetimes.
Outgoing President Donald Trump doesn't plan to invite the Bidens to the White House before the inauguration — denying them the customary gesture of goodwill the Obama family afforded him four years ago. Trump will also become the first president since Andrew Johnson to skip his successor's swearing in — he'll instead leave Washington tomorrow morning for Florida, where he plans to reside.
Roughly 25,000 National Guard soldiers have been deployed across Washington after Trump supporters, incited by the president to stop Congress from certifying Biden's election victory, stormed the U.S. Capitol in a violent riot on Jan. 6 that left five dead. Tall fencing now surrounds the Capitol building and the White House.
Even before the insurrection, the raging coronavirus pandemic — which has killed nearly 400,000 in the U.S. — had already forestalled the possibility of large-scale gatherings or public festivities for Biden and Vice President-elect Kamala Harris's inauguration.
But the scene of tomorrow's transfer of power will be like none other in American history, a stark illustration of the deep political divisions plaguing the nation that Biden will inherit. Read more from Mario Parker and Jenny Leonard.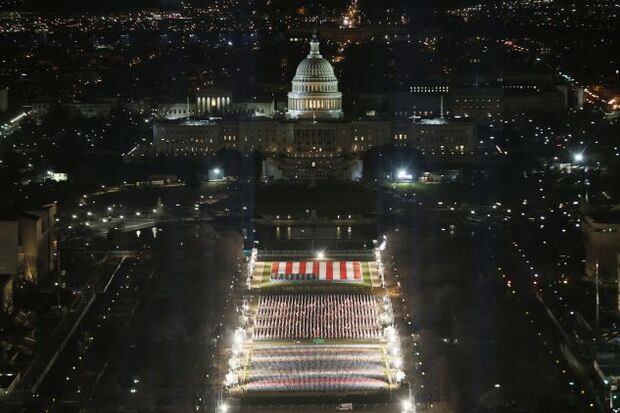 Preparing for Day One
Biden's Inaugural Speech: Biden's inaugural speech will outline how he'll tackle the health and economic crises he inherits while attempting to knit the country back together. The incoming president will call on the U.S. to abandon the divisiveness stoked by Trump. Biden's address will seek to bridge the nation's deepening political divide by summoning support from people who didn't vote for him as well as those who did, according to advisers and allies. To do that, he'll have to move beyond his penchant for saying what's on his mind — such as remarks Friday in which he told Republican lawmakers who refuse to wear masks to "grow up." Jennifer Epstein has more.
Biden Plans 10 Days of Action on Four Crises: Biden plans an early blitz of executive action to reverse some of Trump's most contentious policies and address the coronavirus pandemic, according to an outline of Biden's first 10 days in office. The plan, spelled out in a memo over the weekend by Biden Chief of Staff Ron Klain to incoming White House advisers, will address what Klain called "four overlapping and compounding crises," with Covid-19 at the top.
Klain said Biden would begin with about a dozen executive actions tomorrow. First-day orders will focus on measures to mitigate the pandemic and its economic fallout, including extending student loan forbearance past Jan. 31 and a temporary ban on evictions, Klain said. Biden will also launch a "100 Day Masking Challenge," imposing new mandates requiring masks on U.S. property and for interstate transportation. Read more from Gregory Korte.
Split Senate Gives Harris a Powerful Role: Kamala Harris's term as vice president will be defined from the start by the Senate's partisan split, as the former lawmaker is pushed into a powerful role in a chamber that must decide whether to convict the outgoing president of inciting an insurrection. With Democrats and Republicans both holding 50 seats, Harris' tie-breaker vote a cudgel she will likely have to use, even though the Biden team said it hopes it'll secure GOP support for legislation, Jennifer Epstein, Steven T. Dennis, and Laura Litvan report.
Coronavirus Plans: The recent round of scientific nominations and vaccine plans announced by the Biden transition team indicate the incoming administration is vying to make good on his promises to make science-based policy decisions. Throughout his campaign and after the election, Biden has promised to make science-based policy decisions, which he then reiterated during remarks on Friday on vaccine rollout. "Our administration will lead with science and scientists." The recent slate of announcements seem to back that up. Read more from Jeannie Baumann.
Defense Challenges on Biden's Radar: Global events have a way of forcing U.S. presidents to focus on defense, even when they seem hesitant to do so. Biden isn't likely to be an exception, despite his vow to hone in on fighting the coronavirus and healing the battered U.S. economy. Peter Martin highlights some defense issues likely to confront Biden, from North Korea to the Pentagon's budget. Read more.
New Administration Takes Shape
Who May Not Be on the Job Day One: Biden will take office surrounded by a Cabinet made up largely, if not entirely, of acting secretaries after circumstances combined to curtail quick Senate confirmations of his nominees for top roles. The best bets for fast confirmation are three of five key nominees who will appear before Senate committees today: Janet Yellen to be Treasury secretary, Antony Blinken for secretary of state and Avril Haines as director of national intelligence.
It's likely to take more time to determine the outcomes for Alejandro Mayorkas, nominated to head the Homeland Security Department, and Lloyd Austin, Biden's pick to lead the Pentagon. By contrast, Trump's defense and homeland security nominees were approved on his first day in office. Former President Barack Obama had seven Cabinet choices cleared by the Senate on Inauguration Day. Read more from David Wainer.
Biden Taps Iran-Deal, Ukraine Veterans: Biden picked veterans of the Iran nuclear talks and diplomacy during Ukraine's democratic uprising for two senior State Department jobs. Wendy Sherman, a former undersecretary of state for political affairs under President Barack Obama, was nominated to be deputy secretary of state, the transition said in a statement on Saturday. Victoria Nuland, a career diplomat whose previous jobs include U.S. ambassador to NATO, was nominated as under secretary for political affairs. Other names include Brian McKeon as deputy secretary for management and resources; Bonnie Jenkins as under secretary for arms control and international security affairs; and Uzra Zeya as under secretary for civilian security, democracy, and human rights. Read more from Tony Czuczka.
Biden's transition team has also asked the U.S. ambassador to Russia, John Sullivan, and a very small number of other Trump political appointees, to temporarily remain in their diplomatic posts, according to people familiar with the matter. Biden plans to keep Sullivan until he identifies a replacement because the position is seen as too important to leave vacant, according to a person familiar with the matter, Jennifer Jacobs and Nick Wadhams report.
Biden Eyes Ex-EEOC Chair to Run Labor Office: Biden is giving serious consideration to tap Jenny Yang, a former EEOC chair, to lead the Labor Department's Federal Contract Compliance Programs office, according to two sources familiar with internal personnel talks. Selecting Yang to lead the office would assign a transition team member with a record in fighting the gender pay gap to tackle the issue, Paige Smith and Benn Penn report.
Trump's Final Days
Trump Leaves Town an Outcast, Trailed by Pandemic, Joblessness: Trump departs Washington with Americans more politically divided and more likely to be out of work than when he arrived, while awaiting trial for his second impeachment — an ignominious end to one of the most turbulent presidencies in American history. Trump intends to leave tomorrow morning for his Mar-a-Lago club in Palm Beach, Fla., arriving before Biden is inaugurated. There, the ex-president will begin his post-presidency life attended at least temporarily by a handful of former White House staffers.
The last president who chose not to attend his successor's inauguration was Andrew Johnson in 1869, another impeached leader. While Trump's absence will break more than a century of precedent that has reinforced the peaceful transfer of power in the U.S., Biden has said it's a "good thing" Trump won't observe his swearing-in. Read more from Jordan Fabian.
White House officials are planning a farewell event for Trump as he leaves Washington tomorrow morning for a final time as president, according to a copy of the invitation obtained by Bloomberg News. The event at Joint Base Andrews outside the nation's capital will feature an address from the outgoing president before he departs for Mar-a-Lago, Jennifer Jacobs reports.
Trump Ends With 34% Approval: Trump's approval rating has dropped to 34% in a Gallup poll released yesterday, the low point of a presidency that already had the weakest average approval rating of any of his predecessors since the survey began in the 1940s. Read more from Gregory Korte.
Trump Steers Away From Self-Pardon: White House officials don't expect Trump to pardon himself, family members or close aides, but clemency is in the works for a famous rapper and others, according to people familiar with the matter. Trump is expected to announce a list of pardons today. Read more from Jennifer Jacobs and Jordan Fabian.
The Many Paths Ahead for Trump: Most ex-presidents spend their time out of office playing golf, getting their libraries in order, making well-paid speeches, writing even more lucrative memoirs and biting their tongues about what the next guy is doing. Other than the golf, the road ahead for Trump, a president who has never adhered to his office's norms, will be unlike any other. Tina Davis outlines what may be next.
NY Prosecutors Seek Records on Trump: New York City prosecutors, who are investigating Trump's company for possible tax, bank and insurance fraud, have broadened their probe to include a sprawling property in Westchester County. A lawyer for the town of Bedford said Friday the office of Manhattan District Attorney Cyrus Vance Jr. last month served the town with a subpoena focusing on an obscure development by Trump's company called Seven Springs, located on 212 acres an hour's drive outside New York City, Patricia Hurtado reports.
Washington Readies for Unrest
Ceremony Curtailed by Threats of Violence, Covid-19: Biden will take the oath of office in a ceremony dramatically reshaped by the coronavirus and still-simmering threats of violence in Washington, casting a pall over the quadrennial celebration of American democracy. Biden's swearing-in at the Capitol tomorrow will come with an unprecedented cordon of security and strict physical distancing measures in place. A sea of 200,000 flags on the National Mall will be a stand-in for the normally vast crowd cheering a new commander in chief. Read more from Ryan Teague Beckwith.
Bowser Weighs Long-Term Security: Mayor Muriel Bowser (D) said the nation's capital will need to rethink how it handles security after the unprecedented lockdown for the inaugural ends, to account for a rise in threats from white supremacists and other domestic terrorists. "We don't want to see fences. We definitely don't want to see armed troops on our streets," she told NBC. "But we do have to take a different posture." Beckwith has more.
Some Extremists Warn Members Away From Protests: Some far-right groups are warning members to avoid the armed rallies planned before the swearing-in, alleging that the federal government may be seeking to incite them to violence and entrap them. "Groups would love for us to show up and get violent in order to push their own agenda," said Michael Lackomar, one of 217 members of the Southeast Michigan Volunteer Militia. Read more from Ari Natter.
House Panels Seek Documents on Capitol Assault: Four committees of the House over the weekend sent a letter to several national security agencies seeking documents and briefings related to the Jan. 6 attack on the U.S. Capitol by the pro-Trump mob. The House Intelligence Committee, as well as panels responsible for homeland security, the judiciary, and oversight, signed the letter sent to the FBI, Homeland Security Department, National Counterterrorism Center and Office of the Director of National Intelligence. Miles Weiss has more.
To contact the reporters on this story: Zachary Sherwood in Washington at zsherwood@bgov.com; Brandon Lee in Washington at blee@bgov.com
To contact the editors responsible for this story: Giuseppe Macri at gmacri@bgov.com; Loren Duggan at lduggan@bgov.com; Michaela Ross at mross@bgov.com