What to Know in Washington: Biden Battles for Budget Deal
Five months after President Joe Biden unveiled his vision of a new social contract between the federal government and American families, the administration is struggling to unite congressional Democrats behind a bill that can pass in the face of united Republican opposition.
With moderate and progressive lawmakers split over the final size of what in August was penciled in as a $3.5 trillion package, and over a welter of elements from spending to taxes, Biden yesterday put his engagement into high gear.
The president hosted three separate meetings with Democratic lawmakers at the White House — one with the leadership, one with progressives and one with moderates — in an effort to salvage what would likely be his biggest legislative achievement. Failure would also likely kill off a separate infrastructure bill, leaving Biden's long-term economic agenda in tatters.
The talks didn't lead to a breakthrough. Rep. Pramila Jayapal (D-Wash.), who chairs the House Progressive Caucus, said that a majority of her group would still vote against the infrastructure bill — negotiated among Senate moderates with little input from liberals — unless the larger domestic spending measure was sent to Biden first.
The House is supposed to vote as soon as Monday to clear the $550 billion infrastructure measure, but the $3.5 trillion bill — which would include a range of tax increases — is stalled in the Senate over objections from moderate Democrats.
"We've got a hectic few days ahead," Rep. Josh Gottheimer (D-N.J.), a moderate who met with Biden yesterday, said in a statement. He said all of the lawmakers in his meeting, including Sens. Joe Manchin (D-W-Va.) and Kyrsten Sinema (D-Ariz.), agreed that the infrastructure bill and the social spending bill both should be passed. Nancy Cook and Billy House have the latest on Democrats' efforts.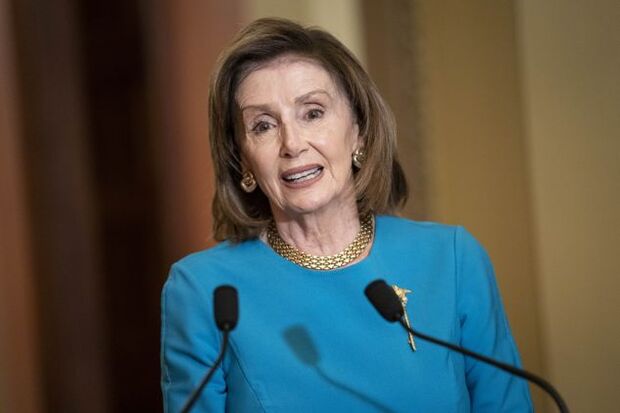 More on Biden's Economic Agenda
Murkowski Touts Highway Funds in Re-election Fight: The fate of the $550 billion infrastructure package coming soon to the House floor has potential repercussions well beyond Biden's White House and Democratic Party.
After a bipartisan group of senators struck a deal this summer on rebuilding the nation's infrastructure, Sen. Lisa Murkowski extolled the benefits of legislation that would provide funding for transportation projects she said are the "lifeline" to linking the far-flung communities in her vast rural state. For the Alaska Republican who alienated many in her party by voting to convict Donald Trump in his second impeachment trial, the prospect of record federal dollars headed to the state for highways, bridges, seaports, and airports also provides a salient issue she hopes will help her survive a likely tough 2022 election. Read more from Kenneth P. Doyle and Nancy Ognanovich.
Yarmuth Says Little Time to Raise Debt Limit on Own: House Budget Chair John Yarmuth (D-Ky.) said that his staff experts have concluded Democrats "probably" do not have enough time to raise the U.S. debt ceiling on their own using a fast-track budget process in time to avoid a default by the U.S. Treasury. Yarmuth has for months said that Democrats could use the budget reconciliation process, if necessary, to raise the debt limit. Read more from Erik Wasson and Billy House.
Sanders Proposes $1,000 for Seniors in Budget Bill: Seniors could get $1,000 loaded onto a debit card for dental visits, hearing aides or eye glasses, under a plan from Sen. Bernie Sanders (I-Vt.). The debit cards, which Sanders has called vouchers, would be means-tested for Medicare beneficiaries. The funds would be available to individuals making less than $75,000 per year and families with incomes under $150,000, similar to the rules used for stimulus funds during the pandemic. Read more from Alex Ruoff.
Progressives Vow Fight for At-Risk Climate Items: Progressives vowed to fight for prized energy and climate programs carried by Democrats' $3.5 trillion dollar tax-and-spending package, as disagreement within the party threatened to derail programs key to Biden's agenda. "We're facing a huge crisis with climate and the United States is going to have to help address that crisis," Sen. Sanders, the chairman of the Budget Committee, said in an interview. Read more from Ari Natter.
Also Happening on the Hill
Today's Agenda:
The House is scheduled to hold final votes on the annual defense policy bill.
Senators plan to vote on Biden's pick to fill a spot on the U.S. District Court for the District of Columbia.
Click here for a complete list of today's hearings and markups.
Senate Panel Eyes Report on China Communications: The Senate Armed Services Committee version of the fiscal 2022 defense authorization bill would direct the Pentagon to review "establishing more robust military-to-military crisis communications" with the Chinese government. The panel recommends a provision that would require the secretary of defense, working with the heads of other agencies, to study "the feasibility and advisability" of stronger military-to-military channels. Read more from Tony Capaccio.
DOD Pressed on Amazon Bid for Canceled Deal: The top Republicans on congressional antitrust subcommittees are demanding documents from the Pentagon to investigate what they say is potential anticompetitive conduct tied to a now-canceled $10 billion cloud-computing contract. In a letter sent Sept. 20 to the Pentagon, Sen. Mike Lee (R-Utah) and Rep. Ken Buck (R-Colo.) demanded relevant records on alleged preferential treatment for Amazon in the procurement. Anna Edgerton has more.
Senate Confirms Top Treasury Tax Nominee: The Senate confirmed Lily Batchelder to serve as assistant secretary for tax policy at the Treasury Department, where she would play a key role in implementing the tax code revamp congressional Democrats are working to pass later this fall. The nomination was approved yesterday by a 64-34 vote. The New York University professor of law is known for her work on individual income taxes, business taxes, the estate tax and retirement savings. Kaustuv Basu has more.
Haitian Treatment Spikes Pressure on Biden Policies: Homeland Security Secretary Alejandro Mayorkas is struggling to persuade lawmakers that his department is fulfilling the Biden administration's pledge to make the immigration system more humane as the U.S. forces Haitians back to their Caribbean nation in turmoil. Several Democrats on the House Homeland Security Committee condemned DHS for ramping up repatriation flights and booting many migrants at the border. Ellen Gilmer has more.
DeFazio Calls for End of 'To-Go' Alcohol Sales in Airports: The chairman of the House Transportation and Infrastructure Committee is calling for airport bars to stop selling "to-go" alcoholic drinks, citing an uptick in the number of unruly passengers getting into altercations with airline staff. "There is no reason that a passenger should be able to leave a restaurant with a "to-go" cup of alcohol and board a plane with it," Rep. Peter DeFazio (D-Ore.) said in remarks prepared for a hearing today on the issue. Read more from Keith Laing.
Around the Administration
Today's Agenda: Biden has no public events scheduled.
White House Pushes Companies to Be Transparent on Chips Supply: The Biden administration is pressuring companies involved in the semiconductor supply chain to be more transparent as the global chips shortage continues to wreak havoc across many industries, officials said. Commerce Secretary Gina Raimondo and National Economic Council Director Brian Deese will convene several companies today to discuss how to respond more rapidly to shutdowns around the world, brought about by the spread of the coronavirus, and what comes next for legislation to finance domestic manufacturing that's lingered on Capitol Hill for months. Read more from Jenny Leonard.
USDA Tackles Historic Wrongs in Agriculture: Biden's Agriculture Department is taking on decades-old disparities that harm marginalized communities by pushing diversity within its own ranks. "I've been around this place for a really long time," said Janie Simms Hipp, USDA general counsel and a Chickasaw Nation citizen. "I don't remember it being this diverse ever." Several actions in that direction came from Dewayne Goldmon, senior adviser for racial equity to the agriculture secretary. Read more from Megan U. Boyanton.
Biden to Tap Crypto Critic for Wall Street Watchdog: Biden plans to nominate a law professor who's criticized cryptocurrencies and advocated for the government to have a much bigger role in banking to run a top Wall Street regulator. Saule Omarova, who has said she wants to "end banking as we know it," will be tapped to run the Office of the Comptroller of the Currency as soon as this week, three people familiar with the nomination process said. Read more from Saleha Mohsin, Jesse Hamilton, and Ben Bain.
Biden Picks Veteran Researcher Frey to Lead EPA's Science Office: The Biden administration yesterday announced its intent to nominate veteran scientist Christopher Frey to lead the EPA's Office of Research and Development. If confirmed by the Senate, Frey would be in charge of an office that provides scientific research and expertise that informs the Environmental Protection Agency's regulatory and enforcement actions. Read more from Stephen Lee.
Biden to Tap Former DOL Attorney for Occupational Review Panel: Biden plans to nominate former U.S. Labor Department attorney Susan Harthill for the Occupational Safety and Health Review Commission, a nomination that would give the panel its full complement of commissioners if she is confirmed. Harthill was formerly the DOL's deputy solicitor for national operations, a role in which she oversaw legal activities performed for all department programs in the national office by attorneys in all 10 program divisions, the White House said in a release yesterday. Read more from Fatima Hussein.
Powell Vows to Defer to Fed's Wall Street Watchdog on Rules: Federal Reserve Chairman Jerome Powell, sending a message to progressives worried about his possible renomination, made clear that he won't protect Wall Street from tough oversight if he gets a second term. Powell pledged to let the Fed's next banking watchdog handle regulation without interference. Read more from Jesse Hamilton.
Rule Slashing Climate Pollutants Finalized: The Biden administration today finalized its first major move in climate regulation, aimed at curbing greenhouse gases by slashing climate superpollutants called hydrofluorocarbons. The rule facilitates an 85% phasedown of the use of hydrofluorocarbons, or HFCs, over the next 15 years. That's estimated to cut 4.5 billion metric tons of carbon dioxide by 2050, White House National Climate Adviser Gina McCarthy told reporters at a press briefing last night. "It's really frankly, folks, a very big deal," she said. Read more from Jennifer Hijazi.
Biden Will See Macron After Submarine Spat, Kerry Heads to Paris: Biden plans to meet in person with French President Emmanuel Macron in October, seeking to mend ties after a U.S. nuclear-powered submarine deal with Australia that outraged officials in Paris. Biden had a phone conversation with the French president yesterday, the first time the two leaders had spoken since the submarine deal was announced last week. In a joint statement, the two countries said Biden and Macron "agreed that the situation would have benefited from open consultations among allies on matters of strategic interest to France and our European partners." Read more from Jenny Leonard and Ania Nussbaum.
Older, At-Risk People Can Receive Pfizer Booster, FDA Says: People over age 65 and adults at high risk of severe Covid-19 can receive a booster dose of the Pfizer-BioNTech vaccine, the Food and Drug Administration said, opening a new and more controversial phase of the U.S. immunization campaign. Read more from Robert Langreth and Josh Wingrove.
To contact the reporters on this story: Zachary Sherwood in Washington at zsherwood@bgov.com; Brandon Lee in Washington at blee@bgov.com
To contact the editors responsible for this story: Giuseppe Macri at gmacri@bgov.com; Loren Duggan at lduggan@bgov.com; Michaela Ross at mross@bgov.com