What to Know in Washington: Biden Baits GOP Amid Catcalls
Bloomberg Government subscribers get the stories like this first. Act now and gain unlimited access to everything you need to know. Learn more.
President Joe Biden used his State of the Union address Tuesday evening to lay a trap, and House Republicans couldn't help but walk into it.
Biden intended his speech to be a relatively staid affair. His appeal to bipartisanship would provide an implicit contrast to Republicans he's painted as consumed by the party's fringe ahead of high-stakes talks over the debt limit and a bitter reelection campaign.
Read the Full Text of Biden's State of the Union Address
Instead the fringe came straight to Biden. The night is destined to be remembered for the moment that Rep. Marjorie Taylor Greene (R-Ga.), a conspiracy theory enthusiast, began jeering Biden from the back row over his claim that some Republicans supported sunsetting Medicare and Social Security.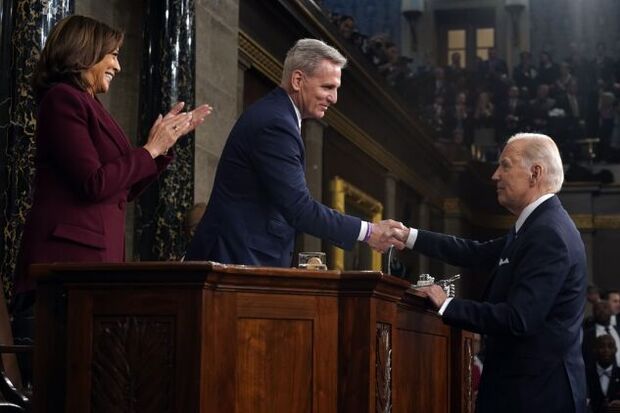 "Liar!" she shouted repeatedly, a pointed finger emerging from her oversized, white fur-lined coat.
But Biden parlayed the incident into a moment of levity, grinning as he declared he had "got unanimity!"
Republicans Call Biden 'Liar' in Off-Script Tussle Over Medicare
"So folks, as we all apparently agree, Social Security and Medicare is off the books now, right?" Biden said.
At another point, a heckler from the Republican side of the chamber yelled at Biden that the nation's fentanyl deaths were his fault. Later, House Speaker Kevin McCarthy (R-Calif.) — who warned his members earlier in the day to portray themselves professionally — appeared to shake his head and shush members who were shouting in the chamber.
In another memorable moment, Sen. Mitt Romney (R-Utah) admonished embattled freshman Rep. George Santos (R-N.Y.), who lied about key elements about his biography and lingered near the aisle before the president entered.
George Santos Spars With Romney at Biden's Address to Congress
Within the White House, aides celebrated the GOP outbursts as accomplishing the goal they had laid out: selling the president as an experienced and pragmatic leader who has already made the nation safer and more prosperous, and who is able to rise above the partisan chaos that has gripped Washington. Justin Sink has more.
Biden vowed to not allow the US to default on its debt, calling on Congress to raise the debt-ceiling and chastising Republicans seeking to leverage the standoff to force spending cuts.
Biden's speech hewed heavily to economic themes, striking a blue collar tone in calling for higher taxes on billionaires and tax buybacks, new consumer protections and antitrust efforts, while urging Congress to break through partisan gridlock and pass new measures.
He invoked the debt ceiling increases under his predecessor in calling on Republicans to not threaten a default as a condition of talks on fiscal reform that are in early stages.
"They lifted the debt ceiling three times without preconditions or crisis. They paid America's bills to prevent economic disaster for our country. So tonight, I'm asking this Congress to follow suit," Biden said. Read more
Highlights from the speech included:
Arkansas Governor Sarah Huckabee Sanders said Americans are "under attack in a left-wing culture war" in the Republican response to the State of the Union, drawing on themes pushed by Trump in his third run for the White House.
Also Happening on the Hill
CONGRESS' SCHEDULE
The House meets at noon to consider a bill that would end the vaccine mandate for international travelers to the US.
Senators are scheduled to attend separate caucus retreats at the Library of Congress. The Senate reconvenes Thursday at 10 a.m.
House Foreign Affairs Chairman Michael McCaul (R-Texas) said he plans to lead a bipartisan delegation to Taiwan this spring, despite renewed tensions with Beijing over China's alleged spy balloon incursion over the US.
A Senate panel will consider the nomination of Gigi Sohn to be a member of the Federal Communications Commission on Feb. 14.
Recent plane near-collisions on runways have raised red flags among lawmakers crafting a major US aviation policy bill.
Lawmakers on Capitol Hill have reintroduced legislation that would void a new US Labor Department rule permitting socially conscious retirement investing.
House Republicans plan to grill former Twitter executives at an Oversight hearing today over their alleged cooperation with the FBI to squelch the story of Hunter Biden's laptop, the opening salvo in their probe into the Biden family finances.
Elections, Politics & Probes
Manhattan District Attorney Alvin Bragg lashed out at criticism from a former lead prosecutor in his office who investigated Trump, calling it "appalling" and saying his earlier probe of the former president "simply was not ready."
The recent US Supreme Court ruling that overturned Roe v. Wade might not preclude a federal right to abortion, a US trial court judge said in a criminal case against anti-abortion activists accused of blocking access to a clinic.
A federal appeals court panel in New Orleans appeared open to upholding a lower court order shielding faith-based employers from having to comply with anti-LGBT discrimination laws, a move that would blunt the reach of a recent watershed US Supreme Court ruling.
Around the Administration
BIDEN'S SCHEDULE
Biden is scheduled to give a speech about his economic plan and union jobs at 1 p.m. CST in DeForest, Wisconsin. The president returns to the White House at 8:05 p.m. EST.
China rebuffed a US effort to arrange a phone call between the two countries' top defense officials after the US shot down an alleged spy balloon, a Pentagon spokesman said, in a stark new sign of how the uproar over the balloon has sent ties between the adversaries to a new low.
A prominent Chinese diplomat said the US should return debris from the balloon it shot down because it is the Asian nation's property, putting the decision over the aircraft's remains in Washington's hands. Read more
Germany and France's economy chiefs said they made progress in talks in Washington to improve cooperation with the US on green subsidies and defuse tensions over accusations of unfair competition.
Commerce Secretary Gina Raimondo met her French and German counterparts and discussed semiconductor supply chains and America's Inflation Reduction Act, according to a statement from the US Department of Commerce. Read more
To contact the reporter on this story: Michaela Ross in Washington at mross@bgov.com
To contact the editor responsible for this story: Andrew Small at asmall@bgov.com
Stay informed with more news like this – from the largest team of reporters on Capitol Hill – subscribe to Bloomberg Government today. Learn more.