What to Know in Washington: Biden Backs Oil Over Climate Agenda
Biden faces balancing act between gas prices, climate progress
Sanctions have room for escalation to undermine Putin's war
President Joe Biden delivered his strongest endorsement of oil on Thursday, ordering an unprecedented release of emergency U.S. crude in a move that gambled his climate-saving credentials on lowering gasoline prices in an election year.
If the strategy works, the president may help stave off both a recession and crushing defeats for his party in the November midterms, while drawing the ire of climate activists and potentially derailing his climate goals. If it fails, he risks looking like President Jimmy Carter, snubbed by oil-rich Mideast nations and powerless to rein in prices at the pump.
It's a remarkable shift for a president who campaigned on promises to combat climate change, accelerate renewable fuels and block drilling permits on public lands and waters. In the space of a week, he has instead ordered the emergency release of 180 million barrels of crude from U.S. stockpiles and presided over a plan to boost exports of American natural gas to Europe.
Aides to Biden insist his move to address an acute economic problem—high gas prices—doesn't jeopardize his longer-term renewable energy and climate ambitions, but analysts and advocates saw a contradiction. Jennifer A. Dlouhy and Josh Wingrove have more.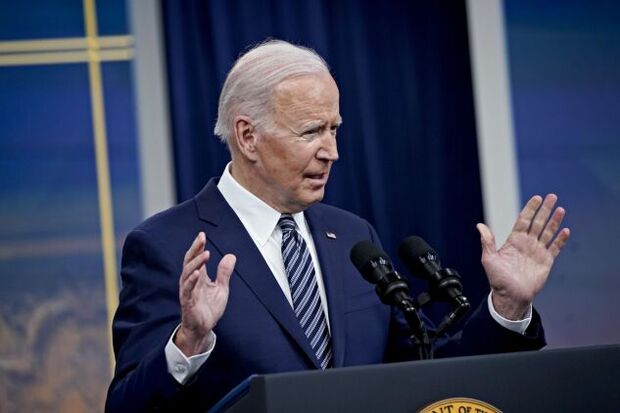 But Biden's plan may stifle domestic crude drilling just when it's needed most. Though the immediate impact of Biden's latest energy initiative has been a 7% drop in oil prices, analysts warned that any reprieve will be short-lived. The president wants to exact financial penalties on drillers for unused federal permits, and enhance the focus on clean energy, leaving oil executives less inclined than ever to invest the proceeds from $100-per-barrel crude into new wells. Read more from Kevin Crowley and Paul Takahashi.
The government has limited options to impose fees on idled oil wells on federal land to boost production amid high prices, lawyers say, and some of those options will come with environmental and logistical problems. "It would require a change in the Mineral Leasing Act" for the Interior Department to levy fees on non-producing federal lands that has been leased for oil and gas production, said Angela Franklin, partner at Holland & Hart. Top White House officials said Thursday they want Congress to impose a "use it or lose it" policy. Read more from Bobby Magill.
The far-reaching export controls that the U.S. placed on Russia a month ago still leave room for escalation in some key sectors if President Vladimir Putin continues his push forward with the invasion of Ukraine. At the Commerce Department, Secretary Gina Raimondo's teams are working on ways to further undermine Putin's ability to wage war. While much of that focuses on enforcement, it also includes planning out the next steps in terms of prohibitions. Eric Marin has more.
Talks between Ukraine and Russia will resume Friday via video link, following meetings earlier in the week in Turkey. Russia said two Ukrainian military helicopters made a rare strike across the border, hitting an oil tank facility in the city of Belgorod. There was no immediate confirmation from Kyiv. In Ukraine, Kyiv said its forces retook several villages in the Kherson region to the south. Follow the latest in the Bloomberg News Ukraine Update.
Also Happening on the Hill
CONGRESSIONAL SCHEDULE:
The House meets at 9 a.m. to vote on a bill to federally decriminalize marijuana.
The Senate is out until Monday.
The House passed a bill to cap what insured Americans pay for insulin, moving forward a key component of Biden's drug pricing agenda. Lawmakers voted 232-193 in favor of a modified version of the bill. Its future remains uncertain for now, as a group of senators work to craft a separate insulin proposal that could achieve bipartisan support. Read more from Celine Castronuovo and Alex Ruoff.
The Senate confirmed Biden's choice to oversee the Commerce agency that's a key player in the administration's strategy to limit Russia and China's access to cutting-edge technology. The Senate on Thursday confirmed Alan Estevez, a longtime Defense Department official and former Deloitte logistics consultant, as undersecretary to lead the Bureau of Industry and Security. The agency is key to crafting and enforcing export controls, including sweeping restrictions announced last month to prevent Russia from accessing products based on U.S. technology. Read more from Eric Martin.
Lawmakers spent hours grilling experts about consumers' use of overdraft protection as the U.S.'s biggest banks continue to face pressure over the fees they charge for the service. While many of the biggest U.S. banks have announced plans to reduce or eliminate overdraft fees, members of Congress debated Thursday whether more can or should be done to cap the fees, which banks charge when a user spends more than they have in their account. Jenny Surane and Noah Buhayar have more.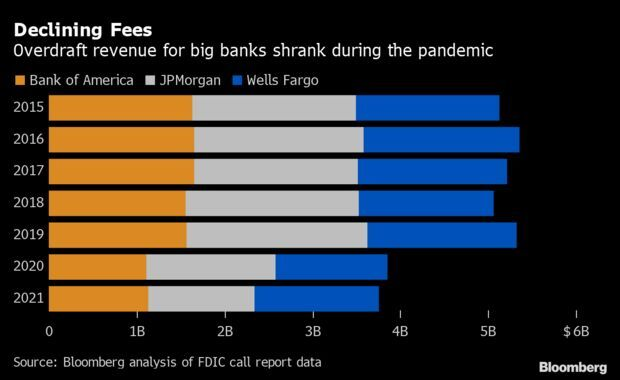 U.S. officials plan to request more authority from Congress to counter growing threats from drones. The devices, which have become more technologically advanced and cheaper, raise fears about attacks, smuggling, and flight disruptions, officials from the Homeland Security Department warned lawmakers at a hearing. Read more from Lillianna Byington.
Republican lawmakers are pressuring the Federal Communications Commission to tackle consumer misuse of an internet subsidy program while Democrats want to see enrollment ramp up. The Affordable Connectivity Program was a main topic of partisan tension during a House Energy & Commerce subcommittee hearing Thursday. FCC chair Jessica Rosenworcel testified before the House panel for the first time since the start of the Biden administration. Maria Curi has more on the partisan split over the program.
The administration's decision to stick a new biomedical agency under the NIH drew criticism from key House Democrats who say that such a move will stymie its progress. Health and Human Services Secretary Xavier Becerra confirmed the decision during a Thursday hearing on HHS's fiscal 2023 budget request. He also told Congress the previous day that the department will launch the Advanced Research Projects Agency for Health (ARPA-H) "under the auspices of the National Institutes of Health," in line with a statutory requirement, an HHS spokesperson said. Read more from Jeannie Baumann, Alex Ruoff, and Allie Reed.
Senator Ron Wyden has requested information from technology firms and government agencies to learn about the abuse of emergency data requests by hackers to obtain users' personal information. Bloomberg News reported Wednesday that Apple and Meta Platforms had provided information in response to forged emergency data requests sent by hackers, who used the email systems of compromised law enforcement agencies. Read more from William Turton.
The defeat of David Weil, the Biden administration's pick for chief wage and hour regulator, was the result of a months-long grassroots campaign to specifically target and convince moderate Senate Democrats to vote against him. The Senate March 30 voted 47-53 on a procedural motion to advance Weil as the Labor Department's Wage and Hour Division administrator, turning back the nominee. The vote was a public blow to the administration and its labor agenda that put a spotlight on disagreements among congressional Democrats. Read more from Paige Smith and Rebecca Rainey.
Senators from both parties criticized Biden's trade agenda on Thursday, faulting a shortage of ambition for negotiating new agreements and countering China in Asia. In a hearing of the Senate Finance Committee, U.S. Trade Representative Katherine Tai faced Democratic and Republican senators concerned that the Biden White House's proposed Indo-Pacific Economic Framework, or IPEF, is insufficient for boosting exports and countering China. Read more from Eric Martin.
Democrats warned Netflix to limit the exposure of young people to smoking imagery. "We urge your company to take more aggressive steps to limit this imagery and decrease young people's consumption of this harmful content," said Sens. Ed Markey (D-Mass.), Chris Van Hollen (D-Md.), and Richard Blumenthal (D-Conn.) in a letter to Netflix's co-CEOs, Reed Hastings and Ted Sarandos. Brody Ford has more.
Elections, Politics & Probes
Jared Kushner offered "valuable" information Thursday in private questioning conducted remotely by the House committee investigating the assault on the Capitol, a panel member said. While declining to specify what he provided, Rep. Elaine Luria (D-Va.) told MSNBC that Kushner—Donald Trump's son-in-law and a former White House adviser—voluntarily spoke to the committee, becoming the highest-ranking member of Trump's administration to answer questions before the committee. Billy House has more.
Republicans are heavily favored to retain the California seat that Devin Nunes (R) vacated at the start of the year. The only question is whether any of the four can win the seat outright in Tuesday's first-round special election primary. Connie Conway, a former state assemblywoman and county supervisor, is the Republican best-positioned to win a majority of the vote. But if she falls short in the all-party primary that also includes two Democrats, the top two vote-getters will advance to a June 7 runoff. The 22nd District includes parts of Fresno and Tulare Counties and leans Republican. Greg Giroux has more.
Misinformation on Spanish-language media about voter fraud, the pandemic, and Russia's invasion of Ukraine threatens to harm Latino communities heading into the November midterm elections. The FCC is charged with regulating broadcasters but it's done little to address the problem, which Democrats say hurt them in 2020 and has gotten even worse. Maria Curi has more.
New York lawmakers must redraw boundaries of congressional and state legislative districts after a state Supreme Court justice agreed with Republicans that the maps are unconstitutional. The decision by Justice Patrick McAllister was a setback for Democrats, who had cheered the partisan tilt of New York's map as a way to offset GOP-favoring gerrymanders in other states. Read more from Keshia Clukey.
Around the Administration
BIDEN'S SCHEDULE:
The president is scheduled to deliver remarks on the March jobs report at 10:45 a.m.
The Justice Department's new antitrust chief, Jonathan Kanter is planning an aggressively activist approach to his new job. His mission: to reverse decades of lax enforcement that he said has allowed companies to dominate industries and thwart competition. "We're not just bringing a few big cases, we're changing the way it's done," said Kanter in his first interview since taking over in November. Sitting around a large conference table with his team, Kanter said they're "turning the page on a failed experiment," referring to decades of laissez-faire merger policy. Sara Forden and David McLaughlin have the latest on Kanter's new approach.
Biden's proposal for a "Billionaire Minimum Income Tax" raised a number of questions among America's ultra-rich and those advising them. Chief among their concerns: How would it work in practice, and what are the chances it actually becomes law? The plan, which would tax the appreciation of financial and business assets owned by people worth more than $100 million, has wide support among many Democrats. It could generate hundreds of billions in new revenue from a group that's traditionally used tax laws to lower their IRS payments. Laura Davison delves into the proposal.
Several members of a federal environmental justice committee Thursday sharply criticized a new White House website that shows which communities are deemed disadvantaged—and therefore in line for more federal dollars—because it excludes race as a factor in its calculations. "There are some things that happen to us just because we are Black," said Beverly Wright, founder of the Deep South Center for Environmental Justice, and a member of the White House's Environmental Justice Advisory Council. Read more from Stephen Lee.
Shortening the time it takes to determine whether a new drug offers its predicted benefit is the main way to improve an FDA approval process facing criticism, the agency's commissioner said. "Right now we have a system which is painfully slow to get the answers," Robert Califf said Thursday. "Essentially, we need to get good studies done after the approval in a very efficient way as quickly as we possibly can." Read more from Jeannie Baumann.
The Biden administration wants to reduce the number of multi-resident rooms in nursing homes, but it will need an assist from Congress to make it happen. As part of a proposed overhaul of nursing home regulations and oversight, the U.S. Centers for Medicare and Medicaid Services wants to phase out rooms with three or more people and create more single rooms. "Most nursing home residents prefer to have private rooms to protect their privacy and dignity," but shared rooms with one or more other residents remain the default option, a White House release says. Tony Pugh has more.
The threat of future variants has prompted a study into second booster dose combinations in a bid to decide how best to protect against variants that might evade currently available vaccines. A clinical trial funded by the National Institute of Allergy and Infectious Diseases, announced on Thursday, began testing six combinations, including experimental boosters that target different variants of the Covid-19 virus. Read more from Jeannie Baumann.
The U.S. denied claims from Pakistan Prime Minister Imran Khan that Biden's White House is trying to oust his government, which lost its majority in parliament ahead of a no-confidence vote Sunday. In a televised address Thursday night, Khan named the U.S. as the country behind a threatening letter he's been hyping up after key allies deserted him. He has said it's evidence of an "international conspiracy" to unseat him, though he has yet to release the document. Daniel Ten Kate has more.
The U.S. State Department said the U.S. would give an additional $204 million in humanitarian aid "to help the people of Afghanistan." The announcement Thursday comes as the U.S. remains at odds with the Taliban, which seized control of the country last August, prompting a chaotic exit by American and other forces. Read more from John Harney.
To contact the reporters on this story: Giuseppe Macri in Washington at gmacri@bgov.com; Brandon Lee in Washington at blee@bgov.com
To contact the editors responsible for this story: Loren Duggan at lduggan@bgov.com; Michaela Ross at mross@bgov.com