What to Know in Washington: Biden Asks Voters to Spurn 'Big Lie'
President Joe Biden asked voters to consider the future of democracy when they vote in next week's midterm elections, urging them to reject Donald Trump's "big lie" denying his 2020 defeat that's fueled political extremism and violence.
"I appeal to all Americans, regardless of party, to meet this moment of national and generational importance. We must vote, knowing what's at stake," Biden said in a speech from Union Station in Washington, not far from the site of the Jan. 6, 2021, insurrection at the US Capitol.
"The issue couldn't be clearer in my view: we the people must decide whether we will have fair and free elections," Biden added.
He said more than 300 people who deny the result of the 2020 election are on ballots across the country and urged voters to reject them.
"As I stand here today, there are candidates running for every level of office in America: for governor, Congress, attorney general, secretary of state, who won't commit, they will not commit, to accepting the results of the elections that they're running in," Biden said. "That's the path to chaos in America. It's unprecedented. It's unlawful. And it is un-American."
Biden also drew a line from Trump's refusal to accept the 2020 vote and the attack on the Capitol to the assault on Paul Pelosi, the husband of Speaker Nancy Pelosi (D-Calif.).
"It was an enraged mob that had been whipped up into a frenzy by a president repeating over and over again the big lie that the election of 2020 had been stolen. It's a lie that fueled the dangerous rise in political violence and voter intimidation over the past two years," he added.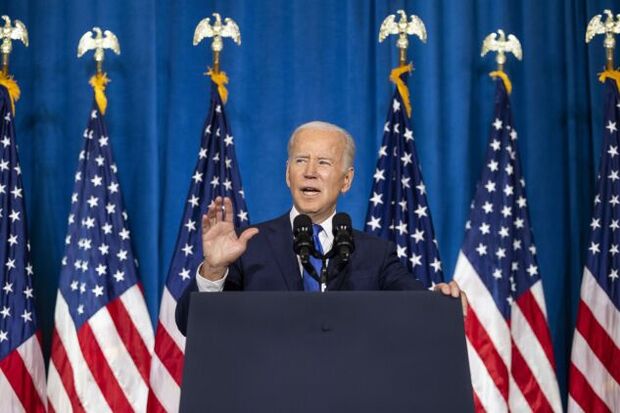 MORE ON THE 2022 ELECTION
Local officials face an increasing barrage of online disinformation ahead of the midterm election that they say they're ill-prepared to fight.
State supreme court elections—including some where control could change with the flip of a single seat—are driving $57 million in political ads as Republicans and Democrats vie for judicial power.
Republican incumbent Sen. Ron Johnson leads Democratic challenger Mandela Barnes 50% to 48% in the Wisconsin Senate race, according to a new Marquette Law School poll conducted between Oct. 24 and Nov. 1.
Lawyers and law firm employees have contributed nearly a third less to political candidates this midterm cycle compared to last, confounding experts in the area and leading to a less-prominent role in the campaign finance landscape.
Happening on the Hill
A senior House Democrat is demanding answers from the U.S. Capitol Police about protection for members of Congress after a hammer-wielding assailant broke into Speaker Nancy Pelosi's (D-Calif.) home and attacked her husband.
Short staffing and long lines at airport security checkpoints are poised to worsen next year if Congress doesn't pass legislation to boost the meager pay of Transportation Security Administration workers, government officials and advocates warn.
Seniors are being flooded with fraudulent and misleading information about switching from traditional Medicare to private Medicare Advantage plans, Senate Democrats found.
Making the expanded child tax credit permanent would reduce government revenue by up to $1.4 trillion over the next decade, according to a new Joint Committee on Taxation report released by House Republican leaders Wednesday.
Small oil refineries pay more than larger competitors to fulfill US mandates to blend biofuels into gasoline and diesel, congressional investigators have found, a conclusion that could intensify calls to ease the requirements in the name of lowering fuel prices.
Media giant News Corp. has hired a new lobbyist to aid its ongoing fight against the country's largest technology companies.
Politics & Probes
Animosity between congressional Republicans who may be poised to gain control of the House and the current US Chamber of Commerce leadership is escalating—but the business lobby's board says it's standing behind its chief executive officer, Suzanne Clark.
The plaintiffs claimed in a 2015 lawsuit they were assaulted outside Trump Tower in New York City while demonstrating against comments then-candidate Donald Trump made about Mexican immigrants and the Black Lives Matter movement.
Former President Donald Trump sued New York Attorney General Letitia James in Florida seeking to stop her attempt to wrest control of his real estate company from him and obtain information about his finances.
Around the Administration
PRESIDENT'S SCHEDULE
Biden at 1:45 p.m. MDT gives a speech on student debt relief, and at 3:45 p.m., he participates in a Democratic Party rally, both in Albuquerque, New Mexico.
At 6:30 p.m. PDT, Biden participates in a political event for Rep. Mike Levin (D) in San Diego, California.
In early 2022, as it became clear that a steep rise in consumer prices would be more severe and longer-lasting than his own aides had predicted, Biden began to widen the circle of people giving him economic advice.
Federal Reserve Chair Jerome Powell left little doubt that he's prepared to push rates as high as needed to stamp out inflation, even as the central bank eyes a downshift to a slower pace of increases.
Federal Reserve Chair Jerome Powell said 19 policymakers this week recommitted to following the highest ethical standards in the wake of two recent lapses.
The US Justice Department is investigating Adobe Inc.'s $20 billion deal to buy design software startup Figma Inc., according to a person familiar with the matter, a sign the companies could face a drawn-out review of the deal.
The new head of the EPA's Pacific Northwest region wants to elevate tribal issues that he says don't always get raised in environmental justice conversations.
The Biden administration deleted a tweet taking credit for the recent bump in social security checks after Twitter users called it out.
The US attorney's office in the Eastern District of Virginia has opened a criminal investigation into the Washington Commanders and its alleged financial misconduct, ESPN reports, citing two unidentified people familiar with the matter.
Defense & Foreign Affairs
The US defense industry has failed in its pressure campaign for the Pentagon to raise its costs for contracts, according to a letter from the top Defense Department acquisition official.
At least 16 high-level Biden administration officials will represent the US at the UN climate conference beginning in Egypt on Sunday in a bid to emphasize the nation's commitment to combat global warming.
The Biden administration is warning Germany and other European nations not to let China take control of companies in strategic sectors, a senior US official said, pointing to a recent move to whittle down China's stake in the Hamburg port as a successful outcome.
The White House says it's pleased to see ousted Brazilian President Jair Bolsonaro has "acknowledged the results of the election and has allowed the transition process to begin."
The US condemned what it said was the test-launch of an intercontinental ballistic missile by North Korea on Thursday, as Pyongyang continued a barrage of weapons tests to protest allied military drills.
The Biden administration has warned it will "recalibrate" its ties with Saudi Arabia after the kingdom supported an OPEC+ decision to cut oil production despite US entreaties.
Beijing has no timetable for unification with Taiwan, a senior Chinese diplomat in Washington said, pushing back on American warnings that the Asian nation is seeking to speed up its plans for seizing the democratically run island.
To contact the reporter on this story: Katrice Eborn in Washington at keborn@bgov.com