What to Know in Washington: Biden Amps Up Volume on Student Debt
Biden intensifies student loan message after early silence
US weighs expanding China tech ban to quantum and AI
President Joe Biden has begun aggressively promoting his student debt relief plan with less than three weeks before midterm elections, after all but avoiding the subject on the campaign trail while the government worked out kinks in the program.
Biden will promote the initiative Friday at Delaware State University, following a White House event Monday to officially launch the application website. About 12 million people have applied for loan forgiveness as of October 18, according to the president, who said more than 40 million stand to benefit.
But multiple legal challenges, including a lawsuit from Republican-led states, are moving through courts, threatening to halt the effort and throw millions of applicants into limbo. Biden's late blitz to sign up borrowers also has some Democrats worried the president waited too long to make an impact in the election.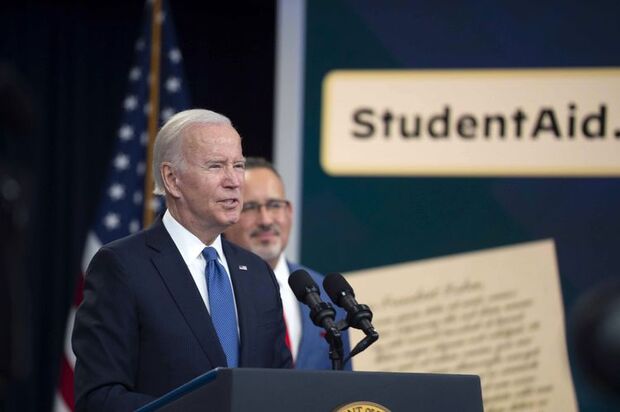 For weeks after the relief was announced, Biden barely mentioned it in speeches — even when the setting seemed to invite comment. Speaking at a community college in Irvine, Calif., on October 14, Biden did not mention the initiative. Later that same night, the Department of Education began beta testing the website, allowing people to begin submitting applications.
"I certainly think there was an argument that it could have been done earlier," said Chris Scott, chief political officer at Democracy for America, a progressive PAC, noting his group was among those pushing the White House to act sooner.
He said development of the application portal may have led Biden to hold off from pushing the program on the trail. In 2013, Democrats were stung after then-President Barack Obama's healthcare.gov site to enroll people in health insurance crashed within hours of its launch, drawing widespread criticism.
"This is an issue that we shouldn't be running from, we should be leaning into, and especially him," Scott said of Biden. Read more
Supreme Court Justice Amy Coney Barrett rejected a bid to block Biden's student-loan relief plan before it takes effect. Barrett without comment denied the request by the Brown County Taxpayers Association.
A federal judge dismissed a lawsuit by six Republican-led states challenging Biden's student-loan forgiveness plan, finding the states failed to show they'd be directly harmed.
Politics, Policy & Probes
Reddit AMA With BGOV's Elections Guru: Greg Giroux here. You may have heard me on BGOV's webinars and our podcast Downballot Counts. I'll be on Reddit's /r/politics today at 2 p.m. to discuss the more than 1,300 US House and Senate campaign ads I've watched since Labor Day. Which ads and issues stand out? AMA!
Democrats advertise about abortion law. Republicans focus on inflation. You'll probably see the current president's face in a GOP commercial but good luck spotting his predecessor, who's not featured much, pro or con.
Senate Finance Committee Republicans sent a letter to the Government Accountability Office asking for a progress report on issues it's asked the IRS to fix, in light of the fact that the IRS received a significant funding increase in the tax-and-climate law.
Black, Latino, and Asian voters' mail ballots and mail-ballot applications were at least 30% more likely to be rejected than those of Whites in the 2022 Texas primary due to new voting requirements, according to a Brennan Center for Justice report.
In Houston, the city's top political leaders want the Justice Department to deploy monitors during next month's election in the fourth-largest US city after GOP state officials vowed to post inspectors at polling places. Read more
A federal appeals court rejected Sen. Lindsey Graham's (R-S.C.) bid to avoid testifying before a Georgia grand jury investigating if Donald Trump and his allies broke the law in their efforts to undo Trump's 2020 loss in the swing state.
Trump claims clemency requests that were seized by the FBI from his Florida estate are his personal property and should be returned to him.
Democrat Tim Ryan has dodged Biden in his bid for red-leaning Ohio's US Senate seat, but on Thursday he welcomed Sen. Joe Manchin (D-W.Va.), oft-maligned by their party, to his side as he tries to woo moderate voters.
Democrats are happy to talk about abortion whenever possible in tight gubernatorial races. Republicans keep trying to switch the conversation.
Defense & Foreign Affairs
The Biden administration is exploring the possibility of new export controls that would limit China's access to some of the most powerful emerging computing technologies, according to people familiar with the situation.
One of China's most promising chip designers has already navigated through the US export restrictions and concluded it will be able to continue tapping Taiwan Semiconductor Manufacturing to produce advanced silicon. Read more
Seven years after China unveiled its ambitious Made in China 2025 plan to become globally competitive in 10 industries, Xi Jinping is using the Communist Party congress this month to redouble efforts to "win the battle in key core technologies."
Four months into a sweeping ban on imports from China's Xinjiang region, the top US customs official is signaling confidence that companies are observing the embargo.
Friction with the US Border Patrol's "strident" employee union is complicating efforts to improve workforce morale and agency culture, US Customs and Border Protection Commissioner Chris Magnus said.
The Pentagon will pay allowances for troops and their dependents traveling to obtain abortions amid concern the Supreme Court's decision to end a constitutional right to abortion puts pressure on military readiness and recruitment.
Around the Administration
PRESIDENT'S SCHEDULE:
Biden at 11 a.m. will give a speech at the White House on his administration's work to reduce the deficit.
At 3:15 p.m., the president speaks about student debt relief at Delaware State University.
Biden administration officials are discussing whether the US should subject some of Elon Musk's ventures to national security reviews, including the deal for Twitter and SpaceX's Starlink satellite network, people familiar said.
The Securities and Exchange Commission won't vote this year on its controversial plan to require companies to disclose information about their carbon emissions, according to an agency official.
The Interior Department took steps Thursday to advance auctions of offshore oil drilling rights in the Gulf of Mexico and Alaska's Cook Inlet, following a mandate in the just-enacted Inflation Reduction Act.
A Fifth Circuit ruling that the Consumer Financial Protection Bureau's funding stream is unconstitutional has left companies under its oversight in limbo about whether its actions still have teeth.
Ten years after the start of the Deferred Action for Childhood Arrivals program, hundreds of thousands of DACA recipients face the prospect of losing the work authorization the program provides.
To contact the reporters on this story: Michaela Ross in Washington at mross@bgov.com; Brandon Lee in Washington at blee@bgov.com
To contact the editors responsible for this story: Giuseppe Macri at gmacri@bgov.com; Loren Duggan at lduggan@bgov.com