What to Know in Washington: Biden Aims to Stem Foreclosures
The White House today announced plans to expand aid for mortgage borrowers who have fallen behind on payments during the coronavirus pandemic.
Enhanced assistance will be provided to homeowners with government-backed mortgages who have been negatively impacted by the pandemic, with the aim cutting some monthly payments by roughly 25%, according to a White House fact sheet.
The move is designed to more closely align options for mortgages backed by the Department of Housing and Urban Development, the USDA, and the Veterans' Affairs Department with those offered for mortgages backed by Fannie Mae and Freddie Mac, the White House said. Read more from Kathleen Hunter.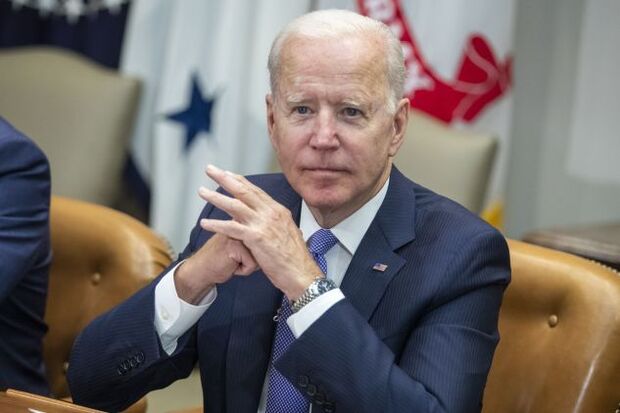 Happening on the Hill
Brown, Carper Demand 'Robust' Transit Funding: Sens. Sherrod Brown (D-Ohio) and Tom Carper (D-Del.) said there is a "once-in-a-generation opportunity" to invest in U.S. infrastructure, but that cannot be done if transit funds are struck from a bipartisan infrastructure package. "Robust funding for transit must be included in the legislation. We will not support any package that neglects this fundamental part of our nation's infrastructure," the senators said last night in a statement, Megan Howard reports.
Negotiators are still working on exactly how much money to funnel to transit systems, according to Sens. Mitt Romney (R-Utah) and Joe Manchin (D-W.Va.). Some Republicans have argued that, given the large boost in the bill for transit, future highway trust fund disbursement for that area should be reduced to 18% from 20%. Lawmakers continue to negotiate on a bipartisan infrastructure package, and could reach a deal on Monday.
Senate Panel Advances Defense Policy Bill: The Pentagon would be authorized to spend $740 billion next year, a boost of about $25 billion from Biden's request, under the draft defense policy bill approved Wednesday by the Senate Armed Services Committee. The massive measure includes an additional Navy DDG-51 Arleigh-Burke destroyer left out of the Pentagon's request, and 91 Lockheed Martin F-35 Joint Strike Fighters, six planes more than requested. It would prohibit retirements of older aircraft, such as the A-10 close air support planes, and add five extra Boeing F-15 E/X fighter planes, according to a release from the committee. Read more from Roxana Tiron.
Senate Passes Bill to Give Detailees to Cyber Czar: The Senate passed a bill yesterday to allow the newly formed Office of the National Cyber Director to accept detailees from other federal agencies. The White House swore in Chris Inglis as the country's first national cyber director on July 12, but he currently has no staff. The measure would allow the national cyber director, who sits in the White House, to accept federal detailees on a non-reimbursable basis, Rebecca Kern reports.
Capitol Doctor Weighs Reimposing Mask Guidance: Brian Monahan, the attending physician of Congress, is looking at whether to reinstate a mask-wearing recommendation in the Capitol, Politico reports, citing three sources familiar. A reinstatement, which isn't expected imminently, would come after two months of mask-less business in the complex, Politico reports. Earlier yesterday, Bloomberg reported that a Senate staffer tested positive for Covid-19. Read more.
A recent surge in Covid-19 cases shows no signs of abating in the U.S. states that have fueled the uptick as the Delta variant proliferates. Nationally, cases are likely to rise to 306,909 for the week ending Aug. 14, up 39% from last week, according to an ensemble of forecasts from the CDC. Read more from Nic Querolo.
Chemical Board Nominees to Get Hearing: A Senate panel has scheduled a July 29 confirmation hearing for Biden's three picks to the U.S. Chemical Safety and Hazard Investigation Board. Jennifer Sass, Sylvia Johnson, and Stephen Owens will testify before a Senate Environment and Public Works subcommittee, the panel announced yesterday. The investigative agency probes chemical and industrial disasters such as the 2010 blowout of the Deepwater Horizon oil rig. Read more from Dan Papscun.
Virtual Hearings Likely to Outlast the Pandemic: The virtual congressional hearing, born of necessity during the height of the pandemic, is likely to become a permanent fixture on Capitol Hill, with leaders saying it allows them to solicit views from a more diverse and broader array of people. "It allows for us to get better, more qualified witnesses because they don't have to travel," said Small Business Chair Nydia Velázquez (D-N.Y.) in an interview. "It really is an added benefit to the work we need to do in the committee." Testifying in person was previously reserved for those either living in D.C. or able to take the time off of work to hop a last-minute flight. Details of how virtual hearings would function in a post-pandemic Congress have yet to be worked out, though lawmakers are now discussing the telehearing format. Read more from Emily Wilkins.
Politics & Influence
House Serves as Launchpad for Senate: A group of House members, eager to follow a well-worn path, have set their sights on the chamber across the Capitol, betting that their fundraising and campaigning prowess will boost their chances to win a Senate seat next year. Reps. Val Demings (D-Fla.), Tim Ryan (D-Ohio), Mo Brooks (R-Ala.), Vicky Hartzler (R-Mo.), and Ted Budd (R-N.C.) launched Senate campaigns earlier this year while Reps. Conor Lamb (D-Pa.), Ann Wagner (R-Mo.), Billy Long (R-Mo.), and Jason Smith (R-Mo.) are also considering Senate bids.
They'll follow a long tradition of representatives using the House as a launchpad for the Senate, where individual members often wield more influence and garner greater public attention than in the more populous other body. Read more from Nicole Sadek.
LGBTQ Advocates Court GOP Senators: Advocates are aiming to persuade Republicans to support nondiscrimination legislation for gay and transgender people, known as the Equality Act, and are waging a multi-faceted campaign to push the 50-year-old bill across the finish line. Kasey Suffredini leads a bipartisan group called Freedom for All Americans, which is organizing six to seven meetings a week, primarily with GOP offices. It's part of an effort to connect them not just with LGBTQ individuals, but also with business leaders and conservatives to make the case that equality is good for business and states' economies as well. Read more from Megan R. Wilson.
Progressives Look to Keep Focus on Supreme Court: Progressive groups seeking to remake the U.S. Supreme Court had hoped to spend this summer helping win confirmation of what was expected to be the first Black woman nominated as a justice. Instead, Justice Stephen Breyer opted to stick around and advocates focused on the court's conservative drift have watched their issue mostly recede from view. Progressive Demand Justice, for example, is sending out fundraising emails in recent days denouncing "NRA propaganda" and warning the Supreme Court is "gutting the Voting Rights Act."
Advocates are looking to next term—in which the justices will take up cases involving abortion, guns and possibly affirmative action—to fire up the base in advance of the 2022 congressional midterms. Read more from Madison Alder.
Around the Administration
Today's Agenda: Biden heads across the Potomac River to Lubber Run Park in Arlington, Va., this evening for a campaign event at 7:45 p.m. for Democratic gubernatorial candidate Terry McAuliffe. After the event, Biden will depart to Wilmington, Del., for the weekend.
State Asks Top Court to Overturn Roe: Mississippi asked the U.S. Supreme Court to overturn the constitutional right to abortion, raising the stakes in a polarizing clash the justices are set to hear in the term that will start in October. In a court filing, Mississippi Attorney General Lynn Fitch yesterday called the landmark Roe v. Wade ruling of 1973 and a 1992 follow-up decision "egregiously wrong." The fight centers on a state law to ban abortions in almost all circumstances after 15 weeks. Read more from Greg Stohr.
Biden Says Cuba Sanctions 'Just the Beginning': Biden said sanctions his administration leveled on the chief of Cuba's military and its interior ministry yesterday are only the start of U.S. retaliation for Havana's crackdown against protesters. "I unequivocally condemn the mass detentions and sham trials that are unjustly sentencing to prison those who dared to speak out in an effort to intimidate and threaten the Cuban people into silence," Biden said in a statement. Yesterday's sanctions are "just the beginning — the United States will continue to sanction individuals responsible for oppression of the Cuban people," he said. Read more from Alex Wayne and Jim Wyss.
CDC's Narrow Opioid Guidance Scrutinized: Setting universal thresholds for opioid prescriptions harms patients with pain and does nothing to slow the raging overdose epidemic, the American Medical Association said yesterday in a call to the CDC for new guidance. The CDC released guidelines in 2016 recommending that primary care providers who prescribe opioids for chronic pain exercise caution and consider how the risks of a prescription measure up to the benefits. Read more from Allie Reed.
Oil, Gas Leasing Report Nears, Haaland Says: A report on Interior Department review of the federal oil and gas leasing program on public land is "coming very, very soon," Secretary Deb Haaland said. "We promised early summer. It's early summer. We're still working on it," Haaland said during a visit to Colorado. Biden in an executive order halted oil and gas leasing on federal public lands, most of which are in the West. Read more from Tripp Baltz.
To contact the reporters on this story: Zachary Sherwood in Washington at zsherwood@bgov.com; Brandon Lee in Washington at blee@bgov.com
To contact the editors responsible for this story: Giuseppe Macri at gmacri@bgov.com; Loren Duggan at lduggan@bgov.com; Michaela Ross at mross@bgov.com