What to Know in Washington: Biden Agenda Turns on Pelosi, House
President Joe Biden's $4.1 trillion economic agenda, after early progress in the Senate, now faces a crucial test this week in the House, where Speaker Nancy Pelosi (D-Calif.) must keep her fractious Democratic majority moving in lockstep.
Biden's plan has momentum in the Senate. But the House votes have Pelosi fighting to keep tension between progressives and centrists among her narrow majority from derailing the strategy that she, Biden and Senate Majority Leader Chuck Schumer (D-N.Y.) have crafted for moving the president's two-part project through Congress.
Pelosi emphasized the stakes in an open letter to fellow House Democrats over the weekend after conferring with Biden. "It is essential that our caucus proceeds unified in our determination to deliver once-in-a-century progress for the children," she wrote.
Today the House is set to take a procedural vote on rules for debate on three measures: a $3.5 trillion budget resolution that sets up work on a Democrats-only package of social spending and tax increases; the $550 billion bipartisan infrastructure bill that passed the Senate; and a separate voting-rights measure. Pelosi's plan then would have the House adopt the budget resolution and pass the voting-rights legislation tomorrow, but leave the infrastructure bill until the Senate completes the $3.5 trillion spending package outlined by the resolution later in the year.
Delaying House passage of the infrastructure legislation keeps Pelosi's commitment to progressives, who want to hold on to the bill as leverage to ensure the Senate addresses their priorities on social programs and climate policy in the spending package.
But it's sparked a rebellion by a group of nine moderates, led by Rep. Josh Gottheimer (D-N.J.), who threatened in an Aug. 12 letter to Pelosi to withhold support for the budget resolution until the House passed the infrastructure bill and sent it to Biden for his signature. The moderates on Friday reiterated their stance that the House should pass the infrastructure bill now. But their statements didn't include previous threats to withhold support for the budget resolution. Read more from Billy House and Laura Litvan.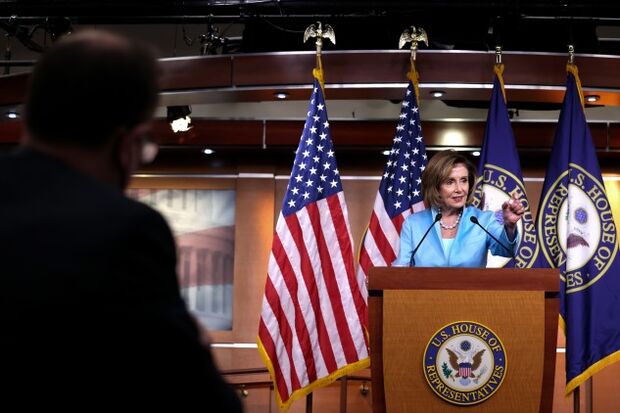 Updated BGOV Bill Summaries:
Natural Resources Panel Plans Budget Reconciliation Markup: House Natural Resources Chair Raúl Grijalva (D-Ariz.) said Friday he plans to hold a Sept. 2 markup on his committee's portion of the $3.5 trillion budget reconciliation measure. The budget resolution would direct the panel to produce as much as $25.6 billion in spending for the programs under its jurisdiction, including the Interior Department. Grijalva said that top-line number for the reconciliation process is insufficient to address the myriad issues the department oversees, including tackling climate change, tribal concerns, wildfires, and drought mitigation. Read more from Kellie Lunney.
Also Happening on the Hill
House to Vote on Voting Rights Bill: The House this week will also vote on legislation that would require federal approval before changes to voting practices could be implemented in states and localities with a recent history of voter discrimination, or if the changes fall into several categories that would be presumed to be discriminatory. The legislation is named for John Lewis, the late civil rights leader and Democratic congressman from Georgia. For more, read the BGOV Bill Summary by Adam M. Taylor.
Capitol Bomb Threat Suspect Called for Revolution: A North Carolina man accused of threatening to set off a bomb outside the Library of Congress Thursday was reported to police in Cleveland County a day earlier after having expressed anti-government views and threatened violence, according to a court filing. Floyd Ray Roseberry was charged in Washington with unlawfully having a weapon of mass destruction and explosives. He told people he had a bomb and to call 911, according to an FBI agent whose affidavit was unsealed Friday. Read more from Bre Bradham.
The Coronavirus Pandemic
Biden Plan Prods Scientists on Third Doses: Signs of pressure are already starting to gather around a meeting of vaccine advisers to the U.S. Centers for Disease Control and Prevention that forms a key step in the Biden administration's plan to give booster shots to most American adults. The discussion, originally scheduled to take place on Tuesday, has been delayed to start Aug. 30 and last two days, according to a spokesperson. With the controversial proposal slated to roll out third shots as soon as Sept. 20, the CDC's Advisory Committee on Immunization Practices is under the gun. Read more from Robert Langreth.
Pfizer Vaccine Poised to Get Full FDA Approval: The FDA is poised to fully approve the Pfizer coronavirus vaccine early this week as the Biden White House tries to woo more Americans to get the shot. The approval likely will come today or tomorrow, according to one official familiar with the plans, speaking on condition of anonymity ahead of the announcement. Pfizer-BioNTech's shot has been in use in the U.S. with just an emergency authorization, Josh Wingrove reports.
Delta Upends Walsh's Plans for Swift Jobs Comeback: Labor Secretary Marty Walsh had high hopes for September: Receding Covid-19 risk, easing restrictions and steadily improving jobs numbers. But the delta variant's aggressive path has shaken his expectations for a rapidly recovering labor market. "I was hoping that we could have a nice recovery here in the month of September," Walsh said in a wide-ranging Zoom interview with Bloomberg News Thursday from his home in Dorchester, Boston. Read more from Katia Dmitrieva, Josh Eidelson and Benjamin Penn.
Supreme Court Asked to Weigh Evictions: The U.S. Supreme Court is being asked to lift the Biden administration's moratorium on evictions in areas of the country hit hard by the Covid-19 pandemic, two months after the justices kept an earlier ban in place. In a filing Friday, groups led by the Alabama Association of Realtors say the Centers for Disease Control and Prevention exceeded its authority in imposing the moratorium. There's reason to think the ban is on shakier ground this time. Jordan Rubin has more.
Around the Administration
Today's Events: Biden is scheduled at 10 a.m. to meet with his national security team about Afghanistan. At 3:30 p.m. the White House will host the Seattle Storm, the 2020 WNBA Championship team.
U.S. Expands Kabul Airport Evacuation Efforts: Biden said the U.S. has expanded its evacuation efforts beyond the perimeter of the Kabul airport, warned of possible terror attacks, and acknowledged that he may be forced to push back his deadline for leaving Afghanistan. Biden, speaking yesterday at the White House, declined to give details about "tactical changes we're making" given the developments, saying it was "still a dangerous operation."
Biden, who has enlisted civilian aircraft in the effort, said about 7,800 people were evacuated over the weekend, bringing the total since Aug. 14 to more than 25,000. "We're working hard and as fast as we can to get people out," Biden said. "That's our mission, that's our goal." Read more from Mario Parker and Josh Wingrove.
Powell's Second-Term Chances Rise: Jerome Powell's chances for a second term as Federal Reserve chair gained momentum with Treasury Secretary Janet Yellen's endorsement, a move that would reduce uncertainty about the path for monetary policy amid risks from inflation and the delta variant. Yellen has told senior White House advisers that she favors renominating Powell, whose current term ends in February, according to people familiar with the matter. Biden hasn't decided yet and is likely to make his choice around Labor Day, which falls on Sept. 6 this year, the people said. Read more from Saleha Mohsin and Jennifer Jacobs.
Burns, Emanuel Tapped as Ambassadors: The White House announced nominees for ambassadorships to China and Japan as Biden recalibrates the U.S. presence in Asia after the Trump years. Former Under Secretary of State for Political Affairs Nicholas Burns is his choice to lead the embassy in Beijing, while Former Chicago Mayor Rahm Emanuel will be nominated as ambassador to Japan, the White House announced Friday. Read more from Peter Martin and Justin Sink.
Alito Temporarily Halts Revival of Trump Asylum Rule: A U.S. Supreme Court justice put a four-day hold on a ruling that would reinstate a Trump-era policy requiring asylum seekers at the southern border to wait in Mexico for their cases to be processed. The administrative stay, issued by Justice Samuel Alito, gives the court more time to resolve a request from Biden's administration for a longer reprieve. Read more from Greg Stohr.
Biden Proposal Hints at 'Nudge' Toward ESG Retirement Investing: A Labor Department proposal that is expected to undo limits the Trump administration set on socially conscious retirement investing could serve another purpose: giving regulators an open door to settle the debate over climate-friendly investing for good. Read more from Austin Ramsey.
NTSB Chief Says Robot-Car Claims Erode Public Trust: The nation's new chief accident investigator wants to send a message: growing public confusion over automated driving systems in the U.S. is threatening to undermine the potential safety benefits of the technology. Jennifer Homendy took the reins as chairwoman of the National Transportation Safety Board just as controversy erupted over Tesla's so-called Autopilot. Read more from Alan Levin.
FCC's T-Mobile Probe Early Sign of Privacy Stance: The Federal Communications Commission investigation into the T-Mobile hack is a bellwether of how the Democratic-controlled agency will police telecom privacy. The information of 7.8 million current customers as well as more than 40 million records from past or prospective customers were stolen in a cyberattack, the company has said. T-Mobile Friday said 5.3 million more current accounts were hacked, according to a Securities and Exchange Commission filing. The FCC has said it is investigating the data breach. Read more from Maria Curi.
U.S. Sanctions Russian Insurer on Nord Stream 2: The Biden administration imposed sanctions on two Russian entities over their involvement in the Nord Stream 2 pipeline project, but is leaving in place a waiver that spared the company overseeing the construction and its top executive. Read more from Nick Wadhams.
Biden, Bennett to Discuss Covid, Iran: Israel's Prime Minister Naftali Bennett is traveling to Washington and is expected to speak with Biden on Thursday, according to a tweet yesterday. Bennett and Biden will talk about the impacts of Covid-19 as well as Iran and its enrichment of uranium. Following his meeting in Washington, Bennett is slated to meet German Chancellor Angela Merkel and Egypt's President Abdel Fattah El-Sisi. Read more from Jessica Park.
State Department Hit by Cyber Attack: The U.S. State Department was recently hit by a cyber-attack and notifications of a "possible serious breach" were issued, a Fox News reporter tweeted on Saturday, Yueqi Yang reports.
Henri Causes Flooding, Power Outages: Henri is soaking the U.S. Northeast with rain and disrupting transport after being downgraded to a tropical depression. The former hurricane will produce additional rainfall of 1 to 3 inches, with locally higher amounts possible, over portions of Long Island, New England, southeast New York, New Jersey, and eastern Pennsylvania through today, the National Hurricane Center said in its latest advisory at 5 a.m. local time. Read more from Brian K. Sullivan and Lars Paulsson.
Politics & Influence
Democrats Raise $100 Million Through July: The Democratic National Committee has raised a record $100.2 million through July, its best total in a non-election year, narrowly topping the $97.9 million raised by its Republican counterpart. Read more from Bill Allison.
Gallup Poll Has Biden Approval Rating 49%: Biden last week logged the lowest Gallup approval rating of his presidency, at 49% of those surveyed approving of his performance. The poll was conducted mostly before the Taliban takeover of Afghanistan, Chris Middleton reports.
Youngkin Run Mixes Trump Backing, MAGA-Lite Style: Glenn Youngkin, the former Carlyle Group co-chief executive officer, is seeking to carefully tap into the energy that Trump brought to the Republican grassroots while keeping the party's most conservative element at arms' length so as not to turn off Virginia's key suburban voters. Read more from Ryan Teague Beckwith.
SCOTUS Won't Halt Obama Presidential Center: The U.S. Supreme Court refused to halt construction of the Obama Presidential Center in Chicago. Justice Amy Coney Barrett denied an emergency stay request Friday from local groups and individuals who claimed in their application that groundbreaking construction and excavation for the project "will result in serious harms to the environment and historic resources in Jackson Park" on the city's South Side. Read more from Jordan Rubin.
To contact the reporters on this story: Zachary Sherwood in Washington at zsherwood@bgov.com; Brandon Lee in Washington at blee@bgov.com
To contact the editors responsible for this story: Giuseppe Macri at gmacri@bgov.com; Loren Duggan at lduggan@bgov.com; Michaela Ross at mross@bgov.com