What to Know in Washington: Biden Agenda Must Navigate Congress
President Joe Biden's plan for trillions of dollars in proposed spending and tax increases is entering a procedural and political thicket in Congress that's likely to take at least until September to clear.
If all goes according to plan for Biden and Senate Majority Leader Chuck Schumer (D-N.Y.), the Senate would pass a bipartisan infrastructure deal next month as well as a budget blueprint that sets up a vote later on a far larger bill with trillions in social spending paid for in large part by tax hikes on the wealthy and corporations. The budget bill could be passed with only Democratic votes in the Senate.
But progressive Democrats in the House and Senate say they may not back an infrastructure package that includes concessions to Republicans without a guarantee that their priorities — on climate, health care and social welfare — will be accommodated in follow-up budget legislation. At the same time, moderate Democrats like Sen. Joe Manchin (D-W.Va.) are so far refusing to commit to supporting a massive spending bill that would be passed on a party-line vote.
Steven T. Dennis describes how the Democrats' two-track strategy is likely to unfold.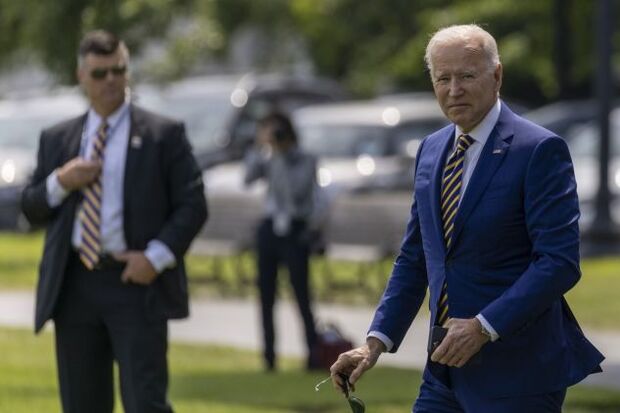 Graham Says Bipartisan Deal Is There: Sen. Lindsey Graham (R-S.C.) said a $579 billion bipartisan accord on infrastructure is on the table and he challenged Biden to decide whether he wants to pursue it. Graham, who's in a group of 21 senators from both parties who last week signed onto the framework of a plan to present to Biden, was among lawmakers seeking to set the stage for the next round of bargaining.
"I would just say this: President Biden, if you want an infrastructure deal with a trillion dollars it's there for the taking—you just need to get involved," Graham said on Fox News Sunday. Biden has said he'll review the bipartisan proposal today. Read more from Laura Litvan.
Happening on the Hill
Today's Agenda:
Powell Heads to Capitol Hill as Market Churns: Federal Reserve Chair Jerome Powell is under pressure from investors to square the central bank's new inflation concerns with its ten-month-old commitment to seek broad and inclusive gains in the labor market. The Fed's meeting last week ignited confusion about its new approach toward keeping price increases in check and job growth going. Powell himself may face inquiries when he appears before lawmakers tomorrow to give them an update on the Fed's support for the economy through the pandemic. Read more from Craig Torres and Catarina Saraiva.
Moderate Democrats Wary of Antitrust Bills: A group of centrist Democrats have asked House leaders to slow down consideration of several antitrust proposals virulently opposed by the big tech companies the bills target. Eight members of the New Democrat Coalition asked Speaker Nancy Pelosi (D-Calif.) asking the House Judiciary Committee to hold full legislative hearings before proceeding to the final consideration of the bills that the panel had planned for this week. Read more from Anna Edgerton.
Record-Setting Month Helps Democrats Beat GOP in Fundraising: The Democratic National Committee raised $12.1 million in May, a record total for off-year fundraising in the month for the party, and topping its GOP rival by about $1 million, according to their latest filings with the Federal Election Commission. The Republican National Committee raised $11.1 million in May, with $5.9 million of that amount coming from donations of $200 or less. Read more from Bill Allison.
Around the Administration
Happening Today: Biden plans to meet with top U.S. financial regulators at 1:45 p.m. to discuss the health of the system they oversee and how his administration's priorities, including on climate change and inclusion, can best be addressed. The meeting comes at a critical stage for Biden's infrastructure push and after Fed officials said last week that they anticipated two interest rate increases by the end of 2023. Read more from John Harney and Ben Bain.
Biden to Travel to North Carolina to Boost Vaccinations: Biden is traveling to North Carolina on Thursday to encourage more Americans to get vaccinated against the virus that causes Covid-19. The president's trip to Raleigh comes 10 days before July 4, Biden's stated target date to see at least 70% of adult Americans at least partially vaccinated — a goal that risks slipping out of reach. So far, slightly more than 65% of adults in the U.S. have had at least one dose, according to the Centers for Disease Control and Prevention, despite a vaccine supply that has become plentiful across the nation. Read more from Laura Litvan.
Biden Doubts Bishops Will Deny Him Communion: Biden said he doesn't believe U.S. Catholic bishops will adopt a policy denying him communion. "That's a private matter and I don't think that's going to happen," Biden told reporters. The U.S. Conference of Catholic Bishops voted on Friday at their annual spring meeting to create guidelines on communion, which could lead to politicians who support abortion rights being denied the sacrament, The Washington Post reported. Alex Wayne has more.
Biden Boosts OSHA Virus Enforcement: Five months into the Biden administration, changes are beginning to emerge in how the federal government's occupational safety agency is enforcing its Covid-19 worker-protection mandates. The Occupational Safety and Health Administration has issued more than three times as many violations of the general duty clause, a provision of federal law, than it did during the Trump administration, according to a Bloomberg Law review of OSHA enforcement data. Read more from Bruce Rolfsen.
HHS Veteran Who Angered Trump Tapped for IG: Biden will nominate Christi Grimm to be inspector general for the Department of Health and Human Services, the White House announced Friday. Grimm received national attention in April 2020 when President Donald Trump criticized a report put out by her office that found hospitals were suffering widespread scarcity of Covid-19 test kits and personal protective equipment—shortages that would persist for months. Read more from Shira Stein.
Florida Wins Reprieve From CDC Cruise Limits: Florida won a temporary freeze on a set of CDC coronavirus rules for the cruise industry, potentially easing the companies' path back to the sea. The preliminary injunction against the recent caps from the Centers for Disease Control and Prevention bars the agency from enforcing its "conditional sailing order" at ports in Florida. U.S. District Judge Steven Merryday gave the CDC until July 2 to propose a narrower order. Jonathan Levin has more.
Foreign Policy Agenda
U.S. Has More Ukraine Military Aid in Reserve: The U.S. is holding $100 million in security assistance for Ukraine "in reserve" for threats such as a renewed Russian military buildup on the border, National Security Adviser Jake Sullivan said. "So it is there and the Russians know it's there and the Ukrainians know it's there, but the idea that we have withheld any security assistance from Ukraine is simply nonsense," Sullivan said on "Fox News Sunday."
Politico reported on Friday that National Security Council officials temporarily halted as much as $100 million in military aid to Ukraine after Russia said it would draw down troops near Ukraine before President Vladimir Putin and Biden met last week. Read more from Tony Czuczka.
Biden, Afghan President to Meet at White House: Afghan President Ashraf Ghani and Biden will meet at the White House on Friday as the U.S. moves ahead with its troop withdrawal from Afghanistan. Biden said in April that all U.S. troops will leave by Sept. 11, the 20th anniversary of the terrorist attacks on New York and Washington that brought the U.S. into its longest war. While the administration says the pullout is justified as a strategic shift, a United Nations report this month raised the prospect of a takeover by Taliban militants.
Sullivan said yesterday there are no plans to change Biden's "basic proposition." U.S. troops will be out "well before the deadline," Sullivan said on ABC's "This Week." Read more from Laura Litvan.
China Risks Isolation in Virus Origin Hunt, Sullivan Says: China will risk international isolation if it fails to permit a "real" investigation on its territory into the origins of the virus that caused the pandemic, Sullivan said yesterday. Sullivan's comments follow last week's call by Group of Seven leaders including Biden for another probe into how the virus originated. Read more from Yueqi Yang and Claire Ballentine.
Iran Wants Guarantee U.S. Won't Quit Deal: Iran said one of the "serious issues" raised in the latest round of talks to revive the 2015 nuclear deal was the need for a guarantee from the U.S. that it won't exit the accord and reimpose sanctions on the Islamic Republic again in the future. "We need guarantees that give us assurances that a repeat of these sanctions and exiting the nuclear deal, as the past U.S. government did, won't happen again," Abbas Araghchi, Iran's lead negotiator in talks with world powers in Vienna, told Iranian state TV, adding that a return to the accord won't be possible without this condition being met. Read more from Golnar Motevalli.
Biden's Nuclear Envoy Ready for Talks 'Anytime' With North Korea: Biden's point man for North Korea said the U.S. was ready for talks "anywhere, anytime" with Pyongyang, providing a strong signal Washington is prepared to revive a stagnant disarmament dialogue. Sung Kim, the U.S. special representative for North Korea, said after discussions today in Seoul with South Korean counterpart Noh Kyu-duk and Japan's Takehiro Funakoshi that the Biden administration's policy called for "a calibrated, practical approach," which includes possible diplomacy with North Korea. Read more from Jon Herskovitz and Jeong-Ho Lee.
Biden to Host Outgoing Israeli President: Biden will host his Israeli counterpart, Reuven Rivlin, in Washington on June 28 to discuss "the many challenges and opportunities" facing the Middle East, the White House said. The head of state will visit the White House at a time of transition, after a deal among Israeli opposition leaders ended Benjamin Netanyahu's 12-year run as prime minister on June 13. Read more from Tony Czuczka.
To contact the reporters on this story: Giuseppe Macri in Washington at gmacri@bgov.com; Brandon Lee in Washington at blee@bgov.com
To contact the editors responsible for this story: Zachary Sherwood at zsherwood@bgov.com; Loren Duggan at lduggan@bgov.com; Michaela Ross at mross@bgov.com