What to Know in Washington: Biden Agenda Gains Senate Momentum
President Joe Biden's agenda got a boost with Senate Democratic leaders outlining plans for more than $4 trillion in domestic programs, but enactment hinges on negotiating details on Medicare, taxes, immigration and infrastructure that have confounded Congress for a generation.
The Senate is moving forward with a two-pronged approach to enacting Biden's agenda, a $3.5 trillion tax and social spending plan backed only by Democrats and a $579 billion bipartisan infrastructure bill.
Democrats yesterday celebrated agreement on the broad outline of a 10-year budget proposal that bridges, at least on the surface, the gulf between a $6 trillion proposal from Sen. Bernie Sanders (I-Vt.), a progressive who chairs the Senate Budget Committee, and moderates including Sen. Mark Warner (D-Va.), who insisted on a more modest plan that wouldn't swell the national debt.
But Biden and party leaders still will need to make trade-offs to get all 50 members of their Senate caucus on board and keep their fractious House contingent united. Read more from Erik Wasson and Steven T. Dennis.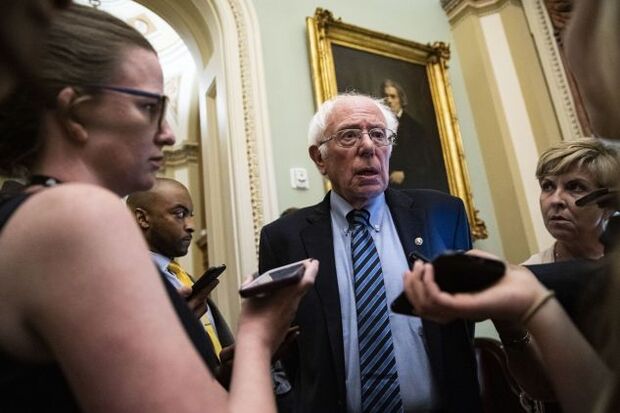 Medicare Expansion Would Aid Seniors: Senate Democrats' plan to expand Medicare coverage would help a growing senior population often struggling with hefty out-of-pocket medical expenses, potentially providing ballast for the economy in coming years. The plan aims to expand vision, dental and hearing benefits for Medicare recipients, who are disproportionately those over 65 years old.
That would provide tens of millions of seniors — many of whom have low incomes — with care that they don't currently have, likely boosting not only health spending but also freeing up money to go toward other goods and services, particularly essential goods. Read more from Katia Dmitrieva and Alex Ruoff.
Tax on Carbon-Intensive Imports: Senate Democrats are moving to impose tariffs on carbon-intensive imports as a way to help pay for their plan, according to a person familiar with the plan, Jennifer A. Dlouhy and Ari Natter report.
Methane Emission Fee On U.S. Oil and Gas: Senate Democrats are pushing to impose a methane fee on U.S. oil and gas production as part of their blueprint, Dlouhy reports. The $3.5 trillion plan includes a placeholder for a methane emission fee proposed by Sens. Sheldon Whitehouse (R.I.), Cory Booker (N.J.) and Brian Schatz (Hawaii).
Deal Seeks to Penalize Labor Law Violators: The plan will seek to create monetary penalties for companies that violate workers' union rights, according to congressional, union, and Biden administration officials briefed on the plans. Read more from Ben Penn, Ian Kullgren and Andrew Kreighbaum.
House Paid Leave Plan Could Double Cost of Biden's Proposal: In the House, a nationwide paid leave proposal that the chamber's budget-writers plan to advance via Democrats' major social-spending package is expected to cost $450 billion to $550 billion over 10 years, a committee aide told Bloomberg Law. The House Ways & Means Committee's proposal to create a paid family and medical leave program is unofficially estimated to cost about double the $225 billion figure listed for Biden's paid leave proposal in the American Families Plan, the aide said. Read more from Chris Marr.
Happening on the Hill
Today's Agenda:
The House Appropriations Committee is scheduled to mark up the fiscal 2022 Commerce-Justice-Science and Labor-HHS-Education bills.
The Senate plans to vote on three of Biden's nominees to the Treasury and Veterans Affairs departments and U.S. Court of Appeals for the Federal Circuit.
Click here for a complete list of today's hearings and markups.
Senate Passes Bill to Punish China for Uyghur Abuses: The Senate passed legislation yesterday to reprimand China for human rights violations against the Uyghur population in the Xinjiang province. The bill sets limits on goods produced using forced labor in Xinjiang, China and provides for sanctions against individuals who profit off that labor. It also implements reporting requirements related to the practice and instructs the U.S. Customs and Border Protection agency to "presume that goods produced by these entities are barred from importation into the United States," Jennah Haque and Daniel Flatley report. Read more on the bill.
Proposal to Shield Judges' Personal Data Gets Reboot: Bipartisan legislation to shield judges' personally identifiable information online was reintroduced in Congress amid heightened focus on security following a deadly shooting at a judge's home and with threats increasing. Under the bill introduced yesterday, data brokers wouldn't be able to knowingly sell, trade, license purchase, or provide judges' personally identifiable information . It would also prohibit agencies from posting judges' personal data and authorize a grant program to help state and local governments prevent that information from getting online or removing it. Read more from Madison Alder.
Voting Rights Tension Spills Into Second Circuit Pick Hearing: Partisan controversy over voting rights flared at a confirmation hearing for a New York-based federal appeals court nominee who was questioned by conservative lawmakers over her record working on election and voting law issues. Myrna Pérez, director of voting rights at the Brennan Center for Justice nominated to the U.S. Court of Appeals for the Second Circuit, faced questions about her advocacy from Senate Judiciary Committee Republican members yesterday with pressure building on the Democratic-led Congress to approve new voting rights legislation. Read more from Madison Alder.
Politics & Influence
Trump D.C. Hotel Documents Given to House Committee by GSA: The U.S. General Services Administration has turned over to the House Oversight Committee documents related to the lease for the Old Post Office building in Washington that Donald Trump converted into a hotel, according to a filing in a Washington federal court. The committee had requested the documents from the GSA in April 2019. The Oversight Committee is seeking financial documents from the former president as part of an investigation into possible conflicts of interest. Read more from John Schneider.
Giuliani Associates Win Bid for Separate Trial on Fraud Charge: Associates of Rudy Giuliani will get two trials, one dealing with allegations of political fund-raising violations and the other with claims of defrauding investors in a business venture. Charges against Lev Parnas, Igor Fruman and co-defendant Andrey Kukushkin involving laundering political donations and funneling foreign funds into U.S. campaigns will be tried together, and separately from a trial on one count against Parnas of defrauding investors. Read more from Christian Berthelsen.
Around the Administration
Today's Agenda: Biden plans to deliver remarks at 11:45 a.m. on the first day of payments after changes to distribution of the child tax credit. The president will host German Chancellor Angela Merkel at the White House starting at 2 p.m. Biden and Merkel will hold a bilateral meeting at 2:25 p.m. to discuss climate change, Covid-19, and security and regional challenges. The pair will hold a joint press conference at 4:15 p.m., followed by dinner at 6:30 p.m.
U.S. Begins Child Tax Credit Payments: There's an important tax change for families this summer—and it starts this week. As part of the American Rescue Plan, the IRS began sending advance child tax credit payments today. The credit isn't new but rather an expansion of the existing child tax credit. Not only is it more money, but families will receive the credit each month in the form of advance payments. This is a change from prior years when the credit was paid in a lump sum at tax time. Since it's such a significant change, Kelly Phillips Erb details what you need to know.
Approximately $15 billion dollars were paid to families that include nearly 60 million eligible children in the first monthly payment of the expanded Child Tax Credit, the Treasury Department said in statement last night, Megan Howard reports.
Democratic leaders want voters in key states to know which party is responsible for the checks. A new digital ad campaign targeted to key Senate and House midterm races touts the expanded monthly tax credit of up to $300 a child hitting Americans' bank accounts as a middle-class tax cut delivered by Biden and congressional Democrats. "We are making sure Americans know this contrast is clear," Democratic National Committee Chair Jaime Harrison said in a statement. "While Republicans continue to play games and block efforts to improve the lives of working people, Democrats are delivering for you." Read more from Kenneth P. Doyle.
U.S. Plans to Counter Ransomware Attacks Through Crypto Tracing: The Biden administration intends to crack down on the use of cryptocurrencies in ransomware attacks through more rigorous tracing of proceeds paid to hackers behind the disabling of companies, organizations and government agencies around the world, according to people familiar with the matter. In a virtual briefing with members of Congress yesterday, Deputy National Security Adviser Anne Neuberger said that the White House had created a ransomware task force and that the administration's strategy involved efforts to disrupt ransomware operations, confront the use of cryptocurrencies in attacks and work with allies to encourage other nations not to harbor attackers, the people said. Read more from Billy House.
Pentagon Climate Plan Set for September: The Pentagon is sending its climate change plan to Defense Secretary Lloyd Austin for his final signoff, with public release no later than Sept. 1. The plan — which was prompted by a January executive order — will fold climate change adaptation and resilience into all military programs, real property management, oversight of lands and waters, and financial services, said Paul Cramer, who is performing the duties of assistant defense secretary for sustainment. The Pentagon contributes more than three-quarters of the U.S. government's energy consumption. Read more from Travis J. Tritten.
Kerry and Putin Discussed Bilateral Cooperation on Climate: Special Presidential Envoy for Climate John Kerry had a phone call with Russian President Vladimir Putin to discuss bilateral cooperation on combating the climate crisis, the U.S. State Department said in a statement, Se Young Lee reports. Kerry emphasized the role that the U.S. and Russia have in reducing greenhouse gas emissions, aiming for net-zero emission in the long term, eliminating coal emissions, and Arctic-related climate issues, the statement said.
Judge Says Presidents Can Fire NLRB General Counsels: Biden's firing of the National Labor Relations Board's Trump-era general counsel didn't prevent the board from seeking a court order against a metal processing company, a New Jersey federal judge said. Federal labor law clearly gives presidents the authority to fire NLRB general counsels without cause, U.S. District Judge Noel Hillman said in a decision that granted the agency's request for an injunction against Amerinox Processing. But Hillman didn't specifically rule on the legality of Biden's Inauguration Day termination of Peter Robb. Read more from Robert Iafolla.
Biden Faces Hard Sell for Anti-China Digital Trade Pact: As the U.S. mulls a digital trade agreement to counter China, it faces a key problem: Many countries in Asia don't want to join any deal seen as challenging Beijing, whose tech giants are deeply entrenched in the region. China's largest corporations like Alibaba Group and Tencent Holdings have in recent years led a wave of investment into Southeast Asia, which has more than half a billion people rapidly migrating online. Governments in the region have largely resisted U.S. calls in recent years to avoid Huawei for 5G networks even as they look to America as a counterweight to China on security issues. Read more.
Biden Keeps Travel Ban on Europeans: European governments are growing increasingly frustrated with the Biden administration for refusing to lift travel rules that prevent most of their citizens from traveling to the U.S., citing inconsistent rules, economic costs and an outdated strategy for halting the coronavirus. The U.S. has scrapped the bulk of its domestic pandemic restrictions, but international travel has remained buttoned up more tightly amid the surge in cases of the highly contagious delta variant. Read more from Nick Wadhams.
To contact the reporters on this story: Zachary Sherwood in Washington at zsherwood@bgov.com; Giuseppe Macri in Washington at gmacri@bgov.com
To contact the editors responsible for this story: Loren Duggan at lduggan@bgov.com; Michaela Ross at mross@bgov.com