What to Know in Washington: Biden 2024 Choice to Follow Midterms
President Joe Biden will decide whether to run for re-election after congressional elections in November.
"It's much too early to make that kind of decision," Biden said in a "60 Minutes" interview on Sunday. "What I'm doing is I'm doing my job. I'm gonna do that job, and within the time frame that makes sense after this next election cycle here, going into next year, make a judgment on what to do."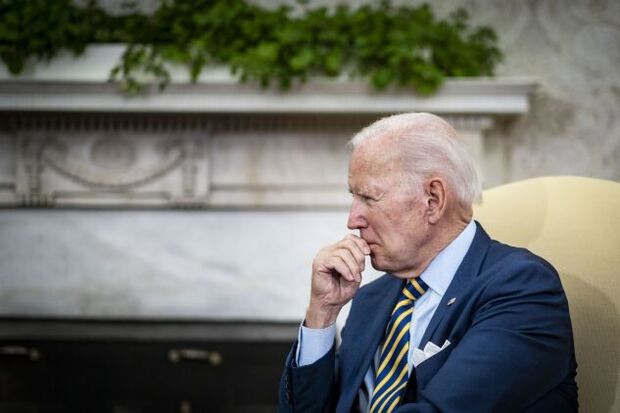 Biden, along with Vice President Kamala Harris, has repeatedly attested to plans to run for re-election in 2024, despite his age — he will turn 80 in November — and low approval ratings. While the president reaffirmed his intention to run for office again, he also conveyed that the decision was not yet final.
"Is it a firm decision that I run again? That remains to be seen," Biden said, according to a transcript of the interview. After interviewer Scott Pelley noted that Biden is the oldest president ever, Biden joked, "pretty good shape, huh?"
The president also pointed to election-law requirements that take effect once a candidate officially declares candidacy as reason to wait on a decision, saying that "all of a sudden a whole range of things come into play" if he were to make his intentions official. Akayla Gardner recaps highlights from the interview.
Democrats drew level with Republicans in a congressional preference poll ahead of the US midterm elections, driven by a boost to Biden's approval rating and the political focus on abortion.
Happening on the Hill
CONGRESS' SCHEDULE
The House is back at noon to take up 26 bills under expedited floor procedure.
Senators return at 3 p.m. to vote on a judicial nomination.
Drug pricing advocates fresh off a major win say they're turning their attention to changes for pharmaceutical industry middlemen and to curbing high launch prices for new medicines.
Speaker Nancy Pelosi (D-Calif.) condemned what she called "deadly attacks" on Armenian territory by Azerbaijan after a meeting on Sunday with Armenian officials in Yerevan.
A challenge against the Delaware River Basin Commission's regional fracking ban in an appeal from Pennsylvania lawmakers was struck down Friday by the US Court of Appeals for the Third Circuit.
The Biden administration should continue releasing oil from the US Strategic Petroleum Reserve through the end of the year "at a minimum," according to a letter sent to Biden Friday by eight House Democrats.
A challenge against the Delaware River Basin Commission's regional fracking ban in an appeal from Pennsylvania lawmakers was struck down Friday by the US Court of Appeals for the Third Circuit.
Elections & Politics
The newly named special master in the Donald Trump records seizure case wasted no time in scheduling a hearing for the former president's attorneys and those from the Justice Department.
The US Justice Department asked a federal appeals court to immediately step into the fight over documents seized from Trump's Mar-a-Lago home and allow investigators to resume using documents with classified markings in a criminal probe.
Tom Barrack emerged during Trump's 2016 campaign as the genial face of outreach to the business community and moderate Republicans. In a convention speech that stood out for its positivity, Barrack likened his friend of 40 years to a jeweler who would restore America's "polish." But it was another nation's interests that the Colony Capital founder would ultimately seek to advance once Trump was in the White House, prosecutors allege.
Biden's allies are counting on political dividends from the agreement he brokered to avert a disastrous railroad strike, yet there's still a risk the deal falters before November's elections.
The key issue that almost triggered the first US railroad strike in 30 years and threatened to hobble the economy wasn't wages, but sick leave, highlighting broadening worker demands in a tight labor market.
A series of last-minute challenges to the eligibility of tens of thousands of mostly Democratic voters by acolytes of Trump risk violating federal law and threaten to complicate vote counting in US midterm elections in key states like Georgia.
Around the Administration
PRESIDENT'S SCHEDULE
Biden will return to the White House after 5 p.m. following the state funeral of Queen Elizabeth II at Westminster Abbey in London earlier in the day.
Biden declared the Covid-19 pandemic "over" and said Americans would gain "control" of inflation, outlining a rosy view for the US economy in an interview less than two months before crucial midterm elections.
The US Federal Reserve, which meets this week to decide on interest rates, has helped to cool the overheated housing market even though inflation across the country is still "uncomfortably high," White House economic adviser Jared Bernstein said.
Biden's Cancer Moonshot will pour resources into advancing equity in the health system while speeding up the time it takes for a discovery to reach the bedside, the moonshot coordinator said.
New York and other cities are straining under an influx of migrants sent by Republican governors from other states, but federal help may be on the way.
American women are traveling en masse to Illinois to get abortions, with the state seeing a record influx of patients since the US Supreme Court overturned Roe v. Wade earlier this year.
Biden's top medical adviser warned in an interview with the Financial Times that a broad refusal of vaccines against Covid-19 may undermine efforts to immunize children and contain future illness outbreaks.
The War in Ukraine
Biden said Vladimir Putin would face a "consequential" US response if the Russian president used nuclear or chemical weapons in the war in Ukraine.
Biden said he warned Chinese President Xi Jinping it would be a "gigantic mistake" to violate sanctions imposed on Russia, but that there's been no indication that Beijing has provided weapons to Moscow for its invasion of Ukraine.
Putin threatened to step up attacks on Ukraine's civilian infrastructure, vowing to continue his invasion after his forces suffered some of their worst reverses in the seven-month-old campaign.
More in Foreign Affairs
Biden said US military forces would defend Taiwan from "an unprecedented attack," his latest pledge of support as his administration seeks to deter China from increasing military pressure on the democratically elected government in Taipei.
Biden joined the UK in mourning the death of Queen Elizabeth II, recalling his last encounter with the monarch and dwelling on how she reminded him of his mother.
Liz Truss will meet Biden in New York next week for the first time since taking office as UK prime minister, revising plans for a brief session in London during commemorations for the late Queen Elizabeth II.
Biden had meetings at the White House on Friday with family members of two Americans who have been detained in Russia.
To contact the reporters on this story: Brandon Lee in Washington at blee@bgov.com; Michaela Ross in Washington at mross@bgov.com
To contact the editor responsible for this story: Giuseppe Macri at gmacri@bgov.com