What to Know in Washington: BGOV's Fall 2021 Hill Watch
Bloomberg Government subscribers get the stories like this first. Act now and gain unlimited access to everything you need to know. Learn more.
Lawmakers returning to Washington for a busy fall work period face immediate decisions on how to head off a government shutdown and potential federal default, while Democrats push to advance — without Republican support — their ambitious plans to boost spending on social programs by as much as $3.5 trillion, Nancy Ognanovich and Emily Wilkins report.
Congress Confronts Multiple Budget Battles: BGOV Fall Hill Watch
The stretch into December could be lawmakers' last realistic chance at policymaking before the 2022 election year begins in earnest.
Several deadlines will dominate the weeks ahead, including: the deadline tomorrow for 13 House and 12 Senate committees to write their portion of the reconciliation bill; the House's agreed timeline to begin consideration by Sept. 27 of the $1 trillion Senate-passed bipartisan infrastructure bill; and the Oct. 1 deadline for both chambers to pass a continuing resolution to fund the government that could suspend or raise the statutory debt limit.
How Many Votes? A Video Guide to Getting It Done in Congress: From approving the next Supreme Court justice, to the filibuster, to impeachment, to reconciliation, to the dreaded nuclear option, keeping track of how many votes it takes to get something done in Congress can be confusing. But we've got you covered. In this video, Loren Duggan, Bloomberg Government's Deputy News Director, helps sort it all out with a comprehensive guide to how many votes are needed for almost any scenario in Congress. Watch the video here.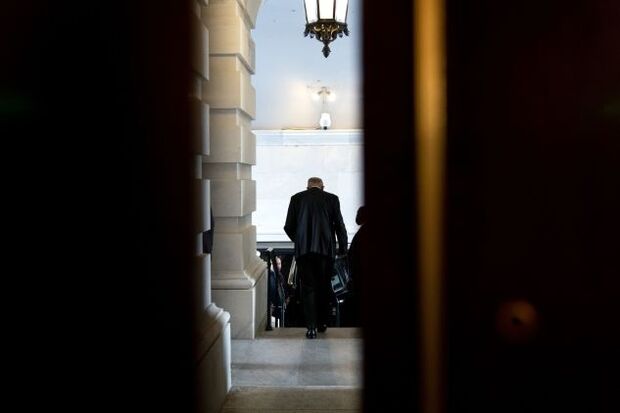 Democrats' Economic Agenda
Biden's Allies Shy From Taxing Rich: Joe Biden's push to ramp up taxes on the wealthy is getting diluted by his Democratic allies in Congress, undermining the president's chances of fully delivering on his 2020 campaign pledge to curb America's widening inequality. A blueprint that the House Ways and Means Committee will begin voting today, prepared by Democratic members and staff of the panel, scaled back some of the most ambitious elements of the Biden administration's pitch released in May.
The changes reflect the political reality of a Senate that requires moderate Democrats to vote en masse for the final package, given the razor thin margins of the party's control of the chamber. The cost: support from progressives needed to fire up the electoral base in 2022, and a more concerted effort to address inequality that evidence shows is damaging the U.S. economy. Read more from Nancy Cook and Mike Dorning.
Durbin Says $3.5 Trillion is Starting Point: The second-ranking Senate Democrat, Dick Durbin (Ill.), said yesterday he has he has "no idea" if his party can push through a tax and spending plan anywhere near the $3.5 trillion they're seeking.
Durbin's comments comes as some centrist Democrats such as Sen. Joe Manchin (W.Va.) are balking at the size of the Biden plan. "That's the right starting point for negotiation," Durbin said of the $3.5 trillion budget resolution Democrats adopted. "It's not necessarily the end point."
Durbin acknowledged Senate Democrats may not meet a self-imposed Wednesday deadline for drafting their legislation reflecting core elements of Biden's domestic agenda. House committees are now writing the details of their version, which would raise taxes on corporations and the wealthy, while also boosting spending for a slew of domestic programs including climate change, health care and child and elder care.
Speaker Nancy Pelosi (D-Calif.) in a letter to colleagues last night indicated House Democrats intend to meet the deadline. "On Wednesday, September 15, we will come closer to achieving President Biden's and Congressional Democrats' vision to Build Back Better, as the House Committees of Jurisdiction meet the deadline to submit their legislative proposals to the Budget Committee," she wrote. Read more from Laura Litvan.
Panel Backs Legal Path for Some Immigrants: The House Judiciary Committee approved legislation to provide legal status to as many as 8 million undocumented immigrants, which Democrats intend to include in their massive tax and spending plan. The panel approved the measure late last night, 25-19, after hours of debate and failed amendments from Republican members of the committee. Read more from Jarrell Dillard.
Click here for a complete list of today's hearings and markups.
Politics & Influence
Biden Urges Californians to Keep Newsom: Biden implored California voters to send a message to the nation by keeping Gavin Newsom as their governor in today's recall election and rejecting a Republican whom he derided as a "the closest thing to a Trump clone I've ever seen in your state."
"The eyes of the nation are on California," Biden told a rally at Long Beach City College last night. "Because the decision you're about to make isn't just going to have a huge impact on California, it's going to reverberate around the nation, and quite frankly, not a joke, around the world." Again and again, Biden tied the leading Republican candidate, Larry Elder, to former President Donald Trump and his policies. Read more from Jennifer Epstein and Mario Parker.
Abortion Providers Warn of 'Chaos' If Roe Upended: Abortion-rights advocates told the U.S. Supreme Court that "chaos" will reign if the justices overturn constitutional protections, arguing that women will be left without a way to legally end pregnancies in much of the country. In a court filing yesterday, reproductive-rights groups said a decision upholding Mississippi's ban after 15 weeks of pregnancy would have a devastating impact even if the court doesn't explicitly overturn the 1973 Roe v. Wade ruling, which legalized abortion nationwide. The organizations represent Jackson Women's Health Organization, the state's only abortion facility. Read more from Greg Stohr.
Breyer Says Court Expansion Could Weaken Confidence: Justice Stephen Breyer voiced skepticism about Democratic calls to expand the size of the U.S. Supreme Court, saying that adding seats would invite retaliation by Republicans and ultimately could weaken public confidence in the judiciary. "They better be pretty careful about it because two can play at that game," Breyer said yesterday in an interview at New York's 92nd Street Y for "The David Rubenstein Show: Peer-to-Peer Conversations" on Bloomberg Television. Read more from Greg Stohr.
Around the Administration
Today's Agenda: Biden is scheduled to depart Long Beach, Calif. shortly after 10 a.m. and land in Denver, Colo. after 1 p.m. for a visit to the National Renewable Energy Laboratory in Golden, where he'll deliver remarks on lawmakers' infrastructure and budget reconciliation packages. The president is set to depart Denver after 5 p.m. and return to the White House after 10 p.m.
Powell Backed by Authors of Dodd-Frank Bank Reform: The architects of the sweeping regulatory legislation adopted after the financial crisis backed Jerome Powell for another term as Federal Reserve chair. Former Sen. Chris Dodd (D-Conn.) and Rep. Barney Frank (D-Mass.) said Powell's reappointment would provide "strong support" for Biden's comprehensive program for tackling the underlying social and economic problems facing the U.S. Their support is noteworthy because a number of progressives have criticized Powell for rolling back some of the reforms initiated under the Dodd-Frank legislation and called on Biden to replace him as Fed chair. Read more from Rich Miller.
Bedoya's Work Foreshows Potential FTC Focus: Georgetown University law professor Alvaro Bedoya is likely to concentrate on the interplay between privacy and civil rights if confirmed to a seat on the Federal Trade Commission. Bedoya, whom the White House announced yesterday as Biden's intended nominee to replace outgoing Democratic commissioner Rohit Chopra, has written and worked on issues including bias in facial recognition technology and surveillance of American immigrants. Read more from Andrea Vittorio.
Big Task, Small Budget Awaits Health Climate Office: A newly-launched federal office faces a variety of challenges if it is to succeed in its goal of connecting the dots on health in interagency climate work, health and climate experts said. With an eight-person crew and limited budget, the Health and Human Services Department's new Office of Climate Change and Health Equity—which opened its doors on Sept. 6— will need to keep focus within a range of competing agency interests, including its own health agency of over 80,000 employees. Read more from Stephen Lee and Jennifer Hijazi.
Biden to Address UN as He Seeks to Re-Engage: Biden plans to deliver his first speech to the United Nations General Assembly in New York on Sept. 21, part of his effort to re-engage with the international community. The gathering is set to be in person, unlike last year's, which was held virtually because of the coronavirus. Biden is planning a day trip for the speech, the White House said, curtailing what's usually a multi-day visit that includes in-person meetings with world leaders and, sometimes, additional public appearances. Read more from Jennifer Epstein.
Blinken Warns of Vacant National Security Jobs: Secretary of State Antony Blinken will urge the Senate to confirm Biden's nominees for top national-security posts, warning that the U.S. could be caught short-staffed in the event of attack. It is "is essential that we accelerate the process for national security appointments since a catastrophic attack could occur with little or no notice," Blinken plans to tell the Senate Foreign Relations Committee in a hearing today, according to a copy of his remarks obtained by Bloomberg News. He will cite Senate delays on some 80 nominees as a "significant disruption in our national security policy making," according to the remarks. Read more from Nick Wadhams.
Taliban Forcing Strange Bedfellows on Afghanistan: After al-Qaeda attacked the twin towers in New York 20 years ago, the U.S., Europe, China, Russia and even Iran rallied around a rare common cause: To topple a Taliban regime in Kabul that had made Afghanistan a base for international terrorism. Now that unlikely group of geopolitical rivals find their interests aligned once more, only this time to see those same Taliban leaders restore order in a nation of 38 million whose economic collapse could trigger destabilizing humanitarian and refugee crises. Read more from Marc Champion , Eric Martin and Anthony Halpin.
Biden's Nuclear Envoy Tells North Korea Door Is Open: Biden's envoy for North Korea said the door remains open for talks, after Pyongyang claimed it tested new long-range cruise missiles that bolster its nuclear strike capabilities against Japan and South Korea. "We hope the DPRK will respond positively to our multiple offers to meet without preconditions," Sung Kim, the State Department's special representative for North Korea, said in Tokyo ahead of discussions with his counterparts from Japan and South Korea. Read more from Isabel Reynolds.
U.S. Trails Its Peers in First Covid Shots After Japan's Surge: The U.S. is now last among the world's most powerful democracies when it comes to Covid vaccinations, squandering an early lead and plentiful supplies, as it was surpassed by Japan's steady progress in rolling out shots. Japan, which started its mass vaccination program in April, has given a first dose to 63.6% of its population, according to government figures released today. The U.S. has administered at least one dose to 63.1% of its residents, the lowest among the Group of Seven nations. Read more from Lisa Du.
To contact the reporter on this story: Zachary Sherwood in Washington at zsherwood@bgov.com
To contact the editors responsible for this story: Giuseppe Macri at gmacri@bgov.com; Loren Duggan at lduggan@bgov.com
Stay informed with more news like this – from the largest team of reporters on Capitol Hill – subscribe to Bloomberg Government today. Learn more.