What to Know in Washington: BBB Support Rallies, Targets Manchin
Lawmakers, groups seek to revive stalled reconciliation plan
Lead GOP gun negotiator leaves town amid talks
Groups and lawmakers advocating for Democrats' domestic agenda, from clean energy to health care, are renewing campaigns tailored to their target audience: Joe Manchin.
Labor groups recently held a tele-town hall for West Virginians to talk about the need to expand home care offerings. The Service Employees International Union recorded a robocall with actress Jennifer Garner, a native of the state, urging West Virginians to call their senators and ask for action on home care.
House Democrats along the ideological spectrum on Thursday also urged the Senate to include climate and energy provisions in the package. Speaking at a Capitol Hill press conference, Congressional Progressive Caucus Chair Pramila Jayapal (D-Wash.) said it's "incumbent" on Manchin, who leads the Energy and Natural Resources Committee, to support the climate provisions in reconciliation that the House ultimately crafted to his liking.
The effort comes as Manchin and Majority Leader Chuck Schumer (D-N.Y.) have restarted talks on a reconciliation bill. They met again Wednesday to discuss a potential deal, according to an aide granted anonymity to speak candidly. Zach C. Cohen and Alex Ruoff report.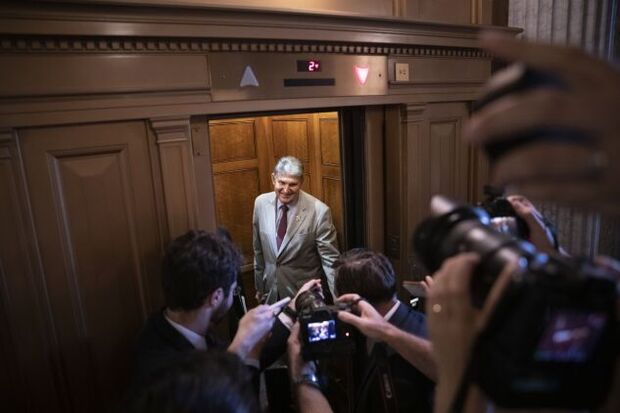 Also Happening on the Hill
Prospects for a quick bipartisan deal on new gun safety legislation dimmed Thursday as negotiators struggled behind closed doors to reach a deal in the coming days. The lead Republican negotiator, Sen. John Cornyn (Texas), said it's time to "fish or cut bait" on the legislation and he left the down-to-the-wire talks to go home for the weekend.
Meanwhile, Sen. Thom Tillis (N.C.), the other Republican negotiator, said that significant progress was made Thursday on two remaining holdout issues and a deal could come out as soon as Friday. Sen. Chris Murphy (Conn.), the top Democrat in the talks, agreed and added he believes a vote could happen next week. Laura Litvan and Steven T. Dennis have more.
Biden's nomination of Steven M. Dettelbach to lead the Bureau of Alcohol, Tobacco, Firearms, and Explosives is slowly advancing after senators voted to discharge the nomination Thursday afternoon, bringing it to the Senate floor. The vote to discharge the nomination was 52-41, with two Republicans siding with the chamber's Democrats. Read more from Nancy Ognanovich.
Senators by voice vote Thursday confirmed Mark Uyeda, a Republican, and Jaime Lizarraga, a Democrat, to serve as commissioners at the Securities and Exchange Commission, bringing the agency back to a full complement of five commissioners, Lydia Beyoud reports.
An attempt to unanimously pass a bipartisan bill to shield the personal information of federal judges online failed after Sen. Rand Paul (R-Ky.) blocked it for a third time. The Thursday motion for unanimous consent was the second time this year the Sen. Bob Menendez (D-N.J.) has attempted that accelerated maneuver to pass the measure introduced after the murder of U.S. District Judge Esther Salas's son at their home almost two years ago, Madison Alder reports.
Legislation that would prevent the Patent Trial and Appeal Board from declining to review a patent challenge based on ongoing litigation was unveiled Thursday by Sens. Patrick Leahy (D-Vt.), Thom Tillis (R-N.C.), and Cornyn, Samantha Handler reports.
Federal Reserve Bank of Kansas City President Esther George declined a request from Sen. Patrick Toomey (R-Pa.) for documents relating to a fintech company that were a critical sticking point in ending the confirmation push earlier this year of former Fed Governor Sarah Bloom Raskin, Steve Matthews reports.
Jan. 6 Panel Presents Details of Pence Escape from Mob
The mob invading the Capitol got within 40 feet of Vice President Mike Pence as his security team rushed him away on Jan. 6, 2021, and an informant later told the FBI that extremists leading the assault would have killed him given the chance, Mike Dorning, Jarrell Dillard and Sabrina Willmer report.
Those were among the harrowing new details a House committee investigating the insurrection on Thursday added to accounts of Pence's ordeal during the riot. The panel rendered a portrait of Donald Trump callously indifferent to the danger his vice president faced throughout the day.
Meanwhile, in the days following the attack on the Capitol, John Eastman, the Trump attorney behind the strategy to use Pence to block congressional certification of Joe Biden's election, asked to be considered for a presidential pardon, according to an email displayed at the hearing.
The committee would try to question the wife of Supreme Court Justice Clarence Thomas on her involvement in efforts to overturn the election, Rep.

Bennie Thompson

(D-Miss.), the panel's chairman, told reporters. Emails the panel recently obtained shows Virginia "Ginni" Thomas was in contact with Eastman and her efforts to prevent Biden from taking office were more extensive than previously known, the Washington Post reported.
The Jan. 6 select committee's failure to share transcripts of its interviews has led the Justice Department to delay prosecuting two members of the Proud Boys who stormed the Capitol. Thompson told reporters at the Capitol after Thursday's hearing that the committee will turn over witness transcripts in "due time" but not before the hearings are over, Chris Strohm reports.
Newsmax Media's effort in court to portray its coverage of the 2020 presidential election as fair and balanced was picked apart by a Delaware judge who ruled the conservative news outlet must face a $1.6 billion defamation suit filed by Dominion Voting Systems, Erik Larson reports.
MORE ELECTIONS & POLITICS:
Justice Sonia Sotomayor said she is confident the Supreme Court will eventually "regain the public's confidence," offering an optimistic message to a liberal audience even as the court considers eliminating the constitutional right to abortion and expanding gun rights. Greg Stohr and Kimberly Robinson have more.
A Nebraska man's guilty plea on Thursday to threatening an election official on Instagram is a milestone for a Justice Department task force created after the 2020 elections to combat such incidents. The investigation was the Election Threats Task Force's third case since being stood up last July by Attorney General Merrick Garland and Deputy Attorney General Lisa Monaco in response to rising threats faced by election workers nationwide, Ben Penn reports.
Around the Administration
BIDEN'S SCHEDULE:
Beginning at 8:30 a.m., the president will host the Major Economies Forum on Energy and Climate.
Biden will convene world leaders from roughly two dozen countries in a summit Friday focused on propelling the fight against climate change, even as strained energy markets and the war in Ukraine complicate action to arrest global warming.
The virtual summit, which aims to bring together representatives from at least 20 countries and the European Union, is on track to be the largest gathering of world leaders focused on climate action ahead of a critical United Nations summit in Egypt this November. Jennifer A. Dlouhy has more.
The Biden administration will announce Friday a summer-long "Talent Pipeline Challenge" that aims to ensure there are enough trained workers ahead of the expected flood of new construction work created by the bipartisan infrastructure law (Public Law 117-58). Read more from Rebecca Rainey.
Biden said a US recession isn't inevitable and acknowledged that aides warned him about the inflationary risk of his flagship relief bill, while insisting that he won't soften his stance on Russia even if it costs him re-election. The comments, made in a sit-down interview with the Associated Press, shed new light on Biden's moves to curb inflation running at 40-year highs in the US and across much of the developed world.
He said he was told by Treasury Secretary Janet Yellen and others that his March 2021 Covid aid package (Public Law 117-2) could have a marginal impact on inflation, adding that he doesn't think it did, "And most economists do not think it did." Justin Sink and Josh Wingrove have more.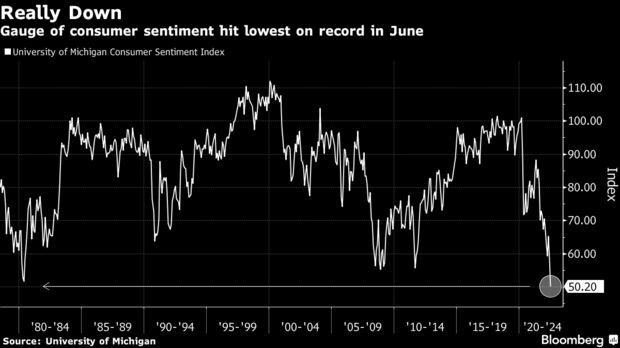 Top Biden administration officials are weighing limits on exports of fuel as the White House struggles to contain gasoline prices that have topped $5 per gallon. Limits under consideration would fall short of a complete ban on foreign sales of petroleum products, people familiar with the matter said, Jennifer A. Dlouhy and Ari Natter report.
Biden signed legislation on Thursday aimed at cutting overseas shipping prices, calling the new law another move by his administration to curb stubborn inflation. The law will stop "shipping companies taking advantage of American families, farmers, ranchers and businesses," the president said at a signing ceremony for the broadly bipartisan measure. Read more from Augusta Saraiva, Josh Wingrove and Jennifer Jacobs.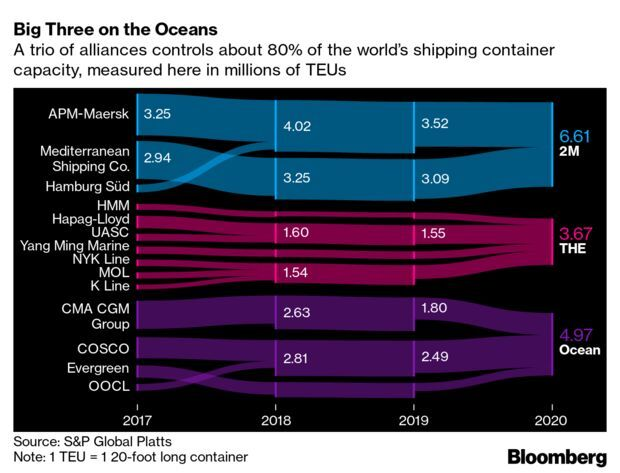 Meta Platforms asked a federal court to order ByteDance's TikTok, Tencent Holdings's WeChat and Telegram to turn over information on their apps for use in its defense against an antitrust suit brought by the US Federal Trade Commission. The Facebook parent said it needs details on each company's user base and market share to defend itself in the FTC's suit, which alleges Meta monopolized the personal social networking market and seeks to force it to spin off its Instagram and WhatsApp units. Read more from Leah Nylen.
The EPA released findings on Thursday that three commonly-used insecticides are likely harmful to thousands of endangered animals and plants, confirming the results of draft findings from 2021. The chemicals, which are chemically related to nicotine, are spread across vast tracts of agricultural land, Stephen Lee reports.
Wall Street's main regulator is examining whether index and financial data providers should face tough investor-protection rules. The move by the US Securities and Exchange Commission to seek feedback on how to regulate the firms could be the first step to more oversight, Lydia Beyoud reports.
High drug rebates that pharmacy benefit managers require from drugmakers may violate federal competition laws if they stifle patient access, according to a policy statement adopted unanimously by the FTC on Thursday. The agency voted 5-0 to issue a document outlining how it will use existing competition and consumer protection laws to examine rebates and fees paid by drug manufacturers to pharmacy benefit managers, Celine Castronuovo reports.
Policymakers and platforms should proceed with caution in their deployment of artificial intelligence to detect harmful content online, such as disinformation and deepfakes, according to a report from the FTC. The report, issued Thursday, called on online platforms to be more transparent about how AI-based tools are used to filter content, Andrea Vittorio reports.
The world's top trade ministers on Friday approved a historic package of accords — including the reduction of fishery subsidies and a loosening of vaccine-production limits — after marathon World Trade Organization talks that a day ago looked for many delegates to be destined for failure. The agreements break the Geneva-based trade body's seven-year negotiating drought and avert a damaging impasse for the organization, Bryce Baschuk reports.
WikiLeaks chief Julian Assange should be sent to the US to face criminal espionage charges, the UK government said, agreeing with the courts in opposing his long running battle to avoid extradition. Jonathan Browning has the latest.
Editor's Note: BGOV's What to Know in Washington will not publish on the Monday, June 20 federal holiday celebrating Juneteenth. Publication will resume Tuesday, June 21.
To contact the reporters on this story: Michaela Ross in Washington at mross@bgov.com; Brandon Lee in Washington at blee@bgov.com
To contact the editor responsible for this story: Giuseppe Macri at gmacri@bgov.com