What to Know in Washington: Barrett Steps Into the Crucible
Voters will get their first intensive look at Judge Amy Coney Barrett in hearings that begin today and are all but certain to lead to President Donald Trump's Supreme Court nominee being placed on the high court just days before the election.
Her confirmation by the Republican-led Senate isn't in doubt, barring a major bombshell during the four days of statements and questioning by the Judiciary Committee. Democrats will use the forum to prod the nominee on the Affordable Care Act and abortion rights, looking to make the proceedings part of their case to unseat Trump and retake the Senate on Nov. 3.
For Republicans, it's a chance to cement a 6-3 conservative majority on the top U.S. court, potentially for decades. Yet it carries risks for a handful of GOP senators in close races for re-election.
Barrett, a 48-year-old appellate court judge, mother of seven, devout Catholic and former clerk to the late Justice Antonin Scalia, was Trump's pick to replace Ruth Bader Ginsburg and is the late liberal justice's ideological opposite.
In her writings, Barrett has suggested a willingness to cast aside Supreme Court precedent, asserted that the Catholic Church's teachings say abortion is "always immoral," and criticized Chief Justice John Roberts for his rationale in the 2012 opinion that upheld core elements of the ACA, or Obamacare.
To the panel, though, Barrett is set to portray herself as a restrained jurist committed to ensuring her personal views don't interfere with her rulings. "In every case, I have carefully considered the arguments presented by the parties, discussed the issues with my colleagues on the court and done my utmost to reach the result required by the law, whatever my own preferences might be," she wrote in remarks prepared for today that were released yesterday by the White House.
Democrats haven't been able to shake support for Barrett — or more generally, for the hasty replacement of Ginsburg — among GOP senators. Only two of the Senate's 53 Republicans — Susan Collins (Maine), who's up for re-election, and Lisa Murkowski (Alaska) — objected to considering a new justice so close to the Election Day.
Judiciary panel Democrats say they'll use various delaying tactics, but unless a few Republicans turn against her, they can't stop the schedule set by Majority Leader Mitch McConnell (R-Ky.) and Judiciary Chairman Lindsey Graham (R-S.C.), or keep Barrett off the court. Read more from Laura Litvan.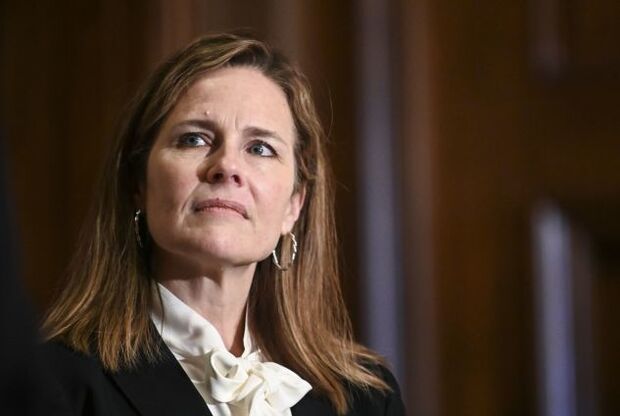 Senators to Watch: The confirmation hearings will put members of the Senate Judiciary Committee — at least three of whom are in the final month of extremely close races for re-election — in the middle of a national dialogue on issues central to the 2020 campaign: health care, abortion and the environment. Josyana Joshua offers some senators to keep an eye on, including Graham, Democratic vice presidential candidate Kamala Harris (D-Calif.), and more.
Questions to Watch: The hearing begins today with opening statements by senators. Barrett addresses the committee and starts answering questions tomorrow. Legal experts and people who know Barrett will also testify as the hearing continues Wednesday and, if needed, Thursday. The committee convenes at 9 a.m. each day. Live video will be available on the committee's website. Abortion, the 2020 election results, the Affordable Care Act, and the environment are some topics that could come up, Laurence Arnold reports.
Barrett Offers Many Paths to Erode Abortion Rights: Adding another conservative justice to the U.S. Supreme Court will put the high court's right flank in the strongest position in decades to erode reproductive rights. The question going into Barrett's Senate hearing is how the new justice, and a newly composed court, might go about dismantling abortion access in the U.S. Would she help overturn Roe v. Wade or opt for a different route?
The court could reconsider the landmark 1973 ruling. In recent years, anti-abortion legislators have passed dozens of abortion bans as potential "litigation vehicles" for overturning Roe, said Brian Fitzpatrick, a law professor at Vanderbilt Law School, who focuses on judicial selection and constitutional law. "There is an appetite for testing out whether the Supreme Court might overrule Roe v. Wade." Read more from Cynthia Koons.
Concerns About Supreme Court Precedent: Barrett's willingness to overthrow past Supreme Court decisions will also be under scrutiny this week. Barrett didn't mention her views on precedents in prepared testimony she's expected to deliver today. But there are clues in a 2013 law review article she wrote arguing that a Supreme Court justice should "enforce her best understanding of the Constitution rather than a precedent she thinks clearly in conflict with it."
That and other writings have sparked concern among Democrats that Barrett would be even quicker to roll back landmark liberal rulings than Scalia, her former mentor and a conservative icon. Her confirmation would give conservatives a 6-3 Supreme Court majority and almost certainly invite a wave of requests to transform longstanding law. Read more from Greg Stohr.
On the Campaign Trail
Trump Restarts Campaign Travel: Trump returns to the campaign trail today after declaring himself "in great shape" following his bout with coronavirus, with a rally in Orlando kicking off at least four straight days of political events. "I've been tested totally negative and I'm going to be out in Florida tomorrow working very hard because this is an election we have to win," Trump said yesterday afternoon during a virtual event with evangelical supporters. "This is the most important election of our lives."
The president is then expected to travel to Pennsylvania tomorrow night, visit Iowa on Wednesday, and go to North Carolina for an event Thursday afternoon. The jam-packed itinerary underscores the extent to which Trump is hopeful that resuming his signature rallies can help reverse polling trends that show him falling further behind Democratic nominee Joe Biden.
Biden holds a 54%-42% lead among likely voters, according to a Washington Post-ABC News poll released yesterday, and Trump's diagnosis further cemented voters' unease about his handling of the pandemic, which has rocked the U.S. economy and left more than 214,000 Americans dead. Two-thirds of registered voters say the president failed to take appropriate precautions against the virus, 62% distrust his comments about the disease, and 73% say they're worried that they or an immediate family member will contract Covid-19. Read more from Justin Sink.
Trump Not Considered Transmission Risk: Trump is no longer considered a coronavirus transmission risk to others and has met the criteria to end self-isolation, according to White House physician Sean Conley. Trump had been fever-free and all symptoms have improved, Conley said in a memorandum published by the White House late Saturday. He didn't say if the president tested negative for the virus. "The assortment of advanced diagnostic tests obtained reveal there is no longer evidence of actively replicating virus," Conley wrote. "In addition, sequential testing throughout his illness has demonstrated decreasing viral loads." Read more from Justin Sink and Niluksi Koswanage.
Meanwhile, Trump yesterday pitched what he called his post-infection immunity to Covid-19 as an advantage over Biden. Twitter, though, took issue with a Trump post on the subject, flagging it as a rules violation for "spreading misleading and potentially harmful information related to Covid-19." Justin Sink has more.
Fauci Says Trump Ad Out of Context: Anthony Fauci, the top U.S. infectious disease expert, says he was taken out of context in a new campaign advertisement that praises Trump's handling of the coronavirus pandemic. "The comments attributed to me without my permission in the GOP campaign ad were taken out of context from a broad statement I made months ago about the efforts of federal public health officials," Fauci said in a statement. Trump responded on Twitter that the favorable comments "are indeed Dr. Fauci's own words," adding that "many people agree…..And now come the Vaccines & Cures, long ahead of projections!" Read more from Teaganne Finn.
More Elections & Politics
Graham's Challenger Raises a Record $57 Million: Jaime Harrison, the Democrat challenging Graham, raised more money in the third quarter — $57 million — than any other Senate candidate in history. The record fundraising haul is an indicator of Democratic intensity in the 2020 election as the party attempts to retake the Senate majority. Graham hasn't yet released his third quarter fundraising figures.
The race between Harrison and Graham was recently put in the tossup category by the non-partisan Cook Political Report. Recent polls show the two men tied in the heavily Republican state, which Trump won by 14 percentage points in 2016. Graham won his previous election, in 2014, by more than 16 percentage points. Read more from Joe Sobczyk.
Biden Warns of 'Chicanery' at Polls: Biden sowed doubt about the integrity of the presidential election by suggesting Saturday that the only way he can lose is if there's "chicanery" at polling stations. "Make sure you vote. Because the only way we lose this is by the chicanery going on relative to polling places," the Democratic presidential nominee told supporters this weekend in Erie, Pa.. Biden later told reporters that "I'm going to accept the outcome of this election, period" and said he was referring to "attempts that are made to try to influence and scare people from voting." Read more from Jennifer Epstein.
The U.S. has been awash in election lawsuits since the spring, when the coronavirus pandemic triggered a raft of disputes over who can vote by mail and how to count their ballots. Now, legal experts say, a widely expected second wave of lawsuits starting on Election Day will take those fights to the next level. Barring a landslide, such suits could sway the outcome for Trump or Biden, both of whom are laying the groundwork for court battles in must-win swing states on Nov. 3. Read more from Erik Larson.
Meanwhile, social media companies are facing heightened scrutiny and pressure to do more to keep their platforms from becoming vectors of misinformation, election meddling and all-around disorder. Over the past two months, Facebook and rival network Twitter have rolled out new policies as they brace for a complicated and possibly chaotic election night, in which results may be unclear or delayed. Both companies updated their rules this week, a sign that they're still fine-tuning their strategies less than a month before Election Day. Read more from Kurt Wagner
Whitmer Cites 'Serious Threats': Michigan Gov. Gretchen Whitmer (D) called the kidnapping plot against her evidence of "serious threats" from domestic terrorists, amid fears voters could face intimidation at polling places on Election Day. Whitmer's comments, on CBS' "Face the Nation," came three days after 13 men were charged in connection with a plot to storm the state capital building in Lansing, kidnap the governor, overthrow the government and try her for treason. "I do believe that there are still serious threats, that groups like this group — these domestic terrorists — are finding comfort and support in the rhetoric coming out of Republican leadership, from the White House to our statehouse," Whitmer said yesterday. "So I remain concerned about safety and integrity going up to this election." Read more from Jennifer A. Dlouhy and Robert Schmidt.
Judge Rejects Challenge to Pennsylvania's Mail Voting: A judge on Saturday dismissed a suit brought by Trump's campaign that challenged Pennsylvania's vote by mail procedures for November's elections. The ruling by District Judge Nicholas Ranjan rejected claims related to the state's plan to use unmanned ballot drop boxes and bar ballots from being rejected based on perceived signature mismatches. Read more from Erik Larson.
Texas Must Let Counties Offer Multiple Ballot Boxes: A federal judge in Austin, Texas, blocked the state's Republican governor from restricting counties to a single drop-box location for people who don't trust the post office to deliver their mail-in ballots in time to be counted. Texas Gov. Greg Abbott (R) on Oct. 1 limited all counties — regardless of their size or population — to a single drop-off location so poll watchers could more effectively monitor for mail-ballot fraud. Critics called the move a naked attempt at voter suppression because there is scant evidence of voting fraud and mail-ballot drop boxes are already as secure as regular polling locations. Read more from Laurel Brubaker Calkins.
What Else to Know Today
Report Says Trump Businesses Have Flourished: More than 200 companies, lobbying groups and foreign governments have given business to Trump's resorts and hotels, while gaining benefits from him and his administration, an investigation by the New York Times found. During Trump's first two years in office, the Times reported, 60 customers paid Trump's family owned business about $12 million, and almost all had their interests advanced by the president or the government. Read more from Robert Schmidt.
Trump, Pelosi Spar Over Stimulus: Trump's attempt to jolt negotiations on a new economic stimulus plan has left talks at a familiar stalemate with Republicans and well as Democrats balking at his latest offer. Speaker Nancy Pelosi (D-Calif.) and Treasury Secretary Steven Mnuchin are expected to talk more this week. Even if they manage to strike a deal, there's almost no chance of getting legislation written and passed by Congress before the election, in which control of the White House and the Senate is at stake.
Trump's whipsaw changes last week — first calling off talks in a tweet, then saying he wanted a bigger package than even Democrats have proposed — may have hardened Pelosi's resolve to stick with the Democrat's $2.2 trillion proposal. Mnuchin has countered with a $1.8 trillion stimulus plan. Pelosi yesterday called the White House offer a "miserable and deadly failure." Trump accused the House speaker of dragging out the talks in an attempt to "influence the election." Read more from Billy House and Steven T. Dennis.
Trump Pushing to Cut Solar-Tariff Loophole: Trump said in a proclamation that it's necessary to eliminate a loophole his administration granted in 2019 that's helped solar developers avoid tariffs on certain imported panels. In Saturday's proclamation, Trump said it's necessary to revoke the exemption for two-sided "bifacial" panels, contending that the loophole has "impaired and is likely to continue to impair the effectiveness" of tariffs intended to bolster U.S. solar manufacturing. Read more from Brian Eckhouse.
Kim Jong Un Shows Off New ICBM: Kim Jong Un rolled out a new ballistic missile designed to carry nuclear warheads to the U.S., in a massive military parade that appeared calibrated to show strength at home and abroad without provoking Trump. The new intercontinental ballistic missile, which weapons experts said appeared to be the largest road-mobile rocket of its type, provided the grand finale to an extended procession of goose-stepping troops and military hardware. Footage of the rare midnight parade to mark the 75th anniversary of the ruling Workers' Party was aired hours after the event Saturday, confirming weeks of speculation that Kim would use the show to send a campaign-season message to the U.S. Read more from Jeong-Ho Lee and Shinhye Kang.
Milgrom, Wilson Win Nobel in Economics: Paul R. Milgrom and Robert B. Wilson, both of Stanford University, won the 2020 Nobel prize in economics for their work in developing the theory of auctions. "They have used their insights to design new auction formats for goods and services that are difficult to sell in a traditional way, such as radio frequencies," the Royal Swedish Academy of Sciences said in a statement today. Read more from Niclas Rolander and Charles Daly.
To contact the reporter on this story: Zachary Sherwood in Washington at zsherwood@bgov.com
To contact the editors responsible for this story: Giuseppe Macri at gmacri@bgov.com; Loren Duggan at lduggan@bgov.com; Michaela Ross at mross@bgov.com