What to Know in Washington: Barrett Avoids Democrats' Landmines
Senate Democrats enter a second day of questioning Amy Coney Barrett having made few inroads in their fight to keep her off the Supreme Court and elicited few clues about how she would rule on key cases.
With Barrett still on track to be confirmed before Americans choose the next president on Nov. 3, senators have one more chance today to chip away at her calm demeanor and careful answers. In questioning yesterday, Democrats scored only a few points on such issues as abortion, health care and her potential participation in any cases over the fast-approaching election.
When asked whether the court should reconsider Roe v. Wade, Barrett declined to offer a view other than to say that the landmark abortion-rights ruling doesn't qualify as a so-called super-precedent, meaning one that is unthinkable to overturn.
On the fate of the Affordable Care Act, or Obamacare, Barrett downplayed a law review article in which she seemed to take issue with Chief Justice John Roberts's 2012 opinion upholding the health-care law. She said her critique didn't address the key issue that will be before the court when it hears a new challenge to the law a week after Election Day.
And on the possibility of the high court being asked to weigh in on challenges to the presidential election results — as President Donald Trump has predicted — Barrett refused to say whether she would disqualify herself from considering such cases.
Barrett declined to clarify her position on the Chevron deference, the legal precedent that gives agencies wide latitude to interpret ambiguous statutes. She initially declined as well to weigh in on whether a president should commit to a peaceful transfer of power, calling it a "political controversy" involving Trump that she didn't want to be drawn into, before saying that the tradition of respecting the will of voters is "one of the beauties of America." Read more from Greg Stohr and Laura Litvan.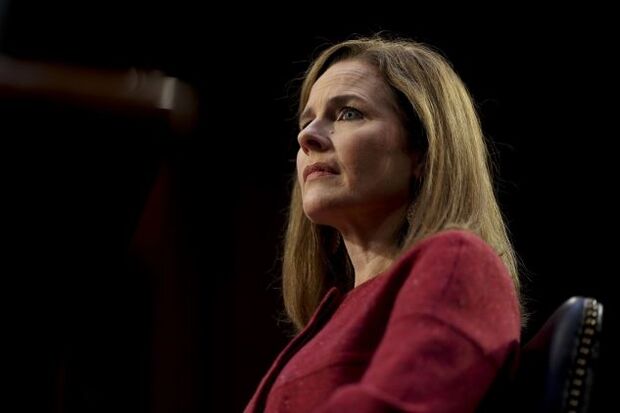 Barrett Apologizes for LGBTQ Language: Barrett apologized for language she used to characterize LGBTQ people at her hearing yesterday. Barrett used the term "sexual preference" when answering a question about her views on marriage equality. LGBTQ groups quickly criticized her choice of words, which implies being LGBTQ is a choice.
Sen. Mazie Hirono (D-Hawaii) asked Barrett later about the choice of words which Hirono described as "an offensive and outdated term." "If it is your view that sexual orientation is merely a preference, as you noted, then the LGBTQ community should be rightly concerned whether you would uphold their constitutional right to marry," Hirono said.
Barrett later said, "I certainly didn't mean, and would never mean, to use a term that would cause any offense in the LGBTQ community. If I did, I greatly apologize for that." Kimberly Strawbridge Robinson has more.
Biden Tiptoes on 'Court Packing': Democratic presidential nominee Joe Biden spent weeks refusing to answer whether he would give in to liberals and agree to expand the number of seats on the Supreme Court, but when he finally responded, he left himself plenty of wiggle room. The answer — "I'm not a fan of court packing" — was open enough to give comfort to independents and Republicans who oppose the idea, without angering progressives he needs to turn out to vote in some of the tighter battleground-state contests.
Biden has argued against increasing the court's size — known as "court packing" — by saying that Republicans would do the same thing the next time they were in power. And "before long it looks like the Senate in 'Star Wars,' you've got hundreds of people on it," as Sen. Mike Lee (R-Utah) said at Barrett's hearing yesterday.
In 2020, however, Biden and his allies have changed the definition of court packing from adding seats to rushing to fill them, accusing Republicans of packing the courts with the speedy Barrett confirmation process, the stalled nomination of Merrick Garland and Senate Majority Leader Mitch McConnell's (R-Ky.) blockade of lower-court nominees during former President Barack Obama's administration that left Trump with a record number of vacancies to fill. Read more from Jennifer Epstein.
Politics & Policy
Stimulus Impasse Triggers Rising Tensions: Speaker Nancy Pelosi (D-Calif.) and McConnell have dug into their opposing stances on pandemic relief, effectively killing off chances for a pre-election stimulus for the economy. With Treasury Secretary Steven Mnuchin headed to the Middle East next week, further negotiations between Democrats and the White House to reach a deal that can pass Congress after the election also may be put off. The inability to bring months of negotiations to conclusion has sparked increasing tensions, with each camp seeing internal strains rise as it becomes clear there won't be a spending bill to take to the public. Read more from Billy House.
Trump's Grip on Senate Republicans Slipping: Trump's once-tight grip on Republican lawmakers is showing signs of slipping as he falls further behind Biden, making the GOP path to keeping control of the Senate increasingly fraught. Republicans continue to line up behind Trump where their core interests coincide, such as solidifying a conservative majority on the Supreme Court. GOP candidates also are eager to tout tax cuts and deregulation under the president, longtime campaign themes that pre-date Trump.
But the president's handling of the coronavirus pandemic and his attempt to force through a stimulus deal with Democrats are exposing fractures at a time when Republicans are facing grim Election Day prospects in three weeks. Direct, public criticism of Trump is still rare. GOP candidates need his fervently loyal base in an election where Democratic voters are motivated. Yet if they don't try to create some distance with the White House they fully tie their fates to Trump. Read more from Steven T. Dennis and Jordan Fabian.
Trump Hits Biden on Fracking: Trump accused Democratic candidate Joe Biden of wanting to cripple natural gas drilling in Pennsylvania during the president's first visit to the battleground state since recovering from Covid-19. Trump said during a campaign rally last night in Johnstown that Biden would abolish hydraulic fracturing, or fracking, something that the Democratic nominee has repeatedly denied. "One of the most important issues for Pennsylvania is the survival of your fracking industry. Joe Biden has repeatedly pledged to abolish fracking," Trump said. "He's a liar, O.K. He's a liar." Jordan Fabian and Mario Parker have more.
Biden's Son Introduced Him to Ukraine Energy Official, Post Says: Biden's son, Hunter, introduced him to a senior official from a Ukrainian energy firm that became the focus of controversy over the dismissal of a prosecutor who was investigating the company, the New York Post reported, citing an email it said came from Hunter Biden. Vadym Pozharskyi, an adviser to the board at Burisma, thanked Hunter Biden in an April 2015 email for inviting him to Washington and "giving an opportunity to meet your father," about a year after then then vice-president's son had joined the company, according to the Post. A May 2014 email also showed Pozharskyi sought advice from Hunter Biden on ways "you could use your influence" on Burisma's behalf, the paper reported. Read more from Nour Al Ali.
Election Night Could be Fast or a Slog: Benjamin Ginsberg, a longtime Republican election lawyer, puts the odds of the 2020 presidential election ending up in an all-out legal brawl that lasts into January at less than 1%. Biden has widened his lead over Trump in national and most battleground state polls in recent weeks. Ginsberg says the history of past U.S. presidential elections means there's a very high chance the winner will be clear on election night or within the following three weeks. But all bets are off if the race tightens, given the fiercely polarized electorate, a record number of mail-in ballots and Trump's hurling of unsubstantiated charges. That could set up a historically contentious — and lengthy — post-election struggle. Read more from Mark Niquette.
What Else to Know Today
Supreme Court Lets Trump Officials End Census Count: The Supreme Court let Trump's administration end the census count more than two weeks early, dealing a blow to civil rights groups that said minorities will be undercounted as a result. The justices, without explanation, blocked a federal trial court ruling that had required the decennial count to continue through the end of October. Justice Sonia Sotomayor dissented. The Census Bureau reported yesterday that as of the day before, 99.9% of housing units have been accounted for so far in the 2020 Census, with 33.1% counted by census takers and other field data collection operations, and 66.8% of housing units responding online, by phone or by mail. Read more from Greg Stohr and Joel Rosenblatt.
Mnuchin to Visit Middle East for First Time Since Pandemic Began: Treasury Secretary Steven Mnuchin plans to travel to the Middle East next week for the first time since the pandemic. Mnuchin is tentatively expected to travel to Israel, Bahrain and the United Arab Emirates, although the plans could still change, people familiar with the plans said, speaking on condition of anonymity as preparations continue. Mnuchin, who has visited the region at this time of year annually since 2017, is set to meet with counterparts. Saleha Mohsin and Josh Wingrove have more.
Trump Calls for Crackdown on Counterfeit Goods: Trump called on the executive branch to do more to curb counterfeit trafficking enabled by e-commerce platforms, which includes seizing such products brought into the country after online transactions. The memorandum detailing the strategy asked the Secretary of Homeland Security in coordination with the Attorney General to develop a legislative proposal that would promote enforcement objectives. The document also recommended that "maximum fines and civil penalties permitted by law" be imposed on e-commerce platforms that are involved in counterfeit trafficking, Max Reyes reports.
Trump Signs Trillion Trees Executive Order: The White House yesterday announced the creation of a 10-year interagency council, led by the Interior and Agriculture secretaries, to promote and expand the federal government's role in planting more trees to help sequester carbon, Kellie Lunney reports. The executive order builds on Trump's announcement in January that the U.S. would join the World Economic Forum's One Trillion Trees Initiative to grow and conserve one trillion trees worldwide by 2030. The federal council is independent from the initiative.
Rep. Bruce Westerman (R-Ark.) earlier this year introduced the Trillion Trees Act (H.R. 5859) that aims to help combat climate through more tree planting and greater use of wood products. The executive order "further enables us to bring Congress and government agencies together in cooperation on this initiative," the Republican said in a statement yesterday. The legislation has the support of GOP leadership, and three Democrats, but is unlikely to go anywhere in a Democratic-controlled House. Westerman, who has a master's degree in forestry from Yale, said his bill is a bipartisan proposal "that we can implement today, not a radical, punitive proposal like the Green New Deal." Westerman said during an interview last month that he was working on a "version 2.0" of his Trillion Trees legislation based on input he received. Sen. Mike Braun (R-Ind.) is expected to introduce a companion bill in the Senate.
Modernizing Water Management, Infrastructure: The White House yesterday also released an executive order to "to improve our country's water resource management, modernize our water infrastructure, and prioritize the availability of clean, safe, and reliable water supplies." The order would create a new Water Policy Committee, also known as the Water Subcabinet, to be co-chaired by the Interior and EPA chiefs.
Race for Virus Cure Hits Reality: The sprint to find medical breakthroughs to contain Covid-19 stumbled this week, as a pair of pharmaceutical giants working to develop treatments and vaccines suffered setbacks. Yesterday, Eli Lilly said that enrollment in a government-sponsored clinical trial of its antibody therapy had been paused out of safety concerns. That came less than 24 hours after Johnson & Johnson said research on its experimental vaccine was paused after a study volunteer fell ill.
The developments are likely to heighten worry that the pursuit of products to prevent and treat infections is moving too quickly. Regulators and drugmakers have faced questions about whether political pressure was overwhelming scientific rigor ahead of the presidential election on Nov. 3. Last week, Trump, trailing in the polls, touted antibody treatments as a cure, and his administration has pushed hard for the rapid approval of the treatments and a vaccine. However, the trial complications are happening in an environment of intense scrutiny, executives and industry observers said, and the highly public nature of the hunt for vaccines and treatments is magnifying events that in other studies would be considered routine. Read more from Riley Griffin and Michelle Fay Cortez.
Russia Rules Out Nuclear Deal Before Election: Russia dashed hopes of a deal on nuclear weapons with Trump before next month's presidential election, dismissing a call by Washington for a freeze on their arsenals as "unacceptable." "If the Americans need to report to their superiors that they allegedly reached agreement with Russia before their elections, they won't get it," Russian Deputy Foreign Minister Sergei Ryabkov said late yesterday in comments to local media that he confirmed today to Bloomberg News. Read more from Ilya Arkhipov and Vladimir Kuznetsov.
'Melania and Me' Author Sued by U.S.: A former adviser to Melania Trump who wrote a tell-all book about the First Lady was sued by the Department of Justice for breaching an agreement not to disclose confidential information. Stephanie Winston Wolkoff, the author of "Melania and Me," violated an agreement she signed in 2017 while working as an aide to Trump's wife, the U.S. government said in a complaint filed yesterday in federal court in Washington. Read more from Edvard Pettersson.
To contact the reporter on this story: Zachary Sherwood in Washington at zsherwood@bgov.com
To contact the editors responsible for this story: Giuseppe Macri at gmacri@bgov.com; Loren Duggan at lduggan@bgov.com; Michaela Ross at mross@bgov.com