What to Know in Washington: Baltimore Shows Supply Chain Success
President Joe Biden will use the Port of Baltimore today for the backdrop of a speech on his plans for the bipartisan infrastructure measure to make progress against supply chain bottlenecks. Ahead of the 2022 midterm elections, Democrats weigh strategies to address the education concerns of voters that played a role in last week's GOP victories in Virginia.
Here's what Bloomberg Government is tracking for Wednesday.
Biden's Schedule:
Biden will meet with European Commission President Ursula von der Leyen at 10 a.m. at the White House.
The president will attend the funeral of former Delaware Gov. Ruth Ann Minner in Milford, Del., at 1 p.m.
At 3:40 p.m., Biden will receive a briefing at the Port of Baltimore, and then speak about his infrastructure plan at 4:10 p.m.
Biden is scheduled to return to the White House at 6 p.m.
Biden to Talk Port Success in Baltimore
A gateway to the Midwest and the top entry point for U.S. auto imports, Baltomore's port is in the midst of a renaissance, including new cranes, improved piers and freshly dredged channels that accommodate large ships. Far from the supply chain backlogs of Asia and experiencing modest volume, it's running smoothly as larger American ports sag under a crush of demand.
President Joe Biden will use the Baltimore port as a backdrop today in his campaign to promote the $550 billion infrastructure legislation Congress cleared last week, $17 billion of which would go to ports. Baltimore's upgrades and investments, he will argue, are the kinds of projects the measure will finance across the country to speed up the flow of goods to and from the U.S. and rejuvenate the fortunes of the terminals that move them.
He'll also seize the opportunity to tout a bipartisan accomplishment in a Democratic-leaning state led by a Republican governor, Larry Hogan.
"I think the infrastructure thing is great. It's going to be great, not just for the Port of Baltimore but for a lot of ports in this country," said Richard Krueger, president of the International Longshoremen's Association Local 953, one of the unions at the port. "We think it might be a little bit overdue, but we're glad it's here."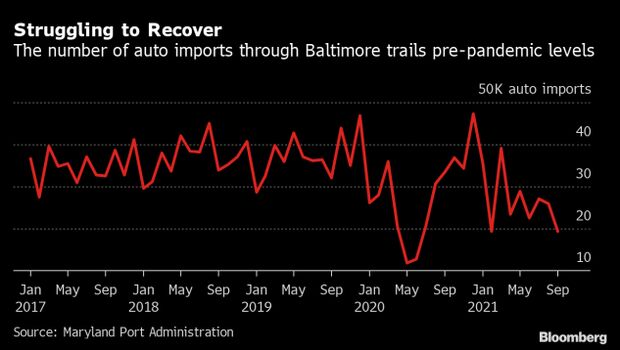 Biden's team is preparing a cross-country push to promote the infrastructure plan even as Democrats continue to haggle over their second flagship bill, a package of social programs and tax policy called Build Back Better. The public works measure wouldn't have cleared the House last week but for Republican votes, after several progressive Democrats voted against it because the Build Back Better debate hasn't been resolved. Read more from Josh Wingrove.
A major IRS enforcement boost will likely be omitted from a forthcoming top-line revenue estimate of Democrats' tax-and-spend package, complicating the question of whether the measure will be fully "paid for" as Biden has pledged. The Biden administration estimates a better funded IRS could bring in $400 billion over a decade through more aggressive audits of corporations and the wealthy. But under budget rules set by Congress and the executive branch, the government's nonpartisan analysts can't officially count money that will be spent as also increasing revenue when estimating the cost. Colin Wilhelm and Michael Bologna have more.
Democrats threw cold water on efforts to advance a nearly $20-per-ton carbon tax being championed by Sen.

Sheldon Whitehouse

(D-R.I.). House Speaker

Nancy Pelosi

(D-Calif.) said she is "completely unaware of any deal on a carbon tax," during a news conference at the COP26 climate summit in Scotland. "It is something that is talked about and may be an option for the future," even though it's not in the current House version of a broad climate-and-spending bill, Pelosi said, Jennifer A. Dlouhy reports.
Meanwhile, governors from nine states are pushing lawmakers to advance separate legislation that would provide $52 billion in aid to semiconductor producers and ease a shortage for manufacturers. The letter, prepared for delivery today to House and Senate leadership, asks for swift approval of the CHIPS Act, intended to expand U.S. semiconductor production. The governors, largely from auto-producing states, made a case that the shortage has taken a brutal toll on the automobile industry, leading to lost production and jobs. David Welch and Daniel Flatley have more.
The Drugs Targeted in Democrats' Big Bill: Democrats are advancing a plan to negotiate the prices of drugs Medicare spends the most on, potentially saving billions of dollars annually. Medicine from Merck, Johnson & Johnson, AstraZeneca, and other major drugmakers could be targeted. Democrats reached a compromise on their drug proposal that would allow the government to negotiate prices of medicines at least nine years out from their initial approval date. That means new drugs, which can make headlines with high sticker prices, wouldn't be affected.
Nearly half of the prescription pharmaceuticals that were the top 10 costliest to Medicare's outpatient drug and pharmacy benefits in 2019 could face negotiation, according to a Bloomberg Government analysis. Medicine administered in a doctor's office is paid for under Part B of Medicare, and drugs obtained through a pharmacy are paid under Part D. "We're coming out of the gate negotiating over the most expensive drugs: we're talking cancer, arthritis, anticoagulants," Senate Finance Committee Chairman Ron Wyden (D-Ore.) said last week. "That's a significant change." Read more from Alex Ruoff, Jasmine Ye Han, and Valerie Bauman.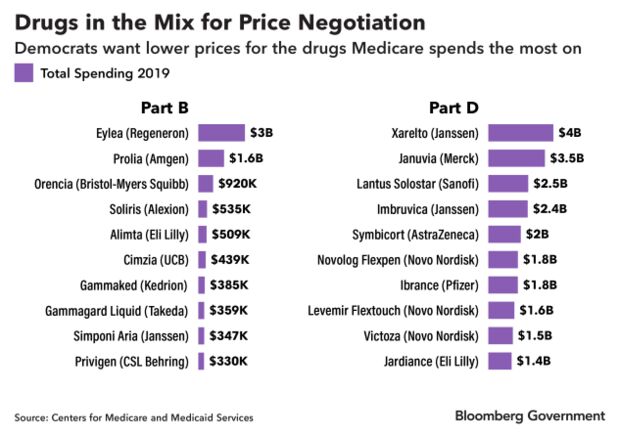 Democrats Seek Education Higher Ground to Fight GOP
House Democrats are preparing to battle an onslaught of education-related attacks from Republicans who plan to shine a spotlight on the issue in the 2022 midterm elections. The Democratic Congressional Campaign Committee began testing education messages in battleground districts before Republican Glenn Youngkin was elected Virginia governor last week with the issue as his campaign centerpiece.
It found in polling that Democrats should appeal to parents through measures in their social spending and tax bill lawmakers are still working to pass, including monthly checks to parents, universal pre-kindergarten, and potentially paid family and medical leave. It also found that voters supported needing to "teach the truth" of American history and honoring Americans who fought to make the country better, and that they identified with messages blaming Republicans for trying to divide Americans.
DCCC Chair Sean Patrick Maloney (D-N.Y.), who's tasked with leading the party's efforts to hold onto its slim majority next year, said in an interview that the committee's plans include aggressively confronting misinformation around issues like critical race theory, which became a major talking point in Virginia in spite of not being taught in K-12 schools. "You won't hear me say these lies and distortions the Republicans are telling don't do damage," Maloney said. "They do if we don't respond." Read more from Emily Wilkins.
Biden yesterday pressed Democratic activists to "stay unified" ahead of next year's midterm elections, amid concerns over his flagging poll numbers and the party's electoral prospects following an upset loss in the Virginia gubernatorial race. "As you look at 2022, we need to stay unified," Biden said yesterday evening in a video conference organized by the Democratic National Committee in which he praised last week's passage of his bipartisan infrastructure bill. Read more from Justin Sink.
Republicans say their road map to a Senate victory in Pennsylvania next year will combine the divergent geographic routes taken in 2016 by Donald Trump and Sen.

Pat Toomey

(R-Pa.). GOP campaigns are using them as a guide to how to win statewide again after Biden carried the state by just more than a percentage point. The question is whether someone capable of emerging with the nomination can then muster a coalition that combines Trump's turnout in the state's exurbs and rural areas while bringing back suburban voters. Read more from Andrew Small.
Ten Trump Officials Summoned by Riot Panel: The House panel probing the Jan. 6 riot at the U.S. Capitol has subpoenaed 10 additional Trump administration officials, including former senior presidential adviser Stephen Miller and former vice presidential National Security Adviser Keith Kellogg. All 10 of the subpoenas called for recipients to produce documents by Nov. 23 and to appear for depositions beginning Nov. 29. Read more from Laura Litvan and Billy House.
Trump, meanwhile, failed to block the release of documents sought by the same House panel. U.S. District Judge Tanya Chutkan in Washington denied Trump's request for an injunction yesterday saying "public interest lies in permitting — not enjoining — the combined will of the legislative and executive branches to study the events that led to and occurred on Jan. 6." Trump—who immediately filed notice that he'll appeal the ruling—had asked the court in October to stop the National Archives from releasing the documents to Congress, invoking executive privilege. Read more from Joe Schneider.
Around the Administration
High-profile cyberattacks on critical businesses like Colonial Pipeline have lawmakers pushing for mandatory cyber incident reports that would boost the regulatory power of a three-year-old cyber office, a role the agency is reluctant to inherit. The recent surge in cyber and ransomware attacks on critical infrastructure operators ranging from software providers to meat-processing plants has spurred Congress and the Biden administration to increase the cyber protections of certain privately-owned industry sectors essential to the country's security, health, and safety.
On Capitol Hill, House and Senate bills advancing through Congress would require critical industries—such as energy companies and hospitals—to report cyber incidents to the Cybersecurity and Infrastructure Security Agency, which was created in 2018. While the legislation has the backing of CISA Director Jen Easterly, she stressed that she doesn't want it to reshape the agency's identity. "At the end of the day, I don't want CISA to be a regulator," Easterly said. Read more from Rebecca Kern.
Biden has pledged to step up U.S. engagement in Asia after years of ceding influence to China, donating tens of millions of Covid vaccines and shoring up military commitments. But when it comes to the Pacific region's economy, he's stuck in neutral. As Asia-Pacific leaders meet for an annual economic summit this week, the administration is still struggling to articulate its economic vision for the region nearly five years after Trump withdrew from an 11-nation Pacific trade deal. And though Biden announced last week the U.S. was exploring a new Indo-Pacific framework, he gave few details. Philip J. Heijmans has more.
A group of American lawmakers visited Taiwan, arriving on a U.S. military plane, in a move likely to further inflame tensions between Washington and Beijing over the status of the self-governing island. Read more from Peter Martin.
A lack of top-tier intelligence on Chinese President Xi Jinping's inner circle is frustrating senior Biden administration officials struggling to get ahead of Beijing's next steps, according to current and former officials who have reviewed the most sensitive U.S. intelligence reports. Peter Martin, Jennifer Jacobs and Nick Wadhams have more.
China is three to six months away from launching its third aircraft carrier, a report says, a move that would mark significant progress in Xi's drive to modernize his nation's navy. Read more.
Countries will be asked to strengthen their national climate blueprints by the end of next year to bring them in line with the goals of the Paris Agreement, according to an early draft document emerging from COP26 negotiations. Ewa Krukowska has more.
NASA won't land astronauts back on the moon before 2025 and says it'll need more funds each year starting in 2023 to keep its Artemis lunar program on schedule. Read more from Justin Bachman.
To contact the reporters on this story: Zachary Sherwood in Washington at zsherwood@bgov.com; Brandon Lee in Washington at blee@bgov.com
To contact the editors responsible for this story: Giuseppe Macri at gmacri@bgov.com; Michaela Ross at mross@bgov.com