What to Know in Washington: Balloon Saga Clouds Senate, SOTU
Bloomberg Government subscribers get the stories like this first. Act now and gain unlimited access to everything you need to know. Learn more.
The US sent divers to salvage what they believe is spy equipment from the Chinese balloon shot down off South Carolina, as pressure mounted on President Joe Biden to hit back at Beijing with new export controls on sensitive technology.
US lawmakers are already demanding to know if the balloon's payload contains technology from the US or its allies, one person familiar with the situation said, asking not to be identified because the administration doesn't want to reveal exactly what it suspects the balloon was carrying.
While the balloon may be out of the sky, the bizarre saga that surrounded it is far from over. Biden will almost certainly make reference to the episode in his State of the Union speech Tuesday, another person familiar with the matter said. While China says the device was a climate-research "airship" that strayed off course, the US argues it was part of a broader spying program by Beijing. With that in mind, Biden administration was calibrating how severely and swiftly to retaliate, people familiar with the matter said.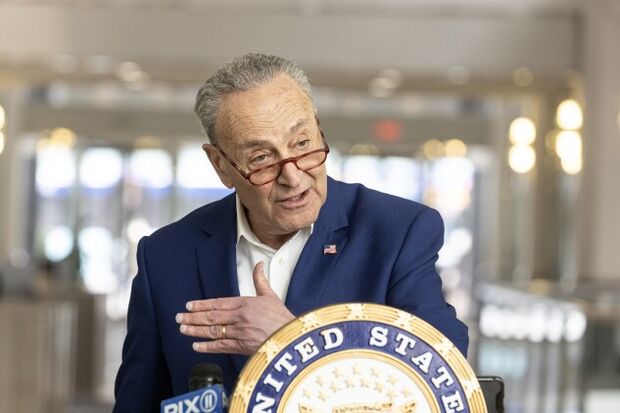 And even if it doesn't spur specific new measures, the embarrassingly public act of alleged espionage has made it more difficult for the US and China to stabilize diplomatic ties over thorny issues such as Taiwan, particularly with the Biden administration facing growing pressure from critics and a Republican-controlled House of Representatives claiming the White House should've shot down the balloon sooner.
US Readiness Against China to Feature in Feb. 15 Senate Briefing
Senate Majority Leader Chuck Schumer (D-N.Y.) said senators will get a full classified briefing on Feb. 15, which will give the administration time to collect and sort through the evidence to back up its claim. "The bottom line here is that shooting down the balloon over water wasn't just the safest option, but it was the one that maximized our intel gain," Schumer said in a statement. Read more from Daniel Flatley, Jenny Leonard and Iain Marlow.
Biden said he wanted to destroy an alleged Chinese spy balloon as soon as he learned about it, but the week-long delay before it was finally shot down may actually work in his favor. His administration says it will get important new data on Chinese capabilities by studying the balloon, and showed off the military's own prowess with the shootdown and expected recovery of the object's payload. More broadly, Biden may have gained a bit more diplomatic leverage in the ever-shifting geopolitical tussle with China. Read more
Beijing's abrupt shift from expressing regret to threatening retaliation over the US's spy-balloon claims reflects the domestic imperative for

Xi Jinping

to show he's standing up for China against external pressure, further narrowing the window to reset ties before the US election season gets into full swing. Read more
Separately, China's standing in the Asia-Pacific has been damaged by its decision to stick with Covid Zero for most of 2022, leaving the US to cement its position as the most influential power in the region, according to an Australian research group. Read more
Venezuela condemned what it called an "attack by the United States against an unmanned civilian aircraft of Chinese origin," taking a clear side in the growing international dispute after a similar balloon was reported over Latin America. Read more
Chinese surveillance balloons flew over the continental United States at least three times during the Trump years, according to a senior administration official, but key details about the incursions weren't widely known until after Biden took office. Read more
Last week's balloon is the latest in a history of provocations and near misses between the US and China. Read more
Happening on the Hill
CONGRESS' SCHEDULE
The House meets at noon to consider three bills under suspension of the rules.
The Senate returns tomorrow.
House Republican committee and caucus chairs are pushing to create panels to study extending Social Security and Medicare solvency as part of any debt limit deal, even as Speaker Kevin McCarthy says the entitlement programs are off the table.
House Republicans have offered two bills to create panels to consider future legislation to shore up the solvency of entitlement programs — the Trust Act and the Bipartisan Social Security Commission Act — as possible parts of a debt-limit deal. While McCarthy (R-Calif.) has broadly said cuts to Social Security or Medicare are off the table in debt-limit talks, and downplayed the value of fiscal commissions, those members say their plans haven't been ruled out.
The discussion about creating commissions indicates some policy proposals floated by Republicans on entitlements — such as increasing the eligibility age or adding means-testing measures — are a possibility, even as GOP leaders say they're not negotiating policy changes directly as part of a debt-limit vote.
"I wouldn't think it'd be off the table," Rep. Kevin Hern (Okla.), chairman of the Republican Study Committee, said last week of the Trust Act. "I would hope it wouldn't be." Read more from Jack Fitzpatrick and Chris Cioffi.
A White House economic adviser said negotiations over raising the US debt ceiling are an "absolute nonstarter" for Biden, though he's ready to discuss spending with congressional Republicans.
Elections, Politics & Probes
The network established by conservative billionaires Charles Koch and his late brother David Koch is signaling it won't support Donald Trump in the 2024 GOP presidential primaries, saying it plans to back a candidate "who can lead our country forward, and who can win."
A defamation lawsuit by Trump's 2020 campaign against the Washington Post was dismissed by a federal judge. Read more
Trump is getting ready to write a check to a Florida court for more than $1 million to appeal a judge's order for filing a "frivolous" conspiracy suit against Hillary Clinton and others — but he's hoping to get the money back. Read more
Trump's 2016 campaign agreed to pay $450,000 to settle a years-long legal fight over non-disclosure agreements that it required workers and volunteers sign, new court documents show. Read more
Democrats are unfazed, even giddy about a possible 2024 rematch between Biden and Trump. But the prospect of facing upstart Florida Republican Governor Ron DeSantis is prompting whispers of angst within Democratic circles.
Add Broadway producer to the long list of Rep. George Santos's (R-N.Y.) fabrications.
Former Rep. Ron Kind (D-Wis.) has joined Arnold & Porter as a senior policy adviser in the legislative and public policy practice in Washington, D.C., the firm said Monday.
Former Brazilian President Jair Bolsonaro is again marshaling supporters in Florida, saying he's puzzled that he lost last fall's election and giving no indication that he intends to leave the US.
Around the Administration
BIDEN'S AGENDA
The president arrives at the White House at noon. At 2:15 p.m., White House Press Secretary Karine Jean-Pierre and National Economic Council Director Brian Deese will give a briefing.
Biden and his Cabinet plan to criss-cross the country after his State of the Union address to tout his economic agenda as the president gears up to announce his reelection bid.
Biden seized on Friday's report as unabashedly good news for his economic agenda ahead of an expected reeelection bid, hailing data showing the US economy added 517,000 new jobs in January.
Biden's clean technology law has dragged the European Union into a subsidy fight that may trigger a transatlantic trade war, just as the allies are joining forces against Russia's invasion of Ukraine.
An aggressive top-down push to improve federal offices' cybersecurity will alter workflows for contractors, and the private sector is joined by some voices within the government in objecting to additional regulatory requirements.
Twin Earthquakes Kill More Than 1,000 in Turkey and Syria
Some of the most powerful Middle East earthquakes in decades killed more than 1,000 people in Turkey and Syria on Monday and forced a halt in crude oil flows to a regional export terminal.
To contact the reporter on this story: Michaela Ross in Washington at mross@bgov.com
Stay informed with more news like this – from the largest team of reporters on Capitol Hill – subscribe to Bloomberg Government today. Learn more.