What to Know in Washington: Audit-the-Rich Target is Tall Order
President Joe Biden's plan to raise $700 billion over a decade from increased tax audits of the wealthy and corporations — a major funding source for his economic-investment proposals — will probably take years to bear fruit and faces skepticism that the figure is realistic.
The Biden administration has proposed a more than 10% funding increase for the Internal Revenue Service for the next fiscal year and an overall investment of $80 billion over the next 10 years to beef up the agency's depleted auditing staff and outdated technology. Biden's American Families Plan, released last week, highlighted the audit take as a principal way to pay for $1.8 trillion in initiatives including child care and education.
But some former IRS officials said it will take several years to produce significant results, especially after accounting for the time it takes to hire and train new employees and to complete audits of highly complex returns. Moreover, such audits are prone to appeals and litigation that could tie up any payments for additional years, and past efforts to recoup unpaid taxes have returned a tiny fraction of what Biden envisions.
"It will take some considerable period of time, even if IRS gets that funding, to actually show material results or returns on that investment," said former IRS Chief Counsel Michael Desmond.
A person familiar with the administration's plans said the $700 billion projection does reflect that the IRS will need several years to ramp up and that the highest revenue-raising years will be toward the end of the 10-year timeframe. The administration predicts some of the biggest gains will come in the following decade, raising as much as $1.7 trillion to $1.8 trillion during that period, the person said. Read more from Allyson Versprille.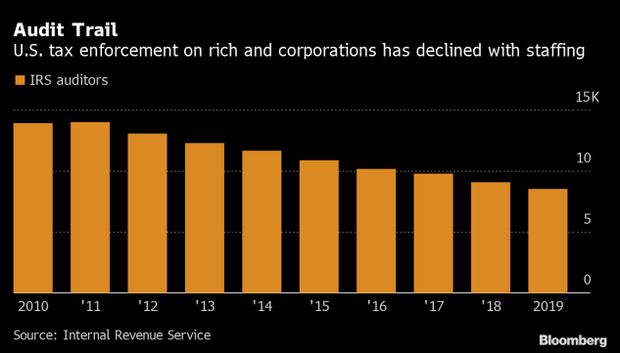 More on Biden's Economic Plans
Today's Agenda: Biden travels to the Calcasieu River Bridge in Lake Charles, La., to continue selling his economic and infrastructure package. Biden will deliver remarks at 1:25 p.m. on his American Jobs Plan. In New Orleans, the president will tour the Carrollton Water Plant at 4:20 p.m.
White House Backs Businesses Raising Wages: The U.S. economic reopening has caused some "bumps" as companies scramble to fill open positions, but it's a good thing if they are forced to raise wages, a senior White House aide said. "When we are hearing stories of businesses having to raise wages in order to attract workers back, that's a good thing — that is a positive development, especially for lower income folks in this country," Bharat Ramamurti, deputy director of the National Economic Council, said on Bloomberg TV yesterday. "We've seen far too many years of stagnant wages." Read more from Romaine Bostick, Caroline Hyde and Joe Weisenthal.
Cable Firms Fear Missing Out on Broadband: The Biden administration's multitrillion-dollar infrastructure proposal includes $100 billion to bring high-speed broadband to every American, an idea that might be expected to win applause from those who provide the service. But cable companies such as Comcast and Charter Communications that connect about two-thirds of U.S. homes that have broadband service fear the plan's specific call for "future-proof" technology could leave them facing subsidized competitors. Read more from Todd Shields.
Women Shaping Infrastructure Plans: Biden and men on powerful House and Senate committees are laying out their visions of an ambitious infrastructure strategy they want to get enacted this year. But for the first time in history, staffs of both the House Transportation and Infrastructure Committee and the Senate Environment and Public Works Committee are led by women, and the subcommittees overseeing transportation programs also have female staff directors. Lillianna Byington and Nancy Ognanovich highlight these notable women.
Happening on the Hill
High-Speed Rail Chiefs Seek Tech Support: Rail executives plan to urge Congress to use infrastructure legislation to support transportation innovations such as magnetic levitation trains and tubes that transport passengers in capsules. Chief executives from companies including Northeast Maglev, Hyperloop Transportation Technologies, and Brightline Holdings will ask lawmakers at a House hearing today to dedicate federal money to helping advance these technologies. They're also seeking a regulatory framework that can allow projects to advance. Read more from Lillianna Byington.
Yellen Faces U.S. Debt-Ceiling Dance: Treasury Secretary Janet Yellen faces the challenge of speeding a debt-ceiling increase through Congress without shaking investor confidence, a potentially difficult task even with Democrats controlling both chambers and the White House. The current suspension of the U.S. borrowing limit expires on Aug. 1, and the Treasury Department yesterday cautioned that if Congress fails to act, the administration would have to shift federal funding to make good on debt payments. Officials are looking at scenarios where those accounting measures "could be exhausted much more quickly" than previously, the department said. Read more from Saleha Mohsin.
Privacy Law Talks Move Forward: House Energy and Commerce Committee leaders are resuming bipartisan negotiations on federal privacy legislation, after talks largely ground to a halt over the past year. Rep. Jan Schakowsky (D-Ill.), chair of the committee's Subcommittee on Consumer Protection and Commerce, is working with ranking Republican Gus Bilirakis (Fla.) on a series of bipartisan roundtable talks on sticking points in privacy negotiations. Read more from Rebecca Kern.
TSA Ramping Up Hiring, Tech Aid: The Transportation Security Administration, anticipating travel to pick up in months ahead, will have hired by July more than 4,000 personnel at U.S. airports and is installing new technology systems, its top official said. "We do expect volumes, typically, continue to increase even as we get out of the summer and closer into the holidays," acting administrator Darby LaJoye said at a House Appropriations Homeland Security hearing yesterday. Read more from Shaun Courtney.
Politics & Influence
PAC Giving to GOP Drops: Political action committee contributions to congressional lawmakers fell sharply in the first three months of the year, with Republicans taking the brunt of the plunge as a result of the fallout from the 2020 election and the Jan. 6 Capitol riot. PAC contributions to incumbents decreased by about 40% to $26.9 million in the first quarter of 2021, compared to $43.4 million in the same period in the previous election cycle, according to the latest round of candidate disclosure reports filed with the Federal Election Commission and analyzed by Bloomberg Government. Read more from Kenneth P. Doyle.
Aides And Climate Activists Form Lobbying Firm: Pioneer Public Affairs formally launched today with a focus on progressive, climate, and clean energy clients. The firm was founded by Joe Britton, executive director of the Zero Emission Transportation Association and a former chief of staff to Sen. Martin Heinrich (D-N.M.). He's been quietly building up the new venture over the past year and began signing clients in recent months. One of the most recent hires on the team of seven was Charlie Ellsworth, a former budget staffer for Senate Majority Leader Chuck Schumer (D-N.Y.) with extensive experience in the reconciliation process, which allows the Senate to pass certain budget-related legislation with a simple majority. Read more from Megan R. Wilson.
Around the Administration
Biden's Vaccine Path Gets Tougher: Biden is running out of Americans willing to roll up their sleeves for Covid-19 shots, dragging out his bid to vanquish the pandemic and forcing the administration to refocus its vaccination strategy. Biden and his aides detailed the latest phase of his pandemic response this week as domestic demand for vaccinations dries up and inoculations slide. The U.S. is now giving an average of 2.13 million shots a day, down from 3.37 million about three weeks ago. In response, Biden is altering his strategy. Read more from Josh Wingrove.
Share of Schools Open In-Person Rises: Over half of schools serving fourth grade and about half of schools serving eighth grade students reopened for full-time teaching in classrooms by March, a survey by the research arm of the Education Department. Nearly 90% of K-8 schools surveyed had reopened for full-time or hybrid in-person and online classes, the survey found. Education Secretary Miguel Cardona said the survey shows U.S. schools have met Biden's goal of reopening the majority of K-8 campuses within 100 days, Andrew Kreighbaum reports.
U.S. Seeks to Put Off Judge's Blocking of Eviction Moratorium: A U.S. judge's decision blocking a nationwide moratorium on evictions should be put off while it's appealed because the ruling threatens to worsen the spread of Covid-19, the U.S. government said. The Department of Health and Human Services sought an emergency pause late yesterday on the ruling by a federal judge in Washington. Read more from Joe Schneider.
Blinken Reaffirms U.S. Commitment to Ukraine: Secretary of State Antony Blinken sought to assure Ukrainian officials of the Biden administration's support for the country's territorial integrity and efforts to foster a stronger democracy during a visit to Kyiv today. "I'm here really for a very simple reason, which is to on behalf of President Biden reaffirm strongly our commitment to the partnership between our countries," Blinken said at the start of a meeting with Ukrainian Foreign Minister Dmytro Kuleba. "It was important as early as possible to say so in person." Read more from Nick Wadhams.
Garland's Police Reform Commitment Tested: Attorney General Merrick Garland's decision to launch Justice Department investigations into the police departments in Louisville, Ky., and Minneapolis should just be the first step, civil rights advocates say, in what will be a sweeping and extended look into policing practices across the country. Garland's decision has brought new pressure on the DOJ, with activists calling on the agency to quickly expand its investigations to other cities where residents have complained of police practices. Read more from Ayanna Alexander.
To contact the reporters on this story: Zachary Sherwood in Washington at zsherwood@bgov.com; Brandon Lee in Washington at blee@bgov.com
To contact the editors responsible for this story: Giuseppe Macri at gmacri@bgov.com; Loren Duggan at lduggan@bgov.com; Michaela Ross at mross@bgov.com