What to Know in Washington: Attack Shakes Biden's Afghan Plans
Joe Biden's bid to complete an already messy U.S. withdrawal from Afghanistan was rocked after a pair of bombings in Kabul killed dozens of people and marked the most trying day yet of his presidency.
The sheer scale of the tragedy—which saw at least 13 U.S. service members and at least 60 Afghans killed—renewed criticism from lawmakers and allies over the precipitous American withdrawal and the failure to forecast the Afghan government's rapid fall at the hands of the Taliban.
The attacks also undercut the president's repeated arguments since taking office that he would offer a steady hand on foreign policy. And the scenes of chaos unleashed by a pair of suicide bombers drowned out efforts to cast the evacuation of more than 100,000 people from Afghanistan as a humanitarian success story.
In a somber address to the nation last night, Biden said he took responsibility for "all that's happened of late" in Afghanistan but stood firm on his plans to withdraw American forces by Aug. 31. Blaming an offshoot of Islamic State for the deadly attacks, he also said he would go after those responsible. "To those who carried out this attack, as well as anyone who wishes America harm, know this—we will not forgive, we will not forget, we will hunt you down and make you pay," Biden said.
The atrocity in Kabul—which saw at least 18 other American service members wounded and scores more Afghans seeking to flee their nation killed—quickly overshadowed U.S. progress in getting people out. Since Aug. 14 , about 5,000 Americans and tens of thousands of Afghan allies have been evacuated. Read more from Justin Sink.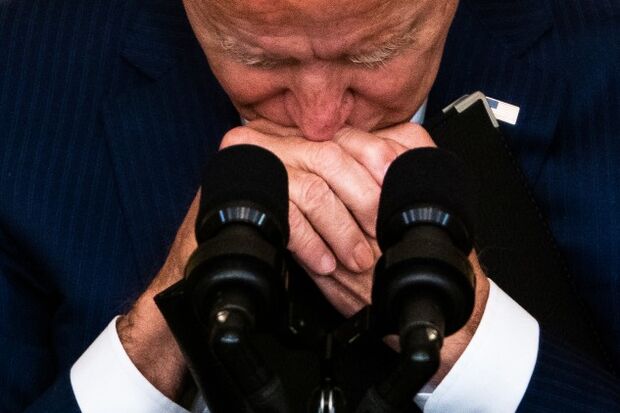 More Coverage:
Happening on the Hill
Key Fall Dates Ahead as Congress Returns—OnPoint: The House and Senate return to Washington next month with a daunting to-do list, including averting a possible shutdown when the fiscal year ends and raising or suspending the national debt ceiling before it's breached, potentially as soon as October. The Senate resumes Sept. 13. House committees will hold markups and hearings over the next several weeks before members return for floor votes on Sept. 20. BGOV highlights Congress' key dates in this OnPoint.
Tax Clash Tests Democratic Unity: Moderate and progressive Democrats are on a collision course over how to pay for Biden's economic agenda, a disagreement that has the potential to stall the legislation or sink it entirely. Biden has proposed an ambitious set of tax increases on wealthy households and corporations to pay for trillions of dollars in new spending. Congressional Democrats have set in motion a $3.5 trillion legislative vehicle to vastly expand the government's role in health care, climate change, child care and education. Taxes are emerging as a particularly contentious issue as lawmakers keep an eye on next year's midterm elections, when Democrats' razor-thin majorities are at risk. Read more from Laura Davison and Jarrell Dillard.
Around the Administration
Today's Agenda: Biden at 8:30 a.m. is scheduled to meet with his national security team about Afghanistan. At 10:30 a.m. he will meet with Israeli Prime Minister Naftali Bennett, after the meeting was delayed yesterday. The White House Covid-19 Response team is slated to give a briefing at 11 a.m. and Press Secretary Jen Psaki will brief reporters at 1 p.m.
Supreme Court Lifts Biden's Eviction Pause: A divided U.S. Supreme Court lifted the Biden administration's moratorium on evictions, ending protections for millions of people who have fallen behind on rent payments during the Covid-19 pandemic. Siding with landlords who said they were being subjected to unwarranted hardships, the court said the moratorium exceeded the authority of the Centers for Disease Control and Prevention. The court had left intact a previous CDC moratorium in June, but Justice Brett Kavanaugh said at the time that congressional authorization would be required for any further extension.
Rep. Maxine Waters (D-Calif.), who leads the House Financial Services Committee, said she would "immediately set to work on a legislative solution to address issues with the slow implementation of the emergency rental assistance program." "My new proposal would ensure that both renters and landlords can independently apply for emergency rental assistance so that landlords get paid their back rent, and that the program works with less bureaucracy and red tape," Waters said in a statement issued after the ruling. Read more from Greg Stohr.
Biden Advisers Weigh Powell, Brainard Duo: Biden's advisers are considering recommending Jerome Powell for a second term as Federal Reserve chair paired with Lael Brainard as the central bank's chief regulator, people familiar with the matter said, a plan that could assuage progressives resistant to a second term for former President Donald Trump's Fed chief. Biden has not yet weighed in on Fed personnel decisions and his decision is not expected until fall, the people said. Brainard is also a contender for the Fed chair position, but her elevation to vice chair for supervision, replacing Randal Quarles, could soothe progressive Democrats who have raised concerns about Powell's record on regulation. Read more from Saleha Mohsin and Jennifer Jacobs.
Trump Labor Pick Emanuel Probed by DOJ: National Labor Relations Board member William Emanuel, who was appointed by Trump, recently was interviewed by the Justice Department over allegations from the NLRB inspector general that he participated in five labor cases involving a company or companies in which he owned stock, sources briefed on the matter said. But Attorney General Merrick Garland declined to prosecute Emanuel. Ben Penn and Ian Kullgren have more.
Latest Covid Surge Is Slowing Job Applications, Fed Survey Shows: The recent spike in Covid-19 cases may be deterring U.S. job-seekers, according to a new study by the Federal Reserve Bank of Kansas City. In its August Manufacturing Survey, published yesterday, the Kansas City Fed asked firms how the latest resurgence of the virus is affecting employment. Almost 60% of respondents said there's been a drop in the number of applicants per job since May, while only 14% reported an increase. More than one-third of manufacturers said the rate of workers quitting has increased in the past few months. Read more from Alex Tanzi.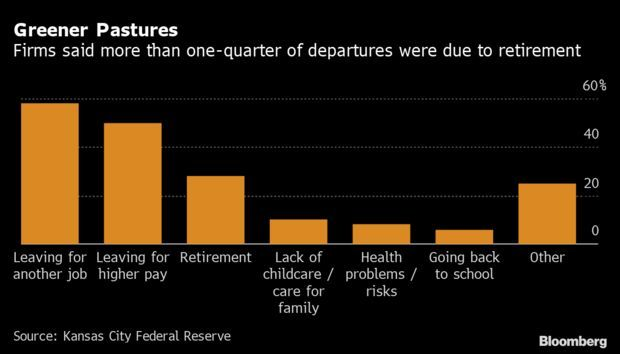 U.S. Pledges More Haiti Aid After Earthquake: The U.S. will provide an additional $32 million in aid to Haiti as the Caribbean nation scrambles to recover from a devastating Aug. 14 earthquake that killed at least 2,207 and left over 100,000 homeless in the middle of hurricane season. Samantha Power, the head of the U.S. Agency for International Development, said yesterday that the funds would be spent on shelter, health care, food, water "and other urgent life-saving priorities." Jim Wyss has more.
Politics and Influence:
Texas GOP Elections Bill Said to Clear Early Passage: The Texas elections bill that includes bans on 24-hour voting and drive-thru polls cleared early passage a week after some Democrats returned to the state from Washington, ending their holdout, the AP reported. Read more from Max Zimmerman.
Maricopa Risks Funding Over Election Audit Subpoena: Maricopa County officials must turn over materials subpoenaed by the Arizona Senate for a GOP-led audit of the 2020 election or lose state funding, Arizona Attorney General Mark Brnovich said yesterday. The ultimatum comes after Arizona state Sen. Sonny Borrelli (R) requested that Brnovich (R) investigate whether the Maricopa County Board of Supervisors broke state law by refusing to comply with a subpoena to provide routers used during the election and other materials. The county is violating state law and has until Sept. 27 to resolve it, Brnovich said in a report. Read more from Brenna Goth.
Virginia GOP Sues to Keep McAuliffe Off Ballot: The Republican Party of Virginia asked a judge to vacate former Democratic Governor Terry McAuliffe's June primary victory in the race for his old job, alleging a crucial election document was missing his signature. The Republicans claim in a lawsuit filed yesterday against Virginia's top election officials that McAuliffe's formal declaration of candidacy was also "infected with misrepresentations" because two witnesses who signed it allegedly falsely claimed to have witnessed McAuliffe sign it too. Read more from Erik Larson.
To contact the reporters on this story: Michaela Ross in Washington at mross@bgov.com; Brandon Lee in Washington at blee@bgov.com
To contact the editors responsible for this story: Zachary Sherwood at zsherwood@bgov.com; Loren Duggan at lduggan@bgov.com