What to Know in Washington: Assessing Biden's Likely Tax Wins
Democrats will likely prove successful in raising individual income tax rates and in strengthening audits of wealthy Americans as they work on overhauling the U.S. tax code in coming months.
That's a key takeaway from a survey of 15 current and former White House and congressional aides specializing in tax policy completed by Bloomberg this month. A tax on unrealized capital gains, as envisioned by Senate Finance Chair Ron Wyden (D-Ore.), was deemed impossible to get through Congress, the survey showed.
President Joe Biden is planning what would amount to the biggest set of tax increases since 1993 to help pay for infrastructure, clean- energy and social initiatives as part of his longer-term follow-up to the $1.9 trillion pandemic-relief package. With Republicans voicing opposition, Democrats must secure their moderate members' support in the 50-50 Senate, making the tax program politically challenging to pull together.
"There is fairly strong consensus to tax the rich and corporations more — but a fairly strong consensus means you need to get all 50," said Steven Rosenthal, a senior fellow at the Urban-Brookings Tax Policy Center and former counsel with the Joint Committee on Taxation. "Tax increases are hard, even good tax increases. Raising taxes harms some people."
A corporate-tax hike, set to be a key component of the Biden plan, was seen as slightly more difficult to enact than boosting individual rates, with expanded levies on estates ranking just behind. The most likely tax change of all, according to the experts, is an expansion of credits for families, something that would add to the program's total costs. Read more from Laura Davison.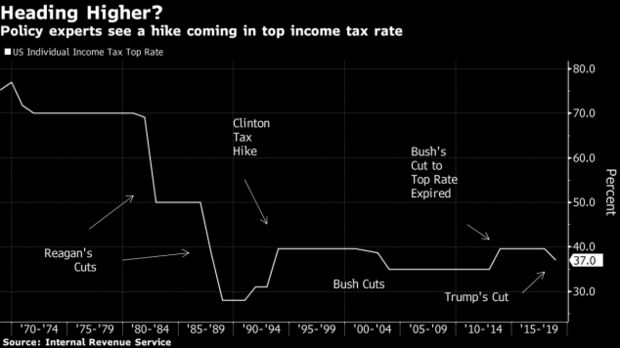 Happening on the Hill
Click here for a complete list of today's hearings and markups.
Pelosi May Revive Drug Pricing in Infrastructure Package: House Speaker Nancy Pelosi (D-Calif.) said yesterday that Democrats are discussing adding a provision to upcoming infrastructure legislation that would let the federal government negotiate drug prices, a move that would take a big bite out of pharmaceutical companies, but help pay for expanded health programs. It would allow the government to use its buying power to bargain with drugmakers in order to lower costs for the Medicare program. Pelosi cited estimates from the Congressional Budget Office for a previous bill put forward by Democrats but never passed by Congress that negotiating drug prices would save the federal government $456 billion over a decade. Read more from Steven T. Dennis and Alex Ruoff.
Democrats Step Back on Vow to Bar Biden Nominees: Two Democratic senators backed off a threat to vote against all of Biden's nominees who are White and heterosexual after they received assurances that his administration would bolster its efforts to select Asian-American or Pacific Islander candidates. Sen. Tammy Duckworth (Ill.) was joined in the initial pledge by Sen. Mazie Hirono (Hawaii). The loss of their votes could jeopardize the confirmation of Biden nominees in an evenly divided Senate.
But Duckworth's office said in a statement released late last night that she "appreciates the Biden administration's assurances that it will do much more to elevate AAPI voices and perspectives at the highest levels of government, including appointing an AAPI senior White House official to represent the community, secure the confirmation of AAPI appointments and advance policy proposals that are relevant and important to the community. " Read more from Laura Litvan.
Equal Pay Lawsuits Persist Amid Policy Push: Equal pay litigation will likely rise with momentum growing around the country to adopt stricter laws and increase government enforcement to shrink persistent pay gaps for women and people of color, attorneys and academics said. Federal and state lawmakers already have filed proposals that would promote pay transparency, remove barriers to bring pay bias lawsuits, and bolster paid leave policies. The House Oversight and Reform Committee will meet today, which marks this year's Equal Pay Day, to spotlight wage inequities. Read more from Erin Mulvaney and Paige Smith.
McCollum Seeks to Curtail Use of Pentagon War Account: The practice of boosting funding within overseas contingency operations accounts must be curtailed, said Rep. Betty McCollum (D-Minn.), the chair of the Appropriations Defense subcommittee. Democrats and Republicans have criticized the OCO account as a "slush fund" that includes funds that should be spent as part of the regular Pentagon budget—and not as emergency war spending meant to deal with unpredictable scenarios and expenses. Read more from Roxana Tiron.
Vilsack Pressed on 'Deteriorating' Mexico Trade Ties: House Republicans from farm states called on the White House to stand fast on enforcing trade agreements with Mexico. Nearly 30 food and agriculture associations including the American Farm Bureau Federation and North American Meat Institute said they see a "quickly deteriorating trade relationship" with Mexico in a letter to Secretary of Agriculture Tom Vilsack and U.S. Trade Representative Katherine Tai. Read more from Megan U. Boyanton.
Trump Bias Rule Gets Rare Challenge From Hill Democrats: The chairs of the Senate and House labor committees moved to repeal a rule governing how employers can resolve bias claims in the workplace, in what looks to be Democrats' first attempt since regaining control of the Senate to undo a regulation levied towards the end of the Trump administration. Sen. Patty Murray (D-Wash.) and Rep. Bobby Scott (D-Va.) filed resolutions to disapprove the Equal Employment Opportunity Commission's "conciliation rule" through the Congressional Review Act. Read more from Paige Smith and Courtney Rozen.
Probe of Slim GOP Victory in Iowa Strikes Nerves: Republicans are asking Pelosi to stop efforts by a committee to investigate a state-certified election in Iowa that the Democratic candidate lost by six votes, an effort that has even made some Democrats uneasy after the furor over the 2020 presidential election. The House Administration Committee is currently reviewing Democrat Rita Hart's challenge of a six-vote victory in Iowa's 2nd Congressional District by Rep. Mariannette Miller-Meeks, the state-certified GOP winner of that race. Read more from Billy House.
Migrant Surge Said Worsened by Trump
The Trump Homeland Security Department drew criticism from an agency watchdog for scrapping plans to manage a surge of migrants at the U.S.-Mexico border—decisions that are now reverberating through Biden's response to a new surge. The DHS under Trump ignored an agency plan for responding to a surge, leading to an overwhelmed system and detainees held in facilities longer than the 72-hour limit, the Homeland Security inspector general claims. Read more from Shaun Courtney.
Separately, Mexican Foreign Minister Marcelo Ebrard and senior U.S. officials discussed how to resolve an increasingly dire situation on their border in a meeting in Mexico City yesterday. The White House sent top Latin America officials Roberta Jacobson and Juan Gonzalez to Mexico as a surge of migrants, especially unaccompanied children, at the U.S.-Mexico border shows no sign of abating. Democrats and Republicans in Congress have called on Biden to act in order to head off a full-blown humanitarian crisis. Read more from Max de Haldevang and Jordan Fabian.
Biden and Vice President Kamala Harris plan to meet at the White House today at 2 p.m. with Homeland Security Secretary Alejandro Mayorkas, HHS Secretary Xavier Becerra, and immigration advisers.
Around the Administration
Murthy Wins Confirmation for Second Stint: The Senate approved by 57-43 the nomination of Vivek Murthy to serve as surgeon general. The vote came six days after the Senate Health, Education, Labor, and Pensions Committee voted to advance his nomination. His nomination received bipartisan support from the panel's members, Shira Stein reports.
Biden Uses DPA to Corner Vaccine Market: The U.S. has injected more than a quarter of the world's coronavirus vaccine doses so far, thanks to two presidents who share little except a strategy to corner domestic production of shots, employing a 70-year-old law that's so far prevented exports. The U.S., first under Donald Trump and then under Biden, arranged early on to buy all of Pfizer's and Moderna's known U.S. production for months to come, assuring hundreds of millions of doses for American arms. The nationalist approach taken by both Biden and Trump has been criticized by some allies and public health experts. Read more from Josh Wingrove.
China Lashes Out at U.S. Allies: This week Biden made good on his campaign promise to work more with allies to pressure China, coordinating with U.S. partners to impose sanctions over alleged human-rights abuses in Xinjiang. China wasted no time Monday night immediately retaliating with reciprocal sanctions against European Union officials while summoning the bloc's ambassador to China. Those hit included politicians in a range of countries, one of the main EU bodies formulating foreign policy and Europe's largest research institute focused on China. Read more.
U.S. Says North Korea Tested Short-Range System: U.S. officials said North Korea tested a short-range weapon system over the weekend, but offered few details and downplayed the significance of the test. And North Korea's actions didn't specifically violate United Nations sanctions, the officials told reporters, adding that further details were classified. The officials characterized the activity as relatively minor. Read more from Josh Wingrove.
Riot Judge Blasts U.S. Over '60 Minutes' Interview: A federal judge in charge of one of the highest-profile cases stemming from the Jan. 6 Capitol riot rebuked the Department of Justice for discussing its probe in public. "These defendants are entitled to a fair trial, not one that is conducted in the media," U.S. District Judge Amit Mehta said yesterday, after the former top U.S. prosecutor in Washington appeared on the news show "60 Minutes" to comment on the investigation. Read more from David Yaffe-Bellany.
To contact the reporters on this story: Zachary Sherwood in Washington at zsherwood@bgov.com; Brandon Lee in Washington at blee@bgov.com
To contact the editors responsible for this story: Giuseppe Macri at gmacri@bgov.com; Loren Duggan at lduggan@bgov.com; Michaela Ross at mross@bgov.com