What to Know in Washington: Amy Coney Barrett Picked by Trump
President Donald Trump said he'll nominate Judge Amy Coney Barrett for the Supreme Court, moving to add his third justice to the bench and a fresh jolt to his faltering campaign just weeks before Americans vote on whether to give him a second term.
If confirmed by the Senate, Barrett would fill the seat vacated by the death of Justice Ruth Bader Ginsburg. The loss of liberal icon Ginsburg and the confirmation of the conservative Barrett could cement the court's rightward shift for a generation.
"Today it is my honor to nominate one of our nation's most brilliant and gifted legal minds to the Supreme Court, Judge Amy Coney Barrett," Trump said during a White House ceremony yesterday. "Barrett is a woman of remarkable intellect and character. She is eminently qualified for the job."
Barrett, speaking at the ceremony, paid respect to Ginsburg, saying the late justice "not only broke glass ceilings, she smashed them."
"I fully understand that this is a momentous decision for a president and if the Senate does me the honor of confirming me, I pledge to discharge the responsibilities of this job to the very best of my ability," Barrett said. "Should I be confirmed, I will be mindful of who came before me."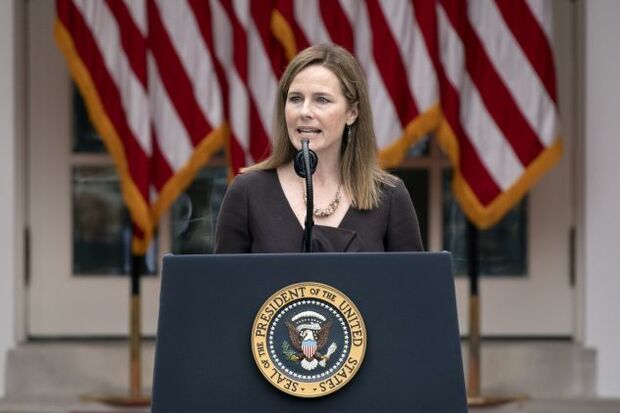 Senate Timing: The nomination sets up a bitter clash in the Senate, where Republicans have vowed to use their majority to rapidly push through a confirmation vote before the Nov. 3 election. The plan has angered Democrats, who point to Majority Leader Mitch McConnell's (R-Ky.) refusal to consider Barack Obama's nomination to fill a vacant seat during the 2016 election year.
The Senate Judiciary Committee plans to start Barrett's confirmation on Oct. 12, Sen. Lindsay Graham (R-S.C.), chairman of the committee, said on Fox News. Barrett would face questioning for the next two days, then senators would hear from outside witnesses on Oct. 15.
"I expect they will challenge Judge Barrett about the law, and I'll expect they will ask her questions about her faith and does that influence her decision making," said Graham, who has spoken with Barrett. "I expect her to be confirmed" and "I hope to get her out of the committee by the 26th of October."
A full Senate vote is tentatively planned for the week of Oct. 26 — the week before the election.
McConnell plans to meet with Barrett on Tuesday, a person familiar with the matter said. Read more from Jordan Fabian and Josh Wingrove.
Barrett Could Be Most Conservative Justice Since Thomas
Amy Coney Barrett brings a resume that could make her the most conservative new justice since Clarence Thomas and a dream addition for Republicans looking to remake the U.S. Supreme Court.
Barrett champions the "originalist" approach that has become conservative orthodoxy for interpreting the text of the Constitution. She is an acolyte of the late Justice Antonin Scalia. She has deep Catholic convictions and has said that life begins at conception. Only 48, she could serve for more than 30 years.
And should she win Senate confirmation as expected, Barrett could bring about the biggest legal shift in decades. Her vote would make the Supreme Court under Chief Justice John Roberts more likely to overturn Obamacare, disable federal regulatory agencies and expand gun rights. She might even give conservatives their long-pursued goal of toppling the 1973 Roe v. Wade abortion-rights ruling.
Speaking in the White House Rose Garden after being introduced by Trump, she vowed to try to emulate Scalia, for whom she clerked in the court's 1998-99 term. "His judicial philosophy is mine too," Barrett said. "A judge must apply the law as written. Judges are not policy makers and they must be resolute in setting aside any policy views they might hold."
Barrett rates as more conservative than either of Trump's first two nominees, Neil Gorsuch and Brett Kavanaugh, according to a predictive scale developed by academics led by Lee Epstein, a law professor and political scientist at Washington University in St. Louis. Both justices have been generally reliable votes for Trump and conservative causes, though Gorsuch disappointed many of his backers in June with his majority opinion extending federal anti-discrimination law to protect LGBTQ workers. Read more from Greg Stohr, David Yaffe-Bellany and Lydia Wheeler.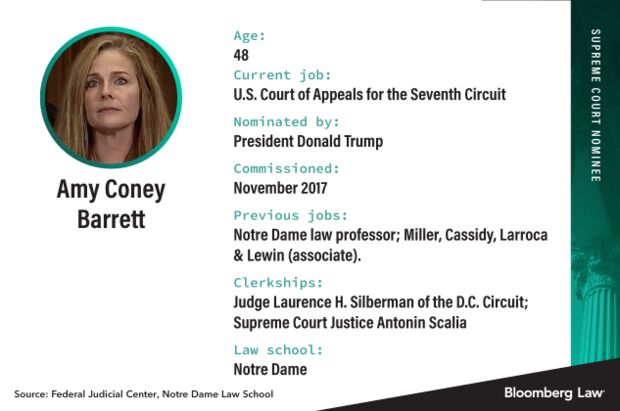 Barrett's Writings Show She's Willing to Buck Precedent: Barrett brings a considerable paper trail from 18 years as a University of Notre Dame law professor and then judge on the U.S. Court of Appeals for the Seventh Circuit since 2017.
Her academic writings and 100 opinions and six dissents as a judge give some clues about how she approaches issues such as gun rights, criminal procedure, judicial restraint, and how judges should approach precedent. Stare decisis, the legal principle that judges should respect precedent, is certain to be a focus at her Senate Judiciary Committee confirmation hearings for Democrats concerned she could provide the vote to overturn Roe v. Wade.
Perry Cooper looks at a sample of Barrett's writings that might foreshadow how she would rule on issues likely to come before the Supreme Court.
Does the Supreme Court Look or Think Like America? Barrett's addition to the Supreme Court would maintain the number of female justices, but the composition of the panel would continue to look quite different than the rest of America in gender, race and religion as well as on certain key policy issues. In an era of increasing questions about systemic racism in the judicial system, the court may find itself out-of-step with the rest of the country if the November election results in a substantial shift to the left. Read more from Chris Dolmetsch, Dave Merrill, Christopher Cannon and Edvard Pettersson.
Elections & Politics
Pick Seen Unlikely to Jump-Start Campaign: Trump is counting on the battle over a Supreme Court vacancy to inject new life into his faltering campaign, but it's unlikely to overshadow the ongoing pandemic and struggling U.S. economy that have battered his chances for re-election. The nomination — coming just 38 days before the vote — means Trump is making his choice a centerpiece of his argument for a second term. The president has insisted that the Senate vote on his pick before the Nov. 3 Election Day, saying it's essential for avoiding a potential tie vote if the results are contested.
Even some of Trump's advisers acknowledge the fight might not offer political salvation, despite allowing him to change the subject from the virus and the economy. The relatively slim number of Republicans who vote almost solely on the makeup of the Supreme Court are likely already in Trump's column, while other voters have more pressing needs on their minds. "If I asked the question: 'all things being equal, would you rather have Congress debate about the Supreme Court seat or on another stimulus package?' They'll choose the stimulus," said John McLaughlin, a Trump campaign pollster. "People don't want to see unemployment go up." Read more from Jordan Fabian, Mario Parker and Jennifer Epstein.
Pick May Not Sway Female Voters: The nominations is poised to give the Supreme Court its most conservative female justice in history but is unlikely to accomplish the one thing that could help seal Trump's re-election — a new surge of support from women, a segment of the electorate his campaign has struggled to attract.
The move poses a risk for Trump. Since Sandra Day O'Connor became the first woman on the court almost 40 years ago, the reaction to Barrett's appointment and polling data suggests women are looking at a nominee's potential rulings and judicial record as much or more than her gender.
Conservative women who oppose abortion rights are already in Trump's camp, but they are a small minority of women voters. Surveys show that very few women, if any, are going to switch their support from Democratic nominee Joe Biden based on Trump's choice of a female jurist. Instead, there are signs it could actually drive Democrats to polls. Read more from Josh Wingrove, Misyrlena Egkolfopoulou and Greg Stohr.
Biden Maintains National Lead Over Trump: Biden held a lead over Trump among potential voters nationally, according to two polls conducted in the past few days.
In a poll by the Washington Post and ABC News, Biden had a 10 percentage point advantage over Trump. Biden and his running mate Sen. Kamala Harris (D-Calif.) had 53% support compared with Trump and Vice President Mike Pence at 43%, the poll showed. The margin is statistically unchanged from the 12-point gap in the Washington Post and ABC's August survey which was taken before both parties held their conventions. Biden had a 54% to 44% lead among likely voters. He is ahead of Trump by 65% to 34% among women surveyed, while 55% of men polled supported Trump compared with 42% for Biden, according to the report.
Biden's lead was eight points in another survey conducted by the New York Times and Siena College. The former vice president was leading Trump 49% to 41% among likely voters. Women favored Biden by 53% to 37%, while the candidates were tied among men, both at 45%.
Both polls were conducted after the death of Ginsburg but before Trump's nomination of Barrett. Biden led Trump by eight points on the question of who was more trusted to handle the next appointment to the Supreme Court, according to Washington Post and ABC. The same question had Biden leading over Trump by 50% to 43% in the New York Times/Siena poll, with 56% thinking the next justice should be appointed by the winner of the upcoming election. Read more from Max Zimmerman and Katharina Rosskopf.
Trump Says He Has 'Advantage' If Election Went to Congress: Trump yesterday expressed confidence he would be re-elected president if Congress has to break an Electoral College tie in the 2020 election. "I don't want to end up in the Supreme Court and I don't want to go back to Congress either, even though we have an advantage when we go back to Congress," Trump said at a rally in Middletown, Pa.
If Trump and Biden end up with the same number of electoral votes, the Constitution requires the House to decide the result with each state casting one vote for its entire delegation. Republicans control 26 House delegations and Democrats have 22, with two others split evenly between the parties. But that balance could change in the newly elected Congress that begins in January.
"Oh, they're going to be thrilled to hear that. I'm sure they're trying to figure out, how do we break that one?" the president said of the Democrats. Read more from Jordan Fabian and Misyrlena Egkolfopoulou.
To contact the reporter on this story: Zachary Sherwood in Washington at zsherwood@bgov.com
To contact the editor responsible for this story: Loren Duggan at lduggan@bgov.com