What to Know in Washington: Alaska Talks Descend Into Bickering
The first face-to-face meeting between the U.S. and China since President Joe Biden took office was bound to be confrontational. The question now is whether the two sides can find a way cooperate after unloading so many grievances in public.
Top diplomats from the world's two largest economies criticized each other over everything from trade to human rights in a high-stakes first encounter yesterday in an Alaskan ballroom. U.S. Secretary of State Secretary of State Antony Blinken accused Beijing of undermining global stability, while his counterpart, Yang Jiechi, said the U.S. wasn't "qualified to speak to China from a position of strength."
The barbs on both sides appeared intended for domestic consumption, with Biden seeking to show his supporters that he's tough on China and President Xi Jinping needing to satisfy his own increasingly nationalistic population. Still, the unusually acrimonious exchange showed the world just how hard it will be to repair a relationship that deteriorated rapidly under Donald Trump.
The delegations are due to meet for a final time this morning after two rounds of closed-door talks following their initial exchange. While it was unclear whether the private discussions were more productive, a senior U.S. administration official said the talks were "substantive, serious and direct" and went beyond the allotted time. Read more.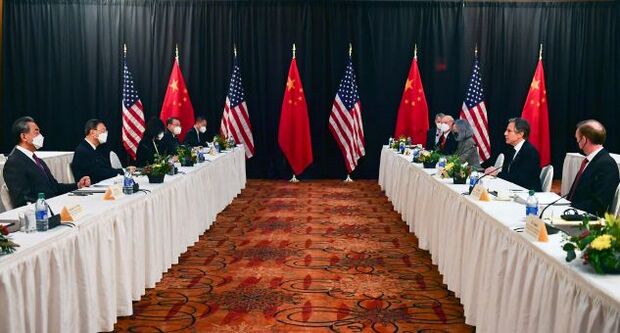 Happening on the Hill
House Passes Two Immigration Bills: The House passed two bills yesterday to provide a path to legal status for millions of undocumented people living in the U.S. — part of Democrats' scaled back plans for immigration reform as a surge of migrants at the southern border puts pressure on the Biden administration. Nine Republicans joined all House Democrats to pass the Dream and Promise Act on a 228-197 vote,. The bill would provide green cards and the prospect of eventual citizenship to young undocumented immigrants known as Dreamers. The House also approved, 247-174, another bill to provide legal status for migrant agricultural workers, with 30 Republicans voting in favor.
House Speaker Nancy Pelosi (D-Calif.) has adopted a piecemeal approach to immigration, lacking the votes for Biden's more comprehensive proposal. But even the narrow bills on the House floor yesterday face a tougher sell in the Senate where they would need the support of at least 10 Republicans under the chamber's current rules. Read more from Laura Litvan and Billy House.
Waters Seeks Diversity Data From Large Investment Banks: House Financial Services Chair Maxine Waters (D-Calif.) and Rep. Joyce Beatty (D-Ohio) are seeking data on diversity and inclusion from 31 of the largest American investment firms, such as Goldman Sachs, BlackRock, and JPMorgan. The requests were sent to banks with more than $400 billion in assets under management. The two seek information about workforce and board diversity data and challenges implementing diversity policies, Jeff Kearns reports.
Gupta Says Will Divest Avantor Stake: Biden's nominee for a top post at the Justice Department, Vanita Gupta, intends to sell her remaining $14.5 million stake in a company her father chairs, amid questioning about a report the company sold chemicals diverted by Mexican drug cartels to make heroin. Read more from Steven Dennis, Chris Strohm and Michael Smith.
Around the Administration
Biden Goes to Georgia After Shooting: Biden and Vice President Kamala Harris travel to Atlanta today after a series of shootings at three spas in the city left eight dead. The president and vice president will meet with Asian-American leaders at Emory University "to discuss the ongoing attacks and threats against the community," the White House said in a statement. Biden will also meet Stacey Abrams, a prominent Democrat and former gubernatorial candidate, according to a White House aide. The president will visit the U.S. Centers for Disease Control and Prevention headquarters while in Atlanta to receive an update on the fight against the pandemic, the White House said. Read more from Justin Sink and Sophia Cai.
Medicaid Expansion Push Gains Momentum: Billions of dollars in new incentives to boost Medicaid programs are re-energizing advocates in the dozen states that have turned down the federal assistance so far—and potentially aiding Democrats in future elections. GOP-led legislatures or governors in 12 states refused to take advantage of the 2010 Affordable Care Act's broadening of Medicaid. Now, Medicaid expansion advocates have something new to offer: extra money from Washington. Read more from Alex Ruoff.
Buttigieg Pushing for Diversity in Staff: Transportation Secretary Pete Buttigieg said he is reevaluating the equity reflected in the department's policies—and the diversity of the DOT itself. "We took a look at our own makeup as a department," he said yesterday at a South by Southwest event. "It's Whiter and much more male than the country as a whole." During the event, Buttigieg pointed to the construction of the interstate highway system as an ongoing detriment to communities of color. Read more from Lillianna Byington.
Judges on All-White Court Say It's Time For Black Colleague: An upcoming opening on the only federal appeals court that's never had a Black member gives Biden a chance to make good on his promises to consider diversity in judicial appointments. Two sitting judges on the U.S. Court of Appeals for the Federal Circuit told Bloomberg Law, in recent interviews before this week's announcement of the opening, that it's time to bring a Black judge onto the bench.
"We need more Black judges, we need more Black people in positions of power," Judge Kathleen M. O'Malley said. "I know that there are talented people out there who could be a judge on our court, and I'm hoping that we will see that happen." Judge Todd M. Hughes said "there's just no reason in 2021″ not to have a Black judge on the court. "I really do hope that the first nominee out of the gate is an African American man or woman—and this is not just crass identity politics because I know there are qualified people out there," he said. Read more from Perry Cooper.
Labor Department Blasted for Spiking ESG Rule: Republican lawmakers accused the Labor Department of bowing to Wall Street interests in deciding this month not to enforce a pair of Trump-era rules curbing environment, social and corporate governance retirement investing. The Employee Benefits Security Administration said last week it won't enforce the Trump-era investment duties or proxy voting rules, or pursue enforcement against plan fiduciaries who fail to comply with them. Read more from Austin Ramsey.
States Shift Quickly to May 17 Deadline: A growing list of state revenue agencies hustled to extend their individual tax filing and payment deadlines a day after the Treasury Department and Internal Revenue Service gave individual taxpayers one additional month to submit their tax returns. Read more from Michael Bologna and Donna Borak.
Meanwhile, IRS Commissioner Charles Rettig said the IRS hopes it can work through its backlog of millions of unprocessed returns by this summer, but stopped short of giving any concrete date. The backlog includes returns filed last year. Rettig said some returns are suspended because the IRS is waiting for responses from taxpayers responding to questions. Read more from Allyson Versprille.
The IRS will automatically process refunds for individuals who paid taxes on their unemployment benefits before Congress passed a law making those payments tax-free, Rettig said yesterday, Laura Davison reports.
Putin Still Wants To Talk With Biden: Vladimir Putin is still hoping for a public conversation with Biden to clear the air between the two presidents after the U.S. leader's accusation that he's a killer, Kremlin spokesman Dmitry Peskov said today. The White House brushed off Putin's initial proposal, made late yesterday in comments to state television, for a talk to be shown live on either today or Monday. But Peskov said Russia is going ahead with a formal request to the U.S. to hold it at "any convenient time for the U.S. president." Read more from Andrey Biryukov.
Politics & Influence
More New York Voters Say Cuomo Should Resign: A growing number of New York voters say Gov. Andrew Cuomo (D) should resign following several allegations of sexual misconduct and mishandling the pandemic, a new survey found. The Quinnipiac University survey, published yesterday, showed 43% of New York State voters said Cuomo should step down, up from 40% in a poll conducted at the beginning of March. Still, 49% said he should remain in office, down from 55% at the start of the month. Emma Kinery has more.
To contact the reporters on this story: Zachary Sherwood in Washington at zsherwood@bgov.com; Brandon Lee in Washington at blee@bgov.com
To contact the editors responsible for this story: Giuseppe Macri at gmacri@bgov.com; Loren Duggan at lduggan@bgov.com; Michaela Ross at mross@bgov.com