What to Know in Washington: Abortion Rights Could Jolt Midterms
Draft SCOTUS opinion on Roe could reshape midterms
Biden to visit Javelin makers amid Ukraine aid request
Abortion rights suddenly emerged as an issue that could reshape the battle between Democrats and Republicans for control of Congress, following a report that conservatives on the U.S. Supreme Court were poised to strike down the half-century-old Roe v. Wade precedent.
Politico reported Monday night that it had obtained the initial draft majority opinion, signed by Justice Samuel Alito, that overturns the landmark 1973 Roe ruling that made the choice to seek most abortions a constitutional right for women nationwide. Such a decision would hand Republicans a long-sought victory yet could galvanize Democrats who've been bracing for the prospect of losing their House and Senate majorities this November. It was drafted in February and it's unclear whether there have since been changes.
"This decision will put women's rights and abortion rights front and center in the elections," said Geoff Garin, a pollster who advises Senate Democrats. "Up until now, many voters did not take the threat to legal abortion seriously or believe that Roe would be overturned, but now the reality of that threat will be crystal clear."
Democrats had been heading into the midterm elections hobbled by soaring inflation, the lingering coronavirus pandemic and President Joe Biden's sagging approval ratings, all topics that Republicans have been keen to play up in their campaigns.
It remains to be seen whether a politically seismic abortion ruling could eclipse inflation and other issues that had been central in the contest. But striking down Roe will nonetheless reverberate in the midterm elections and the 2024 presidential campaign. It would also magnify attention on gubernatorial and legislative races around the country, as the court's decision could return abortion rights policy to the states, where it was before Roe.
The abortion issue is likely to resonate in the nation's suburbs, which have become the linchpin of U.S. politics as rural areas are solidly Republican and urban areas are dominated by Democrats. Democrats gained 41 seats House seats and took control of the chamber in 2018 as suburban voters turned against Trump. In 2020, Joe Biden won 54% of the suburban vote, according to the Pew Research Center, and that played a decisive role in the five states he carried by the narrowest margins.
"The House races that matter are in the suburbs," said Doug Sosnik, White House political director under President Bill Clinton. "Midterm elections are generally about turnout and this type of ruling could energize the base of both parties." Read more from Steven T. Dennis and Mike Dorning.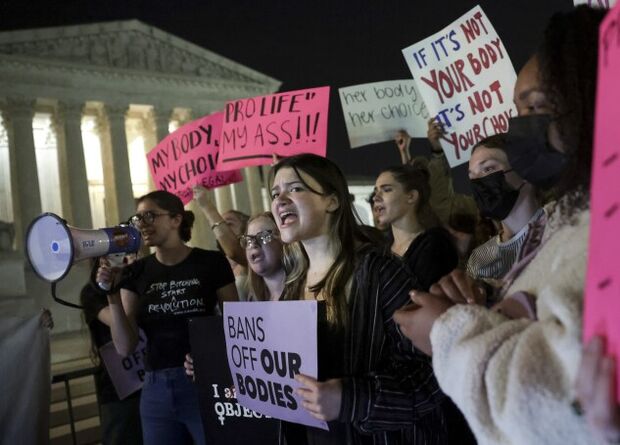 Biden to Visit Makers of Tank-Killing Javelins
President Joe Biden will promote the importance of U.S. and allied weapons for Ukraine's defense on Tuesday with a visit to a Lockheed Martin plant making Javelin anti-tank missiles, which American and NATO officials say have mauled Russia's invading armored columns.
Biden's trip to the Troy, Alabama, factory comes as the president is pushing lawmakers to authorize an additional $33 billion in aid for Ukraine—and as lawmakers warn that stockpiles of the U.S. Army and Marine Corps' premier anti-tank weapon are becoming depleted due to the war.
The self-guided portable missile system—which weighs just 49 pounds (22 kilograms)—has proved invaluable to Ukrainian fighters, who can fire on Russian vehicles from as far as 4,000 meters (2.5 miles) away and then quickly flee. The U.S. has already delivered about 5,000 of the 5,500 Javelins the White House has committed to provide to Ukraine, a senior defense official told reporters Monday.
The Lockheed factory in Alabama is one of three in the U.S. that produce Javelins, and 265 of the plant's 600 employees support production of the anti-tank system. The facility can currently produce about 2,100 Javelins per year, the White House said.
The systems have become so synonymous with Ukrainian military success that a Canadian artist selling t-shirts and stickers of an Internet meme featuring the Virgin Mary clutching a Javelin has raised over $1 million for charity. Read more from Justin Sink and Tony Capaccio.
U.S. Allowed to Seize Megayacht in Fiji: Fiji's High Court has given the green light for U.S. and local authorities to seize a $325 million megayacht whose ownership is in dispute, setting the stage for a legal showdown to determine whether the luxury vessel's owner is sanctioned Russian gold billionaire Suleiman Kerimov as the U.S. claims. The Suva High Court on Monday granted the order to seize the Amadea superyacht and accepted an application to register the U.S. warrant to seize the vessel, according to Fiji's Office of the Director of Public Prosecutions. K. Oanh Ha has more.
Happening on the Hill
CONGRESSIONAL SCHEDULE:
The Senate is set to take over two dozen votes today and tomorrow on instructions to the lawmakers charged with hashing out a bicameral agreement on legislation aimed at boosting domestic manufacturing and innovation (H.R. 4521).
The House is on recess for the week.
Sen. Joe Manchin and others are weighing a border adjustment tax that would slap a levy on imports of carbon-intensive goods from countries with weaker climate policies as they work on a potential bipartisan energy and climate package. The concept, which also has drawn interest from the Biden administration, would place tariffs on fossil fuels and products such as cement and steel to prod countries that are moving too slowly to cut their greenhouse gas emissions. Manchin (D-W.Va.) said he is promoting a North American zone that includes Canada and Mexico.
"This is not a carbon tax," Sen. Bill Cassidy (R-La.) said after emerging from a closed-door meeting with Manchin and other senators from both parties who are working on the plan. "I've spoken to Republicans who are very interested in this."
The discussions are still preliminary. Cassidy said the idea would mirror the same kind of products the European Union is targeting, and because the United States is far cleaner than most countries, domestic manufacturers like chemical companies who use natural gas instead of dirtier sources of energy would have a big advantage. Read more from Ari Natter, Erik Wasson and Steven T. Dennis.
Senate Majority Leader Chuck Schumer said yesterday he hopes a bipartisan deal on more aid to Ukraine can be reached "very soon" and a bill on funding could reach the floor as soon as next week, Alisa Parenti reports. Schumer (D-N.Y.) also said he wants legislation to expand forfeiture laws to seize Russian oligarchs' "ill-gotten gains" and use the proceeds to help Ukraine.
The Senate Foreign Relations Committee will hold a May 10 hearing on the nomination of Bridget Brink to serve as ambassador to Ukraine, according to a committee website, Megan Howard reports.
A bipartisan group of senators intends to introduce legislation as soon as this week that would force Alphabet's Google to sell off parts of its lucrative advertising technology business, according to two people familiar with the matter. The bill, led by Sen. Mike Lee (R-Utah), would bar companies with more than $20 billion in digital advertising revenue from owning the tools to help buy and sell online ads and operating the exchange where those transactions occur. Democratic Sens. Amy Klobuchar (Minn.) and Richard Blumenthal (Conn.) are also sponsors on the bill, said the people, who declined to be identified because the plans to introduce the bill are not yet public. Read more from Leah Nylen.
Sen. Maria Cantwell plans to introduce legislation this week to restore the Federal Trade Commission's ability to seek monetary awards for consumers in court, Cantwell's (D-Wash.) office told Bloomberg Law. The bill would bring back an authority that the U.S. Supreme Court curtailed last year that lets the FTC return money to consumers who were subject to scams, fraud, or other forms of deception. The agency's commissioners called on lawmakers for a legislative fix at their latest meeting. Read more from Andrea Vittorio.
Around the Administration
BIDEN'S SCHEDULE:
Biden is scheduled to travel to Troy, Ala. today, where he'll tour a Lockheed Martin facility, which manufactures weapon systems including the Javelin anti-tank missile, and urge Congress to quickly support his $33 billion request for Ukraine aid.
Vice President Kamala Harris will return to in-person work on Tuesday after testing negative for Covid-19 on Monday, her office said in statement, Maria Luiza Rabello reports.
Meanwhile, states are scrapping their public health emergency declarations despite cases trending upward, threatening hospitals' ability to respond to surges promptly. Hospitals across the U.S. face greater liability for patient care choices they may make without proper supplies or staffing as the declarations—and the shields attached to them—fall by the wayside. Read more from Allie Reed.
Biden's top trade negotiator signaled that relief from U.S. tariffs on China is one option under consideration to confront the fastest inflation in four decades, while cautioning that the duties should be studied in the context of broader economic policy. The tariffs should be examined as part of a look at strategies across the board, including monetary, fiscal and tax policy, U.S. Trade Representative Katherine Tai said in interview at the Milken Institute Global conference in Los Angeles on Monday. Read more from Eric Martin.
A federal judge in San Diego ordered the U.S. to provide behavioral health services for families whose parents and children were separated during a crackdown on southern border crossings during the Trump administration, Peter Blumberg reports. "The behavioral health services to be provided under this order include child centered pre-reunification counseling, clinical treatment services, behavioral health case management, psychoeducation and parenting support that the parties agree are necessary to facilitate successful reunifications and/or to help prevent ongoing harm caused by the initial separation," according to the order by U.S. District Judge Dana Sabraw.
The U.S. blocked Georgia from abolishing the federal Obamacare exchange in 2023. The Georgia Access Model that was approved under the Trump administration will be suspended unless the state responds with a "corrective action plan" by July 28, Centers for Medicare & Medicaid Services Administrator Chiquita Brooks-LaSure said in an April 29 letter to Georgia Office of Health Strategy and Coordination Director Grant Thomas. Sara Hansard has more.
Biden's administration is prioritizing environmental civil rights cases, with the Justice Department joining the EPA to turn the dial on a yearslong struggle to manage a growing list of complaints. Current cases in front of the agency's External Civil Rights Compliance Office include discrimination allegations relating to the granting of permits for hog farms in North Carolina, health impacts of air emissions in Louisiana, and pollution problems in Michigan. Read more from Jennifer Hijazi and Stephen Lee.
African-American farmers lost about $326 billion worth of land in the U.S. due to discrimination during the 20th century, a study found. From 1922 to 1997, Black farmers in 17 American states saw a precipitous decline in their acreage caused by state-sanctioned violence and intimidation, according to the paper. The study, which analyzed U.S. Department of Agriculture census data, will be published in the American Economic Association's Papers and Proceedings journal. Read more from Zijia Song.
To contact the reporters on this story: Giuseppe Macri in Washington at gmacri@bgov.com; Brandon Lee in Washington at blee@bgov.com
To contact the editors responsible for this story: Loren Duggan at lduggan@bgov.com; Michaela Ross at mross@bgov.com