What to Know in Washington: Abortion Fights Go to Supreme Court
The current Supreme Court term will, starting this week, determine whether the constitutional right to abortion will be gutted and if sweeping new restrictions will be allowed in much of the country.
The justices hear arguments tomorrow in a case stemming from the EMW Women's Surgical Center challenge to a Kentucky law that would outlaw the most common abortion technique after the 15th week of pregnancy. At issue is whether Kentucky's attorney general can take over defense of the law at a late stage in the litigation.
The case is a prelude to a bigger clash in December, when the conservative-majority court will consider a Mississippi bid to overturn Roe v. Wade, the landmark 1973 ruling that legalized abortion nationwide. The high court also could be asked again to intervene in a fight over a Texas law that bans abortion after six weeks of pregnancy.
The abortion issue has divided Americans for decades, helping to swing elections and becoming an unofficial litmus test for high court nominees. Most Americans support a legal right to abortion, though many back restrictions, too. Studies show that limits on access are a crucial economic issue, particularly for the low-income women and racial minorities who absorb the brunt of the impact when access to abortion is restricted.
U.S. states in recent years have tried to scale back abortion rights with hundreds of new laws. Greg Stohr takes a closer look at the abortion fights shaping up at the Supreme Court.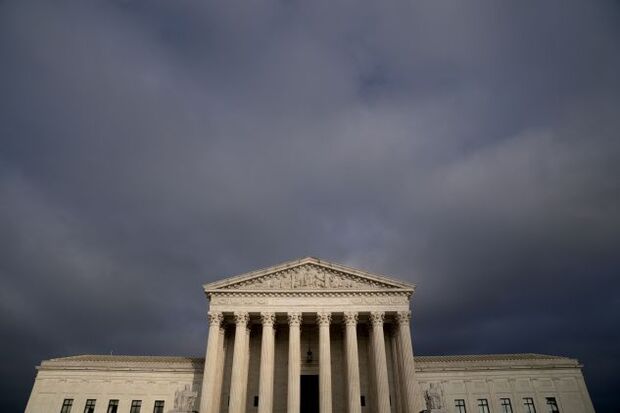 Happening on the Hill
Yellen Confident in Congress on Global Tax Deal: Treasury Secretary Janet Yellen said she expects Congress to take action soon to bring the U.S. into line with a global minimum tax agreed to last week by 136 countries. "I am confident that what we need to do to come into compliance with the minimum tax will be included in a reconciliation package," Yellen said yesterday on ABC's "This Week," referring to a social spending and tax bill Democrats are preparing. An overhaul of how to tax multinational companies took a big step forward Friday in talks hosted by the Organization for Economic Cooperation and Development. Countries agreed to enforce a minimum corporate tax rate of 15%. Read more from Christopher Condon.
McConnell Warns Biden on Debt-Limit: Senate Minority Leader Mitch McConnell (R-Ky.) sent a blistering letter to President Joe Biden informing him that Democrats would have to act on their own and without any help from him the next time the debt limit has been reached. In the Friday letter, McConnell pointed out that Senate Republicans had provided enough votes last week to help advance a measure that avoided a default on U.S. debt but added, "I will not provide such assistance again if your all-Democrat government drifts into another avoidable crisis." Read more from Laura Litvan.
The House is set to convene tomorrow to clear the short-term debt limit increase passed by the Senate. Read more on the legislation from Michael Smallberg.
Politics & Influence
Columbus Persists Even as Monuments Removed: More than 6,000 places in the U.S. took their name from Christopher Columbus. There are streets and avenues and traffic circles and parks, along with lakes and rivers and mountains. Columbus once was an attractive figure to revolutionaries looking to establish their own distinctly American mythology as they separated from monarchies abroad. Later settlers heralded Columbus as paterfamilias as they pushed westward, embracing him as the guiding spirit of Manifest Destiny.
Yet the tide is turning somewhat, as Columbus's fame has curdled since the American Indian Movement in the 1970s: At least 36 public monuments to Columbus have been removed as of this year, consistent with an academic counter-movement to reconsider his achievements and buck him from his place in history. Kriston Capps has more on Columbus's shifting legacy.
Facebook Open on Algorithm Scrutiny: Facebook's chief spokesman said the company is willing to subject itself to greater oversight to ensure its algorithms are performing as intended and aren't harming users. The algorithms "should be held to account, if necessary by regulation so that people can match what our systems say they're supposed to do from what actually happens," said Nick Clegg, Facebook's vice president for global affairs, on CNN's "State of the Union," one of three Sunday show appearances yesterday. Read more from Joe Light.
Around the Administration
Today's Agenda: Biden has no public events scheduled. He is slated to return to Washington from Wilmington, Del., arriving at the White House at 4:20 p.m.
U.S. Says Taliban 'Professional' in First Talks: The U.S. called the Taliban "candid and professional" in their first official meeting since the chaotic American withdrawal from Afghanistan in August, with weekend talks focusing on wide-ranging issues including security, terrorism and human rights. The discussions in Doha, Qatar, covered the need for safe passage of U.S. citizens, other foreign nationals and Afghan partners, State Department spokesman Ned Price said in a statement yesterday. The U.S. also called for "the meaningful participation of women and girls in all aspects of Afghan society." Read more from Nick Wadhams and Eltaf Najafizada.
Couple Arrested on Spy Charges: The FBI arrested a Navy Department employee and his wife on spying-related charges after they allegedly sold restricted data on nuclear-powered submarines to an FBI agent posing as a foreign official. Jonathan Toebbe, 42, and his wife Diana, 45, were ensnared in an investigation involving cryptocurrency payments, encrypted emails and a "dead drop" in West Virginia of a memory card hidden in a peanut butter sandwich, the Justice Department said in a statement yesterday. Read more from Tony Czuczka.
U.S.'s Tai, China's Liu Discuss Trade: U.S. Trade Representative Katherine Tai and Chinese Vice Premier Liu He met virtually on Friday to discuss trade issues between the U.S. and China. They agreed "that the two sides would consult on certain outstanding issues," according to a White House account of the meeting. "In addition, Ambassador Tai emphasized U.S. concerns relating to China's state-led, non-market policies and practices that harm American workers, farmers and businesses." Read more from Sarah McGregor.
IMF Decision on Georgieva to Come as Early as Today: The International Monetary Fund 's executive board plans to deliberate today over the fate of the lender's chief, Kristalina Georgieva, after discussions yesterday with her and the law firm that alleged improper actions in her previous job at the World Bank, according to a person familiar with the talks. The board, with 24 directors representing the fund's 190 member nations, is trying to complete its review as the IMF and World Bank start their annual meetings — where finance ministers and central bankers from across the world will gather in Washington starting on Monday, with dozens of events planned. Read more from Eric Martin.
White House Weighs Push for Crypto Oversight: The Biden administration is weighing an executive order on cryptocurrencies as part of an effort to set up a government-wide approach to the white-hot asset class, according to people familiar with the matter. The proposed directive would charge federal agencies to study and offer recommendations on relevant areas of crypto — touching on financial regulation, economic innovation and national security, said the people, who asked not to be named discussing plans that are still under consideration. Read more from Jennifer Epstein and Ben Bain.
U.S. Fights Military Vaccine Mandate Lawsuit: A Justice Department lawyer pushed back on military personnel claims that kicking them out of the service for refusing to get vaccinated will result in harm that can never be compensated by a court. The service members sued last week to vacate a Pentagon vaccine mandate for all those in the military, arguing they face imminent harm if a court order isn't issued temporarily blocking the requirement. Read more from Erik Larson.
To contact the reporter on this story: Zachary Sherwood in Washington at zsherwood@bgov.com
To contact the editor responsible for this story: Loren Duggan at lduggan@bgov.com