What to Know in Washington: A Look Inside the U.S. Virus Bailout
Companies with ties to President Donald Trump surfaced in a list of virus relief recipients yesterday, as did more than 88,000 loans for religious organizations, a number of investment firms and some nonprofit groups that advocate against such massive government spending.
But some advocates for small businesses said that a massive release of data from the $669 billion Paycheck Protection Program — the U.S. government's largest coronavirus relief operation — contained too many gaps to allow for evaluating its effectiveness. The data can be found here.
The information on almost 4.9 million loans, released yesterday on the Small Business Administration's website, revealed that big-name law firms and cultural institutions including Carnegie Hall were approved for the program. Several investment firms questioned their inclusion in the data, saying they considered tapping so-called PPP loans, but didn't.
The disclosures, which come after members of Congress and others voiced concern about the level of transparency surrounding the PPP, don't provide full details for any loans. Names of companies that borrowed less than $150,000 – a group that comprises the vast majority of the program's borrowers – weren't made public. And larger borrowers' loans were disclosed only in broad ranges of values, such as $5 million to $10 million.
The program, passed hurriedly by Congress in March, was designed to provide small firms with loans of as much as $10 million, based on a company's average monthly payroll before the pandemic. The loans can become grants if borrowers use the proceeds mostly to pay workers — with some spending allowed for rent and overhead costs. Almost from the beginning, the PPP was dogged by controversy as some publicly traded firms tapped it. Many returned loans after their borrowing drew criticism. Mark Niquette highlights some of the key initial findings.
What to Watch Today
Appropriations Markups: The House Appropriations Homeland Security, Interior-Environment, Legislative Branch, Energy and Water, and Labor-HHS-Education subcommittees are scheduled to mark up their fiscal 2021 appropriations bills today. Follow BGOV's markup vote tracker here.
What's in those bills:
The House Appropriations Military Construction-VA, Agriculture-FDA, and State and Foreign Operations subcommittees advanced their measures yesterday.
Primary Elections: New Jersey's primaries today feature party-switching Rep. Jeff Van Drew seeking re-election as a Republican and will set the matchups in three other districts Democrats captured from Republicans in 2018. Greg Giroux takes a look at the races to watch.
Today's Hearings:
The Coronavirus Pandemic
U.S. Global Influence at Risk from Pandemic Response: Critics of Trump's "America First" worldview are pointing to the new E.U. travel ban as one of many symbols of America's lost standing. "You now have China on the list of countries that can enter the EU and not the U.S.," said Ellie Geranmayeh, a senior policy fellow at the European Council on Foreign Relations. "That speaks volumes symbolically. We're seeing the real-world consequences of U.S. foreign policy over the last three years, what it's meant and the damage it's done."
Experts say they worry that there will be lasting damage to America's standing from its failure to get the coronavirus under control. With U.S. businesses hobbled because of the pandemic, the world's largest economy risks dragging down the global recovery rather than powering it as in past crises. The U.S. economy is now expected to contract by almost 6% this year, while China is projected to eke out growth of almost 2%.
That, in turn, may undercut a key source of America's influence, and the very idea at the heart of Trump's foreign policy approach: using economic might as a cudgel. Read more from Nick Wadhams.
Defense Industry's Covid Closings Decline: The defense industry has made major strides reducing the impact of Covid-19 on operations, decreasing total closings of facilities to six yesterday from a high of 148 in mid-April, according to the Pentagon agency that oversees contracts. "We're seeing a significantly smaller fraction of the industrial base impacted on a daily basis" as contractors have become "better at restoring operational capability after potential exposures" to the coronavirus, Army Lieutenant General David Bassett, director of the Defense Contract Management Agency, said in an interview. "We've gone from having a substantial fraction of the industrial base impacted to today," where it's "just a handful."
In total, 279 defense contracting locations were forced to shut down an average of 20 days since April because of the pandemic. Read more from Tony Capaccio.
Vaccine May Offer Only 'Finite' Protection: Any vaccine developed to ward off the novel coronavirus would likely be limited in how long it would shield against infection, top U.S. infectious disease expert Anthony Fauci said yesterday. "You can assume that we'll get protection at least to take us through this cycle," Fauci, director of the National Institute of Allergy and Infectious Diseases, said during a video event hosted by the National Institutes of Health. A shot to protect against Covid-19 won't work like the measles vaccine, which lasts throughout a person's lifetime, Fauci said. Read more from Riley Griffin.
Millions of Americans Have Moved Due to Coronavirus: The ongoing coronavirus pandemic, which has infected nearly 3 million Americans and killed over 130,000, has also caused millions to uproot themselves from their homes. Three percent of U.S. adults have moved either temporarily or permanently and six percent say that someone has moved into their home because of Covid-19, according to new Pew Research Center data. In total, more than one in five adults either moved themselves, had someone move into their home, or knew someone who did due to the virus.
The most kinetic group by far was young people. Nearly one in ten Americans aged 18 to 29 said they had moved because of the pandemic, and many of them have returned home. Read more from Breanna T Bradham.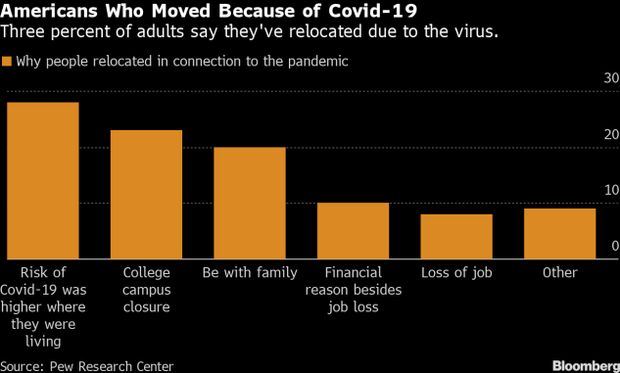 Elections & Politics
Biden, DNC Sync Operations to Avoid 2016 Repeat: Joe Biden's campaign and the Democratic National Committee are working in lockstep to defeat Trump in November — ending years of discord dating back to 2008 between the party's nominee and its central leadership. The close collaboration between Biden and the party is a stark turnaround from four years ago, when problems at the DNC, including leaked emails, tens of millions of dollars in debt and bitterness over the presidential primary hobbled nominee Hillary Clinton.
This cycle, Biden's team is working more closely with the DNC than any candidate in recent history, according to interviews with more than 20 veteran Democratic operatives. The two teams coordinate strategy on advertising, fundraising and messaging and share operational costs in ways that Clinton and Barack Obama did not do with the party. The collaboration has helped Biden's campaign quickly scale up from what staff say was a "scrappy" operation in the primary to the kind of juggernaut needed to take on Trump's re-election effort, which as of the end of June had spent $650 million and raised nearly $1 billion. Read more from Jennifer Epstein and Tyler Pager.
Grassley Says He's Skipping GOP Convention: Sen. Chuck Grassley (R-Iowa) won't attend the Republican National Convention in Florida next month due to the coronavirus, a spokesman said yesterday. Grassley, 86, is the oldest Republican senator, and this will be the first time in his 40 years in office that he won't attend the event. Trump insists on a three-day convention with little social distancing even though the host city of Jacksonville logged the most cases of any metropolitan area in the U.S. late last week. Read more from Steven T. Dennis.
Judge Tosses Michigan GOP's Redistricting Suit: A federal judge dismissed a pair of lawsuits yesterday brought by Republicans seeking to invalidate the Michigan Independent Citizen Redistricting Commission. More than a dozen Republicans and the state's Republican Party argued that the process for appointing political map-drawing commissioners violated their freedom of speech, association, and equal protection under the Constitution. Read more from Alex Ebert.
Roger Stone Appeals Denial of Prison Delay: Republican political operative Roger Stone asked a federal appeals court to delay the start of his prison term until Sept. 3 from July 14 because of the pandemic, after the trial judge denied his earlier request. Stone, sentenced to 40 months for lying to Congress during the Russia investigation, submitted his emergency to the U.S. Court of Appeals in Washington. Read more from Erik Larson.
What Else to Know Today
Foreign Students' Visas at Risk: International students will not be issued new visas to enter the U.S. if the university they want to attend holds courses entirely online, according to new federal guidelines. Those on existing visas who wish to remain in the U.S. must transfer to a school with in-person instruction or attend an institution that offers both remote and on-campus learning, the Immigration and Customs Enforcement agency said yesterday. Read more from Janet Lorin.
Lawmakers Press Esper Over Turkish F-35 Parts: A bipartisan group of senators want Defense Secretary Mark Esper to explain why Turkey's aerospace industry will continue to produce select parts for the F-35 jet into 2022 in spite of claims the Pentagon intended to end participation in March. They also asked Esper for list of all active contracts with Turkish manufacturers, as well as dates when they will expire, Tony Capaccio reports.
"Congress has always understood that removing Turkey from the supply chain would create additional expense for the Department and the taxpayers" but "this financial disruption is necessary in order to preserve the integrity of the program and affirm our nation's diplomatic commitments under NATO," Republicans James Lankford (Okla.) and Thom Tillis (N.C.), along with Democrats Chris Van Hollen (Md.) and Jeanne Shaheen (N.H.) wrote in a letter yesterday. "We believe more urgency is needed and hope you will accelerate the process to ensure a more prompt removal."
Trump to Host Mexican President, CEOs at White House Dinner: The White House dinner that Trump is hosting for his Mexican counterpart, Andres Manuel Lopez Obrador, will have business executives from both countries on the guest list, according to three people familiar with the matter. The guests will include some 20 executives, about 10 from each nation, who will represent the automobile, telecommunications and media, transportation, technology, energy and financial industries, one of the people said. Read more from Jennifer Jacobs and Eric Martin.
TikTok Pulling Out of Hong Kong Over China Law: TikTok will pull its viral video app from Hong Kong's mobile stores in coming days, becoming the first internet service to withdraw after Beijing enacted sweeping powers to crack down on national security threats. That announcement came after internet giants from Facebook to Google and Twitter voiced opposition to national security legislation that grants the Hong Kong government sweeping powers to police online and public spheres. Read more from Zheping Huang and Shelly Banjo.
Tech CEOs to Testify July 27: The chief executive officers of Amazon, Facebook, Alphabet and Apple will testify on July 27 before a congressional panel investigating competition in the technology industry, according to an announcement from the House Judiciary Committee, Ben Brody reports.
SCOTUS Keeps Block on Keystone XL: The Supreme Court yesterday refused to let construction start on TC Energy's Keystone XL oil-sands pipeline, partially leaving in force a ruling that blocks use of a key federal permit. Justices without noted dissenters rejected a bid by the Trump administration to jump-start the long-delayed Keystone pipeline. In the same order, the justices cleared the way for other oil-and-gas pipeline construction to go forward. Greg Stohr has more.
GAO Asked to Probe If S.F. Targeted: Sens. Kamala Harris (D-Calif.) and Dianne Feinstein (D-Calif.) urged the Government Accountability Office to work with the Environmental Protection Agency's inspector general to determine if the White House pressured the EPA to single out San Francisco for alleged water quality violations. Read more from Victoria Hodges.
More Self-Testing for HIV Sought: The Trump administration plans to expand HIV self-testing as part of its push to lower new infections by more than 90% in the next decade, top public health officials said. The Centers for Disease Control and Prevention will increase self-testing and self-collection of specimens, which could allow for broader access to preventive drugs even after the coronavirus is contained, Eugene McCray, director of the CDC Division of HIV/AIDS Prevention, said at the AIDS 2020 conference yesterday. Read more from Shira Stein.
To contact the reporters on this story: Zachary Sherwood in Washington at zsherwood@bgov.com; Brandon Lee in Washington at blee@bgov.com
To contact the editors responsible for this story: Giuseppe Macri at gmacri@bgov.com; Loren Duggan at lduggan@bgov.com; Michaela Ross at mross@bgov.com