What to Know in Washington: 7,600 Personnel Tapped For D.C.
Bloomberg Government subscribers get the stories like this first. Act now and gain unlimited access to everything you need to know. Learn more.
The federal plan to contain continuing protests in Washington, D.C. currently employs about 7,600 civilian law enforcement, National Guard and active-duty Army personnel stationed just outside the city, an array of forces Attorney General William Barr and others say is justified to defend the capital at a time of unrest.
An internal document compiled for the Joint Chiefs of Staff yesterday and seen by Bloomberg News provides the most detailed breakdown of federal force numbers and locations as the government seeks to contain protests after the killing of an unarmed black man, George Floyd, at the hands of Minneapolis Police.
The document, which isn't classified, shows 2,950 law enforcement personnel from U.S. agencies working alongside 2,935 National Guard troops, bolstered by 1,704 active-duty troops who are currently stationed outside the capital at Andrews Air Force Base, Fort Belvoir and Fort Myer.
The total deployments include 500 personnel each from the U.S. Capitol Police, Washington Police Department and U.S. Secret Service; 445 Bureau of Prisons staff, 168 members of the U.S. Marshals Service, 160 Drug Enforcement Agency employees, 80 U.S. Park Police and 32 FBI agents.
The numbers come to light as former Defense Secretary James Mattis and others have decried what they see as the militarization of the law enforcement response designed to keep the peace following several nights of demonstrations, some of which turned destructive as protesters broke windows and sprayed graffiti on federal monuments. Read more from Tony Capaccio.
Meanwhile, areas around the White House will be closed until June 10 as part of an effort to maintain security "while also allowing for peaceful demonstration," the Secret Service said in an email yesterday. Read more from Kim Chipman.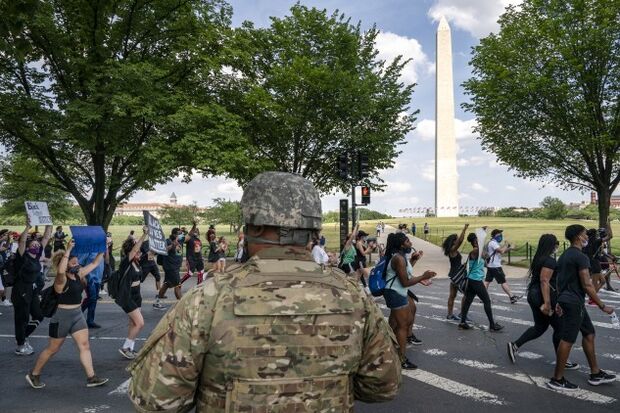 More on Protests & Unrest Responses
Trump to Avoid Floyd Funeral: Trump is not planning to attend the funeral for George Floyd. A memorial was held for Floyd in Minneapolis yesterday, with another service set this weekend in North Carolina. His funeral is scheduled for Tuesday in Houston. For now, Trump is not planning to attend any of the events, people familiar with the matter said. Read more from Jennifer Jacobs and Josh Wingrove.
Black Lives Matter, ACLU Sue Trump: Trump and Barr were sued by the American Civil Liberties Union for allegedly violating the constitutional rights of protesters outside the White House who were hit with tear gas in Lafayette Park so Trump could do a now-notorious photo op in front of a church, the groups said in a statement. The complaint couldn't immediately be verified in court records, Peter Blumberg reports.
New York Times Says Running Cotton Piece Was Mistake: A New York Times opinion piece calling on the U.S. military to be used to subdue demonstrations was published because of a "rushed editorial process" and it "did not meet our standards," the newspaper said yesterday after reviewing the controversial op-ed. The piece, written by Sen. Tom Cotton (R-Ark.), argued troops should restore order after rioters "plunged many American cities into anarchy." The editorial was blasted on social media, including by some of the Times' own employees, who said it may endanger black people and black journalists. Read more from Gerry Smith.
Anti-Lynching Bill Stirs Confrontation on Senate Floor: Sen. Rand Paul (R-Ky.) held up bipartisan legislation to make lynching a federal crime, pushing an amendment that he said would prevent conflating minor injuries with lynching. The stand-off on the legislation (S. 488, H.R. 35), the language of which has cleared both chambers, drew fiery rebukes from Sens. Kamala Harris (D-Calif.) and Corey Booker (D-N.J.) on the Senate floor yesterday.
Reopening Efforts
Fauci, Virus Task Force Sidelined: The White House's coronavirus task force has all but vanished from public view as Trump pushes Americans to put the outbreak behind them and resume normal social and economic life. The task force was once a staple of Trump's response to the pandemic. From March 4 until late April, the panel held nearly daily, televised briefings at the White House, many headlined by Trump. Its medical experts fanned out across TV networks to share guidance on curbing the spread of the virus.
The last briefing was April 27, when Trump predicted the U.S. would suffer between 60,000 and 70,000 deaths from the outbreak. At least 107,000 Americans have died. "I think we've done a great job," he said at the time.
The task force is now reduced to weekly closed-door meetings with Vice President Mike Pence. Anthony Fauci, the top infectious disease expert in the government, hasn't spoken publicly at the White House since April 29. In his last task force news conference, a week earlier, he cautioned that the country must "proceed in a very careful, measured way" to reopen. Read more from Josh Wingrove.
U.S. Not Ready for Virus Threats, CDC Says: The U.S. remains underprepared for major pandemic health threats, the head of the Centers for Disease Control and Prevention told Congress yesterday, as he cited major shortfalls revealed by the coronavirus in state, local and federal authorities' ability to locate and track disease and develop countermeasures.
Congress should invest more money in public health, data modernization and contact tracing, Director Robert Redfield told House lawmakers. "You think we weren't prepared for this, wait until we have a real global threat for our health security," Redfield told a subcommittee under the House Appropriations panel, which leads talks over government funding. Read more from Anna Edney.
Agencies Work With WHO: Also yesterday, top public health officials said they are still working closely with the World Health Organization even after Trump said last week he planned to terminate the U.S. relationship with the group for being overly deferential to China. Fauci and Redfield both suggested they're maintaining ties with the WHO. "The WHO continues to be a close colleague of ours," Redfield told lawmakers. "We continue to have a close collaboration with the WHO." Read more from Anna Edney.
Justice Blocks Order to Move Inmates Facing Virus: U.S. Supreme Court Justice Sonia Sotomayor temporarily blocked a judge's order that would require federal prison officials to move hundreds of inmates out of an Ohio facility where nine people have died from the coronavirus. Acting yesterday on a Trump administration request, Sotomayor stopped the transfers while the matter goes before a federal appeals court that will hear arguments today. She gave no explanation in her one-sentence order. Read more from Greg Stohr.
SBA Allowed to Block Bankrupt Companies Form Loans: The Small Business Administration can block bankrupt borrowers from getting Paycheck Protection Program loans, a Maine bankruptcy judge ruled yesterday. The proposed ruling filed Wednesday by Judge Michael Fagone of the U.S. Bankruptcy Court for the District of Maine is a reversal of his prior rulings to grant temporary restraining orders in favor of two bankrupt small hospitals in the state, Daniel Gill reports.
China Tensions & Foreign Affairs
Trump Urged to Pressure China on Oil Purchases: The administration should pressure China to live up to its energy purchase commitments in the phase one trade deal and buy more U.S. oil, dozens of House lawmakers argue. Trade data from early this year shows "China has purchased a very small amount of U.S. crude oil in 2020, while simultaneously increasing its imports from Saudi Arabia and Russia," 40 lawmakers wrote in a letter to U.S. Trade Representative Robert Lighthizer. Read more from Jennifer A. Dlouhy and Catherine Ngai.
Trump's vow that his phase one trade deal with China would provide a $36.5 billion election-year bonanza for his rural base was always a stretch. Now it looks like it may never be fulfilled. Trump is back to bashing China, whose roaring economy was stalled for months by the coronavirus pandemic, cutting its demand for imports. Read more from Mike Dorning.
Lawmakers in Eight Countries Form New Alliance to Counter China: A group of senior lawmakers from eight democracies including the U.S. have launched a new cross-parliamentary alliance to help counter what they say is the threat China's growing influence poses to global trade, security and human rights. The Inter-Parliamentary Alliance on China, which launched today, comes as the U.S. struggles to muster a cohesive alliance to take on China's growing economic and diplomatic clout and as it leads foreign governments in condemning Beijing's move to impose national security legislation on Hong Kong that threatens the city's autonomy. Read more from Iain Marlow.
Meanwhile, commissioners from the bipartisan and bicameral U.S. Congressional-Executive Commission on China introduced a measure that would condemn the Chinese government's efforts to "dismantle the promised freedoms and autonomy of Hong Kong." The measure would be symbolic, not binding, and calls on the Trump administration to build an "international coalition" to protect the rights of Hong Kong people. Read more from Daniel Flatley.
U.S. Airlines Object to China's Deal: U.S. carriers objected to China's plan to ease its ban on foreign airlines starting June 8—a course-change that came a day after the Trump administration issued its own limit on Chinese flights. "While the Chinese response to the Department of Transportation is a step toward parity for U.S. carriers, more is needed to achieve the goals of the agreement," the trade group Airlines for America said in a statement yesterday.
Foreign airlines excluded from an earlier pact will be able to operate one commercial passenger flight to China a week, the Civil Aviation Administration of China said. Read more from Alan Levin.
Elections, Politics & Probes
Pelosi Backs Engel While AOC Endorses Challenger: Pelosi is putting her political weight behind veteran Rep. Eliot Engel (D-N.Y.) after Rep. Alexandria Ocasio-Cortez (D-N.Y.) yesterday endorsed a progressive challenger for the seat. Ocasio-Cortez's endorsement of Jamaal Bowman in the June 23 Democratic primary against Engel, who's seeking a 17th term this November, is another illustration of continued tensions within the party between the old guard and younger, more left-leaning members who swept into Congress in 2018. Read more from Billy House.
Trump's Re-Election Hopes Grow Shakier: A shifting battlefield map is imperiling Trump's re-election, putting the president on the defensive in states his team didn't expect to be competitive. Democrat Joe Biden has pulled further ahead in the industrial Midwestern states that Trump won in 2016, as Trump's handling of the coronavirus and the resulting job losses prompted a precipitous slide in his support.
Trump summoned top political advisers to the White House yesterday for a meeting to reverse the decline. In addition to the coronavirus outbreak and the recession, the president now faces a third crisis — nationwide protests over police mistreatment of African-Americans that have turned to rioting and looting in some places, leading Trump to suggest deploying the military to crack down on the demonstrations. Read more from Mario Parker, Gregory Korte and Jennifer Jacobs.
Biden Says 10-15% Are 'Not Very Good People': Biden said yesterday that 10 to 15% of Americans are "not very good people." The remarks came when he was taking part in an online forum with black supporters, moderated by the actor Don Cheadle, that discussed racial relations in the aftermath of the death of Floyd. The former vice president said Trump has been a divisive leader who brings out the worst in people, and that "the vast majority" of Americans are decent and want to make the country a better place. Read more from Ryan Teague Beckwith.
DNC Vows Convention in Milwaukee: In one form or another, the Democratic National Convention is on track to be held in Milwaukee with safety measures in place, Democratic National Committee Chairman Tom Perez said on a radio show yesterday, Perez told SiriusXM's The Joe Madison Show that the DNC convention team was still planning on having an in-person event in August even with the coronavirus pandemic. But Perez stressed that safety measures would be implemented, though he didn't specify what they would be. Read more from Emma Kinery.
Trump Campaign Pulls Space Launch Ad That Violated NASA Rules: Trump's campaign removed a video that violated National Aeronautics and Space Administration ad guidelines by featuring the federal agency's astronauts. The video, which opens with President John F. Kennedy's 1962 speech declaring that America would go to the moon, flashed several recent images of NASA astronauts Bob Behnken and Doug Hurley. The agency doesn't allow the astronauts it employs to have their likenesses displayed in advertisements or marketing materials. Read more from Dana Hull.
Trump Targets Murkowski After Protest Critique: Trump said in a tweet last night he will campaign in two years against Senate Energy and Natural Resources Chairman Lisa Murkowski (R-Alaska) after she said she's not sure if she will back Trump in the November election. Read more from Steven T. Dennis.
What Else to Know Today
DOJ Subpoenas Four Biggest Meatpackers in Antitrust Probe: The Justice Department is formally demanding information from the country's four biggest meatpackers over potential antitrust violations, according to a person familiar with the matter, deepening scrutiny of an industry that's been riled by shutdowns due to the coronavirus. Read more from David McLaughlin.
Supreme Court Faces Transparency Test: Reflecting on their historic livestream experiment, U.S. Supreme Court justices might worry that it went too well. The justices have long-shunned any technological encroachment on their in-person argument sessions. Now, fresh off of their lauded live-audio debut in May—prompted by coronavirus social distancing measures—they're left with little excuse not to continue the practice, especially when they return to the bench. Read more from Jordan S. Rubin and Kimberly Strawbridge Robinson.
Democratic AGs Sue to Block DeVos Title IX Rule: Attorneys general for 17 states and the District of Columbia filed a lawsuit yesterday to block a new Title IX campus sexual misconduct regulation issued by the Trump administration from taking effect in August, Andrew Kreighbaum reports.
The rule, which Education Secretary Betsy DeVos released last month, adds new protections for students accused of misconduct, including requirements for live hearings on college campuses.
The lawsuit argues that the rule arbitrarily limits the scope of sexual harassment that schools must address and the hearing requirements will undermine colleges' efforts to address harassment. The American Civil Liberties Union previously filed a lawsuit to block the rule last month.
To contact the reporters on this story: Zachary Sherwood in Washington at zsherwood@bgov.com; Brandon Lee in Washington at blee@bgov.com
To contact the editors responsible for this story: Giuseppe Macri at gmacri@bgov.com; Loren Duggan at lduggan@bgov.com; Michaela Ross at mross@bgov.com
Stay informed with more news like this – from the largest team of reporters on Capitol Hill – subscribe to Bloomberg Government today. Learn more.