What to Know in Washington: 2020 Drama Drags into the New Year
The non-stop drama of 2020 is bleeding into the first week of the new year, with a pivotal election in Georgia, promises of protests in the streets and President Donald Trump's dragged-out fight over the November vote threatening to tear apart the Republican Party.
The new Congress formally took office yesterday with the Democratic House majority re-electing Nancy Pelosi (D-Calif.) as speaker. But control of the Senate for at least the next two years is still up in the air. For the time being, Senate Majority Leader Mitch McConnell (R-Ky.) holds on to his post. An unusual double runoff election in Georgia tomorrow will determine whether he keeps it.
If either of the two GOP incumbents in Georgia prevails, Republicans will hold 51 seats in the 100-member chamber, giving McConnell control of the legislative agenda in Washington. If the two Democratic candidates win, the Senate will be split 50-50 and incoming Vice President Kamala Harris will have the tie-breaking vote that would put the agenda in Democratic leader Chuck Schumer's (D-N.Y.) hands. The results of the Senate races could take days or weeks to be known as Georgia tallies the votes in what is expected to be an incredibly close race.
While the Georgia races play out, McConnell is confronting a revolt among some GOP senators as both chambers of Congress gather in the House of Representatives Wednesday to certify the electoral vote count that determines the winner of the November presidential race. A group of Republicans in the House and a dozen in the Senate are planning to challenge the electoral vote count, turning what is typically a perfunctory process into a drawn out drama that McConnell and other GOP leaders have warned is doomed to fail. It has created a rift in the Republican party that may be difficult to close in the coming months.
Sen. Ted Cruz (R-Texas) is leading a group of 11 GOP senators in calling for a delay of full certification, and a 10-day "emergency audit" of the Electoral College count. Rep. Mo Brooks (R-Ala.) plans to object to the electoral counts in six battleground states that Joe Biden won, and he says more than 50 other House Republicans will join him or support his effort.
While Congress meets, groups of Trump supporters are planning demonstrations in Washington and elsewhere in the country, egged on by the president, who has been promoting protests via Twitter. Two previous pro-Trump demonstrations in the nation's capital since the election resulted in scattered violence, including stabbings, and arrests. Read more from Daniel Flatley and Laura Davison.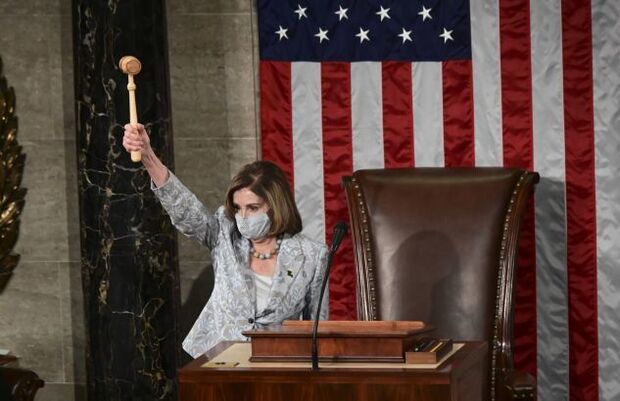 Trump, Biden to Georgia: Trump and Biden will each make last-minute campaign appearances in Georgia today for candidates in two runoff elections.
For Trump, the visit comes days after pressuring top Georgia officials in an extraordinary 62-minute call to find enough votes to overturn his loss to Biden in the state — the latest in an increasingly desperate series of moves to change the results in his favor. During the call on Saturday, Trump repeated his unfounded claims of vote fraud and told Georgia Secretary of State Brad Raffensperger he was running a "big risk" by not intervening in the election. "I only need 11,000 votes. Fellas, I need 11,000 votes. Give me a break," Trump said on the call. Mario Parker has the latest on Georgia.
Loyalty Test for Pence: Trump will make his last stand to overturn his election loss on Wednesday when Vice President Mike Pence presides over the congressional session to ratify November's results. Trump's refusal to concede and his obsession with overturning the will of voters means the ceremony poses a test for his most loyal subordinate.
The vice president's top aides are developing options for him to acknowledge the reality of the November election result while also nodding, in a possible statement, to the president's unfounded accusations of vote fraud. Development of the plan has fallen to Pence's chief of staff, Marc Short, and General Counsel Greg Jacob, both of whom realize the potential tension in the situation, according to two people familiar with the matter. Read more from Nancy Cook.
Also Happening on the Hill
Pelosi Elected Speaker With Narrow Majority: Pelosi was elected House speaker as the new session of Congress began with a narrower Democratic majority, which will present her with multiple challenges in what could be her final two year term in the top post. Pelosi, 80, the only woman to hold the speaker's gavel, was selected again with 216 votes, just two more than a majority of those present, despite a clamor from both the progressive and moderate wings of her party for a new generation of leadership. "Now is a time for our nation to heal," Pelosi said in a speech after the vote. "Our most urgent priority will continue to be defeating the coronavirus," she said, adding that "the pandemic has pulled back the curtain on even worsened disparities in our economy and our society." Read more from Billy House and Erik Wasson.
Procedural Tool Used by GOP Curbed by Rule Change: The House minority's last chance to amend a bill before a vote on final passage would be stripped away under a change to House rules weighed by the chamber's Democrats. The motion to recommit with instructions, which has been used by Republicans to propose language creating hard votes for some Democratic members, would be eliminated. A motion to recommit without instructions—which sends the measure back to committee—would remain available.
The change is one of several in a proposed rules package for the 117th Congress released Jan. 1 by House Democrats and scheduled for votes today. The House re-adopts its rules every two years at the beginning of a Congress and the majority takes the opportunity to make changes to the chamber's operations. Read more from Loren Duggan.
Congress Overrides Defense Bill Veto: Congress handed Trump a major, bipartisan defeat in the waning days of his presidency, as the Senate voted to override his veto of a $740.5 billion defense policy bill. It's the first time one of Trump's vetoes has been surmounted. On Twitter, in his first response to the override, Trump said the Senate "missed an opportunity," calling the effort "Pathetic!!" The tally was 81 to 13, easily exceeding the two-thirds threshold needed to override a veto. Read more from Roxana Tiron and Erik Wasson.
Trump Vetoes Driftnet Fishing Bill: Trump on Friday vetoed legislation that would phase out large-scale driftnet fishing to minimize the unintended catching of other marine life. The term refers to the use of free-floating "gillnets"—vertical nets that hang from a line on the ocean's surface—extending more than 2.5 kilometers. Because Congress didn't override Trump's veto before the 116th session of Congress ended yesterday, the bill would need to be reintroduced in the 117th Congress. Read more from Adam M. Taylor.
Judy Shelton Among Trump Nominations Sent to Senate: The White House yesterday sent a list of nominations to the Senate for consideration in the new session that included individuals who the chamber was unable to confirm in the 116th session. Judy Shelton's nomination to the board of governors of the Federal Reserve was on the list, almost two months after previous efforts to hold a Senate vote on the matter were derailed. It's unclear when the Senate would vote on Shelton given committee work may be held up until the outcome of Georgia's two Senate races. Read more from Ana Monteiro.
Grassley's Communications Chief Departs: Michael Zona, spokesman and communications director to Senate Finance Chairman Chuck Grassley (R-Iowa), is departing Capitol Hill to join Bullpen Strategy Group, according to a company statement. Zona this week will be named vice president in BSG's strategic communications and public affairs advisory practice, the statement said, Alex Ruoff reports.
The Georgia Runoffs
GOP Targets Georgia Latinos: Republicans have increased their outreach to Latino communities in their effort to win Georgia's two runoffs after Trump outperformed expectations with those voters in November. Through ads, campaign events, and canvassing, Republican Sens. David Perdue and Kelly Loeffler are seeking to convince and turn out a diverse voting bloc that largely supports Democrats but has been receptive to some GOP messaging. Read more from Emily Wilkins.
Georgia Rivals Woo Asian-American Voters: Also on the candidates' radars are Asian American voters, who were decisive in the only competitive congressional district Democrats flipped in November. Asian voters are set to play another integral role in Georgia's two runoffs. Democrats and Republicans have poured resources into targeting the booming Asian population in Gwinnett and Forsyth counties, where their growing activism has created a force in statewide politics in favor of Joe Biden. Read more from Emily Wilkins.
Black Voters Aim to Make Votes Matter: If the Democratic challengers pull off victories, it will be in part because of people such as Bill Boles. After standing in line for more than 30 minutes to vote in November's general election, Boles, 62, a Black man and a chef at an assisted living facility, returned to his polling place in Atlanta's suburban Gwinnett County on Dec. 15 — a day after early voting started — to cast his votes for the two Democratic candidates, Raphael Warnock and Jon Ossoff. Boles said he was "really eager" to go back to the polls for a second time in two months, because of extensive efforts by Democratic organizations to get people to the polls, and because those efforts have helped potential voters to understand how critical their votes can be. Read more from Brett Pulley.
Read more: A Closer Look at the Four Candidates in Georgia's Runoffs
More on the Presidential Transition
Court Tosses Gohmert's Suit Against Pence: A federal appeals court upheld the dismissal of a Republican congressman's lawsuit that attempted to authorize Pence — against his wishes — to unilaterally overturn Trump's election loss during a joint session of Congress this week. The U.S. Court of Appeals for the Fifth Circuit, widely considered to be the most conservative in the country, rejected the suit against Pence by Rep. Louie Gohmert (R-Texas) in a brief decision issued Saturday night. Read more from Erik Larson.
Former Defense Chiefs Call for Election Recognition, Biden Cooperation: All ten living former U.S. secretaries of defense said "the time for questioning the results has passed" in a Washington Post op-ed published yesterday. The group said Pentagon leaders must fully cooperate with the presidential transition, which Biden officials have said isn't satisfactory. Ashton Carter, Dick Cheney, William Cohen, Mark Esper, Robert Gates, Chuck Hagel, James Mattis, Leon Panetta, William Perry and Donald Rumsfeld signed the piece, which also condemned the idea of using the military in election disputes, an idea floated to Trump by his former national security adviser Michael Flynn. Read more from Tony Czucka.
Trump Budget Chief Hampers Biden Transition: Trump's budget office is blocking Biden's transition team from meeting with key staff to help prepare the president-elect's first annual spending plan, a move that could delay major proposals. Office of Management and Budget Director Russ Vought has said internally that the agency has to focus on finalizing new rules the Trump administration plans to publish ahead of Jan. 20, according to people familiar with the matter. Vought said in a series of tweets and in a letter sent to former Sen. Ted Kaufman, Biden's transition leader, that claims his agency hasn't been cooperative are false. Read more from Nancy Cook.
Biden Strategy for Trump—Ignore Him: Biden faces historic challenges when he enters the Oval Office Jan. 20: a raging pandemic, persistently high unemployment, simmering tensions with China and Russia—and a predecessor who won't go away. Aware of the distraction and chaos Trump has proved he can muster, the president-elect and his advisers have developed a strategy they think is the only way to neutralize the threat: ignore him. Justin Sink has more.
Kim Jong Un Keeps Biden Guessing: Kim Jong Un built anticipation for a rare party congress he plans to hold in the coming days, after skipping the New Year's Day address North Korean leaders have long used to lay out their policy agendas. Instead of the usual televised address, Kim sent his people "heartfelt greetings" in a brief letter. The events were closely watched for clues to how Kim planned to bolster his shrinking economy and approach the incoming Biden administration. Read more from Jon Herskovitz and Jeong Ho-Le.
The Coronavirus Pandemic
Covid-19 Joins War, Cancer as Historic Blight: As 2020 came to a close, most will remember the year as one defined by sacrifice and loss. In the 347 days since the first reported U.S. case, the novel coronavirus officially called SARS-CoV-2 bloomed into one of the textbook disasters of modern history. By casualty count, the country is mourning the equivalent of the death toll of the Sept. 11 attacks each day, and is expected to for months. In totality, 1 out of every 1,000 Americans have died, with heavier burdens on seniors and minorities. Nic Querolo has more.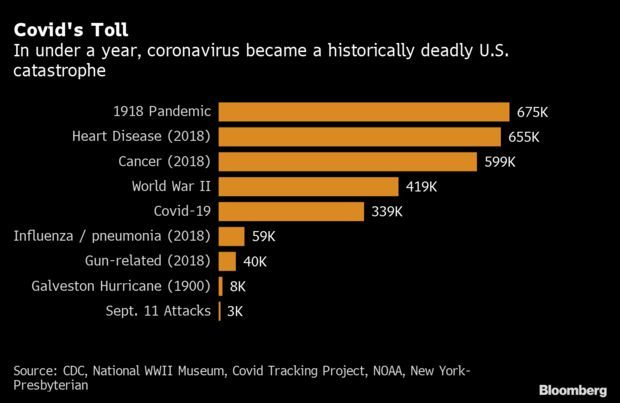 Romney Criticizes Failure to Plan for Vaccine Rollout: Sen. Mitt Romney (R-Utah) criticized the slow rollout of the Covid-19 vaccine in the U.S., blaming the federal government for not helping states get the shot into more people's arms. "That comprehensive vaccination plans have not been developed" is "as incomprehensible as it is inexcusable," Romney said in a statement. About 3.2 million doses have been given, far short of the Trump administration's goal of administering 20 million vaccinations by the end of 2020. David McLaughlin has more.
What Else to Know Today
Iran Warns Trump, Israel Against War: Iran's foreign minister accused Israel of concocting a cause for Washington to start a war against the Islamic Republic as Iranians marked the first anniversary of the U.S. assassination of a top general. Read more from Golnar Motevalli.
Trump Team Votes Against U.N. Budget: The Trump administration made what might be its final stand against the status quo at the United Nations, voting against the world body's 2021 budget over disagreements on a conference it says is anti-Israel and on Iran sanctions. The U.S. and Israel voted down the $3.2 billion budget for 2021, while 168 members voted in favor of it. Read more from David Wainer.
Trump Extends Work Visa Ban Until March: Trump extended a ban on new green cards and work visas until months after he leaves office, citing weakness in the U.S. labor market due to the coronavirus. Trump's proclamation extends to March 31 immigration restrictions he put in place in April, David McLaughlin reports.
DOL Gig-Contractor Rule Gets White House OK: A final rule to ease employers' use of independent contractors has been cleared by the White House, setting the stage for the U.S. Labor Department to complete one of its biggest rulemakings of the Trump era in the administration's final days. The regulation, proposed in September, delves into one of the most contentious issues in employment law. It would adopt a simpler, shorter test for when a worker may be legally classified as an independent contractor rather than an employee who's subject to minimum wage and overtime protections. Read more from Ben Penn.
DOJ Permitted to Execute Woman Jan. 12: The Trump administration can carry out the first federal execution of a woman in nearly 70 years on Jan. 12, an appeals court panel in Washington ruled. Friday's order overturns a trial judge's order that vacated the Jan. 12 date because the government set it while a prior stay was in place. Read more from Jordan Rubin.
Trump's Scots Course Loses Money Amid Brexit: Trump's golf business in Scotland widened losses and warned about the impact of the pandemic and Britain's official departure from the European Union. Trump International Golf Club Scotland, which runs a course in Aberdeenshire, reported a net loss of 1.1 million pounds for 2019 after losing 1.07 million pounds the previous year, according to a filing with Britain's Companies House registry, Rodney Jefferson reports.
Assange's Extradition to U.S. Blocked by U.K. Judge: A London judge said Julian Assange shouldn't be sent to the U.S. to face espionage charges, a relief for the Wikileaks founder who's spent close to a decade in jail or self-imposed exile. Read more from Ellen Milligan.
To contact the reporters on this story: Zachary Sherwood in Washington at zsherwood@bgov.com; Brandon Lee in Washington at blee@bgov.com
To contact the editors responsible for this story: Giuseppe Macri at gmacri@bgov.com; Michaela Ross at mross@bgov.com