What to Know in Washington: 14 Races Eyed to Keep House Control
Democrats' slim hopes of retaining their House majority in the upcoming midterm elections run through what they call the Biden 14 — the redrawn congressional districts that President Joe Biden would have carried in 2020 but are now represented by a Republican or where no incumbent is running.
That would require a strong performance in those 14 districts—10 Biden carried but held by Republicans, and four open seats—and containing losses in the seven districts now represented by Democrats that Donald Trump would have carried two years ago. But according to Whitney Larsen, national political director for recruitment at the Democratic Congressional Campaign Committee, those 14 races offer Democrats a chance to make a case to voters who are sympathetic to their message.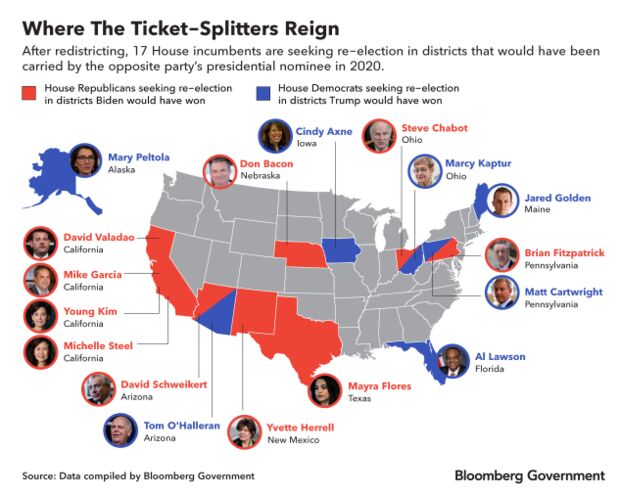 "The Biden 14 present a real opportunity for Democrats in a year where we are heavily on defense," Larsen said. "When we hold the majority, it will be because we won many of these seats."
Republicans already pledged to roll back Biden's biggest legislative achievements; and if they take the House, they could target his administration with investigations and impeachments. On the flip side, if Democrats eke out a win in a year they're projected to lose the House, it could inject momentum and support for more aggressive progressive policies, and pave a way to keep the White House in 2024. David Hood has the story.
Happening on the Hill
Speaker Nancy Pelosi (D-Calif.) and Senate Majority Leader Chuck Schumer (D-N.Y.) invited Israel's President Isaac Herzog to address a joint meeting of Congress, according to a press release from Schumer's office.
Elections, Politics & Probes
Join BGOV's Final Pre-Election Webinar: Bloomberg Government's election experts will provide their outlook for the 2022 midterms on a Nov. 1 webinar. They'll offer their take on the issues driving the battle for control of Congress and the key races to watch in the election's final week. Register here .
The Cook Political Report with Amy Walter yesterday changed its ratings of nine House races, most of them favoring Republicans. The nonpartisan publication now considers Reps. Mike Levin (D-Calif.), Jahana Hayes (Conn.), and Abigail Spanberger (Va.) to be in tossup races after previously considering them slight favorites to win re-election. All three districts backed Biden in the 2020 election.
Cook also raised its projection of House Republican gains in the Nov. 8 election to between 12 and 25 seats, up from 10 to 20 seats previously. Republicans need a net gain of five seats to overturn the majority held by Democrats, Greg Giroux reports.
John Fetterman's debate performance against Mehmet Oz on Tuesday will likely keep his recovery from a May stroke front-and-center in the closing days of the US Senate race for a Pennsylvania seat that will determine control of Congress's upper chamber.
Progressive House Democrats unleashed a furor in the party two weeks before the midterm elections by issuing — and then retracting — a letter urging Biden to negotiate with Russian President Vladimir Putin for an end to the war in Ukraine.
US Supreme Court Justice Samuel Alito said the leak of his draft opinion eliminating the constitutional right to abortion made members of the majority "targets for assassination."
Colony Capital LLC founder Tom Barrack described his first meeting with Saudi Crown Prince Mohammed bin Salman in 2016 as a "huge" opportunity to try to capture sovereign-wealth investment.
Businesses in a majority of states have a legal duty to give workers time off to go to the polls next month, but the momentum for expanding voting leave laws has been limited, due partly to the pandemic-led growth of early and mail-in balloting.
The first planned US overhaul of foreign lobbying disclosure rules in 30 years is rooted in more aggressive Justice Department enforcement that's left a growing pool of lawyers practicing in the space unsure about its reach.
Around the Administration
PRESIDENT'S SCHEDULE
Biden at 10:30 a.m. will give a speech at the White House on "new actions to provide families with more breathing room," according to a White House schedule.
At 12:45 p.m., the president hosts a meeting with Israeli President Isaac Herzog at the White House.
Biden will meet with Defense Department leaders at 3 p.m.
The president will participate in a virtual political reception for Rep. Matt Cartwright (D-Pa.) at 7:30 p.m.; Rep. Cynthia Axne (D-Iowa) at 8 p.m.; and Nevada lawmakers at 8:30 p.m.
Press Secretary Karine Jean-Pierre gives a briefing at 2 p.m.
The Sixth Circuit Thursday will hear arguments on whether to block the Biden administration's rewrite of a Trump-era rule that had tightened participation requirements for the only federal program that helps pay for family planning counseling and services for low-income people.
Newly sworn-in Democratic and Republican SEC commissioners emphasized the importance of diversity, equity, and inclusion on Tuesday, one week after the SEC released diversity guidance for investment advisers.
Legal challenges are on the horizon for incoming particulate matter standards that are likely to increase clean air requirements for states struggling to control pollution for millions of Americans, attorneys and industry watchers say.
Thirty states exceed federal mandates on accommodating pregnant workers, a response to court rulings that created questions about what's required.
Defense & Foreign Affairs
Biden's spokeswoman said Tuesday she's unaware of any discussions about a potential national security review of Elon Musk, yet acknowledged that there are concerns in the US government about the Tesla CEO's remarks on Ukraine.
US Secretary of State Antony Blinken says in a tweet that US welcomes the talks beginning today between the government of Ethiopia and Tigrayan authorities.
Biden congratulated the new UK Prime Minister Rishi Sunak on Tuesday in a call in which they discussed the Russian invasion of Ukraine and challenges arising from China, according to the White House.
With assistance from Greg Giroux
To contact the reporters on this story: Brandon Lee in Washington at blee@bgov.com; Michaela Ross in Washington at mross@bgov.com
To contact the editor responsible for this story: Giuseppe Macri at gmacri@bgov.com