What to Know: Biden to Commit $60M to Puerto Rico Flood Defenses
Biden to travel to Puerto Rico Monday, Florida on Wednesday
Some Democrats push for committee chair term limits
President Joe Biden will announce more than $60 million in funding to strengthen Puerto Rico's resilience to flooding when he visits the island to observe recovery efforts from the devastation left by Hurricane Fiona.
The president and First Lady Jill Biden are scheduled to fly to Ponce, Puerto Rico on Monday to meet with local leaders and families affected by the storm.
The funding, which comes from an infrastructure law Biden signed last year, will go toward bolstering levees, reinforcing flood walls and establishing a flood warning system, according to a White House official.
Federal Emergency Management Agency Administrator Deanne Criswell will join the president on the trip. Biden will be briefed on the ground about ongoing recovery efforts, the official said.
Biden will then visit Florida on Wednesday. The level of destruction from Hurricane Ian, which Biden on Saturday said was "likely to rank among the worst in the nation's history," has left bridges and other infrastructure, along with homes and businesses in ruins, with damage estimates ranging from $68 billion to $100 billion. Read more from Akayla Gardner.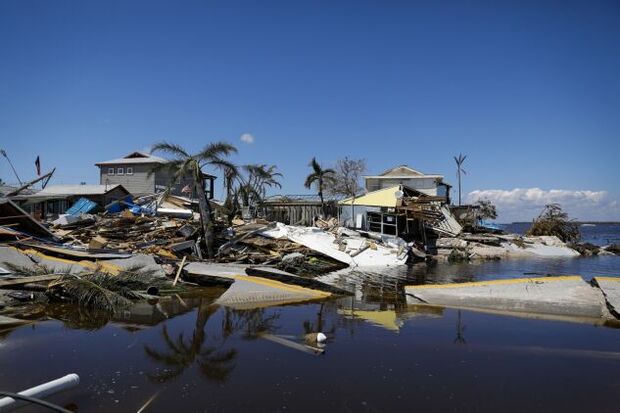 More Coverage:
Biden said on Friday that the federal government would cover "100% of the cost to clear the massive debris left in the wake of the hurricane."
It's one of the first questions asked in the aftermath of a massive hurricane like Ian, and one of the hardest to answer — how many people died?
Hurricane Ian will cost private US insurers $63 billion in claims and will cause the largest storm-related losses in Florida's history, according to an estimate from a risk-modeling firm.
Happening on the Hill
CONGRESS' SCHEDULE
The House and Senate are on recess until after the midterm elections.
Sophomore House Democrats are spearheading a push to impose term limits for top committee members, a move that could shake up power within those panels and be a key issue in races to lead the caucus.
Representative Pramila Jayapal has her eyes on a senior Democratic leadership post as the party prepares for a generational change next year.
A bipartisan group of US senators called for a coordinated American approach toward China that would combine initiatives under a "China Grand Strategy Commission" incorporating the executive and legislative branches as well as representatives from business.
Federal agencies are balking at—or declining to publicly explain their response to—cryptocurrency mining recommendations from a White House report that raised serious concerns about the rapidly growing industry's energy consumption and climate footprint. The situation has irked one House Democrat who has pushed for a closer federal look at cryptocurrency—and who demanded that agencies answer his concerns soon.
Elections, Politics & Probes
The Texas gubernatorial candidates traded barbs about who is best positioned to tame immigration chaos at the border during the candidates' only debate ahead of the Nov. 8 election.
The National Archives said it still doesn't have all of the records from White House staffers that it should have received when Donald Trump's presidency ended and is pursuing missing material, specifically electronic messages.
In the ongoing court case over Trump's government records, the US Justice Department asked a federal appeals court to expedite its review of an order appointing a special master to scrutinize documents seized from Trump's Mar-a-Lago estate. Read more.
Shortly before midnight on July 21, police arrived at the home of a federal judge set to preside the next day over a plea hearing in Washington in a high-profile Jan. 6 prosecution. In what law enforcement later described as a "swatting" incident, an unknown person had placed a call to an emergency services line pretending to be US District Judge Emmet Sullivan.
Rex Tillerson, who served as Secretary of State for little over a year during the Trump administration, will testify next week as a prosecution witness at the trial of Tom Barrack, defense lawyers said Saturday.
What's on SCOTUS Docket
Once the heart of the Confederacy and the civil rights movement, Alabama is now in the middle of a new racial showdown: a US Supreme Court case that could make it harder for Black candidates to get elected to Congress.
A former top official overseeing the Justice Department's voting section defended its wait-and-see approach to pursuing litigation as the Supreme Court takes up an Alabama redistricting case that could further erode Voting Rights Act protections.
Deuel Ross, who will make his Supreme Court debut Tuesday in a high stakes Alabama redistricting argument, is no stranger to the case or to voting rights.
The arguments on first day of the Supreme Court's new term Monday will cover the Clean Water Act, one of the most iconic and fundamental pieces of environmental legislation ever passed in the United States. The challenge comes in the form of Sackett v. Environmental Protection Agency, a case that weighs the definition of Waters of the United States (WOTUS). The court's decision will be announced next year.
Around the Administration
PRESIDENT'S SCHEDULE
Biden and First Lady Jill Biden will travel to Ponce, Puerto Rico on Monday and visit Centro Sor Isolina Ferré Aguayo School.
Biden will receive a briefing on Hurricane Fiona and deliver remarks on the administration's recovery efforts.
The US Energy Department said in a notice Monday it's seeking public input on how to use the the Defense Production Act to boost the domestic production of clean energy technology such as solar panels, transformers and hydrogen fuel cells.
Senior Biden administration officials pressed executives from some of the largest US gasoline producers to curtail overseas sales during a tense meeting Friday afternoon, suggesting that without voluntary action, the government could force the industry to stockpile more fuel in US tanks.
The federally coordinated system for deploying medical assistance during natural or human-made disasters is seeking private sector proposals to improve its response and patient care in the event of "overseas wartime contingency."
Biden's move to allow Veterans Administration hospitals to provide abortions probably won't immediately improve access to the procedure nationwide, even if it stands up to legal challenges.
Congress wants to advance drones, air taxis, vertical airports, and electric planes in the next major aviation bill. But the federal aviation regulator that would oversee the new technology already faces criticism for dragging its feet on existing priorities.
Yellen renewed her call for enhanced government subsidies for child care at a conference on women's economic opportunity Saturday, a policy priority the Biden administration failed to win passage for in Congress.
The Federal Trade Commission's broad authority to crack down on unfair competitive practices gives it an opening to police alleged worker misclassification by gig companies differently than traditional labor regulators.
The US is willing to support Ukraine's finances with $1.5 billion a month in aid throughout the war against Russia and is pushing its European allies to commit to similar amounts, according to people familiar with the matter.
Secretary of State Antony Blinken reiterated the US commitment to continue to support Ukraine's efforts to regain control of its territory by strengthening its hand militarily and diplomatically, Department of State spokesperson Ned Price said in a statement. Read more.
The US sanctioned hundreds of Russian officials, lawmakers, family members and businesses Friday in what Treasury Secretary Janet Yellen called a "sweeping action," but in reality the measures will have little practical effect on President Vladimir Putin's ability to sustain his country's economy with oil and gas revenue. Read more.
To contact the reporters on this story: Katrice Eborn in Washington at keborn@bgov.com; Michaela Ross in Washington at mross@bgov.com
To contact the editor responsible for this story: Giuseppe Macri at gmacri@bgov.com